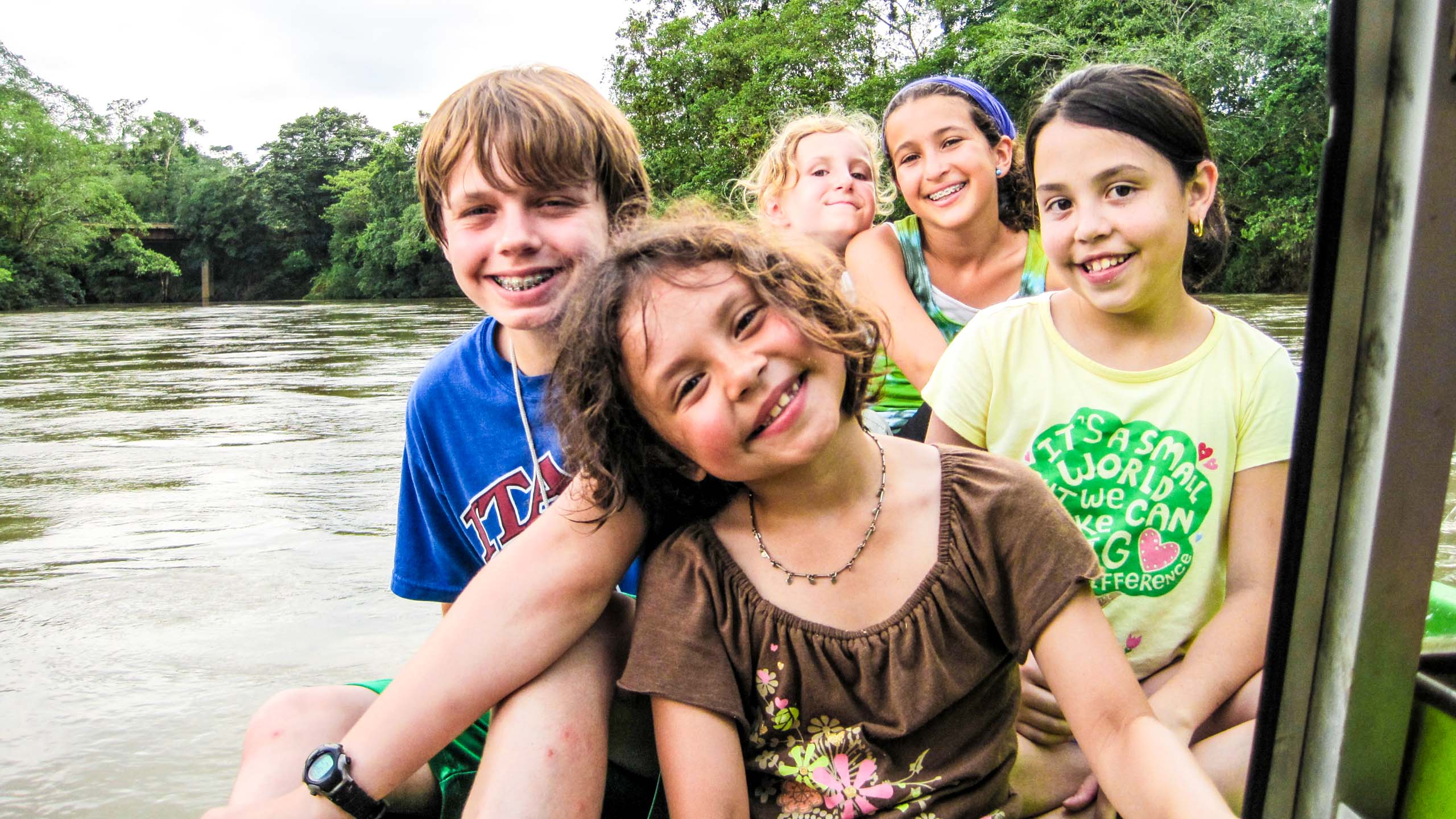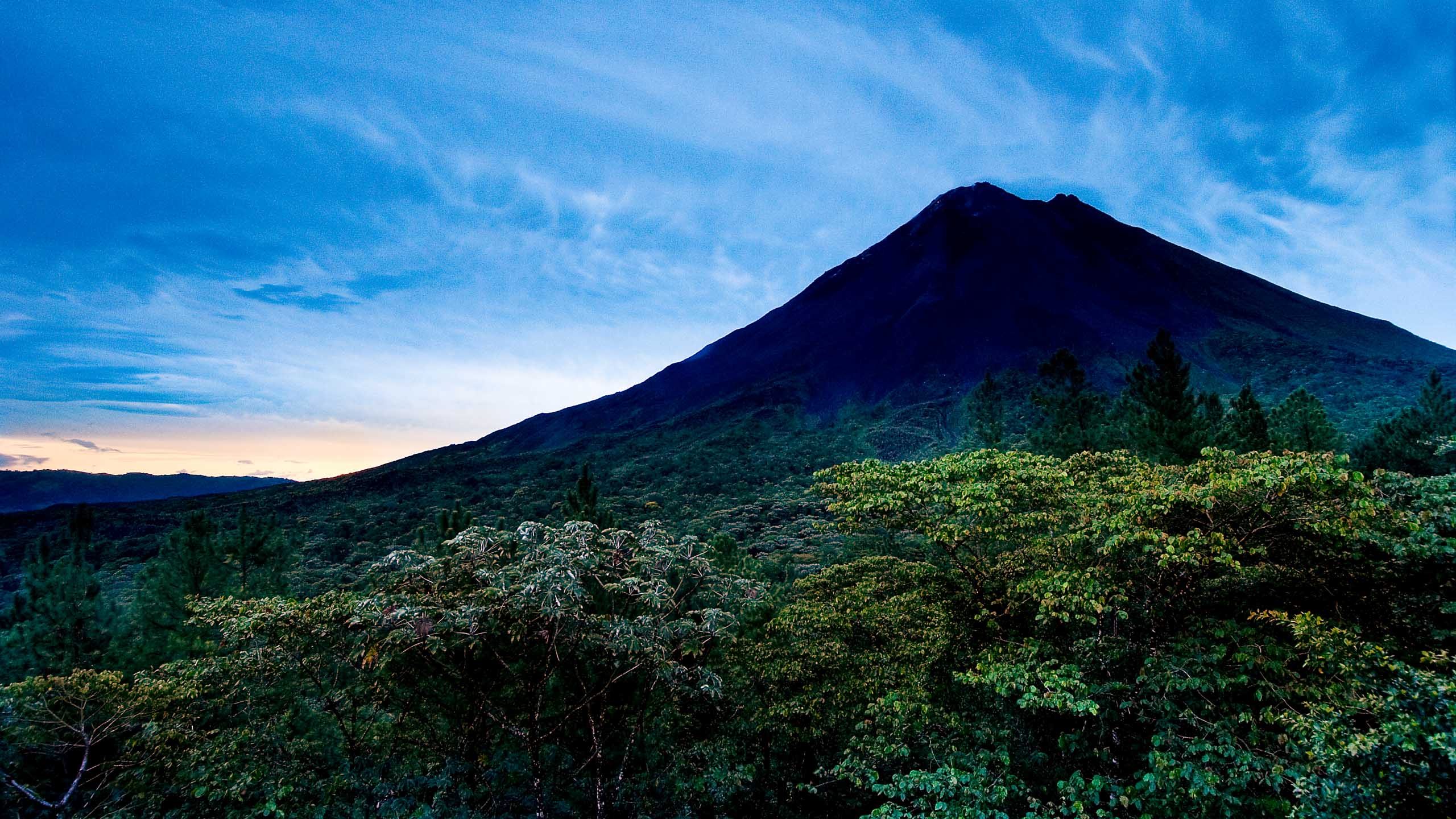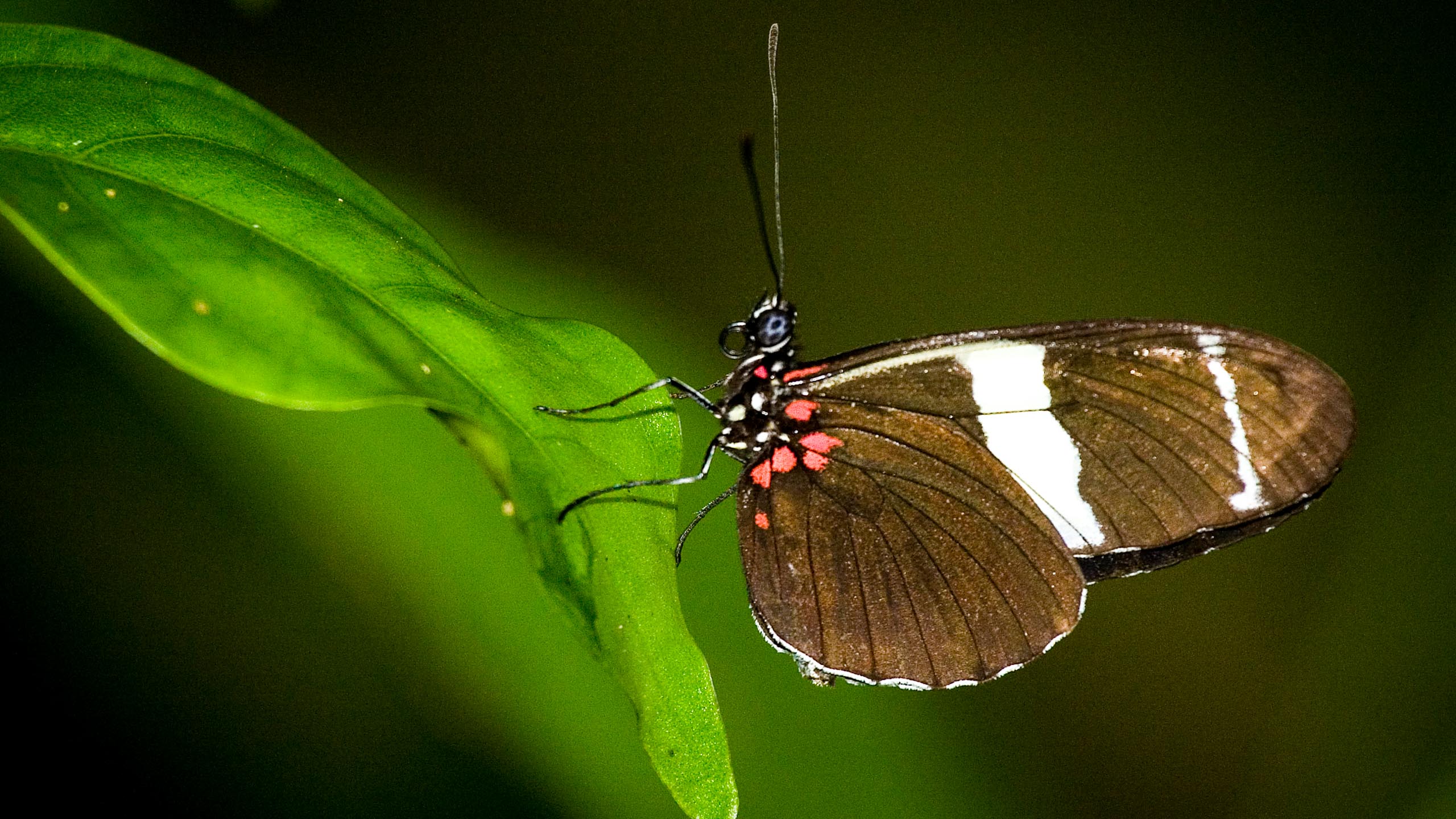 Costa Rica Tropical Highlights
Tortuguero canals, Arenal National Park, Monteverde cloud forest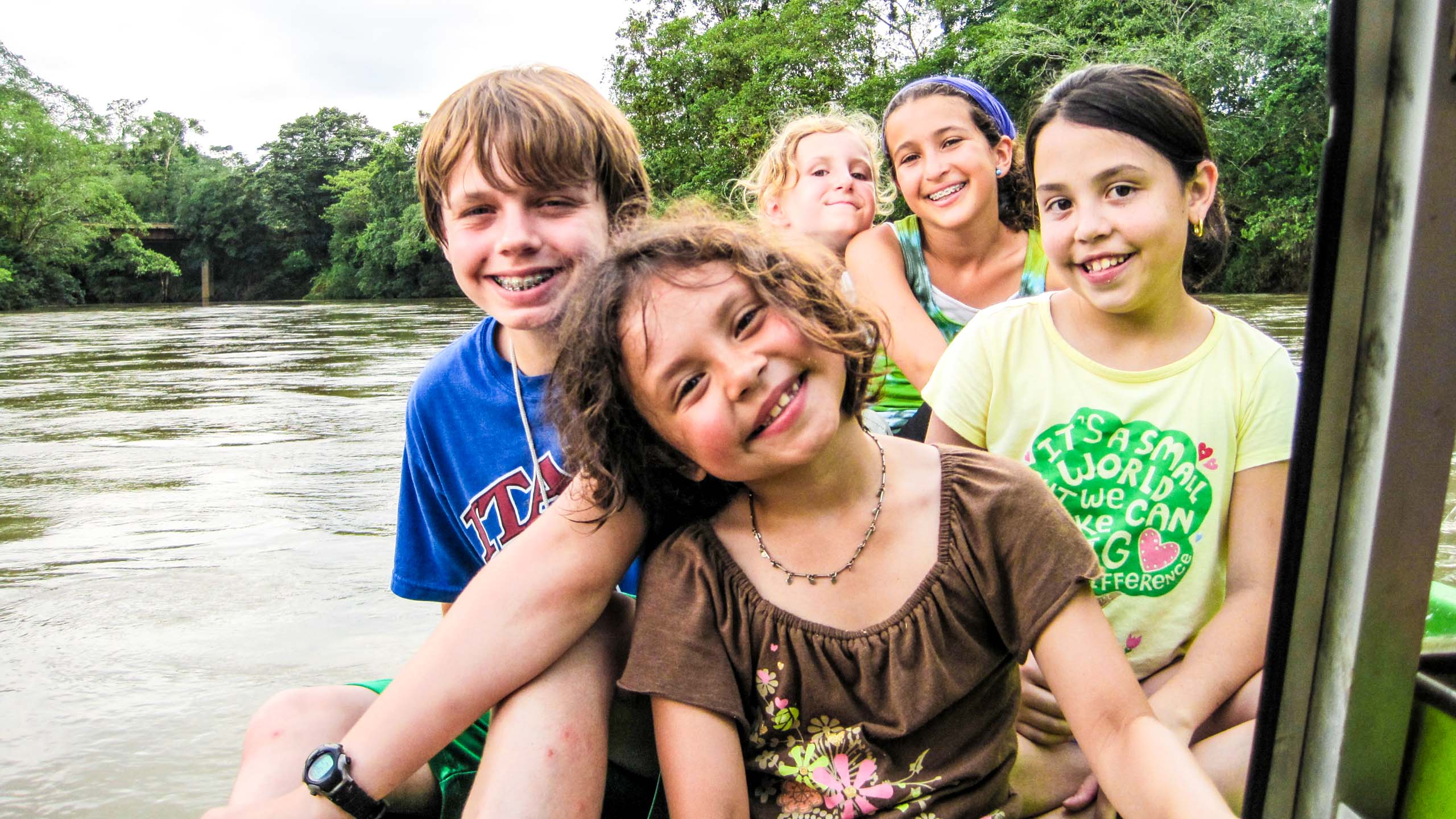 Journeys International offers travel experiences to Costa Rica that pay proper homage to the country's riches, and it continues to deserve accolades for the value and attention placed on preservation of fantastic bio-diversity. On this itinerary, you visit three of the original gems in Costa Rica's environmental crown—the waterways of Tortuguero National Park on the Caribbean coast, Arenal National Park (with its now-dormant, but still imposing volcano), and the world-famous Monteverde Cloud Forest Reserve.
You have your choice of joining small groups for specific parts of the trip, or enjoying a completely customized and private adventure. Ask your adventure specialist for details on these various options.
Day 1 - May 17, 2019
Arrive San Jose
Upon arrival in San Jose you will be met and transferred to your hotel. The rest of the day is yours to relax or explore. Start the day with an afternoon tour.
Lodging
Hotel Park Inn (or similar)
Days 2-3
Tortuguero Rain Forest Immersion
Travel by road and river to Tortuguero National Park for two incredibly full days of exploration. Unless you prefer a completely private & custom adventure (at an additional cost), for this part of your trip you'll join a group of 10-20 people, under the care of the professional team from your jungle lodge. All group members will be picked up by a mid-size tour bus at their San Jose hotels, and will travel together by road, approximately 90 minutes, to the river port, stopping for breakfast en route. At the port you'll board your open-sided riverboat which allows for unobstructed viewing of abundant waterfowl during the one-hour trip to your lodge on the edge of the National Park. Many travelers report that their river "cruise" begins with a dramatic sighting of scores of large pink roseate spoon bills.
Tortuguero National Park borders the Caribbean and contains a network of canals and waterways through protected jungle that is home, year-round, to myriad species of tropical wildlife. Each day, when animal and birdlife is most active (the hours leading up to dusk and following dawn), your group will slowly travel the waterways with an expertly trained naturalist guide from the lodge. Search for manatees, caimans, monkeys, sloths, river otters, poison dart frogs, and 300+ species of birds, including the roseate spoonbill, American fin foot, great green macaws, trogons, oropendulas, and frigate birds.
Mid-day, you can choose to walk trails in the forest near the lodge, stroll the rocky beach, visit Tortuguero town, view exhibits at the National Park Visitors Center, or relax in the pool or gardens of the lodge. Meals are buffet-style, and offer opportunity for conversation, reflection and learning with your group.
A highlight of a visit to Tortuguero is learning about the green sea turtles that nest here. Those who travel during nesting season, July-October, can make special arrangements to add a night-time beach walk to their program in the hope of witnessing (early in their season) the large turtles digging their nests and laying their tennis-ball sized eggs, or (late in the season) the tiny babies emerging and heading into the surf. The giant leatherbacks nest in March and April and hatch in May and June.
Meals
Breakfast, Lunch, Dinner
Lodging
Evergreen Lodge (or similar)
This morning, fly from Tortuguero to San Jose (note: there is a 40-lb weight limit on bags for this flight). Here you'll meet your private driver/guide who will be with you the rest of the trip. Set off for the Arenal vicinity. En route to Arenal, visit La Paz Waterfalls.
After lunch, drive through mountains and agricultural lands to Arenal National Park, home of the Arenal volcano, which was was active from 1968 to 2010. The park now offers a landscape where you can learn about the materials expelled from the volcano, rock formations from recent lava flows, and the natural regeneration of flora and fauna in the area. The volcano, with its perfect imposing cone, is surrounded by exuberant vegetation and sits at the side of the engineering masterpiece of Arenal Lake.
Meals
Breakfast, Lunch, Dinner
Lodging
Arenal Observatory Lodge (or similar)
Day 5
Waterfalls / Lava Flow Hike / Hot Springs
Today explore more of Arenal and the surrounding area.
In the morning, visit La Fortuna Waterfalls. Located just three miles from the town of La Fortuna, this beautiful 200′ waterfall receives its cool, clear waters from the pristine forests of Arenal National Park. En route and near the falls you may see parrots, toucans, and tropical hummingbirds. The steep trail to the waterfall goes down through dense, lush rainforest and ends at a large pool at the base of the falls.
In addition to seeing a majestic waterfall in a beautiful setting, visitors to the falls are helping the local community, with fees used for important community projects such as schools, the town orphanage, recycling projects, water quality, roads, and an educational center.
After lunch, head out on a lava flow hike near the town of La Fortuna and Arenal Volcano, where you'll learn about the history of volcanic activity in the area, plus the local flora and fauna.
In the evening, relax at the base of Arenal Volcano in the Ecotermales hot springs, where natural springs and thermo-mineral water pools provide unparalleled relaxation. Have dinner here and return to your hotel for the night.
Meals
Breakfast, Lunch, Dinner
Lodging
Arenal Observatory Lodge (or similar)
Day 6
Hanging Bridges / Lake Arenal / Monteverde
Today begins with a visit to the Arenal Hanging Bridges, a complex of suspended bridges and trails through a beautiful rainforest. The lush vegetation contains palms, heliconias, and tall trees that you will view from every angle as you meander along the trails and the bridges. From some of the bridges, there are also panoramic views of nearby Arenal Volcano. As you walk through the forest, you may encounter a variety of the forest wildlife, including toucans, motmots, trogons, poison dart frogs, howling monkeys, spider monkeys, and white-faced capuchin monkeys.
Then, step out of the forest and onto a boat for a lake crossing that will take you to the Monteverde region, where you'll explore villages as well as the world-famous Monteverde Cloud Forest Reserve.
The communities outside the reserve include Monteverde, Cerro Plano, and Santa Elena. The small mountain farms of these towns are owned by "campesinos" (country farmers) who grow a variety of crops. The most important farm products are organic coffee (which can be purchased in local stores) and milk for the local Monteverde Cheese Factory, which has been producing a variety of high-quality cheeses since shortly after Quakers from the United States settled the area in the 1950s.
Throughout the communities are a large selection of restaurants, as well as visitor attractions such as butterfly gardens, horse rentals, treetop forest canopy tours, an orchid garden, art galleries, and an excellent educational bat exhibit.
Nature abounds in this region, with the Monteverde Cloud Forest Reserve protecting a mountain forest characterized by majestic trees densely covered by thick, wet and heavy "carpets" of epiphytes, including orchids and wild relatives of familiar tropical house plants such as philodendrons, ferns, and ficus trees.
The beautiful Resplendent Quetzal spends about half the year here and the forest is home to hundreds of other bird and mammal species. This private reserve has been intensely studied by scientists since its founding in 1972, and is the site of important pioneering research on the effects of climate change in tropical ecosystems. Several resident biologists are renowned experts on tropical bats, plants, and amphibians.
Meals
Breakfast, Lunch, Dinner
Lodging
Hotel Trapp Family (or similar)
Day 7
Monteverde / Canopy Tour
After breakfast, enjoy a guided visit to the Monteverde Cloud Forest Reserve. Later in the afternoon the forest may be cool and misty from low cloud cover, so bring a light jacket for your walk. The forest consists of lush, verdant vegetation containing understory palms, majestic canopy trees, arching "ropy" lianas, bizarre "strangler" fig trees, and epiphytes, small plants that grow on the trees. Outstanding among the epiphytes are orchids; although most are small and high in the tree canopy, more orchid species (>500!) are found in Monteverde than any other place yet known.
As you walk through the forest, you may encounter a variety of wildlife. Frequently-sighted mammals include white-faced capuchin and howler monkeys, white-nosed coatis, two-toed sloths, kinkajous, and agoutis. Look for birds, too—with hundreds of bird species found in or nearby the reserve, you may see the legendary crimson and iridescent-green Resplendent Quetzal (which spends about half the year in the area during its breeding season from February or March to July), Emerald Toucanets, Black guans, Keel-billed toucans, Blue-crowned Motmots, Orange-bellied Trogons, Three-wattled Bellbirds (approximately April to August), and hummingbirds such as Purple-throated Mountain-gems, Violet Sabrewings, and Magenta-throated Woodstars. The wonderful songs of many of these birds will accompany you as you travel through the forest.
Next, get ready for an exciting afternoon flying over the Monteverde canopy via zipline! Throughout, your guide will share stories of the birds and wildlife, as well as the history of plants and human activity in the region.
Meals
Breakfast, Lunch, Dinner
Lodging
Hotel Trapp Family (or similar)
Transfer to the San Jose International Airport for your flight home.
Depart the Monteverde area this morning and head to San Jose. En route visit Sarchi, Costa Rica's most famous crafts center. The town is full of stores offering wooden and leather crafts, but is best know for it's elaborately painted oxcarts that traditionally carried coffee from the highlands down to the port on the Pacific coast. Enjoy a little time here before continuing on to San Jose where you'll spend your last night.
Lodging
Hotel Park Inn (or similar)
Dates & Price
Dates
This trip will be customized for you on your dates of choice.
For dates and customization options for this adventure, please contact us.
Best Time of Year to Visit
Journeys International offers travel experiences to Costa Rica that pay proper homage to the country's riches, and it continues to deserve accolades for the value and attention placed on preservation of fantastic bio-diversity. On this itinerary, you visit three of the original gems in Costa Rica's environmental crown—the waterways of Tortuguero National Park on the Caribbean coast, Arenal National Park (with its now-dormant, but still imposing volcano), and the world-famous Monteverde Cloud Forest Reserve.
You have your choice of joining small groups for specific parts of the trip, or enjoying a completely customized and private adventure. Ask your adventure specialist for details on these various options.
Price includes domestic flights in Costa Rica.
The land cost published is for the stated itinerary and is subject to change. This covers accommodations, transfers, activities, touring, guide services and meals as described in the full itinerary.
For a custom & private adventure, the final cost will be based on the activities selected, trip duration, accommodations, etc. Developing an initial custom trip itinerary is a service we provide to all clients at no cost. If after development of the initial itinerary you request additional development but are not ready to make a deposit, a trip planning fee may apply.
Need to Know
For this trip, Journeys International, Inc. is acting as an agent for Peregrine Adventures, which is the principal supplier of travel services for this tour and is an independent contractor.
Adequate and valid travel insurance is compulsory for all Peregrine travelers.  Your travel insurance must cover accidents, injury, illness and death medical expenses, including any related to pre-existing medical conditions, emergency repatriation (including helicopter rescue and air ambulance where applicable) and personal liability. Peregrine also recommends it covers cancellation, curtailment and loss of luggage and personal effects. You must carry proof of insurance with you and produce it if reasonably requested by Peregrine's employees or suppliers. Peregrine reserves the right to cancel or suspend your participation on a trip or in certain activites that comprise part of a trip, at any time, including after the commencement or your tour, with no right of refund, if you are unable to provide proof of insurance when requested.
For all trips where Journeys represents Peregrine Adventures, please note that the hotels are of moderate standing. This means that they are usually three-star hotels without any "frills." All hotels have private facilities, but not the boutique-style facilities that we use for many of our other trips.
Included in costs: Meals as noted in (Breakfast, Lunch, Dinner), each night in double occupancy accommodations, land transfers between components, English speaking guides, park or site entry fees, surface transport, equipment other than personal gear, government tax, airport transfer assistance, in-country ticket reconfirmation and check-in assistance (where permitted), complete pre-departure packet, toll-free pre-departure phone assistance.
Not included in costs: Meals not noted as included, gratuities, beverages (except tea or coffee at meals), international or domestic airfare unless specified, airport departure taxes not included with air tickets, visas, itinerary changes after confirmation, any services not included in itinerary, any costs incurred due to canceled or delayed flights, acts of nature or other happenings beyond our control, or other costs as are more fully described in Journeys Terms & Conditions.
Deposit and payment schedule:  $700 per person per trip or the applicable amount based on the trip and the proximity of the departure date. A second deposit of $800 per person is due four months prior to departure, and final payment for land arrangements is due 60 days prior to departure. Airlines require full payment when tickets are issued. The deposit may be made by Visa, Master Card or check, and the Reservation Form may be submitted by fax, mail or via our website. Full payment schedule is described in our Terms and Conditions as noted in our Global Expedition Catalog, on our website and elsewhere. Please request this if you do not have it before advancing a deposit.
Cancellation Policy: As Journeys is acting as an agent for Peregrine Adventures, their cancellation policy, and not that of Journeys, applies to this trip.  Cancellation more than 56 days before departure will result in a loss of deposit.  Cancellation between 56 and 30 days will result in a loss of 50% of land cost. Cancellations within 30 days of departure will result in a loss of 100% of the land cost, as well as any applicable airline penalties.
If you do not pay the balance of your total booking cost within 60 days of departure your booking may be terminated and you will lose your deposit. Additional cancellation penalties may apply. No refunds will be made if you leave a trip for any reason after the trip has begun. No refunds will be made for any accommodation, transport, sightseeing, meals or services not utilized.
If you wish to change your booking in any way, the following fees will apply:
1. Transfer from one tour to another – Amendment request received 56 days or more prior to the original tour departure date: $100 per person per trip will be levied and must be paid prior to any transfer being confirmed. Amendment requests received within 56 days prior to the original tour departure date: charges will apply as per cancellation fees.
2. Amendments to your booking, in relation to any other arrangements made in conjunction with your tour (e.g. pre- and post tour accommodation, transfers, etc), received within 56 days prior to tour departure date will be subject to a $50 administration fee per change. This fee is in addition to any charges levied by ground operators, hotels or airlines.
3. No amendments are permitted to your booking within 10 days of departure.
Force Majeure: We will not be liable for any delay in, change to or cancellation of trips due to 'Force Majeure'. 'Force Majeure' means a circumstance beyond the reasonable control of Peregrine and includes, but is not limited to, war or threat of war, riot, civil strife, terrorist activity, industrial dispute, disease, industrial or nuclear disaster, adverse weather conditions, fire and strikes.
Insurance: TRAVEL INSURANCE WITH PROTECTION FOR AT LEAST $75,000 EMERGENCY MEDICAL EVACUATION PLUS $75,000 MEDICAL EXPENSES IS MANDATORY FOR THIS TRIP. Adequate coverage for death, repatriation and curtailment is also required. You will be asked to show proof of coverage upon your arrival. Obtaining medical insurance is the responsibility of the client. Although not required, we strongly recommend the purchase of cancellation insurance.
Air fares: Journeys can make complete air arrangements applicable to your trip as noted in this itinerary. If you wish to redeem frequent flyer mileage or arrange flights directly with the airline, you may do so on your own at no penalty. If you do, please consult with us on exact arrival and departure dates and times before having your tickets issued to avoid errors.
Itinerary Change Fee: There will be a $75 fee for changes once an itinerary has been confirmed and approved. Additional cancellation penalties or change fees may apply as per our terms and conditions. The passenger is responsible for such fees.
Additional Notes: While traveling on a Peregrine trip, local hotel information is generally not provided other than the joining hotel at the starting point of your trip. Reason being as it is subject to change and if people pass the hotel information on to family and friends, it can cause stress and confusion if they call the hotel, as they may not speak English or the hotel may have changed en route.
Publicity:  You agree that Peregrine may use images of you taken during the trip without recourse to you and without compensation to you, for publicity and promotion purposes only through whatever medium it chooses.
Other group member's demographics including ages, nationality, etc., will not be provided to you as it is a breach of privacy.
Duration
9 Days
The number of days, or duration, in a destination corresponds with the itinerary as published. This is the time period covered by the land cost.
Group Size
2 adults and 3 children
The stated range indicates minimum required for guaranteed departure and maximum accepted on the scheduled dates. Exceptions can often be made for private departures.
Comfort Level
Simple
Unique eco-lodges
Activity Level
Gentle
Optional hikes
Activity Level
Match the trip's intensity to your ability and motivation.
Gentle
Easy walking, with opportunities for low-key physical activity.
Active
Energetic exploration with optional day hikes, leisurely cycling, or light canoeing.
Vigorous
Day-long active excursions and options for demanding activity in varied environments.
Challenging
Strenuous hiking or other intense activity that may be at high altitude or over rough terrain.
Demanding
Multi-day trekking and other activities requiring endurance or strength. Steep trails. No technical expertise necessary.
Comfort Level
Choose accommodations and amenities that fit your personal style
Simple
Our most natural accommodations. Bath facilities often shared, sometimes rustic.
Delightful
Comfortable and especially personal. Small to mid-sized lodges, typically with private bath.
Superior
Lodges and hotels with additional amenities, refined artistry, or extra-special settings.
Deluxe
Exclusive or luxury lodges, hotels, or safari camps with fine dining options.
Uncommon
The most indulgent accommodations arranged specially for private trips.