Hong Kong Adventure Tours
*DUE TO CURRENT PROTEST CONDITIONS, WE DO NOT CURRENTLY RECOMMEND TRAVEL TO HONG KONG.* Hong Kong is situated on a peninsula and series of islands on the south coast of China, to the east of the Pearl River Delta and bordered to the north by Guangdong province. Hong Kong is one of the two special administrative regions of the People's Republic of China; the other is Macau. Situated on China's south coast and enclosed by the Pearl River Delta and South China Sea, it is renowned for its expansive skyline and deep natural harbor. With land mass of 1,104 km2 and a population of seven million people, Hong Kong is one of the most densely populated areas in the world. Hong Kong's population is 95% ethnic Chinese and 5% from other groups. Hong Kong's Han majority originate mainly from Guangzhou and Taishan, both cities in neighboring Guangdong province. Under the principle of "one country, two systems", Hong Kong runs on economic and political systems different from those of main land China. Hong Kong is one of the world's leading international financial centers, with a major capitalist service economy characterised by low taxation, free trade and minimum government intervention under the ethos of positive non-interventionism. The Hong Kong dollar is the 9th most traded currency in the world.
Hong Kong's independent judiciary functions under the common law framework. Its political system is governed by the Basic Law of Hong Kong, its constitutional document. Although it has a burgeoning multi-party system, half of its legislature is controlled by small-circle electorate. The Chief Executive of Hong Kong, the head of government, is selected by an 800-person election committee.
Hong Kong became a colony of the British Empire after the First Opium War (1839–42). Originally confined to Hong Kong Island, the colony's boundaries were extended in stages to the Kowloon Peninsula and the New Territories by 1898. It was occupied by Japan during the Pacific War, after which the British resumed control until 1997, when China regained sovereignty. The Basic Law stipulates that Hong Kong shall enjoy a "high degree of autonomy" in all matters except foreign relations and military defense.
History
Hong Kong began as a coastal island geographically located in southern China. While small settlements had taken place in the Hong Kong region, with archaeological findings dating back thousands of years, regularly written records were not made until the engagement of Imperial China and the British colony in the territory. Starting out as a fishing village, salt production site and trading ground, it would evolve into a military port of strategic importance and eventually an international financial centre. ancient sepia image of elevated view of a city and its harbor Hong Kong in the late nineteenth century was a major trading post of the British Empire.
Human settlement in the area now known as Hong Kong dates back to the late Paleolithic and early Neolithic era, but the name Hong Kong did not appear on written record until the Treaty of Nanking of 1842. The area's earliest recorded European visitor was Jorge Álvares, a Portuguese explorer who arrived in 1513.
In 1839, the refusal by Qing Dynasty authorities to import opium resulted in the First Opium War between China and Britain. Hong Kong Island became occupied by British forces in 1841, and was formally ceded to Britain under the Treaty of Nanking at the end of the war. The British established a crown colony with the founding of Victoria City the following year. In 1860, after China's defeat in the Second Opium War, the Kowloon Peninsula and Stonecutter's Island were ceded to Britain under the Convention of Peking. In 1898, under the terms of the Convention for the Extension of Hong Kong Territory, Britain obtained a 99-year lease of Lantau Island and the adjacent northern lands, which became known as the New Territories. Hong Kong's territory has remained unchanged to the present.
During the first half of the 20th century, Hong Kong was a free port, serving as an entrepôt of the British Empire. The British introduced an education system based on their own model, while the local Chinese population had little contact with the European community of wealthy tai-pans settled near Victoria Peak.
In conjunction with its military campaign in the Second World War, the Empire of Japan invaded Hong Kong on 8 December 1941. The Battle of Hong Kong ended with British and Canadian defenders surrendering control of the colony to Japan on 25 December. During the Japanese occupation, civilians suffered widespread food shortages, rationing, and hyper-inflation due to forced exchange of currency for military notes. Hong Kong lost more than half of its population in the period between the invasion and Japan's surrender in 1945, when the United Kingdom resumed control of the colony.
Hong Kong's population recovered quickly as a wave of migrants from China arrived for refuge from the ongoing Chinese Civil War. When the People's Republic of China was proclaimed in 1949, more migrants fled to Hong Kong in fear of persecution by the Communist Party. Many corporations in Shanghai and Guangzhou also shifted their operations to Hong Kong.
As textile and manufacturing industries grew with the help of population growth and low cost of labour, Hong Kong rapidly industrialised, with its economy becoming driven by exports, and living standards rising steadily. The construction of Shek Kip Mei Estate in 1953 marked the beginning of the public housing estate programme, designed to cope with the huge influx of immigrants. Trade in Hong Kong accelerated even further when Shenzhen, immediately north of Hong Kong, became a special economic zone of the PRC, and established Hong Kong as the main source of foreign investment to China. With the development of the manufacturing industry in southern China beginning in the early 1980s, Hong Kong's competitiveness in manufacturing declined and its economy began shifting toward a reliance on the service industry, which enjoyed high rates of growth in the 1980s and 1990s, and absorbed workers released from the manufacturing industry.
In 1983, Hong Kong was reclassified from a British crown colony to a dependent territory. However with the lease of the New Territories due to expire within two decades, the governments of Britain and China were already discussing the issue of Hong Kong's sovereignty. In 1984 the two countries signed the Sino-British Joint Declaration, agreeing to transfer sovereignty to the People's Republic of China in 1997, and stipulating that Hong Kong would be governed as a special administrative region, retaining its laws and a high degree of autonomy for at least fifty years after the transfer. The Hong Kong Basic Law, which would serve as the constitutional document after the transfer, was ratified in 1990, and the transfer of sovereignty occurred at midnight on 1 July 1997, marked by a handover ceremony at the Hong Kong Convention and Exhibition Centre.
Hong Kong's economy was affected by the Asian financial crisis, and the H5N1 avian influenza, both in 1997. After a gradual recovery, Hong Kong suffered again due to an outbreak of SARS in 2003. Today, Hong Kong continues to serve as an important global financial centre, but faces uncertainty over its future role with a growing mainland China economy, and its relationship with the PRC government in areas such as democratic reform and universal suffrage.
Etymology
The name "Hong Kong" is an approximate phonetic rendering of the Cantonese pronunciation of the spoken Cantonese or Hakka name meaning "fragrant harbor" in English.
New Territories
Hong Kong has a unitary system of government, no local government exists since the two municipal councils were abolished in 2000. As such there is no formal definition for its cities and towns. Administratively, Hong Kong is subdivided into 18 geographic districts, each represented by a district council whose role is to advise the government on local matters such as public facilities, community programmes, cultural activities and environmental improvements.
There are a total of 534 district council's seats, 405 of which are elected, while the rest are appointed by the Chief Executive and 27 ex officio chairmen of rural committees. The government's Home Affairs Department communicates government policies and plans to the public through the district offices.
Military
Main articles: Hong Kong Military Service Corps and People's Liberation Army Hong Kong Garrison
As a British Colony and later territory, defense was provided by the British military under the command of the Governor of Hong Kong who was ex officio Commander-in-chief. When the People's Republic of China assumed sovereignty in 1997, the British barracks were replaced by a garrison of the People's Liberation Army, comprising ground, naval, and air forces, and under the command of the Chinese Central Military Commission.
The Basic Law protects local civil affairs against interference by the garrison, and members of the garrison are made subject to Hong Kong laws. The Hong Kong Government remains responsible for the maintenance of public order; however, it may request the PRC government for help from the garrison in maintaining public order and in disaster relief. The PRC government is responsible for the costs of maintaining the garrison.
Geography and Climate
Hong Kong is located on China's south coast, 60 km east of Macau on the opposite side of the Pearl River Delta. It is surrounded by the South China Sea on the east, south, and west, and borders the Guangdong city of Shenzhen to the north over the Shenzhen River. The territory's 1,104 km2 area consists of Hong Kong Island, the Kowloon Peninsula, the New Territories, and over 200 offshore islands, of which the largest is Lantau Island. Of the total area, 1,054 km2 is land and 50 km2 is inland water. In addition Hong Kong claims territorial waters to a distance of 3 nautical miles. The land area makes Hong Kong the 179th largest inhabited territory in the world.
As much of Hong Kong's terrain is hilly to mountainous with steep slopes, less than 25% of the territory's landmass is developed, and about 40% of the remaining land area is reserved as country parks and nature reserves.  Most of the territory's urban development exists on Kowloon peninsula, along the northern edge of Hong Kong Island and in scattered settlements throughout the New Territories. The highest elevation in the territory is at Tai Mo Shan, at a height of 957 metres above sea level. Hong Kong's long, irregular and curvaceous coast line provides it with many bays, rivers and beaches.
Despite Hong Kong's reputation of being intensely urbanised, the territory has made much effort to promote a green environment, and recent growing public concern has prompted the severe restriction of further land reclamation from Victoria Harbour. Awareness of the environment is growing as Hong Kong suffers from increasing pollution compounded by its geography and tall buildings. Approximately 80% of the city's smog originates from other parts of the Pearl River Delta.
Situated just south of the Tropic of Cancer, Hong Kong's climate is humid subtropical climate. Summer is hot and humid with occasional showers and thunderstorms, and warm air coming from the southwest. It is also the time when typhoons are most likely, sometimes resulting in flooding or landslides. Winter weather usually starts sunny and becomes cloudier towards February, with the occasional cold front bringing strong, cooling winds from the north. The most pleasant seasons are spring, although changeable, and autumn, which is generally sunny and dry.  Hong Kong averages 1,948 hours of sunshine per year, while the highest and lowest ever recorded temperatures at the Hong Kong Observatory are 36.1 °C and 0.0 °C respectively.
Hong Kong is one of the world's leading financial centers. Its highly developed capitalist economy has been ranked the freest in the world by the Index of Economic Freedom for 15 consecutive years.  It is an important centre for international finance and trade, with one of the greatest concentration of corporate headquarters in the Asia-Pacific region, and is known as one of the Four Asian Tigers for its high growth rates and rapid development between the 1960s and 1990s. In addition, Hong Kong's gross domestic product, between 1961 and 1997, has grown 180 times larger than the former while per capita GDP rose by 87 times.
The territory has little arable land and few natural resources, so it imports most of its food and raw materials. Hong Kong is the world's eleventh largest trading entity,[74] with the total value of imports and exports exceeding its gross domestic product. Hong Kong is the world's largest re-export centre.  Much of Hong Kong's exports consist of re-exports, which are products made outside of the territory, especially in main land China, and distributed via Hong Kong. Even before the transfer of sovereignty, Hong Kong had established extensive trade and investment ties with the mainland, and now enables it to serve as a point of entry for investment flowing into the mainland. At the end of 2007, there were 3.46 million people employed full-time, with the unemployment rate averaging 4.1%, the fourth straight year of decline. Hong Kong's economy is dominated by the service sector, which accounts for over 90% of its GDP, while industry now constitutes just 9%. Inflation was at 2% in 2007, and Hong Kong's largest export markets are main land China, the United States, and Japan.
As of 2009, Hong Kong is the fifth most expensive city for expatriates, behind Tokyo, Osaka, Moscow, and Geneva. In 2008, Hong Kong was ranked sixth, and in 2007, it was ranked fifth. In 2009, Hong Kong was ranked third in the Ease of Doing Business
Demographics
Hong Kong is one of the most densely populated areas in the world, at 6,200 people per km². The territory's population is 7.03 million. In 2009, Hong Kong had a low birth rate of 11.7 per 1,000 population and a fertility rate of 1,032 children per 1,000 women. However, the population in Hong Kong continues to grow due to the influx of immigrants from mainland China, approximating 45,000 per year. A daily quota of 150 people from Mainland China with family ties in Hong Kong are granted a 'one way permit'. Life expectancy in Hong Kong is 79.8 years for males and 86.1 years for females, as of 2009, among the highest in the world.
About 95% of the people of Hong Kong are of Chinese descent, the majority of whom are Cantonese, Taishanese, Hakka and Chiu Chow. Hong Kong's Han majority originate mainly from the two regions of Guangzhou and Taishan areas in Guangdong Province. The remaining 5% of the population is composed of non-ethnic Chinese forming a highly visible group despite their smaller numbers. In addition, there are in excess of 300,000 foreign domestic helpers from Indonesia and the Philippines, according to official figures.
There is a South Asian population of Indians, Pakistanis and Nepalese. Some Vietnamese refugees have become permanent residents of Hong Kong. There are also a number of Europeans, Americans, Australians, Canadians, Japanese, and Koreans working in the city's commercial and financial sector. Residents from main land China do not have the right of abode in Hong Kong, nor are they allowed to enter the territory freely.
Hong Kong's de facto official language is Cantonese, a Chinese language originating from Guangdong Province to the north of Hong Kong. English is also an official language, and according to a 1996 by-census is spoken by 3.1% of the population as an everyday language and by 34.9% of the population as a second language. Signs displaying both Chinese and English are common throughout the territory. Since the 1997 handover, an increase in immigrants from mainland China and greater integration with the mainland economy have brought an increasing number of Mandarin speakers to Hong Kong.
Hong Kong is frequently described as a place where "East meets West", reflecting the culture's mix of the territory's Chinese roots with the culture brought to it during its time as a British colony. One of the more noticeable contradictions is Hong Kong's balancing of a modernised way of life with traditional Chinese practices. Concepts like feng shui are taken very seriously, with expensive construction projects often hiring expert consultants, and are often believed to make or break a business. Other objects like Ba gua mirrors are still regularly used to deflect evil spirits, and buildings often lack any floor number that has a 4 in it, due to its similarity to the word for "die" in Cantonese. The fusion of east and west also characterises Hong Kong's cuisine, where dim sum, hot pot and fast food restaurants coexist with haute cuisine. Hong Kong is a recognised global centre of trade, and calls itself an 'entertainment hub'.  Its martial arts film genre gained a high level of popularity in the late 1960s and 1970s. Several Hollywood performers and martial artists have originated from Hong Kong cinema, notably Bruce Lee, Jackie Chan, Chow Yun-Fat, and Yuen Woo-ping. A number of Hong Kong film-makers have also achieved widespread fame in Hollywood, such as John Woo, Wong Kar-wai and Stephen Chow.  Homegrown films such as Chungking Express, Infernal Affairs, Shaolin Soccer, Rumble in the Bronx, and In the Mood for Love have gained international recognition. Hong Kong is the centre for Cantopop music, which draws its influence from other forms of Chinese music and Western genres, and has a multinational fan base.
The Hong Kong government supports cultural institutions such as the Hong Kong Heritage Museum, the Hong Kong Museum of Art, the Hong Kong Academy for Performing Arts, and the Hong Kong Philharmonic Orchestra. Also, the government's Leisure and Cultural Services Department subsidizes and sponsors international performers brought to Hong Kong. Many international cultural activities are organized by the government, consulates, and privately.
Hong Kong has two licensed terrestrial broadcasters – ATV and TVB. There are three local and a number of foreign suppliers of cable and satellite services. The production of Hong Kong's soap dramas, comedy series and variety shows reach audiences throughout the Chinese-speaking world. Magazine and newspaper publishers in Hong Kong distribute and print in both Chinese and English, with a focus on sensationalism and celebrity gossip. The media is relatively free from official interference compared to mainland China, although the Far Eastern Economic Review points to signs of self-censorship by journals whose owners have close ties to or business interests in the PRC, but state that even Western media outlets are not immune to growing Chinese economic power.
Hong Kong offers wide recreational and competitive sport opportunities despite its limited land area. It sends delegates to international competition, namely the Olympic Games and Asian Games, and played host to the equestrian events during the 2008 Summer Olympics. There are major multipurpose venues like Hong Kong Coliseum and MacPherson Stadium. Hong Kong's steep terrain makes it ideal for hiking, with expansive views over the territory, and its rugged coastline provides many beaches for swimming.
Architecture
According to Emporis, there are 7,650 skyscrapers in Hong Kong, putting the city at the top of world rankings. The high density and tall skyline of Hong Kong's urban area is due to a lack of available sprawl space, with the average distance from the harbor front to the steep hills of Hong Kong Island at 1.3 km (0.81 mi), much of it reclaimed land. This lack of space causing demand for dense, high-rise offices and housing, has resulted in 36 of the world's 100 tallest residential buildings being in Hong Kong, and more people living or working above the 14th floor than anywhere else on Earth, making it the world's most vertical city.
As a result of the lack of space and demand for construction, few older buildings remain, and the city is instead becoming a centre for modern architecture. The International Commerce Centre (ICC), at 484 m (1,588 ft) high, is the tallest building in Hong Kong and also the third tallest in the world, by height to roof measurement. The tallest building prior to the ICC is Two International Finance Centre, at 415 m (1,362 ft) high. Other recognisable skyline features include the HSBC Headquarters Building, the triangular-topped Central Plaza with its pyramid-shaped spire, The Center with its night-time multi-coloured neon light show, and I. M. Pei's Bank of China Tower with its sharp, angular façade. According to the Emporis website, the city skyline has the biggest visual impact of all world cities.[123] Notable remaining historical assets include the Tsim Sha Tsui Clock Tower, the Central Police Station, and the remains of Kowloon Walled City.
There are many development plans in place, including the construction of new government buildings, waterfront redevelopment in Central, and a series of projects in West Kowloon. More high-rise development is set to take place on the other side of Victoria Harbour in Kowloon, as the 1998 closure of the nearby Kai Tak Airport lifted strict height restrictions.
Transport
Hong Kong has a highly developed transportation network. Over 90% of daily travels  are on public transport, making it the highest such percentage in the world. Payment can be made using the Octopus card, a stored value system introduced by the MTR, which is now widely accepted on railways, buses and ferries, and well as accepted for cash at other outlets.
The city's rapid transit system, MTR, has 150 stations, which serve 3.4 million people a day. Hong Kong Tramways, which has served the territory since 1904, covers the northern parts of Hong Kong Island. Double-decker buses were introduced to Hong Kong in 1949, and are now almost exclusively used; single-decker buses remain in use for routes with lower demand or roads with lower load capacity. Most normal franchised bus routes in Hong Kong operate until 1 a.m. Public light buses serve most parts of Hong Kong, particularly areas where standard bus lines cannot reach or do not reach as frequently, quickly or directly.
The Star Ferry service, founded in 1888, operates four lines across Victoria Harbour and provides scenic views of Hong Kong's skyline for its 53,000 daily passengers. It acquired iconic status following its use as a setting on The World of Suzie Wong. Travel writer Ryan Levitt considered the main Tsim Sha Tsui to Central crossing one of the most picturesque in the world. Other ferry services are provided by operators serving outlying islands, new towns, Macau and cities in mainland China. Hong Kong is also famous for its junks traversing the harbour, and small kai-to ferries that serve remote coastal settlements.
Hong Kong Island's steep, hilly terrain calls for some unusual ways of getting up and down the slopes. It was initially served by sedan chair, steeply ascending the side of a mountain. The Peak Tram, the first public transport system in Hong Kong, has provided vertical rail transport between Central and Victoria Peak since 1888. In Central and Western district, there is an extensive system of escalators and moving pavements, including the longest outdoor covered escalator system in the world, the Mid-Levels escalator.
Hong Kong International Airport is a leading air passenger gateway and logistics hub in Asia and one of the world's busiest airports in terms of international passenger and cargo movement, serving more than 47 million passengers and handling 3.74 million tonnes of cargo in 2007. It replaced the overcrowded Kai Tak Airport in Kowloon in 1998, and has been rated as the world's best airport in a number of surveys. Over 85 airlines operate at the two-terminal airport and it is the primary hub of Cathay Pacific, Dragonair, Air Hong Kong, Hong Kong Airlines and Hong Kong Express.
Customize Your Dream Adventure
We are here to help craft tailor-made adventures for individuals, couples, families, and groups of explorers.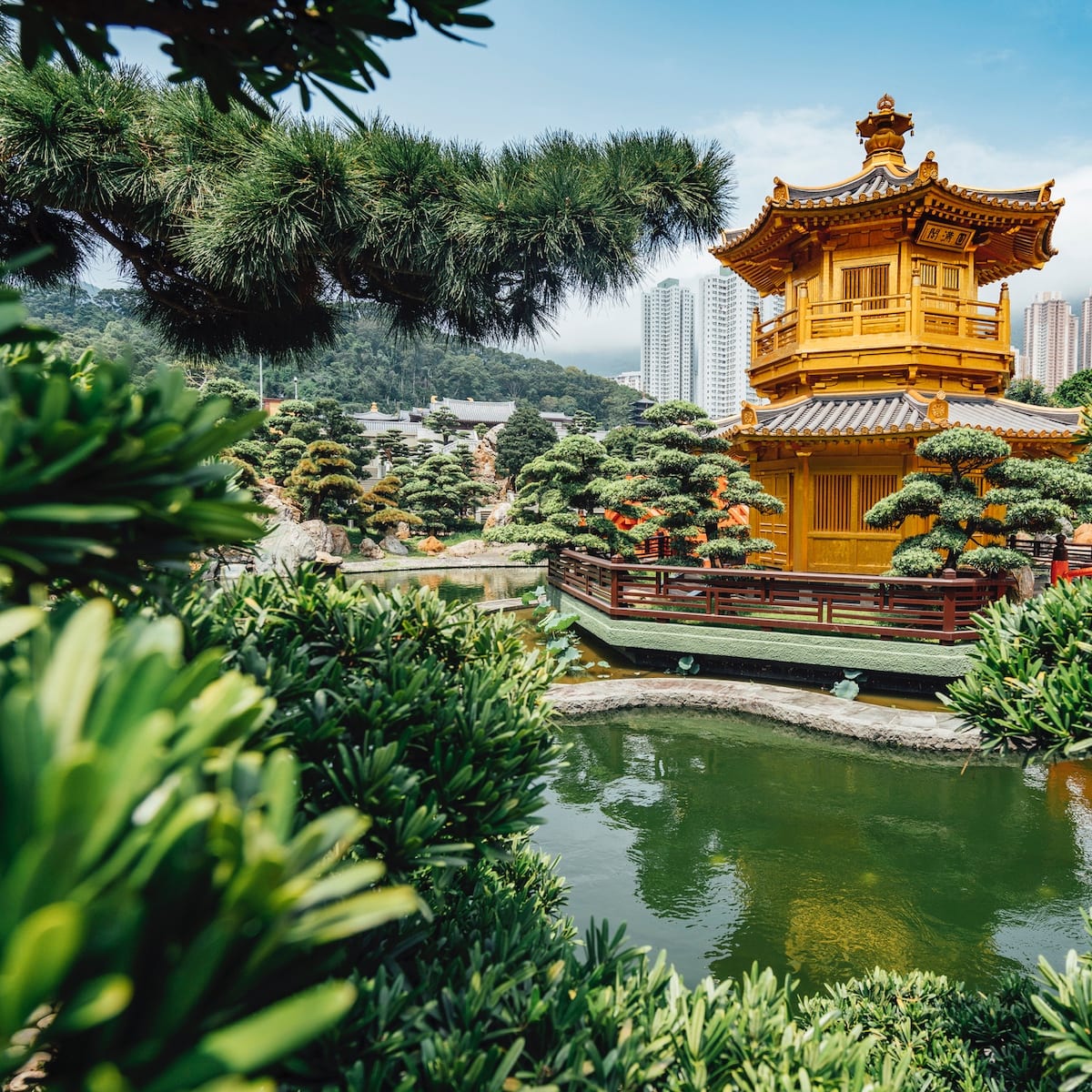 Attractions
Things to See & Do Near Hong Kong