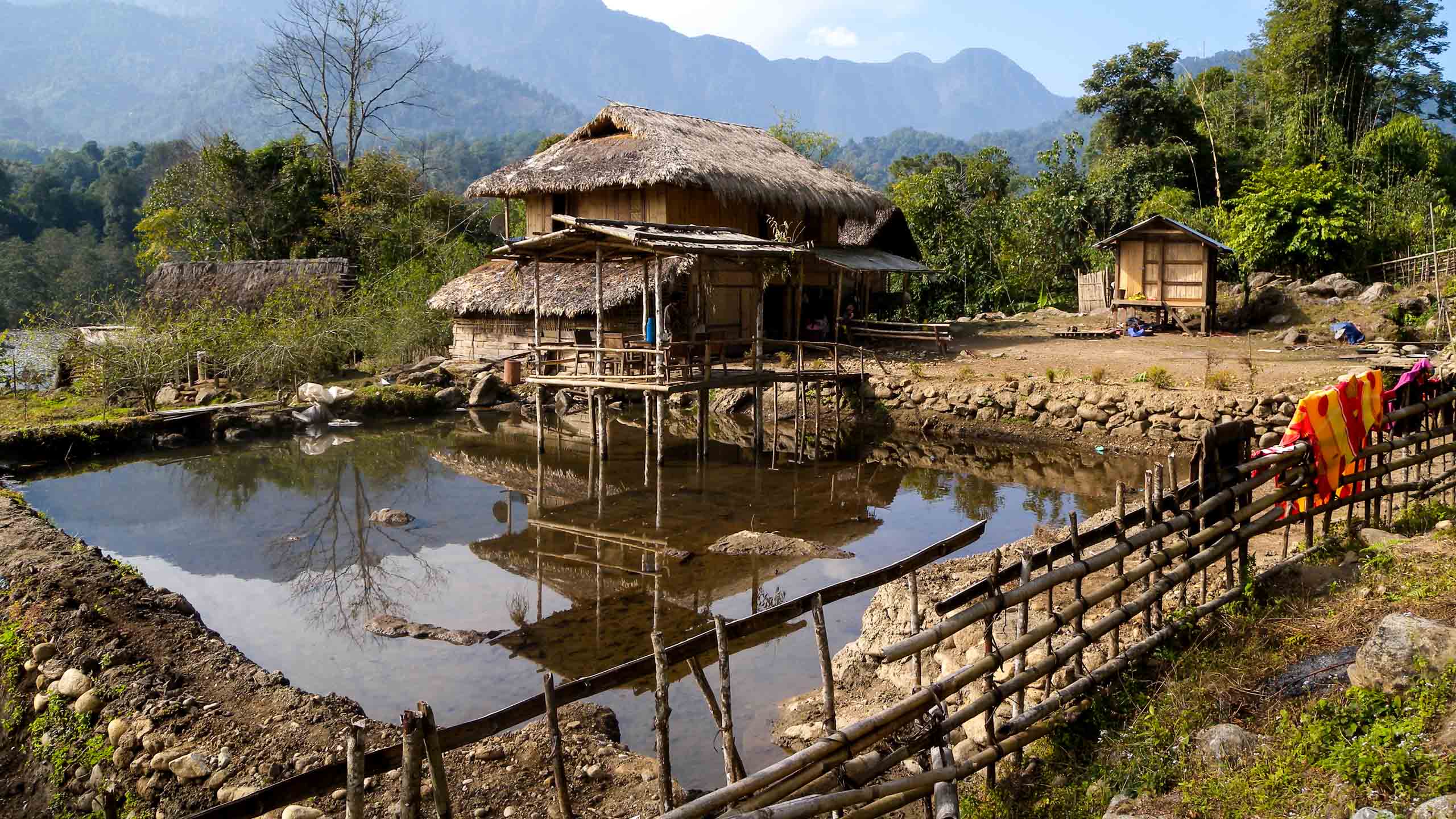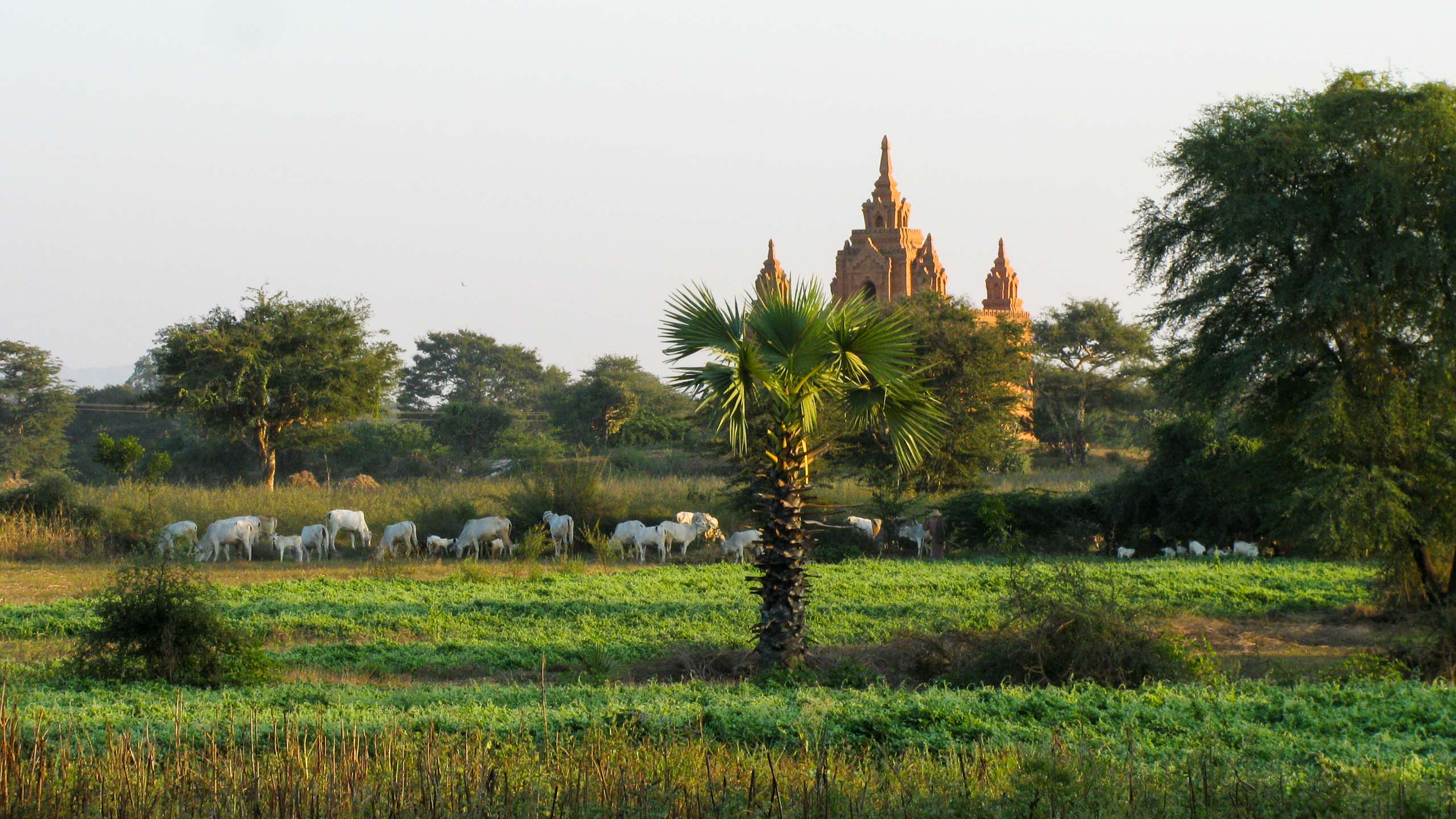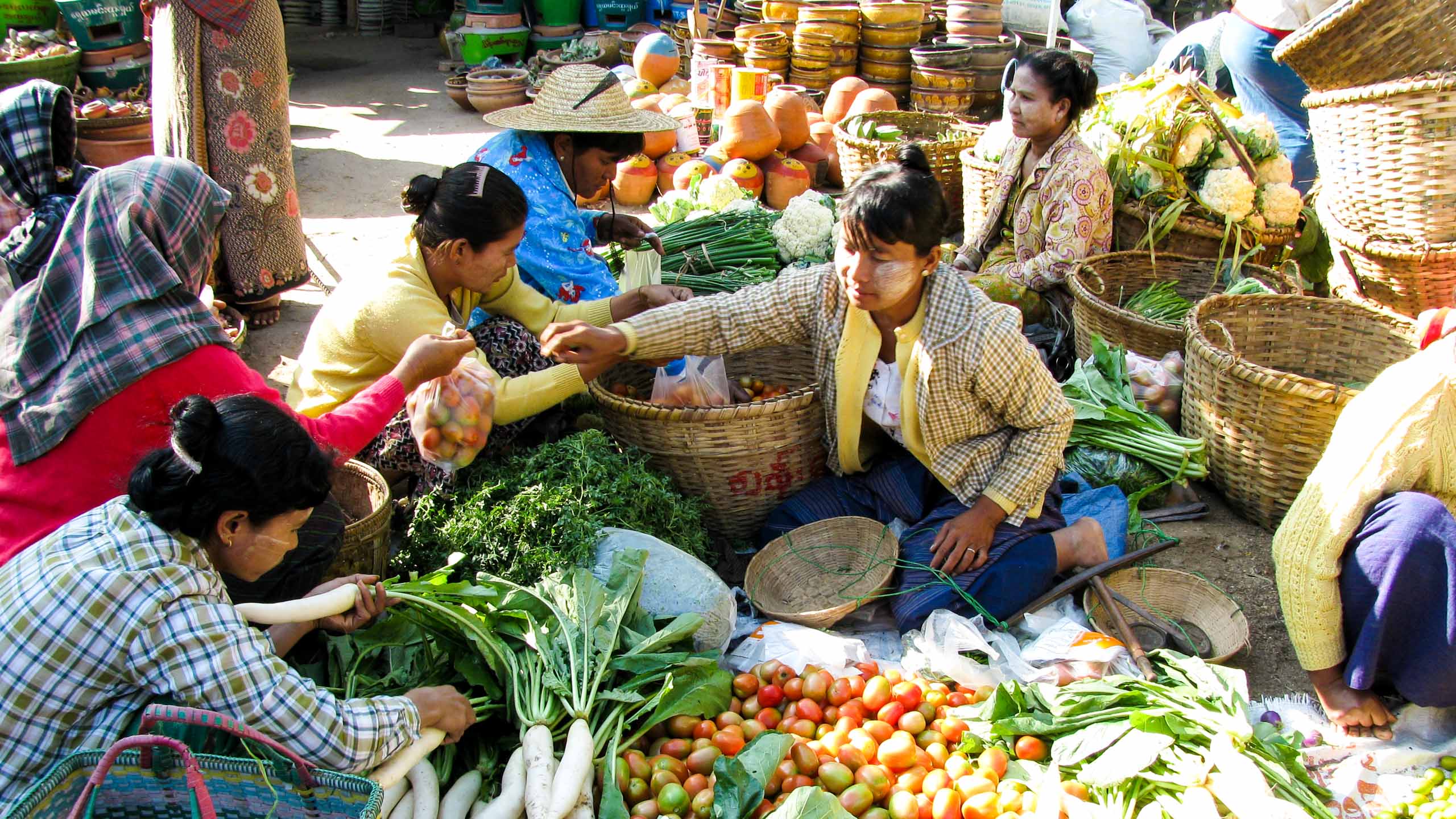 Bagan and Beyond
Myanmar's markets, villages and ancient sites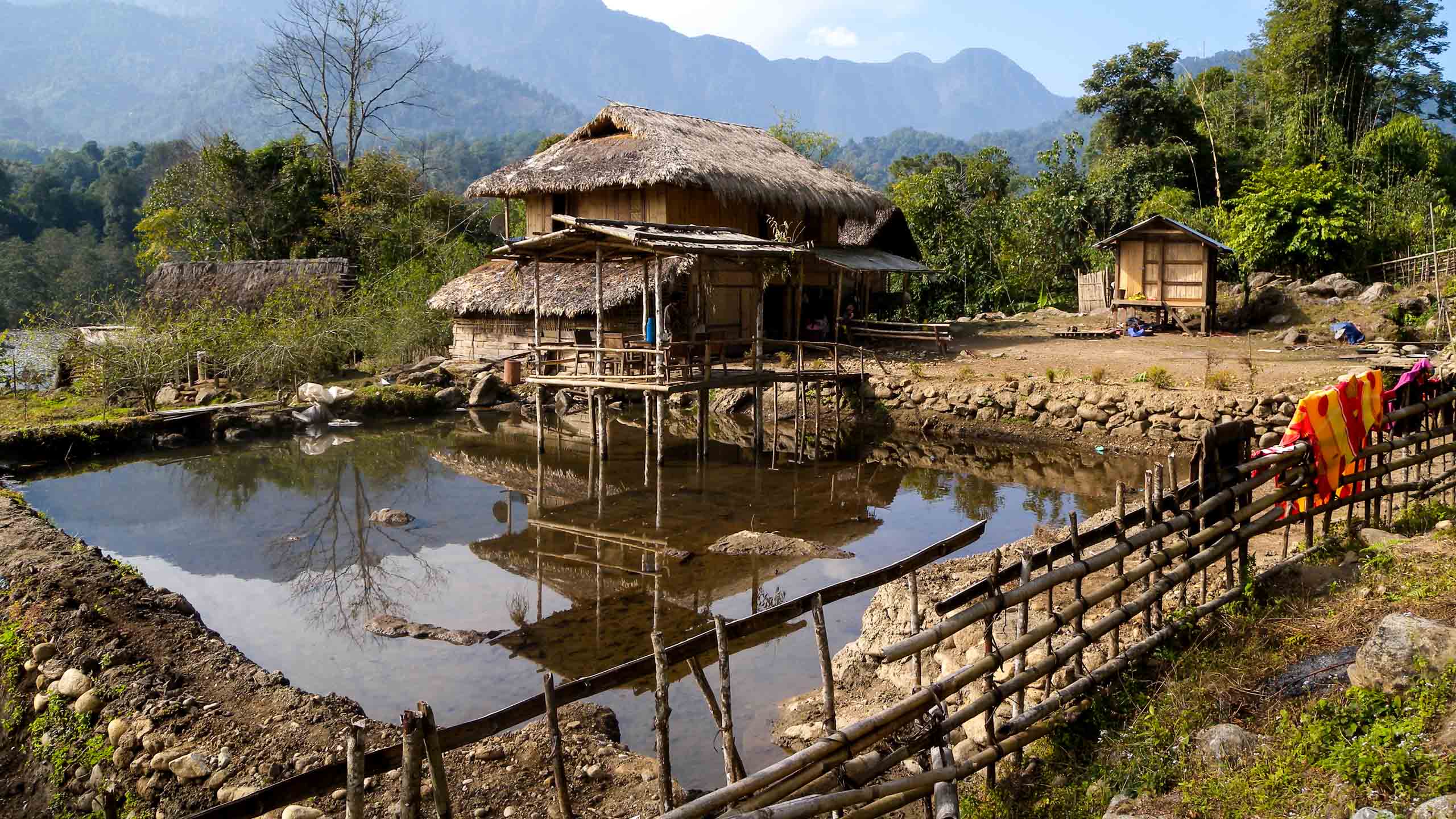 Destination
Myanmar (Burma)
Travel deep into the countryside. Your guide leads your trip to the ruins of Bagan, tribal villages and historical sites of Mandalay and Yangon. Enjoy top-quality arrangements and a local perspective on life, tradition, and hopes for the future.
Great For
Cultural Exploration
Village Culture
History
Your guides will meet you at Yangon Airport and transfer you to your privately owned hotel. Enjoy the rhythm of everyday life in Yangon. Your hotel is located on the banks of the tranquil Kandawgyi (Royal) Lake. This modern hotel built by the Rangoon Rowing Club in 1934, still retains the traditions of Myanmar architecture. The Kandawgyi Lake is a popular hangout for the locals and provides a great place to take a leisure stroll or a morning jog.
Lodging
Kandawgyi Palace Hotel or similar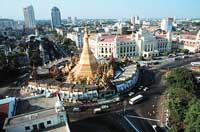 Your day begins with a walk among the colonial buildings in the city, Chaukhtatgyi, the colossal reclining Buddha, and Botataung Pagoda said to enshrine the Buddha's hair relics. In the afternoon you visit the Shwedagon Pagoda, claimed to be the worlds richest golden stupa that is more than 2,500 years old. The golden dome rises roughly 322 feet above its base and is covered with 60 tons of pure gold along with numerous precious stones, including a 76 carat solid diamond on the top. Return to the hotel for your overnight. Dinner will be on your own.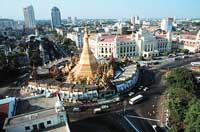 Lodging
Kandawgyi Palace Hotel or similar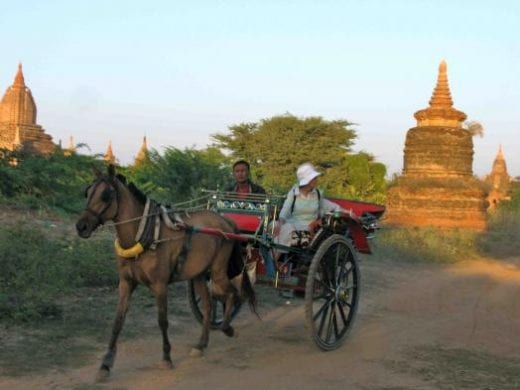 In the early morning, fly to Bagan, considered one of the most amazing sights in Asia. Though comparable to sites of worldwide importance such as Jerusalem and Rome, Bagan remains virtually unknown. Merely 2,200 temples remain of the 13,000 that once stood. Some were destroyed by invaders, others by earthquake and decay, but internationally funded restoration is underway and the major temples are in excellent condition. Upon your arrival, transfer to a local hotel where you will have a chance to freshen up before exploring the area. Begin at Gawdawpalin, one of the largest and most imposing monuments in Bagan. See the Anandar Temple, with the best-preserved masterpieces of Mon architecture and the nearby brick monastery which is one of the few that was not destroyed; visit Thabyinnyu, the highest monument of universal science; see Natlyaunhkyaung, the only example of a Hindu Vaishanavite left in Bagan where kind Anawratha used to trap the Nat Idols in attempt to change the country from animism into Buddhism; visit Dhammyangyi, the temple of the evil king, unique panoramic views of both the image of Buddha and the Shwesandaw Temple. In the afternoon, visit a traditional lacquer-ware workshop to observe the process of making unique Myanmar bowls and trays. Enjoy the sunset from one of the ruins.
OPTIONAL EXCURSION (Additional cost – $50 per person):
High Tea at a Temple Terrace: For a little quiet heaven among Bagan's ruins, you'll hop aboard a horse cart and take a detour away from main tourist routes. During the ride on this country road, the only interfering traffic you will find might be herds of cows or goats. After a 45 minute ride, you will reach a secluded temple in the middle of shrub-land. Enter the temple and climb the stairs to an upper terrace where there awaits a private arrangement of afternoon high tea. Enjoy a selection of local sweets and seasonal fruits served in traditional lacquerware while comfortably lazing atop with a grand view of the sunset over the temples. Note: if taking this option, your temple visit for the day will be shortened.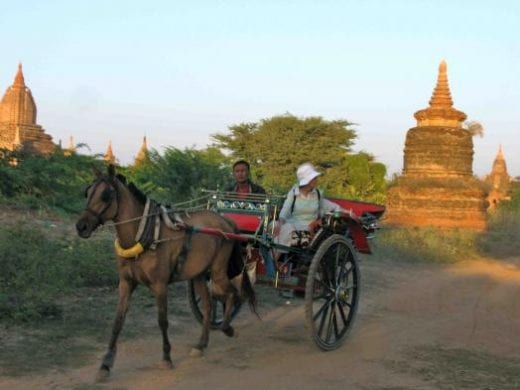 Lodging
Tharabar Gate Hotel or similar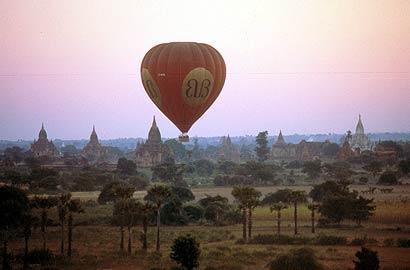 If you feel up to it, you may enjoy the fantastic sunrise view from the ruins this morning. Breakfast is at the hotel, before departing on a one-hour drive to Salay where you'll visit the 18th century Yoke Son Monastery to see its beautiful woodcarvings and a unique 13th-century lacquerware Buddha Image. Depending on the group's interest when you return to Bagan, visit the Wetkyi Inn Gubyaukgyi Temple to observe original 12th-century mural paintings, frescoes and base relief works depicting the entire life of the Buddha and his disciples. Also visit Htilominlo Temple, where you'll see frescoes representing 28 Buddhas of the future; see the Shwezigon Pagoda, the prototype of late Myanmar stupas, and finish with a visit to the enchanting Nyaung Oo Market. Proceed to some local villages to observe daily life in central Myanmar, such as the traditional handloom weaving, and the manual production of edible oils from sesame seeds and groundnuts.
OPTIONAL EXCURSION (Additional cost – $300-375 per person):
Hot Air Balloon Ride Over Bagan: The morning will start off with an exciting hot-air balloon ride above the Bagan countryside. You will observe one-of-a-kind views when the sun begins to rise over the Irrawaddy River and various stupas in the region. You're simply not going to find many other opportunities like this on Earth. (Only available from October/November through March.)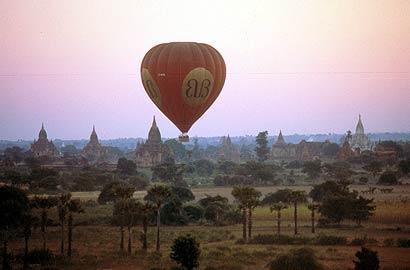 Lodging
Tharabar Gate Hotel or similar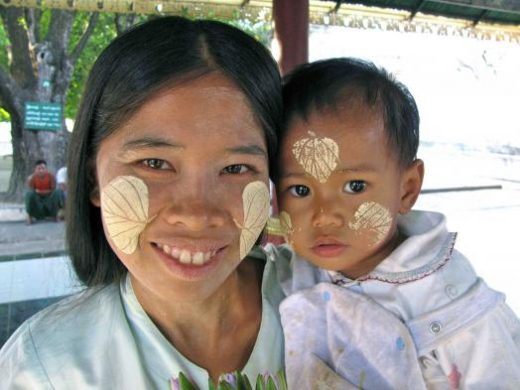 Breakfast is at the hotel before transferring to the airport for your flight to Mandalay, the last capital of Burmese monarchy, and one of the most impressive market cities in Asia. Mandalay is also the spiritual, cultural and traditional capital, as well as the commercial heart of central Burma. Upon arrival, visit the Kuthodaw Pagoda, which houses the "world's largest book" and the entire Buddhist Canon, recorded on stone tablets in Pali script. Next, visit the Shwe Nan Daw, or "Golden Monastery" to observe the finest Myanmar wooden architecture in Mandalay. After breakfast, depart to Kyawzun Jetty for your boat ride across the Ayeyarwady River to Mingun (approx. one hour). In Burma, the river is the highway, especially between Mandalay and Rangoon and this is an excellent opportunity to observe Burmese life along the way. Upon arriving in Mingun visit the Mingun Bell, the world's largest uncracked, functioning bell. Other highlights you'll see here are the Settawya Pagoda, with a marble footprint of Buddha, and the Shinbume Pagoda built in the 19th century. Return by boat to Mandalay where you may enjoy a sunset from the distinctive Mandalay Hill. Overnight in Mandalay.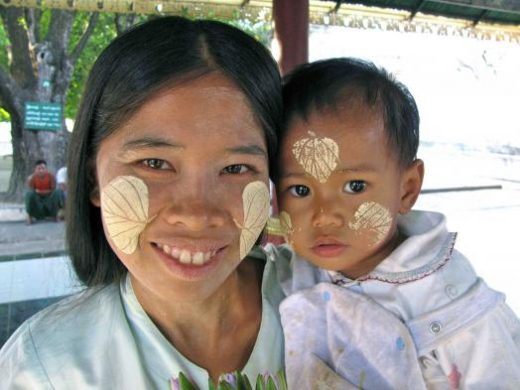 Lodging
Mandalay Hill Resort or similar
F
Day 6
Amarapura/Ava/Sagaing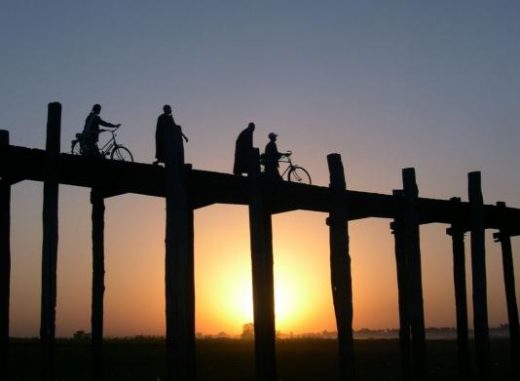 After breakfast, depart for the ancient capital Amarapura, also known as the "City of Immortality." Along the way, observe traditional handicraft workshops. Visit the Mahagandayon Monastery to learn the lunch process of hundreds of Buddhist monks, and see how they play a major role in the daily life of the people. Proceed to the 14th century capital Ava, and visit its unique monasteries and monuments including the Bargaya Teak Monastery, which is famous for its 267 teak pillaars and the remains of the royal palace and fort. After exploring Ava, continue on to Sagaing. Covered with 600 white-painted pagodas and monasteries, Saiging Hill is widely regarded as the religious center of Myanmar and is home to 3,000 monks and 100 meditation centers. Enjoy fantastic sunset views from the 200 year old U Bein Teak Bridge, before returning to Mandalay. Overnight at local hotel in Mandalay.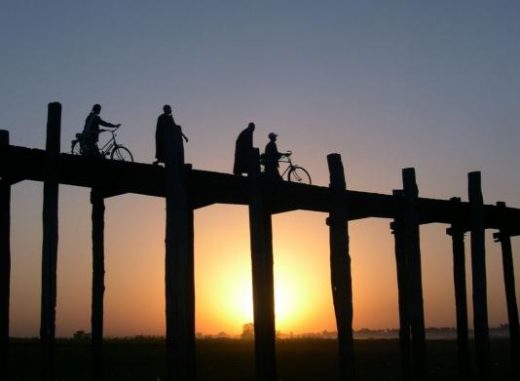 Lodging
Mandalay Hill Resort or similar
G
Day 7
Mandalay Free Day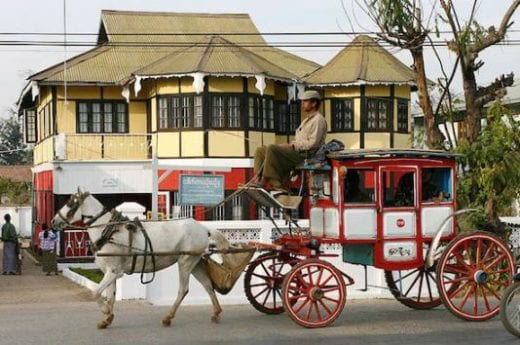 You'll have the day free to explore as you like. Optionally, take a day trip out to Pyin Oo Lwin or Goteik Viaduct (additional costs.) Pyin Oo Lwin, also known as Maymyo (2 hrs drive one way), is a scenic hilltown located in the Shan Highlands. It was once the summer capital of the Raj in Burma and today, retains much of its colonial "hill station" look similar to the way Darjeeling in India looked back in the 1970's. There is a large Indian population as well as a Chinese population due to its close proximity to China. At 3500′ above sea level, the town has an abundance of flowers, strawberries and coffee beans, making this a very pleant place to explore. Here you'll visit the Kandawgyi Gardens, established in 1915 by Alex Rodger containing a rich diverse collection of flora, including many English varieties. There is also a bird area with an impressive collection of exotic species.
The Goteik Viaduct is a railway trestle spanning 120 feet in Nawnghkio, located between Pyin Oo Lwin and Lashio, about 60 miles northeast of Mandalay. At 335 feet high, it is the highest bridge in Myanmar and at the time of its completion in 1901, it was the largest railway trestle in the world. The rail line was contructed in order for the British Empire to expand their influence in the area.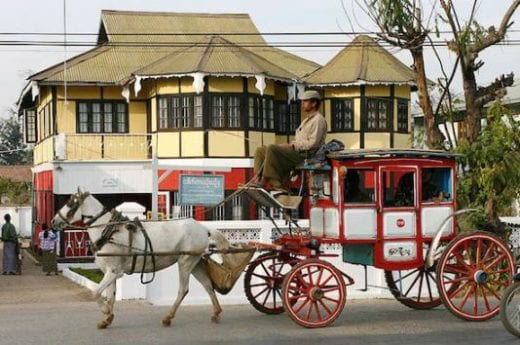 Lodging
Mandalay Hill Resort or similar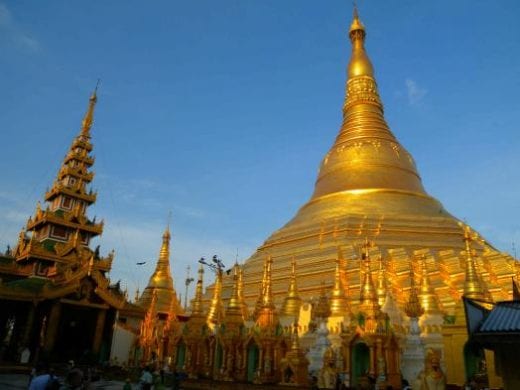 Transfer to the airport in time to check-in for your departing flight. Journeys services end.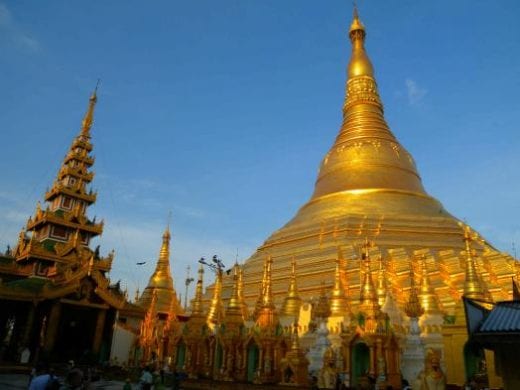 Dates & Price
Best Time of Year to Visit
Travel deep into the countryside. Your guide leads your trip to the ruins of Bagan, tribal villages and historical sites of Mandalay and Yangon. Enjoy top-quality arrangements and a local perspective on life, tradition, and hopes for the future.
Need to Know
Ask us about adding an overnight boat trip from Bagan to Mandalay.
Please note that this trip operates under different payment and cancellation policies than those described in our complete Terms & Conditions as noted on our website and elsewhere. Please review the complete Terms & Conditions prior to submitting a deposit. 
Expenses covered
Normally, our stated land costs include the cost of all guides, leaders, permits obtained after arrival, lodging accommodations, food and entry fees as specified, and all surface transportation associated with the planned itinerary. We do our best to avoid increasing prices after receipt of your deposit, but, rarely, factors beyond our control might require us to change our prices without prior notice, even after you have signed up.
Additional Notes: A surcharge may apply for peak season dates (Water Festival in April, Christmas, New Year, etc.)
Expenses not covered
Costs not included in the price may include: meals not indicated as included in itineraries; meals prior to arrival in starting cities; transfers, if not arriving or departing on the scheduled group flights; soft drinks, bottled water, and alcoholic beverages; medical expenses, costs of hospitalization, or evacuation from remote areas; laundry; airport departure taxes not included on your airline ticket; accommodations en route to starting cities; visas; airfares; gratuities; and insurance.
Payment and Deposit Schedule​
30% of the land cost per person or the applicable amount based on the trip and the proximity of the departure date. A second deposit of $1,000 per person is due four months prior to departure, and final payment for land arrangements is due 90 days prior to departure. Any applicable permit fees required in advance are non-refundable as well. Airlines require full payment when tickets are issued. The deposit may be made by Visa, Master Card, American Express, or check, and the Reservation Form may be submitted via our website. Full payment schedule and cancellation penalties are described in our Terms and Conditions on our website, and elsewhere. Please request these if you do not have them before advancing a deposit.
Airfare
We can help you secure air travel arrangements to correspond with land travel booked through Journeys International. We work with an airfare consolidator to assist in booking the flights that suit your needs. If you decide to make your own flight arrangements, you must provide Journeys International with a complete copy of your itinerary showing departure and arrival flights and times. You should plan to arrange your own air travel if you are using mileage credit or originating outside North America, but please be in touch with our office before you finalize ticketing so that we can help you to coordinate the correct arrival and departure dates and times.
Insurance
When you make your reservation, we strongly recommend the purchase of comprehensive travel insurance in case of emergency situations. Please contact us for a recommended policy.
Itinerary Change Fee
There will be a $40 fee for changes once an itinerary has been confirmed and approved. Additional cancellation penalties or change fees may apply as per our terms and conditions. The passenger is responsible for such fees.
Duration
8 Days
The number of days, or duration, in a destination corresponds with the itinerary as published. This is the time period covered by the land cost.
Group Size
2 - 12
The stated range indicates minimum required for guaranteed departure and maximum accepted on the scheduled dates. Exceptions can often be made for private departures.
Comfort Level
Superior
Western-style hotels
Activity Level
Gentle
Easy walking and vehicle travel
Activity Level
Match the trip's intensity to your ability and motivation.
Gentle
Easy walking, with opportunities for low-key physical activity.
Active
Energetic exploration with optional day hikes, leisurely cycling, or light canoeing.
Vigorous
Day-long active excursions and options for demanding activity in varied environments.
Challenging
Strenuous hiking or other intense activity that may be at high altitude or over rough terrain.
Demanding
Multi-day trekking and other activities requiring endurance or strength. Steep trails. No technical expertise necessary.
Comfort Level
Choose accommodations and amenities that fit your personal style
Simple
Our most natural accommodations. Bath facilities often shared, sometimes rustic.
Delightful
Comfortable and especially personal. Small to mid-sized lodges, typically with private bath.
Superior
Lodges and hotels with additional amenities, refined artistry, or extra-special settings.
Deluxe
Exclusive or luxury lodges, hotels, or safari camps with fine dining options.
Uncommon
The most indulgent accommodations arranged specially for private trips.
Single Supplement
The single supplement is applicable if a roommate is not available or if single accommodation is specifically requested. While single accommodation is not available on all trips, we will try and honor this request whenever possible.