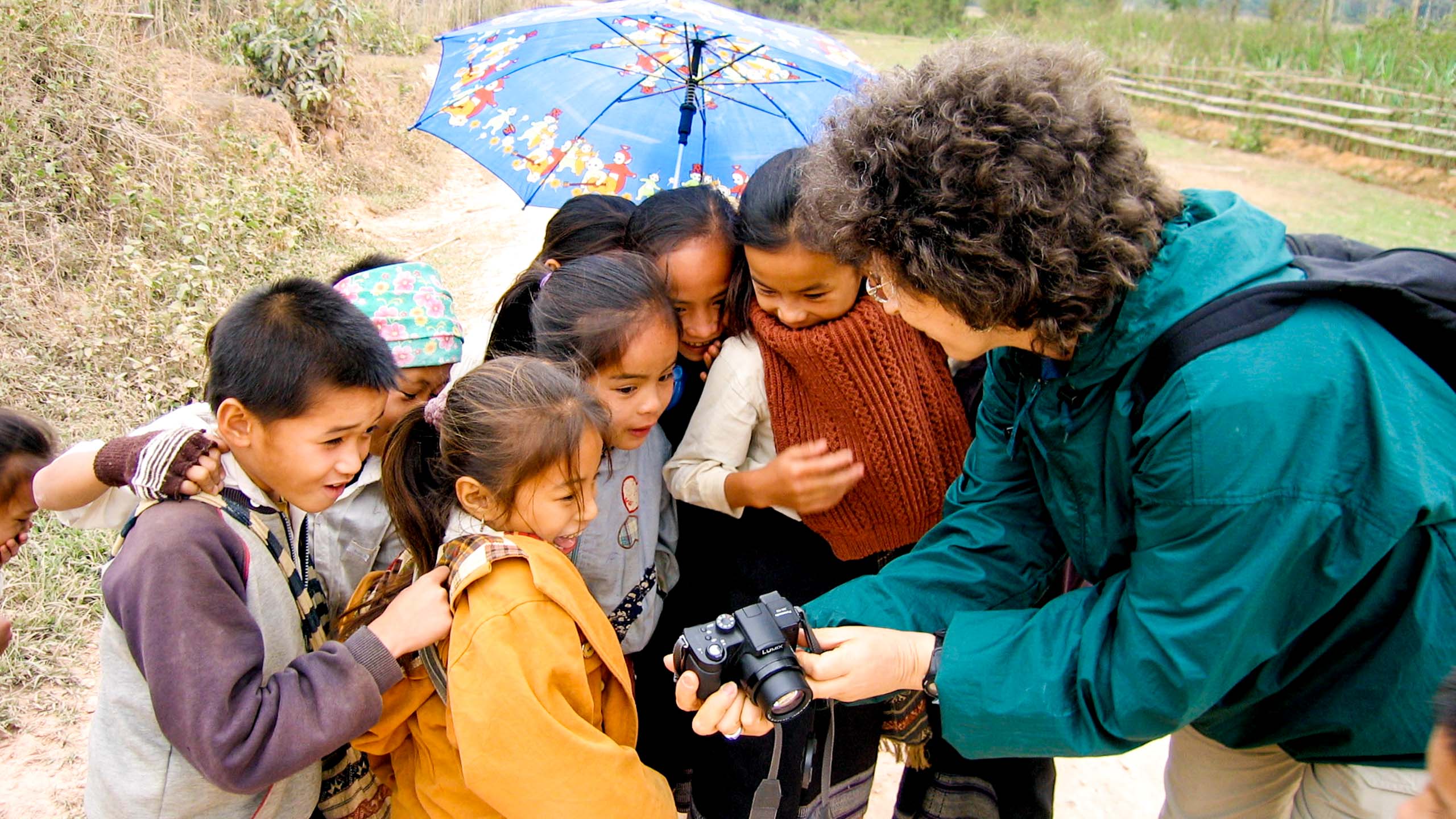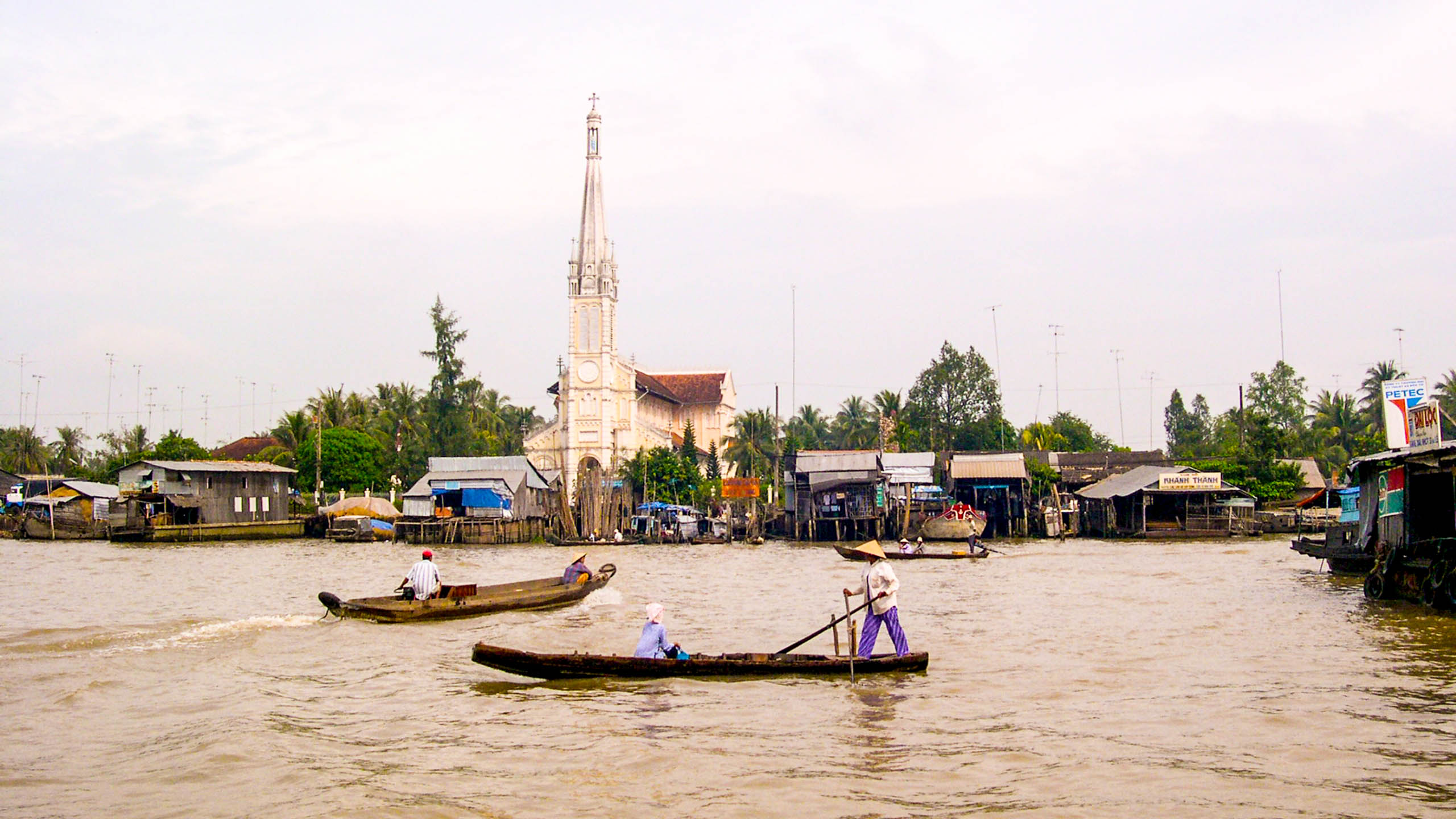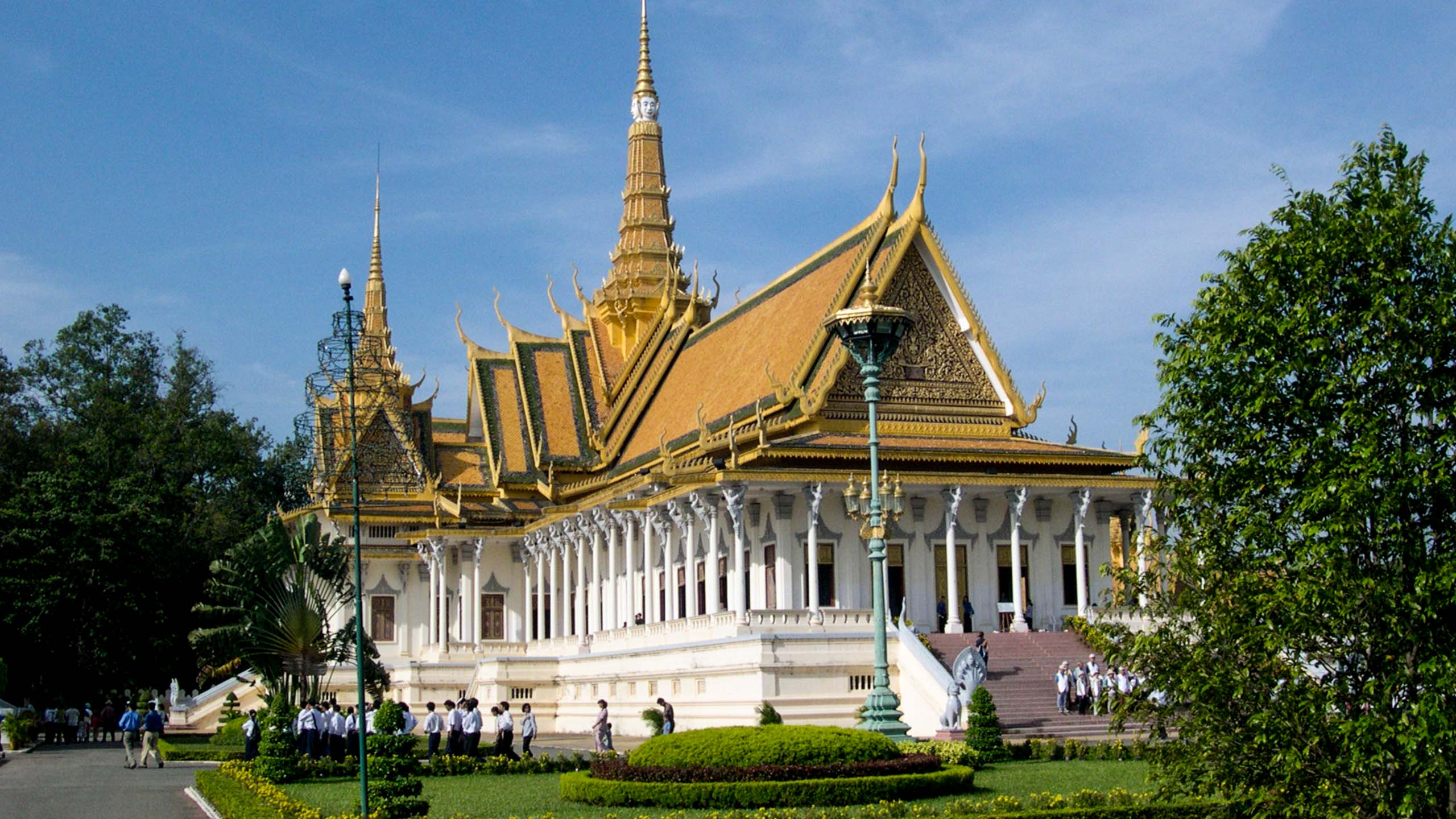 Highlights of Southeast Asia
Temples and ancient ruins, awe-inspiring landscapes, and local hospitality in Vietnam, Cambodia, and Laos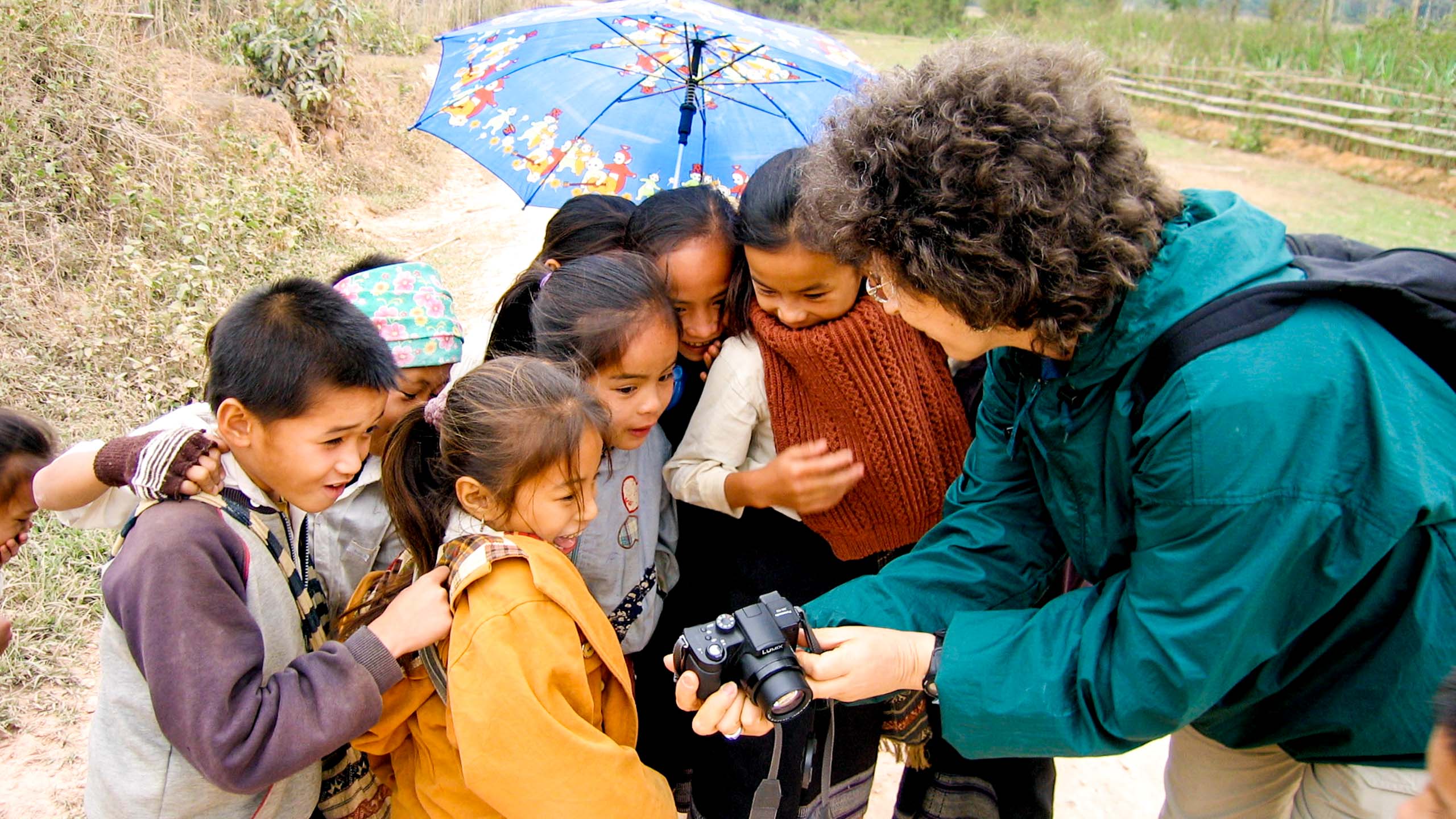 Destination
Southeast Asia
This trip is a comprehensive overview of Cambodia, Laos, and Vietnam. It's a wonderful option for those interested in a cultural, historical, and recreational sampling of Southeast Asia, but who may not have time for a longer, more in-depth exploration like the one offered on Savoring Southeast Asia. From visiting UNESCO World Heritages sites such as Angkor Wat to sleeping on a "junk" in Halong Bay, the variety of this itinerary will surely keep you on your toes.
As with all of our trips that are available privately on your own dates, this itinerary is fully customizable. Our skilled Adventure Specialists can help you pick and choose activities based on your preferences, and will design a custom itinerary just for you and your private group. Use this itinerary as a starting point, but remember that it can be changed however you'd like!
Great For
Incredible culture
Doing a lot in a short time
Flexibility
I enjoyed all the cultural aspects, from the clothing, transportation, architecture, food, music, language, museums, history and religion. Rebecca P.
A
Day 1
Arrive Ho Chi Minh City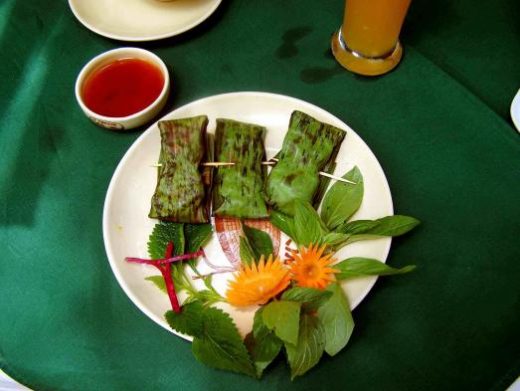 Welcome to Southeast Asia! On arrival at the airport in Ho Chi Minh City, you'll be met by your local guide and assisted with the transfer to your hotel. On your short drive, look for French-inspired structures; Ho Chi Minh City, formerly known as Saigon, was once the capital of the French Colony. After arrival at your hotel, you'll have the rest of the day free to relax or explore on your own.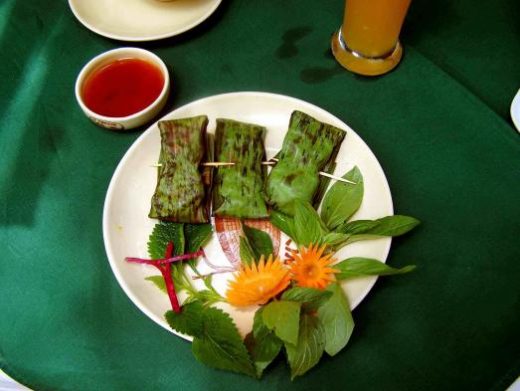 Lodging
Grand Hotel (or similar)
B
Day 2
Cu Chi Tunnels & Ho Chi Minh City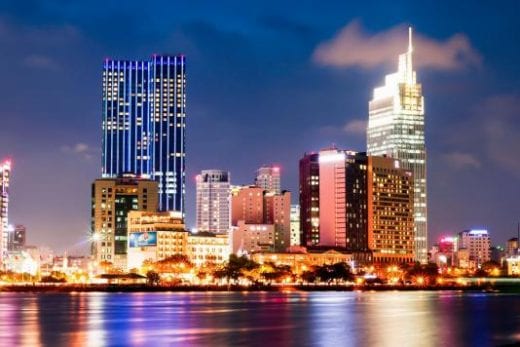 After breakfast, depart for the Cu Chi Tunnels (approx. 1.5 hr drive), which served as an underground city behind enemy lines for the Viet Cong during the Vietnam War. They contained makeshift hospitals, weapon caches, and, of course, living quarters. Approximately 10,000 people called these cramped tunnels home for many years. You will watch a short video introduction before exploring the tunnel system. It is a haunting and eye-opening learning experience. Note: We don't recommend those who are claustrophobic to enter the tunnels.
Return to Ho Chi Minh City, where you'll spend the afternoon on a guided tour starting with a historic landmark – the Post Office, which was built during the French Indochina era and made infamous at the end of the Vietnam War. Continue with a stroll down Dong Khoi Street, a wide avenue lined with luxurious shops and hotels, followed by a visit to Ben Thanh Market, one of the largest markets in Southern Vietnam. This market sells everything from fresh produce to local souvenirs. Next, visit the War Remnant Museum, which contains exhibits relating to the Vietnam War, as well as the first Indochina War involving French colonists.
In the evening, if you like, attend an A O Show, or if you're really seeking more adventure, explore the city at night by Vespa (not included in cost):
The "A O" Show (1 hour – join in): This performance takes place at the grandeur Opera House Theater, built in 1898 by Eugene Ferret in the shape of a giant city gate. The show features the culture of the Vietnamese through acrobatics and dance using traditional props such as bamboo poles and woven baskets. The energy of the performers and stunning choreography is sure to amaze you!
Ho Chi Minh City at Night by Vespa (4 hours): In the early evening, you will be picked you up at the hotel and stop at the "café zoom" to enjoy a cocktail and an aperitif before venturing into the city. As a passenger, you will have the chance to visit many off-the-beaten places. Your journey will begin in District 4 via crowded streets and busy alleys filled with people sitting on small plastic seats. You will savor some seafood dishes while sipping fresh drinks. Then, continue on to District 3 through to District 1 and enjoy the views, noises and smells of the city with stops along the way to take a closer look at whenever you like. The tour will continue towards a well-hidden Vietnamese cafe to enjoy some Vietnamese live music. Next, visit a lively loval bar for drinks and contemporary music and even perhaps join in with a dance. Return to your hotel around 10:00 pm. Meals included: street food (seafood, banh xeo)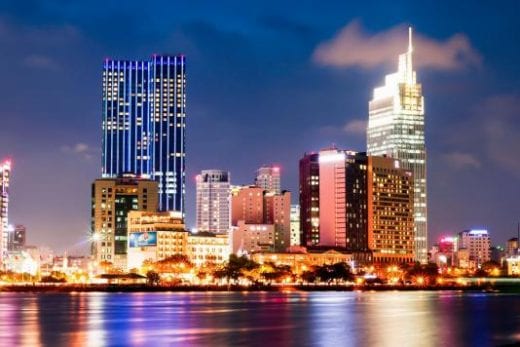 Lodging
Grand Hotel (or similar)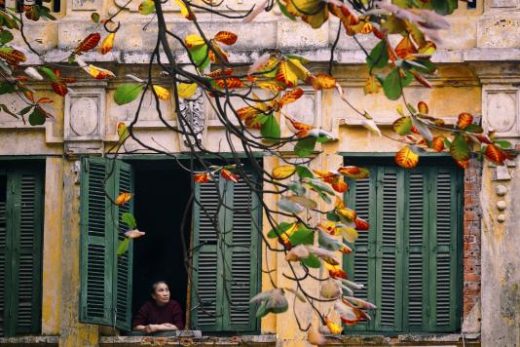 After breakfast, check-out from the hotel and transfer to the Ho Chi Minh City Airport for your flight to Hanoi. Upon arrival, you will be welcomed by your local guide and assisted with the transfer to your hotel, located in the Old Quarter District. The Old Quarter, also known as 36 Streets, was once the residential and commercial center of Hanoi and each street specialized in a specific trade such as "Copper Wares Street" (Hang Dong), "Silver Wares Street" (Hang Bac), "Paper Street" (Hang Ma), "Wood Street" (Hang Go), etc. The historic tube houses with slanted tile roofs were mostly built during the 18th and 19th centuries. This afternoon, head out on a walking tour of the Old Quarter starting at Hoan Kiem (Sword Lake), passing by Hang Hanh – the famous coffee street and walking towards the Catholic Church. Wandering in these peaceful alleyways, your eyes will catch the daily scenes of street vendors quietly napping in the shade or a motorbike taxi-driver (xe om in Vietnamese) sleeping precariously on his bike. Then, suddenly you will find yourself stepping back into a noisy and busy street. Throughout the tour, your senses will be bombarded with a cascade of different sights, sounds, smells and characters that harmonize to the music of life in Hanoi. At the end of the walk, you will have time to enjoy a cup of coffee from one of the many small shops in the area. The total duration of the walk is about 2 hours / 2.5 miles.
Return to your hotel and spend the balance of the day at leisure. Your warm and inviting boutique hotel is located in the Old Quarter close to Hoan Kiem Lake and restaurants. If you aren't ready for the day to end, considering attending a show, such as (not included in land cost):
"My Village" Show: If you missed the "À Ố", the "Mist" or "My Village" performance in Ho Chi Minh City, no worries! You can attend the "My Village" performance right here in Hanoi. This show is 60 minutes long.
Ionah Show: The Ionah Show is a unique experience combining modern dance, theater, circus, music, and visual and light effects—a Vietnamese "Cirque du Soleil." The show is divided into three scenes that tell the story of a beautiful young girl whose love for Hanoi is as pure and strong as it is for her lover. But the division threatens her happiness and Ionah is tormented between good and evil through a series of supernatural characters. This show is 90 minutes long.
Four Palaces Performance: The Four Palaces Performance (Tứ Phủ) is a beautiful journey into the spiritual world and was inspired by the mother goddesses in Vietnam. This unique ritual performance is made up of beautiful costumes, fantastic music, and special performances that will leave you delighted. This 45-minute show is divided into 3 parts: The Reincarnation of the 2nd Lady of Highlands, Reincarnation of the 10th Prince, and Little Princess of Highlands.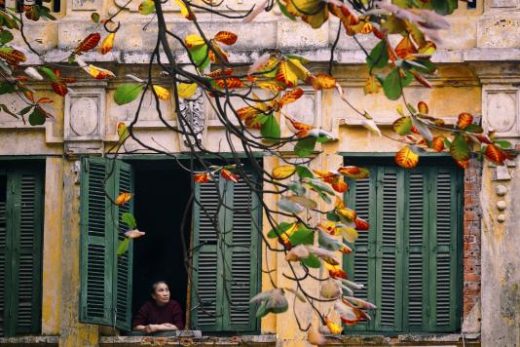 Lodging
Hanoi La Siesta Hotel (or similar)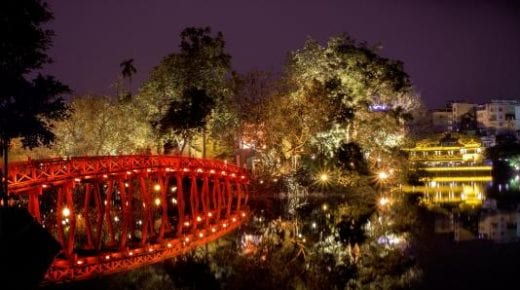 Today you will tour Hanoi, one of Asia's most enchanting cities. Its relaxed ambiance is a joy, with exploration best accomplished on foot or bicycle. The shopping is fun, and the many lakes and parks provide enjoyable escapes. Your guided tour begins at Ho Chi Minh's Mausoleum, the building that contains the preserved body of "Uncle Ho." After leaving the mausoleum, check out the One Pillar Pagoda, shaped like a lotus flower emerging from the water. Inside the pagoda is a statue of the Goddess of Mercy because some Buddhists believe that when they die she places them in the center of a lotus flower to go to the "Land of Bliss." At the Museum of Ethnology, you'll learn about Vietnam's diverse culture (54 ethnic groups in all). Next, visit the Temple of Literature (Van Mieu), the first University in Vietnam built in 1070 by emperor Ly Thanh Tong. With its ancient courtyards, altars, and roofs, Van Mieu is a very fine example of Vietnamese architecture.
If you're still ready to do more exploration, then consider an evening discovery of "Hanoi Street food tour" (additional cost): You will have a chance to understand what makes the Old Quarter of Hanoi such a captivating place. Here, you will be able to try many Vietnamese specialties such as banh cuon (steamed rolled rice pancake) and banh mi (the famous Vietnamese sandwich that even appears in the Oxford Dictionary). Then stop at a bia hoi (beer club) on Ta Hien Street and taste the fresh Vietnamese beer that is so popular with locals and travelers. After that, you will head to a pho restaurant where you will be able to choose between regular pho or pho tron (pho noodle mixed with chicken without soup). You'll continue your way along Hoan Kiem Lake for a tasty ice cream before saying good-night to your guide and either return to your hotel or head out on your own for a night on the town. The total duration of the tour is three hours.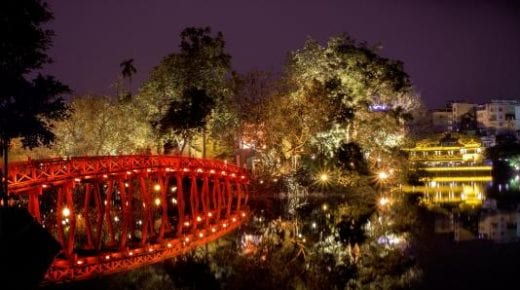 Lodging
Hanoi La Siesta Hotel (or similar)
E
Day 5
Halong Bay Junk Overnight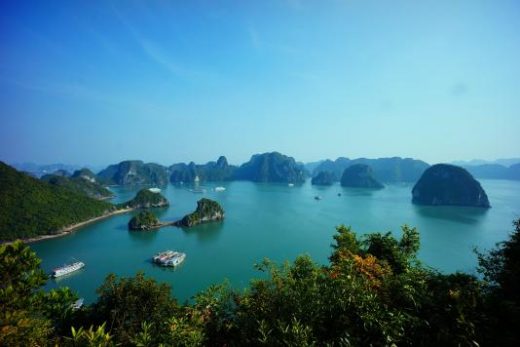 After breakfast, set out on an approximately four-hour drive, sometimes on bumpy roads, to Halong Bay, one of Vietnam's most impressive scenic sights. Views of rocky outcrops in the bay and sailing junks (traditional boats) navigating among 3,000 limestone islands are nothing short of spectacular. Arrive around noon at the quay and board your private junk for your overnight. A junk boat is an ancient Chinese sailing ship used for extensive ocean voyages. Your modern junk features spacious cabins with ensuite bath facilities, a large sundeck, and an elegant dining room and bar. Leisure activities available are board games, massage services, and for those brave enough, squid fishing (with help from the crew). You'll have the option to participate in activities offered on the boat, such as swimming (weather permitting), kayaking (additional cost), and cave exploration, or visit a fishing village on sampans rowed by the villagers. At the end of the day, you will have the chance to enjoy a night fishing session from the boat. While onboard, indulge in a delicious seafood lunch and dinner.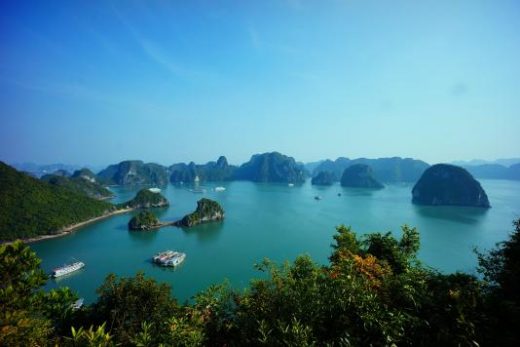 Meals
Breakfast, Lunch, Dinner
Lodging
Indochina Sails junk boat (or similar)
F
Day 6
Halong Bay / Flight to Luang Prabang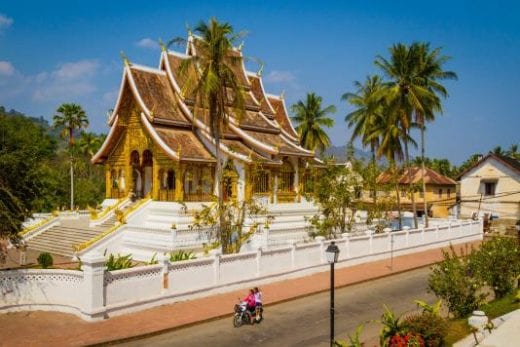 It's recommended you set your alarm clock early enough to enjoy the spectacular sunrise, but of course, that's up to you. Either way, coffee, tea, and pastries are available at 6:45 am, and Tai Chi lessons are led by the tai chi master at 7:00 am. Leave the boat around 7:45 am for a walking tour of Titov Beach Island, which you can climb for breathtaking panoramic views of the bay. There will be time to relax on the beach and perhaps take a swim before returning to the boat for a breakfast buffet including traditional Vietnamese noodles (Pho).
Return to the pier around 11:00 am, and then it's on to the Hanoi Airport for the late afternoon flight to Luang Prabang, a UNESCO World Heritage city and a very charming colonial town, perhaps the best-preserved traditional city in Southeast Asia. Meet your Laotian guide upon arrival and transfer to your hotel for check-in. Spend the rest of the evening at your leisure.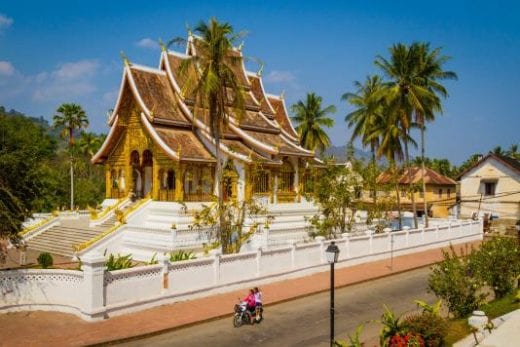 Lodging
3 Nagas Hotel (or similar)
G
Day 7
Luang Prabang & Kuang Si Waterfalls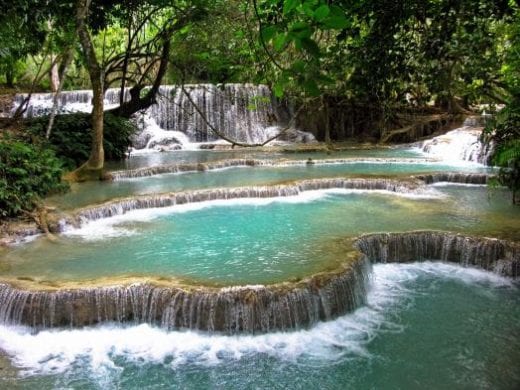 In the early morning from around 5:30 to 6:30 am, you will be taken by your guide to Vat Nong temple to see the Tak Bath ceremony (procession of monks). During the ceremony, devoted residents of Luang Prabang kneel on the sidewalk, bearing food in their hands, which they offer to the monks as they walk by in a procession of orange robes. This ritual is a way for Buddhists to "make merit" and how they obtain their meals for the day. After this humbling experience, your guide will take you to a local market followed by a stop at a welcoming local restaurant at the Mekong river bank for a soup designed to fill your stomach to start the day. If you're not up to soup in the morning, you can also just enjoy a coffee while watching the daily routine of the residents. Note: As a guest attending the Tak Bath ceremony, you are recommended not to wear revealing clothing. Please do not cross the monk's path and take photos from a distance to show your respect. Please also maintain a quiet atmosphere.
After breakfast, head out on a city tour that includes one of Luang Prabang's most important, largest, and most beautifully adorned temples—Wat Mai. Also, visit the Royal Palace, which is now a National Museum. The Royal Palace, officially known as "Haw Kham" was built in 1904 during the French colonial era for King Sisavang Vong and his family. After the death of King Sisavang Vong, the Crown Prince Savang Vatthana and his family were the last to occupy the grounds. In 1975, the monarchy was overthrown by the communists and the palace was then converted into a national museum. This afternoon, make the drive out to Kuang Si Waterfalls, stopping at the villages along the way to meet the friendly locals. Kuang Si is a beautiful, three-tiered, travertine waterfall and an excellen place to take a break from the heat (swimming is weather permitting.) Enjoy a lunch at a countryside restaurant featuring traditional Lao cuisine.
Return to your hotel in Luang Prabang, where you have the rest of the day free to wander and figure out tonight's dining options. Be sure to check out the night market where you can pick up some local hand-made products.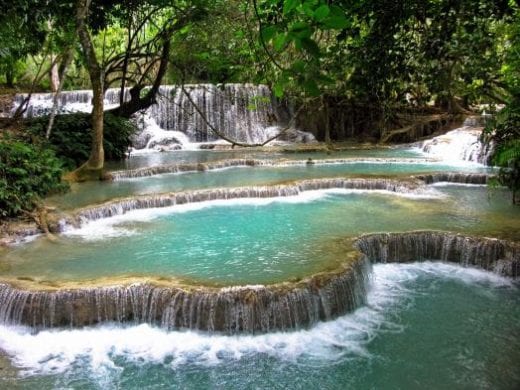 Lodging
3 Nagas Hotel (or similar)
H
Day 8
City Temples & Pak Ou Caves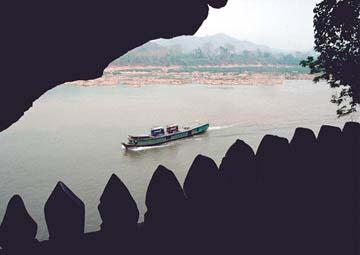 This morning, continue your exploration of the town by visiting the 16th century Wat Xieng Thong (Temple of the Golden City), one of the most important in Laos and a classic example of a Luang Prabang temple. Here you'll learn about the history of Lao and the kingdoms that inherited this place. Next, visit Wat Visoun, the oldest temple in the city, with wooden windows inspired by the Khmer Temple of Wat Phou. Your temple tour continues on to Wat Aham, which is framed by two large Banyan trees.
This afternoon, you'll head over to the pier and board a boat for a cruise along the Mekong River to the sacred Pak Ou Caves to see the hundreds of Buddha statues. From the caves, there are good views overlooking the Mekong, which runs into the Nam Ou River here. Cruise back to Luang Prabang while enjoying the beautiful sunset over the Mekong River.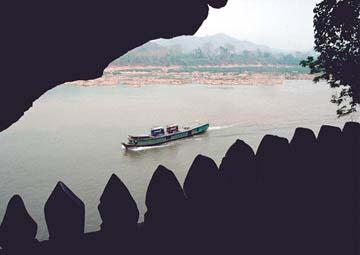 Lodging
3 Nagas Hotel (or similar)
I
Day 9
Flight to Siem Reap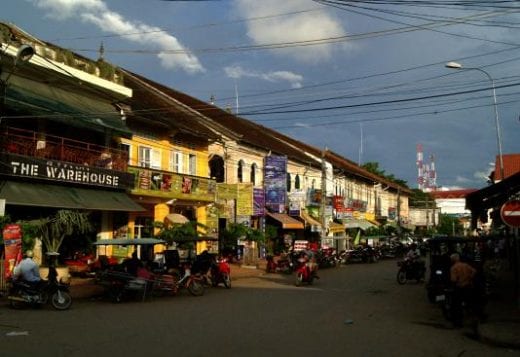 You'll have some free time this morning until you are transferred to the airport for your flight to Siem Reap, where you'll meet your local Cambodian guide at the airport and transfer to your hotel. The rest of the day will be spent at your leisure.
Siem Reap, which translates into "Defeat of Siam," is a bustling small town with a variety of shops, restaurants, and cafés. The Old Market area is a great place to stroll. Try taking a tuk-tuk to explore the town!
Optional evening activities (additional cost):
1. Apsara Show with Dinner: End the day with a Traditional Dance Show, one of Cambodia's most famous arts. The dancers take you on a journey from the Angkorian palaces to villages today. The troupe, featuring live singers and musicians, present eight Classical and folk dances.
2. Phare Circus show: Attend a Circus Art performance at Phare Ponleu Selpak – "the brightness of art" school – an NGO that supports community development by providing social, educative and cultural services to children and their families. More than just a circus, Phare performers use theater, music, dance and modern circus arts to uniquely tell Cambodian historical, folk, and modern stories. The young circus artists will astonish you with their energy, emotion, enthusiasm, and talent.
3. Aperitif at Theam House Gallery: Late in the afternoon, travel to Theam's House, an artist's studio that includes a workshop and a gallery where Theam's collections are displayed. Enjoy an aperitif while viewing Cambodian aesthetics and culture. Aperitif included.
4. Dinner in the countryside: Take a journey through the countryside to Chandara Villa, a beautiful place kept largely inaccessible to the mass tourist crowds and nestled among lovely gardens. Enjoy a romantic walk to a private spot for a pre-dinner cocktail before dinner is served. The evening will be made all the more special by the candlelight and surrounded by lush rice paddies.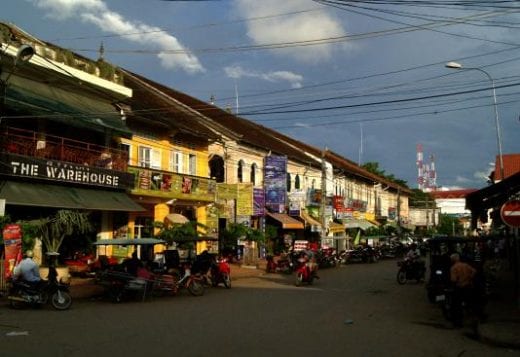 Lodging
Shinta Mani Shack (or similar)
J
Day 10
Angkor Temple Tour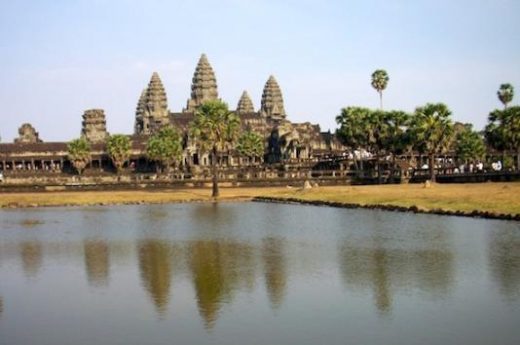 After breakfast, begin your exciting Angkor tour with a drive down a road surrounded by hundred-year-old trees. All of a sudden, a majestic stone door appears, and you enter Angkor Thom, known as "the big city". As if to magically appear out of nowhere, you'll approach the curious smiling faces carved in stone at the Bayon Temple, built around the 12th-13th centuries. This amazing edifice is surrounded by 54 towers, each of them adorned with four faces. From here, travel to the Baphuon, a temple mountain built in the 11th century whose restoration, lead by French architects, ended not so long ago. Continue on to the Terrace of the Elephants, which was used for royal audiences and public ceremonies, followed by a visit to the Terrace of the Leper King, built in the 12th century and adorned by magnificent Apsara sculptures.
In the afternoon, visit the most famous temple – Angkor Wat. Starting at the center aisle, you will soon come to realize just how huge is it. This architectural achievement is also an artistic wonder, covered in beautiful artwork. Next, head over to the 12th century Ta Prohm Temple, which is in pretty much the same condition as it was found – covered by the jungle.
Before returning to your hotel in Siem Reap, visit Srah Srang, which means "the Royal Bath", a large water reservoir situated at the east of Banteay Kdei temple. It is a gorgeous spot to end the day in the Angkor complex watching the sun go down. The baray (or reservoir) was originally constructed in the 10th century and two centuries later remodeled by the famous King Jayavarman VII (who also built the famous Bayon). You will enjoy a tasty white wine or beer and exotic finger food on the grass with a mat while watching the sunset over the water.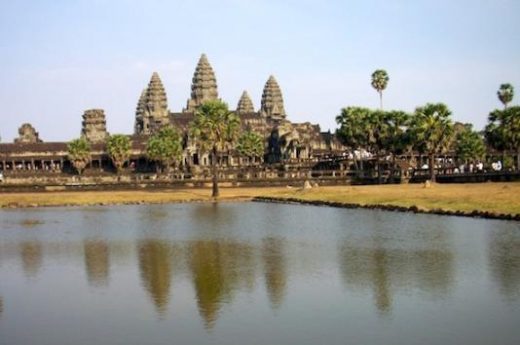 Lodging
Shinta Mani Shack (or similar)
K
Day 11
Cooking Class & Angkor Temples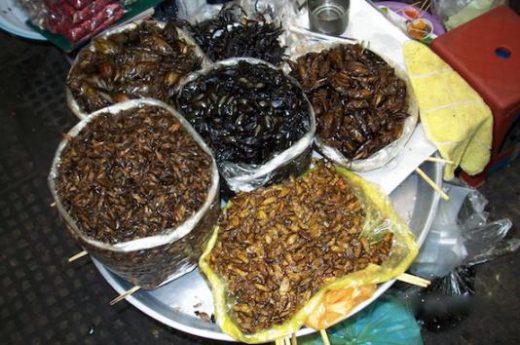 Today you can choose from the following two options:
Option 1 – Cooking & culture experience: Early this morning, travel further into the Angkor Archeology Park, where another beauty will be waiting for you. Banteay Srei ("The Women's Citadel "), though not the largest of the temples in the Angkor complex, it is perhaps the most refined. This 10th century temple is dedicated to the Hindu god, Shiva. It is mostly built of red sandstone with elaborate carvings that can still be observed today.
Afterwards, you will have the special opportunity of making your own traditional breakfast – by preparing rice noodles under the guidance of a local family. Enjoy your created product together with the family. Then continue to another village specializing in bamboo sticky rice production and harvesting coconut fruits. Assist in the preparation of this bamboo filling while tasting this delicious Cambodian snacks and a fresh coconut. Along the way, explore the different sugar palm stalls. The villagers will explain to you how they process the fruits in many different ways. Don't be shy and give it a try! The next and last of your village stops leads you to a house where a family creates palm leaf handicrafts as a source of income. The villagers will teach you to make one. You can take this opportunity to bring back your own craft as an exceptional and very personal souvenir! Return to your hotel where you have the rest of the day free to do as you like.
Option 2 – Roluos Temple ruins: After breakfast, set off to the Roluos group of temples, located about eight miles east of Siem Reap. Once the first capital of the Khmer Empire, this group of temples contain some of the earliest permanent structures built by the Khmer. Some temples date back to the ninth century and were built of bricks, laterite, or sandstone. These group of temples include Bakong, Lolei, and Preah Ko, along with tiny Prasat Prei Monti. The 9th century Bakong temple was the first temple made of sandstone and served as the official state temple of King Indravarman I in the city of Hariharalaya, known today as Roluos. This temple is shaped like a stepped pyramid, similar to the Borobudur temple in Java, a feature of early Khmer architecture. It is thought that perhaps Borobudur was a prototype of Bakong, indicating there may have been exchanges between the Khmer's and the Sailendras in Java. Lolei is another 9th century temple dedicated to Shiva and members of the royal family. It was once located on an island in the center of the now dry Indratataka Baray. The temple features some decorative carvings including the sky-god Indra mounted on the elephant, Airavata along with makaras (serpent-like monsters), and multi-headed nagas. Your final Roluos temple visit takes you to Preah Ko and Prasat Prei Monti. Preah Ko was the first temple built in ancient Hariharalaya in 879 to honor members of King Indravarman I's family. Its name, Sacred Bull, comes from the three statues of sandstone in from of the temples central towers representing Nandi, a white bull that serves as the mount of Shiva. This temple is known for its beautiful intricate carvings. Prasat Prei Monti is a hidden ruins among the Roluos group thought to have been the state temple of Jayavarman II or his successor Indravarman I during the mid to late 9th century. Though perhaps not as architecturally interesting as some of the other temple ruins, it has historic significance.
Next, visit the Grand Circuit, which include Preah Khan, Neak Pean, Ta Som, East Mebon and Pre Rup. The Preah Khan Temple was built in 1191 by Jayavarman VII in honor of his father. This temple, once a place for Buddhism studies, has been left largely unrestored, with trees and other vegetation growing among the ruins. Another interesting 12th century temple is Neak Pean, the only island temple of the Angkor temples known as "Entwined Nagas". The large central basin is linked with four smaller basins that represent the four great rivers flowing from the earth's four cardinal points. One of the most interesting features of this site is the superb statute of Balaha, representing the legendary saviour of shipwrecked boats. Ta Som is a small, 12th century temple that has also been large left unrestored. Next up is the East Mebon, a 10th century temple built on an artificial island in the center of the now dry East Baray reservoir. Dedicated to the Hindu god, Shiva, this temple was built of durable Khmer construction materials including sandstone, brick, laterite, and stucco. There is a central tower on a square platform at the top from where you can look out and imagine the vast expanse of water that once surrounded the temple. Close to the East Baray is Pre Rup, another 10th century Hindu temple built as the state temple of Khmer king Rajendravarman. It is thought that funerals were conducted here with the ashes of the body ritually rotated in different directions.
If you like,  attend another show of your choice (not included in land cost.)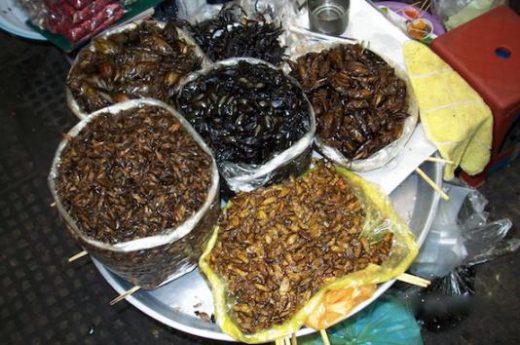 Lodging
Shinta Mani Shack (or similar)
L
Day 12
Lake Villages & Departure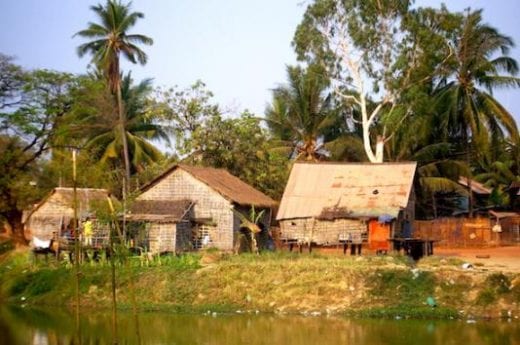 In the morning, leave for the village of Kompong Khleang. All the houses are built on stilts, offering an exceptional natural environment of flood plains, rice fields, and water as far as the eye can see. Walkthrough the village meeting the locals, including a family who raises crocodiles. Afterward, travel by boat through the canals to a large lake where Vietnamese people live when they are displaced from their homes by seasonal weather. Return to the village and have a picnic lunch in a villager's home.
Afterward, return to the city and immediately transfer to the airport for your onward flight. (Your hotel room is available until 12:00 pm. Depending on your flight schedule, it may be necessary to book a day room or an extra overnight for an additional cost.)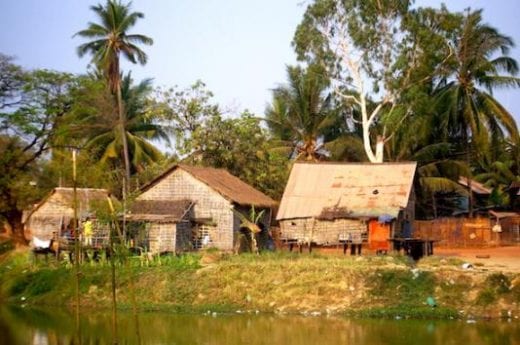 Meals
Breakfast, Picnic Lunch
Dates & Price
Best Time of Year to Visit
This trip is a comprehensive overview of Cambodia, Laos, and Vietnam. It's a wonderful option for those interested in a cultural, historical, and recreational sampling of Southeast Asia, but who may not have time for a longer, more in-depth exploration like the one offered on Savoring Southeast Asia. From visiting UNESCO World Heritages sites such as Angkor Wat to sleeping on a "junk" in Halong Bay, the variety of this itinerary will surely keep you on your toes.
As with all of our trips that are available privately on your own dates, this itinerary is fully customizable. Our skilled Adventure Specialists can help you pick and choose activities based on your preferences, and will design a custom itinerary just for you and your private group. Use this itinerary as a starting point, but remember that it can be changed however you'd like!
Special Offer
Ask about discounts on low season travel.
Need to Know
Please note that this trip operates under different payment and cancellation policies than those described in our complete Terms & Conditions as noted on our website and elsewhere. Please review the complete Terms & Conditions prior to submitting a deposit. 
Expenses covered
Normally, our stated land costs include the cost of all guides, leaders, permits obtained after arrival, lodging accommodations, food and entry fees as specified, and all surface transportation associated with the planned itinerary. We do our best to avoid increasing prices after receipt of your deposit, but, rarely, factors beyond our control might require us to change our prices without prior notice, even after you have signed up.
Expenses not covered
Costs not included in the price may include: meals not indicated as included in itineraries; meals prior to arrival in starting cities; transfers, if not arriving or departing on the scheduled group flights; soft drinks, bottled water, and alcoholic beverages; medical expenses, costs of hospitalization, or evacuation from remote areas; laundry; airport departure taxes not included on your airline ticket; accommodations en route to starting cities; visas; airfares; gratuities; and insurance.
Deposit* and payment schedule: 25% of the land cost per person or the applicable amount based on the trip and the proximity of the departure date. A second deposit of $1000 per person is due four months prior to departure, and final payment for land arrangements is due 75 days prior to departure. Any applicable permit fees required in advance are non-refundable as well. All payments are subject to cancellation if payments are not received by the due dates. All payments may be made by Visa, Master Card, American Express, Discover or check, and the Reservation Form may be submitted via our website. Full payment schedule and cancellation penalties are described in our Terms and Conditions as noted on our website, and elsewhere. Please request these if you do not have them before advancing a deposit.
*HOLIDAY departures may require an additional deposit.
Additional cancellation fees
Cancellations that occur between 61-90 days prior to departure will be subject to a cancellation fee that is 50% of the land cost, and cancellations 31-60 days prior will be subject to a 75% cancellation fee. Cancellations between 0-30 days are 100% NON-REFUNDABLE. All payments are subject to cancellation if payments are not received by the due dates.
Airfare
We can help you secure air travel arrangements to correspond with land travel booked through Journeys International. We work with an airfare consolidator to assist in booking the flights that suit your needs. If you decide to make your own flight arrangements, you must provide Journeys International with a complete copy of your itinerary showing departure and arrival flights and times. You should plan to arrange your own air travel if you are using mileage credit or originating outside North America, but please be in touch with our office before you finalize ticketing so that we can help you to coordinate the correct arrival and departure dates and times.
Insurance
When you make your reservation, we strongly recommend the purchase of comprehensive travel insurance in case of emergency situations. Please contact us for a recommended policy.
Itinerary Change Fee
There will be a $40 fee for changes once an itinerary has been confirmed and approved. Additional cancellation penalties or change fees may apply as per our terms and conditions. The passenger is responsible for such fees.
Duration
12 Days
The number of days, or duration, in a destination corresponds with the itinerary as published. This is the time period covered by the land cost.
Group Size
2 - 12
The stated range indicates minimum required for guaranteed departure and maximum accepted on the scheduled dates. Exceptions can often be made for private departures.
Comfort Level
Superior
4-star hotels
Activity Level
Active
Light walking
Activity Level
Match the trip's intensity to your ability and motivation.
Gentle
Easy walking, with opportunities for low-key physical activity.
Active
Energetic exploration with optional day hikes, leisurely cycling, or light canoeing.
Vigorous
Day-long active excursions and options for demanding activity in varied environments.
Challenging
Strenuous hiking or other intense activity that may be at high altitude or over rough terrain.
Demanding
Multi-day trekking and other activities requiring endurance or strength. Steep trails. No technical expertise necessary.
Comfort Level
Choose accommodations and amenities that fit your personal style
Simple
Our most natural accommodations. Bath facilities often shared, sometimes rustic.
Delightful
Comfortable and especially personal. Small to mid-sized lodges, typically with private bath.
Superior
Lodges and hotels with additional amenities, refined artistry, or extra-special settings.
Deluxe
Exclusive or luxury lodges, hotels, or safari camps with fine dining options.
Uncommon
The most indulgent accommodations arranged specially for private trips.
Single Supplement
The single supplement is applicable if a roommate is not available or if single accommodation is specifically requested. While single accommodation is not available on all trips, we will try and honor this request whenever possible.