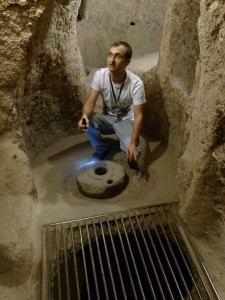 The Bird's Word Blog
Cappadoccia
by The Journeys International Team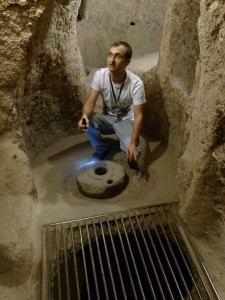 In August 2011, Journeys President Robin Weber Pollak and her husband Joe Pollak traveled to Turkey to scout it out for future Journeys trips. Joe wrote this post about his experience in Cappadoccia.
Robin and I flew domestically from Istanbul to Izmir and met our next guide, Fatih. Cappadoccia (pronounced Kap-a-dok-ya) is semi-arid and semi-mountainous. Despite the minimal rain fall, the high water table makes this area largely agricultural. In fact, the Turkish government limits industrial activities in the area to preserve the agricultural aesthetic (and to promote food production).
Historically, people in Cappadoccia lived in cave house which they carved out of the sandstone-like rock.
Our hotel was a "cave hotel" meaning that the rooms were subterranean (but still had modern plumbing). The hotel faced some historic cave dwellings so that we really got the feel for living in a cave. Later on, we toured some other cave hotel options but our hotel clearly had the best aesthetic.
After checking in at the hotel, we set out to tour an underground city: a vast, 8 level catacomb where the local farmers would retreat with their families when invaders came to their town. Fatih tells us a few times that it is quite amazing that the local people were able to carve out such an expansive city using only "chisels and pickles." We have to agree that carving with a pickle would be very difficult, but we did suggest that he probably meant chisels and picks.
Hot Air Ballooning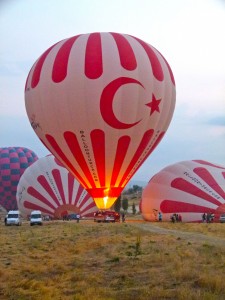 We counted 80 balloons in the air on the morning of our flight.
The next morning, we were up at 4 a.m. to check out the hot air balloon ride. Something about the geography of the region makes it particularly good for ballooning and, at dawn, we were in a field ascending to a few thousand feet. We counted atleast 80 other balloons in the area, so, every morning, this region is like a balloon festival. Our pilot did a good job of keeping ahead of the pack so that our view of the canyons was unobstructed by other balloons. There's minimal narration, but the flight was incredibly smooth. The height obviously means that ballooning won't go on the itinerary for every JOURNEYS traveler.
Fairy Chimneys
Thousands of years ago hard, volcanic rock flowed over the existing softer rock. Over years of erosion, the volcanic rock formed kind of an umbrella over the softer rock below leaving tall, thin towers with a basalt cap. These formations are called "fairy chimneys" because they are reminiscent of a house for an elf or fairy.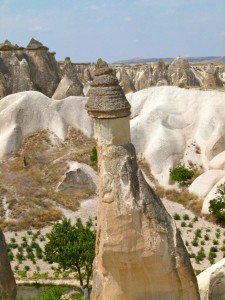 A fairy chimney with a basalt cap that
sheltered the softer rock from centuries of erosion.
Iftar With Local Family
Our hotel typically offered an opportunity for a traditional Turkish cooking lesson hosted by some local families. However during our visit, nearly everyone in Cappadoccia was observing the Ramadan dawn to dusk fast, so a lunchtime cooking lesson was not happening. The general manager of the hotel arranged instead for us to be invited to the home of one of the hotel drivers. So, we hopped in a van with our perpetually smiling driver, a hotel waiter, and two tour guides.
We enjoyed a traditional Turkish family iftar, sitting on the floor around a low table. The custom is to eat the entire meal out of one dish. When you are finished with the first course, you pass your bowl to the matriarch and she decides how hungry she thinks you are for the next course. I made a critical error in this regard. I don't prefer beans of any variety, so I gobbled up the bean course hoping to politely get it over with and move onto the next course. Unfortunately, my reward for these efforts was another serving of beans.
JOURNEYS INTERNATIONAL offers custom trips to Turkey. Joe says that on his next trip to Cappadoccia he wants to politely decline eating any legumes.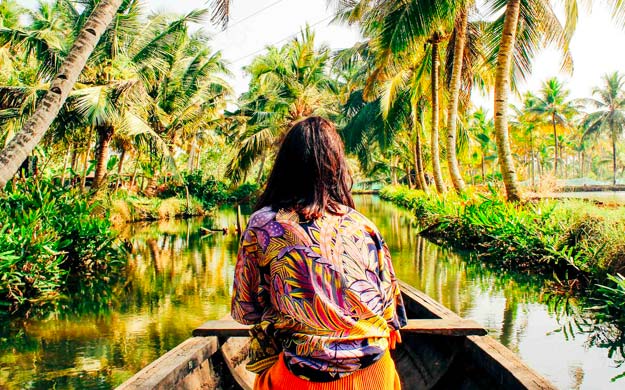 Design an adventure with Journeys International!
With over 40 years of experience, we create experiences that match your goals.
Start Planning
Travel Inspiration Delivered