EPF Mission & History
The Earth Preservation Fund (EPF) was established in 1979 by the founders of Journeys International. Travelers on Journeys trips often saw things that moved them to want to support an important cause, but no way to offer their help after their trip ended. On the other side were energetic and idealistic local guides who were dreamers for ways that they could help their communities and preserve the planet, but lacked organizational support for their projects.
Today, the EPF funds projects that help people to do better in their home countries with a particular focus on sustainability and combating global climate change. The EPF also consults with travel and tourism companies seeking to adopt sustainable practices.
Guides and Drivers Pandemic Relief
The COVID-19 pandemic has been deadly and disruptive around the world. Health concerns mean that many people in the travel industry are under severe economic strain. Donations to the EPF go to support guides, drivers, porters, cooks, and the many others who support travelers in better times. Since May 2020, the EPF has distributed over $12,000 through our international partners to help those in need.
In Peru's Sacred Valley of the Incas, porters are often members of indigenous ethnic groups who rely on earnings from the tourist season to supplement their subsistence farming. There will likely be no tourist season in 2020, but a project spearheaded by a friend of the EPF will sponsor food boxes with basic necessities to provide for 56 porters and their families. So far, the EPF has donated one month of food boxes and the project is halfway to its goal of providing food security for 1 year.
EPF donors have long supported victims of another pandemic — HIV/AIDS orphans in Nangaiza village in Uganda — through Birds of a Feather. With closed borders and trade restrictions threatening food security in much of sub-Saharan Africa and no expectation of a meaningful safety net, EPF donors have stepped in to help these vulnerable children.
EPF donors have supported guides, drivers, and others in: Belize, India, Kenya, Nepal, Peru, Tanzania, Tibet, and Uganda.
EPF Carbon Reduction Program
The most impactful way to take action on climate change is to make choices that reduce fossil fuel consumption and therefore reduce greenhouse gas emissions. While in some places it might be possible for an individual traveler to seek out an eco-lodge that uses renewable fuel or to book travel through a specialty operator who will create a low-emissions itinerary, generally individual travelers lack the opportunity to choose the energy source for their transportation, lodging, and food preparation.
Donations to the EPF's Carbon Reduction Program are used to purchase and permanently retire high-quality carbon offsets that are verified under reliable third-party verification standards.
Future Trip Offsets – The EPF has developed a method of estimating the carbon footprint of adventure travel. Travelers can know that their donation to the EPF will be used to purchase carbon offsets in the amount needed to mitigate their estimated carbon footprint.
Historical Trip Offsets – Many travelers may be aware of the carbon footprint of their current trips, but they may not have had the same awareness for trips they took ten or twenty years ago, and yet greenhouse gases can linger in the atmosphere for decades. The EPF can create a custom estimate of the carbon footprint for past travel and help travelers to offset their historic carbon footprint. Through the EPF's partnership with Journeys International, we can access many archived itineraries for Journeys' travelers or, using our knowledge of the travel industry, recreate an itinerary from a different trip provider.
For detailed information on how we calculate carbon footprints, read the EPF's white paper Adventure Travel and Carbon Offsets.
Contact info@earthpreservation.org to learn how to offset your travel or donate to the Carbon Reduction Project today!
EPF Projects
Over the years, EPF projects have included:
Stand with Nepal Earthquake Relief Campaign
Save the Asian Elephant (Earth Day Network, India)
Birds of a Feather orphan education and conservation training (Uganda)
…and more projects in many more locations
The EPF is a 501(c)(3) non-profit organization and accepts tax-deductible contributions to support specific projects or the overall work of the organization.
Make a Difference
Contribute to the Earth Preservation Fund General Campaign
Through its regular, ongoing work, the EPF supports at-risk orphans in Uganda, library and monastery restoration projects in Ladakh, conversation in the Galapagos Islands, tree planting in Peru's Sacred Valley, community-based tourism in Kenya, and more. All EPF-supported projects are small-scale and community initiated. The EPF has always focused on small projects where a donation of $500 or $750 could make a difference.
Want to Help?
Give to the Earth Preservation Fund General Campaign by clicking the donate now button below: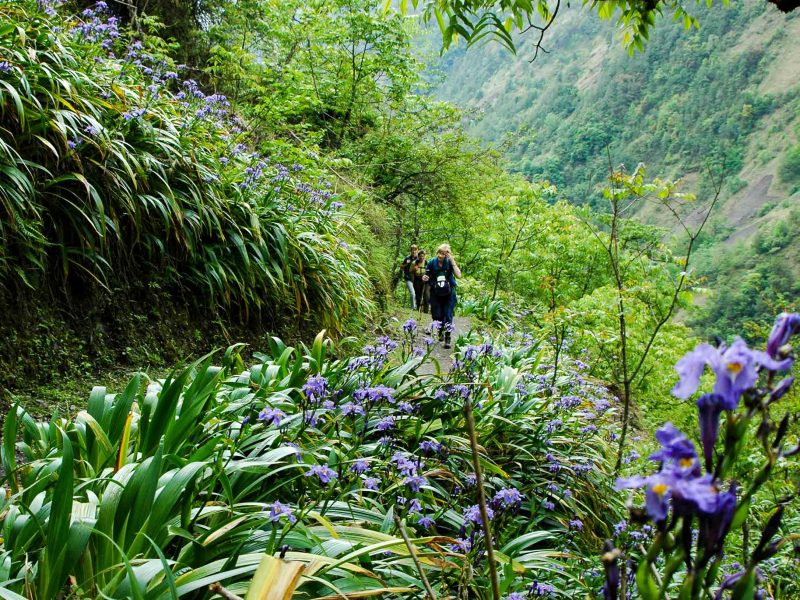 Donate By Mail
If you prefer to mail a check to the Earth Preservation Fund, please download this form and send it, along with your donation, to:
Earth Preservation Fund
2531 Jackson Ave #341
Ann Arbor, MI 48103