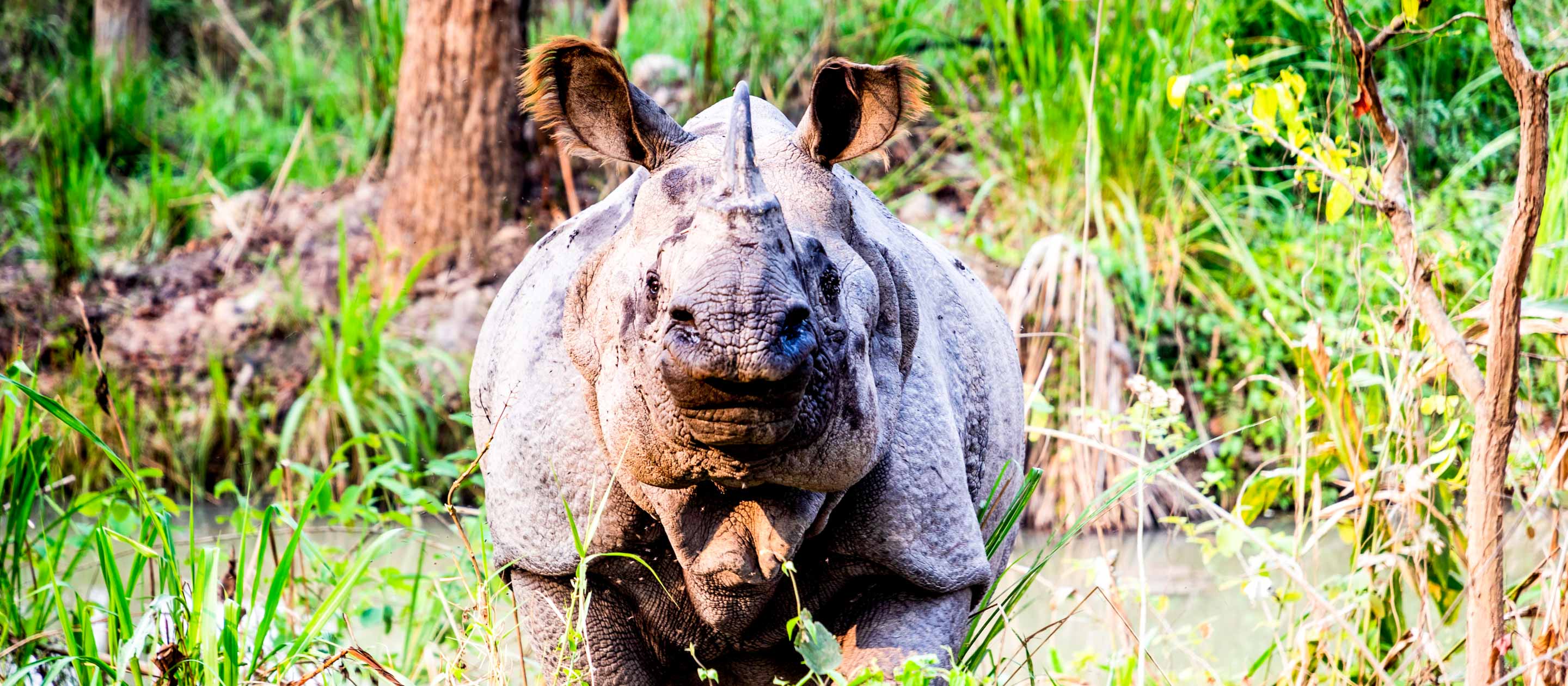 Chitwan National Park is probably the world's best habitat for the rare Bengal Tiger and the One-horned Rhinoceros. Seek out these animals and the hundreds of other animals and birds found here on safaris. Almost 700 sq. miles of lush riverine grasslands and subtropical forests await your exploration. Once a Royal Hunting Preserve, Chitwan has steadily expanded with ever-improving protection against encroachment and poaching. Now there is no hunting and populations of rhinos and tigers have reached levels where transplanting to other sites can take place. Recent estimates place the rhino population at 350, about a third of the world population total, and the tiger population at about 100. The park is also a primary sanctuary for the endangered Gharial Crocodile and Marsh Mugger Crocodile. The elevation here is only about 490 ft. above sea level, though on clear days you can see the Himalayan peaks. Chitwan National Park is one of the best places in South Asia for a wilderness big game safari adventure.
Day 1
Chitwan National Park
From Kathmandu, make the drive or flight to Chitwan National Park, depending on group size, weather season, road conditions and flight schedules. Our goal is to get you there in time for an afternoon wildlife safari. If you drive you will pass interesting villages and scenery along the way. Chitwan is one of the world's best habitats for the rare Bengal Tiger and the One-horned Rhinoceros. Almost 2600 sq. km. of lush riverine grasslands and subtropical forests provide the last sanctuary for hundreds of species of birds and other animals.
Lodging
Safari Adventure Lodge or similar
Day 2
Chitwan National Park
Today you will explore the jungle looking for birds, wild boar, deer, rhinoceros and the elusive Bengal Tiger, though these are rarely seen. Enjoy nature walks and canoe trips to find crocodiles. Usually activities begin before dawn as the jungle wakes up. Mid-day you will have a break, but in mid-afternoon you will again head out with your naturalist in search of game. There is usually a sumptuous evening meal and a campfire program with the night sounds of the jungle all around you.
Meals
Breakfast, Lunch, Dinner
Lodging
Safari Adventure Lodge or similar
Return to Kathmandu by air or surface, getting a glimpse of village life in the southern plains of Nepal along the way.
Activity Level
Match the trip's intensity to your ability and motivation.
Gentle
Easy walking, with opportunities for low-key physical activity.
Active
Energetic exploration with optional day hikes, leisurely cycling, or light canoeing.
Vigorous
Day-long active excursions and options for demanding activity in varied environments.
Challenging
Strenuous hiking or other intense activity that may be at high altitude or over rough terrain.
Demanding
Multi-day trekking and other activities requiring endurance or strength. Steep trails. No technical expertise necessary.