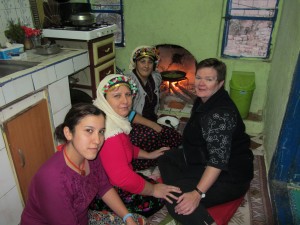 The Bird's Word Blog
Homestay in Ikiztas, Turkey
by The Journeys International Team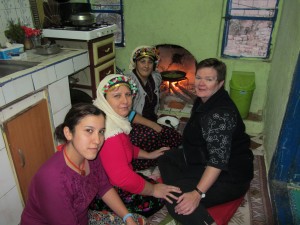 In October 2011, Journeys Destination Specialist Gail Scherer and her husband Walter traveled to Turkey with other Journeys travelers. Gail wrote this post about her experience staying with a Turkish host family.
One of the many highlights of our trip was our home-stay in the village of Ikiztas. "Ikiztas" literally means two stones. This name makes perfect sense because there are two large stone outcroppings in the mountains above the village.
Our van approached the village on the winding mountain road and, when we were close, we were greeted by three young boys at the side of the road. We continued in the van, but somehow the three boys beat us to the village to let everyone know we were coming. The van went as far as it could on the narrow streets, dodging cows and oncoming traffic, and reached an endpoint at the village square. Fortunately, we had packed our day packs with our necessities because we were met in the square and carried our day packs to our various homes. I am sure that if we had taken all our luggage, our hosts might have been afraid we were moving in.
Walter and I met our host, Mustafa, and he had one of the boys take us to his home while he stayed back with Omer (our guide) and the village thinkers at the central tea house. We were met at the house by Mustafa's wife, Kerime, their 17-year-old daughter Hayriye, and 23-year-old daughter-in-law Golec. Golec is newly married to their son, Mehmet. We learned that as the new daughter-in-law, she was responsible for the cooking in her new home.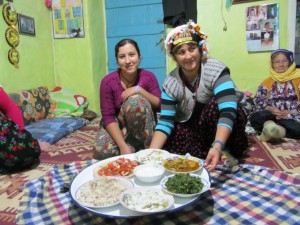 Our host family had a very colorful home with farm animals in a barn below and living quarters for people on the second floor. We walked up outside stairs to the second floor where we took off our shoes and entered their living room where we met the 80-year-old grandmother, Huri, mother of Kerime. She was nestled into the prime corner by the wood- burning stove, and the whole room was quite warm, with many rugs and cozy cushions all around the walls. There were photos and a calendar on the wall, as well as a large television and VCR in the corner opposite the wood-burning stove.
There was also a narrow kitchen and our sleeping room, which I am sure was normally the parent's room. In the kitchen there was a fireplace for cooking, a propane stove-top, sink and Bosch washing machine. (They were nice enough to do a load of clothes for us.) The outhouse was at the edge of the garden, so our flashlight was quite handy in the night.
When Mustafa returned, we all ate dinner together, sitting on cushions in the living room, with our feet tucked under a table cloth. We had common bowls of rice, olives, feta cheese, tomatoes, steamed spinach leaves and a mixture of cooked mild peppers in yogurt that I watched them prepare in the kitchen. It was all delicious.
We communicated with hands and feet and a Turkish dictionary, and of course the camera was a lot of fun, as we took pictures of one another. Golec modeled her wedding dress for us and then we watched their wedding video. Wedding videos are the same all around the world…too long. There was a lot of dancing that is unique to the village though, where various key players dance with their arms spread out like wings. I looked up the word for handsome and told Golec that Mehmet was very handsome, and she said "thank you." Her other English word was "beautiful" which she used frequently. After exploring the village a little the next day we realized that the wedding video/party had taken place in the village square.
The other funny moment was that in lieu of a shower they provided us with a box of baby wipes, which Golec pronounced "wip-es". It took us a moment to figure that out. We brushed our teeth together at the kitchen sink.
In the morning we were fed a very generous breakfast of fresh bread, feta, olives, tomatoes, and tea. We were slightly late meeting the others because the women were fascinated with my cosmetic bag. We all had a turn with lotion, blush and lipstick… who needs a shower? Just pass the "wip-es." After some more tea, we met Omer and the others for our day of touring Labranda and the town of Milas.
When we returned to the village that evening it was like coming home to relatives. They were happy to see us, and Hayriye was busy rolling out flat bread, stuffing it with spinach and onions, and cooking it on the the open fire. She let me take a turn rolling out the dough with her very thin rolling pin. Mine were not perfect, so when we were eating them, Walter made a point of picking a less than perfect one and letting them know it must have been one that I made.
In the morning, we had a hasty last breakfast as the word "Omer" became synonymous with "hurry." We exchanged phone numbers and addresses, promised to send the photos, had one last cup of tea, and said our good-byes.
The village of Ikiztas, and the four neighboring villages are known as the Comakdag Villages, and are all populated by a similar group of people who were former nomadic goat herders. The women of the Comakdag Villages are known in Turkey for their festive head-gear with gold coins and fresh flowers.
Ikiztas hopes to improve its economic status by getting more involved in tourism. There are trekking possibilities and an interesting monastery nearby so they have plans for a bright future.
Journeys International offers custom trips to Turkey. Gail says that on her next home-stay she'll bring extra lipstick to share.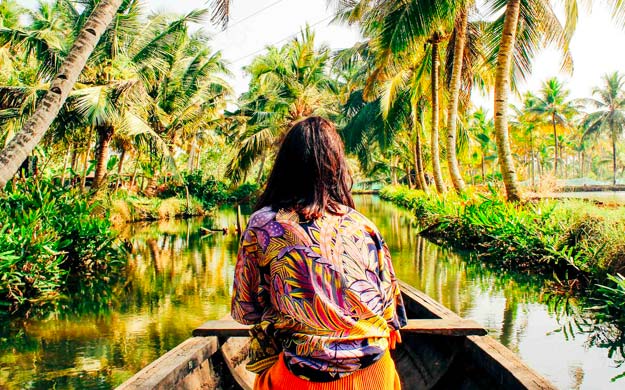 Design an adventure with Journeys International!
With over 40 years of experience, we create experiences that match your goals.
Start Planning
Travel Inspiration Delivered