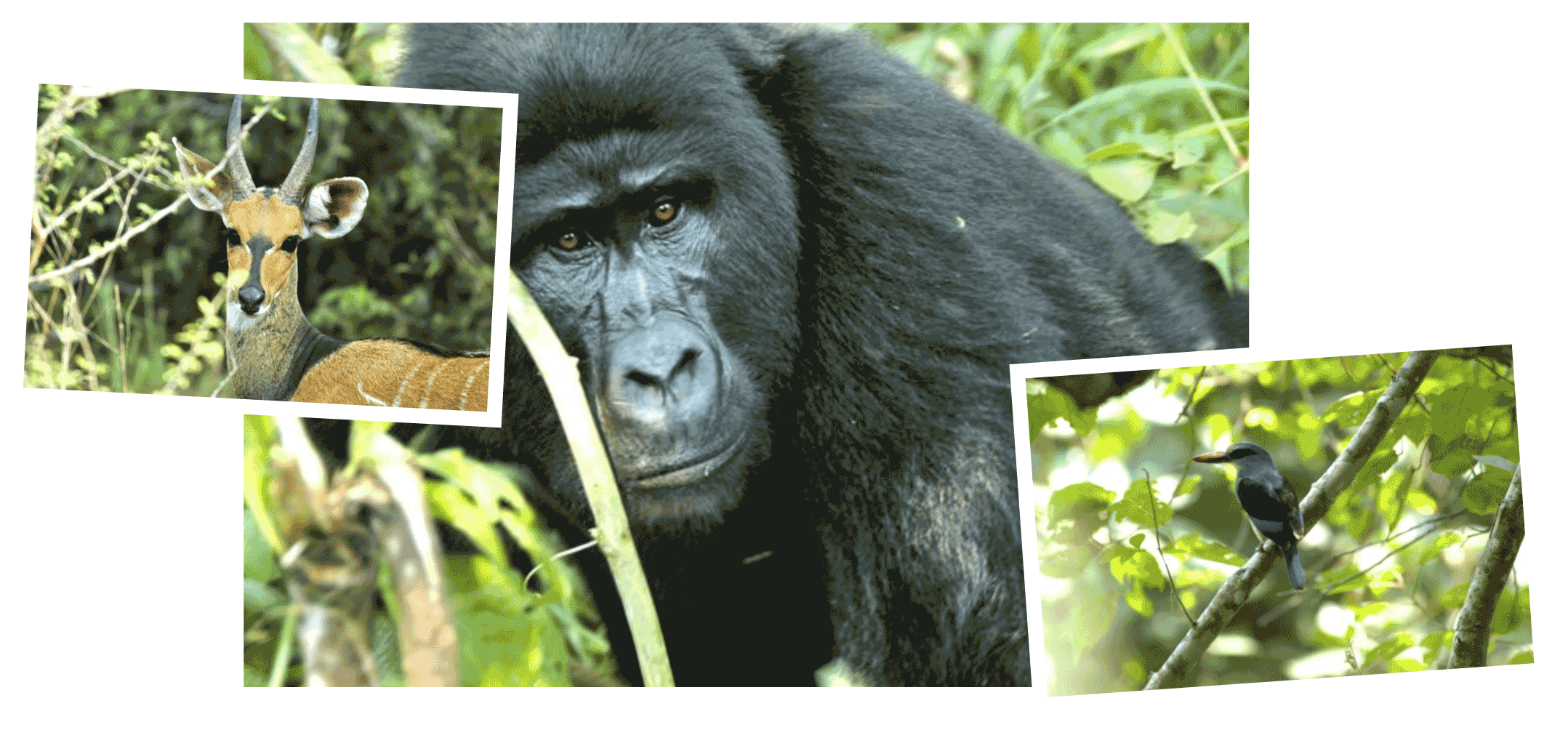 The Bird's Word Blog
Rwanda-Uganda Primate Safari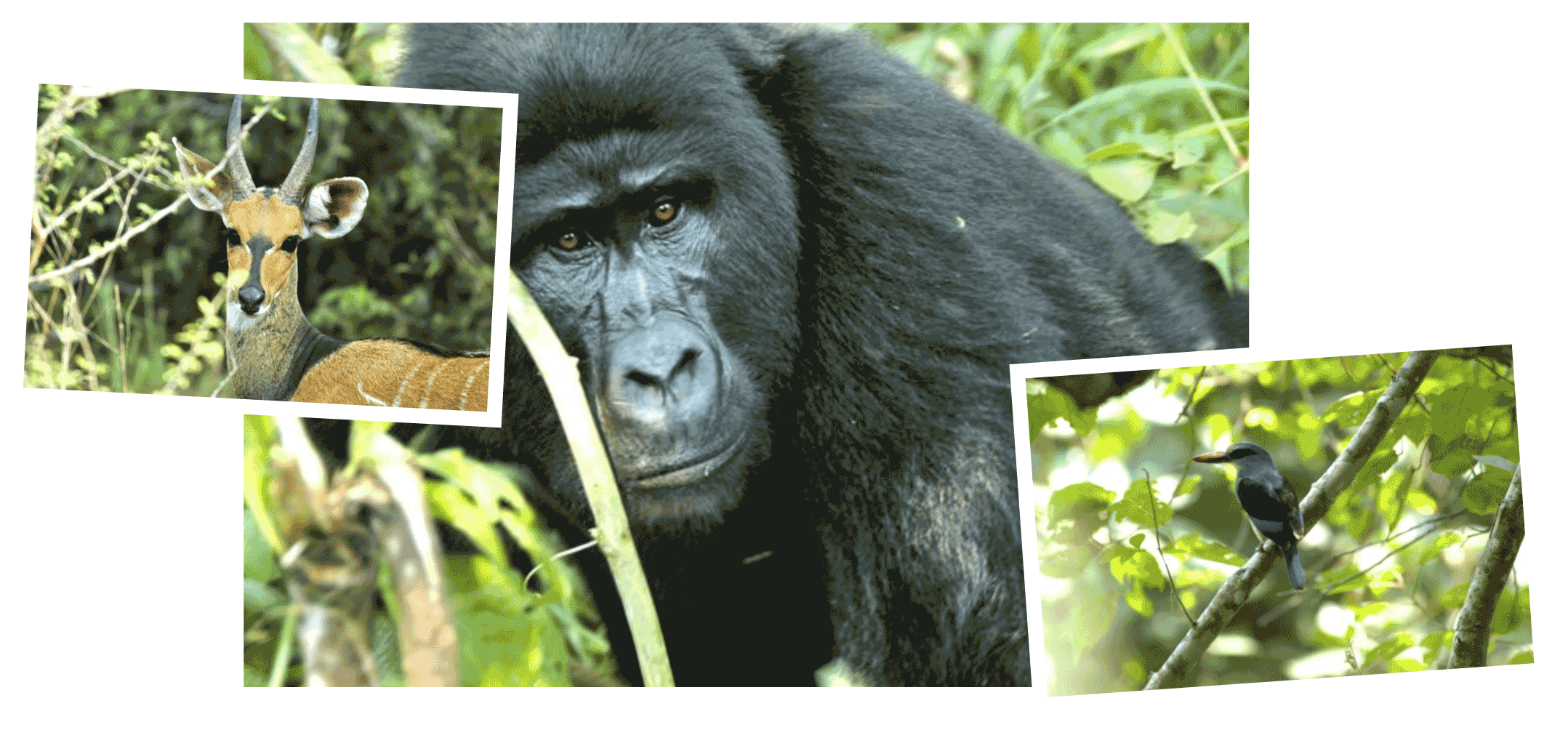 The volcanic ranges of central Africa hold about 700 Mountain Gorillas and many other primates. Our group of ten Journeys travelers made a concerted effort to see as many of these rare primates as possible in Rwanda's Volcanoes National Park, Uganda's Impenetrable Forest and other special reserves.
Rwanda's Return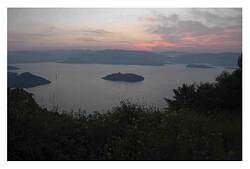 We began our trip in Kigali, Rwanda. By African standards Rwanda is clean, prosperous, well-fed, safe and environmentally aware. Plastic bags are illegal. Traffic rules are enforced. Markets are stocked and the roads are in good repair. Private investment is in evidence. Since the genocide of a hundred terrible days in 1994, the country has rebuilt itself politically, socially and economically. I last visited Rwanda in 1992 when the situation was tense. Today there is still grieving and anger, but also healing. Through a vast amount of international aid, all aspects of society are being repaired. Every visitor should see the National Genocide Museum in Kigali. It helps us appreciate the futility of saving other species if we do not respect and preserve our fellow humans.
On the Trail of Mountain Gorillas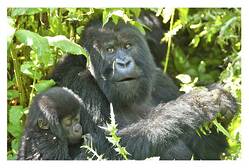 The Mountain Gorillas of Parc National Volcanoes are in good hands and their numbers are growing. There are two distinct and separate populations. One ranges through three countries in the contiguous protected reserves of the Congo, Rwanda and Uganda. These animals are most reliably, safely and conveniently visited from near the Rwanda town of Ruhengeri. We stayed 40 minutes away in the spectacularly sited Virunga Lodge high on a ridge between two caldera crater lakes overlooking the volcanic peaks where the gorillas live. Gorilla viewing permits are limited to eight persons per day per family group of habituated gorillas. Visits are limited to one hour and occur in the morning when the animals are likely to be feeding. Reaching the free-ranging group for which you have a permit may require up to three hours of hiking each way, but in our experience the total time from departing the headquarters orientation session and checking back in after the visit was more typically 3-4 hours. My sense was that the older the traveler, the more likely they would be assigned to one of the groups requiring less walking. Permits cost $500/ person per visit. These usually must be acquired months in advance and every available daily permit is pre-sold. Gorilla tracking takes place 365 day a year. It can rain any day, but there are more wet days in April, May and November. Because the gorillas often cross international borders or wander to inaccessible locations, the number of groups which can be visited on any one day may range from 6-8, but visits to designated "research groups" can take up the slack if regular tourist groups are not accessible. Trackers pre-locate the habituated groups early in the morning and radio their location to the guides leading the tourist visitors.
Encountering Gorillas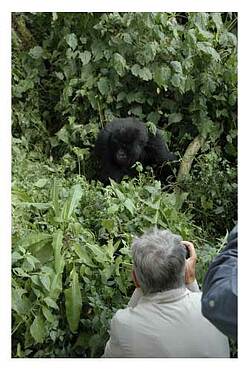 While the park rules suggest you must be at least seven meters from the animals to prevent transmission of disease, as a practical matter, the habituated gorillas seem to ignore humans and often wander directly toward the awed human apes. The gorillas are vegetarians and very peaceful, albeit powerful. In 1992 we were given explicit instructions about avoiding eye contact, bending down, being quiet and giving especially wide berth to the silverback patriarch of the group. We received no such instruction in 2009, and it did seem like the gorillas were oblivious to our presence. I think all of our group obtained great photos similar to the ones in this review. Each visitor receives a souvenir certificate of accomplishment upon return to check back in at the headquarters. For those who prefer not to carry their pack, lunch, raincoat and camera gear, porters are available for $10 in Rwanda and $15 in Uganda. The porters tend to be former poachers or farmers whose fields are sometime feeding grounds for gorillas and other animals on the edges of the park. Rain is possible anytime of year and the terrain can be muddy, steep and prickly. Gorillas seem to love eating nettles, enormous thistles and bamboo. Long pants, hiking boots, long sleeves and gloves are useful if not essential in this habitat.
In the course of our trip we had four encounters with four different gorilla groups. Each was a different experience with respect to the habitat in which the gorillas occurred, the behaviors we observed, number of gorillas in the family group, and the distance the group traveled during the hour we spent with them. We had the impression that poaching in Rwanda and Uganda was essentially ended, though may still be a problem in Congo. The total population is slowly increasing. We happened to arrive on the Gorilla Naming Day, an annual event of national significance during which each of the newly-born gorillas receives an official name. There are speeches, dancers, music and media coverage. On this particular day, Jack Hanna representing ABC Good Morning America covered the event for international broadcast.
We drove from Rwanda to Uganda and spent a night at Mount Gahinga Lodge at the edge of Mgahinga National Park. There were no gorilla groups in the area, but we made a hike into the park to look for the most colorful bird in the country, the Ruhenzori Turaco, which we did find. The lodge was a very friendly place serving spectacularly tasty meals and with a bird bath attractive to lots of birds.
Entering the Impenetrable Forest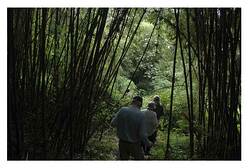 We drove to Uganda's Bwindi impenetrable Forest National Park, home of the other, separate, Mountain Gorilla population. The drive through rural Uganda was really scenic as the road wound through hilly, lake-dotted, volcanic terrain sculpted by terraced fields containing corn, bananas, cassava, beans, squash, tea and coffee. Cassea trees were in bloom with their bright yellow blossoms. Numerous pairs of Crowned Cranes, Uganda's national bird stalked insects in the farm fields. Children in brightly colored school uniforms walked to classes and waved to us as we passed. Bwindi park is lush, steep and inviting. As you move west across East Africa rainfall increases as does species diversity and the amount of land in natural vegetation. Bwindi's forest hold a dozen species of primates including Chimpanzees. Our lodge in Bwindi offered a spectacular view into the rainforest and even offered the treat of an intense, but brief, thunderstorm just after we checked into our cottages. From our base at Volcanoes Bwindi Lodge we made two visits to Gorilla groups.
Tracking gorillas in Uganda follows much the same protocols and rules as Rwanda. My own sense was that Rwanda is better organized and more efficient in staffing and managing the activity. In both destinations, the parks staff divides the day's participants into parties of eight with each group assigned to a gorilla group. There were occasions where it seemed the park was not following its own rules regarding maximum permissible numbers of visitors, but overall we had capable guides and efficient trackers who were able to show us the primates with a minimum of hiking and a maximum of understanding of what we were seeing.
Chimpanzees and other Primates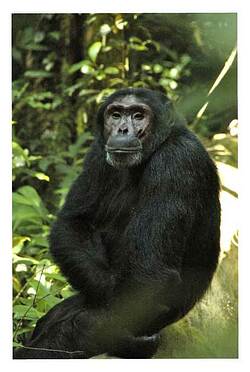 We tracked chimps in four locations in Uganda. They were a bit more elusive than the gorillas. Chimps spend more time in the tops of trees and they are faster moving through the forest. Chimps vocalize more, but also seem to cover a larger daily range and have a broader diet, often including other primates. I particularly enjoyed tracking chimps in Kibale forest. We visited part of a large group which was separated from the rest of its membership. As we watched there was a wild chorus of hooting and calling across the forest and the group reunited with embraces and swinging of arms before settling into casual eating, mutual grooming and resting.
On our two-hour hike in Bigodi Community Forest Swamp during a rainstorm, we saw more species of primates at the edge of agricultural lands than anywhere else on the trip. Local farmers, with the help of a Peace Corps Volunteer about 20 years ago, decided to protect an area of Raphia and Papyrus both to preserve the natural vegetation and give sanctuary to the nine species of primates in the area. A local resident conducted our walk, pointing out seven species of primates and many of the 137 species of birds known from the area. The primates sometimes create a nuisance for local farmers, leaving the swamp and forest to raid crops, but income from the guided hikes provides compensation, pays the guides and supports a local school.
Also Fantastic for Birds and Other Mammals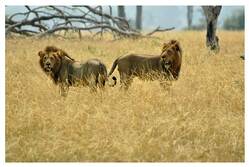 While the chimps, gorillas and primates may be primary reasons to visit Uganda, the country is one of the best in Africa for birding with more than 1000 species. Uganda has two huge national parks; Queen Elizabeth and Murchison Falls, both offering vast savannas that are well populated by antelope and their predators. Queen Elizabeth park has famous tree climbing lions. Murchison Falls, on the upper Nile, hosts some the highest concentrations of hippos and crocodiles in Africa. Both offer water-based safari cruises which offer spectacular access to bird and animal photography opportunities. There are also numerous other parks and reserves in Uganda providing wonderful opportunities for customized nature trips.
Cause for Celebration and Resolve
My best moments on this trip involved the contact with the gorillas and chimps. One might think that because these primates are habituated to accept the proximity of humans, the result is a zoo-type experience. This not at all the case. In my opinion the habituation is a celebration of our capacity to understand and protect these animals. When you are very close and able to hear them chewing, when you can smell them and make actual eye contact, you also appreciate their vulnerability. In a sense, these few animals still exist because we pay to see them. Millions have been lost throughout Africa and the rest of the world because we did not create either the inter-species relationship or the economics to justify their preservation.
For all the members of my travel group, the experience was inspirational on many levels. We could not help but see our own primate reflection in their eyes and in their circumstances. We must continue to ask what we must we do to make sure all of these marvelous animals continue to live in a sustaining environment and in peace.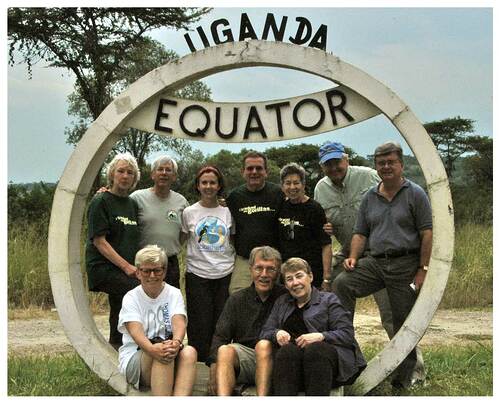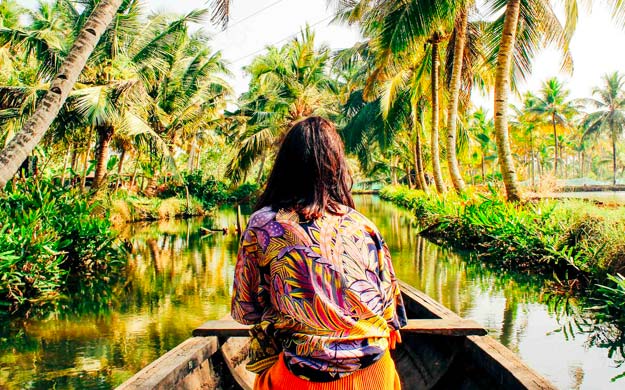 Design an adventure with Journeys International!
With over 40 years of experience, we create experiences that match your goals.
Start Planning
Travel Inspiration Delivered