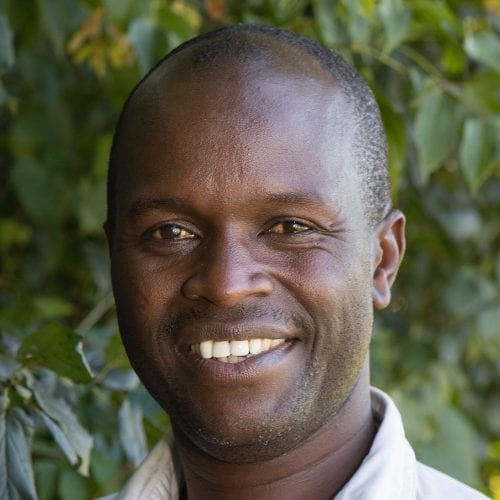 James Makau Nzioka (Makau) has been part of the Journeys family since 1990, and sets the standard for an ideal trip guide. Makau is a devoted educator, naturalist, self-made philanthropist, and certainly one of the best and most passionate birders in Kenya.
In Makau's own words, "My work gives me great joy. Watching birds and animals is my profession and my passion. I will help you observe and understand, not rush and check things off a list."  With great love for all that his country has to offer, Makau will bring you into the Kenya he knows as an expert birder, naturalist, conservator, mountaineer, educator, and as an engaged and active citizen. He is deeply thoughtful and well-acquainted with contemporary social and political issues, but also an eternal optimist.
Makau has helped to develop programs encouraging local youth to become guides and protectors of the nation's wildlife, he assists a self-help water project to alleviate problems associated with irrigation and water-fetching in his village, he supports women's groups that grow and sell vegetables, supports public health education organizations and orphan education organizations, and he initiated two projects to provide a well and a school library to his village. On top of devoting his labors to such causes, Makau also donates his money and goods. He writes, "For every client who joins me on my Million Animal Safari, I will make a donation of $150 to help support these projects. I also welcome used books for the school library. Thank you for helping to improve the lifestyle of the people in the two villages that we visit, Mbtini and Mwingi!"  Makau isn't employed by a philanthropic organization and he isn't specifically contracted to do these things. He just orients his life toward channeling his passion for the well being of his country and villages into these incredible acts.
The experience and knowledge that Makau brings to Journeys is built out of this passion for his country. He will not only provide a fantastic safari, but will also engage in conversation about conservation in Kenya, past, present, and future. While you experience the wildlife, hiking, and cross-cultural experiences, Makau will encourage you to consider his villages' place in Kenya, Kenya's place in Africa, and Africa's place in the world.
Makau lives with his wife and daughter on the outskirts of Nairobi, and visits his mum and aunties in his home village often. Bringing visitors into these villages is a highlight of the trip both for Makau and for the visitors. One Journeys traveler said, "When we asked our fifteen-year-old granddaughter what her favorite part of the trip was, she answered, 'visiting Makau's village.' " Makau considers it a great pleasure to invite visitors into his villages, and a great privilege to share his home with us. Likewise, Makau has visited Joan and Will's family and the Journeys office in Ann Arbor many times over the years. As we have followed the growth of his family, he has followed ours. In his own words, Makau says, "I have worked with Journeys for a long time, and I am pleased to count the Webers as my good friends."
"For the past twenty years, I have been guiding people throughout Kenya, showing them all that my beautiful country has to offer. I know that leadership is the key for visitors to really know and earn a great appreciation of a destination. It is always my pleasure to share what Kenya has to offer. As your guide, I promise you my utmost care and sincerity."
It gives me great pleasure to commend James Makau Nzioka for masterminding our recent trip to Kenya. I think he really got a kick out of being with the lively student group. They teased him unmercifully, got him to dance on New Year's, gave him their problems to solve.  He is just simply one of the top guides in the world, period!Dr. Val Ostarch, High School teacher, alumna of more than 15 Journeys trips, many of these with her students