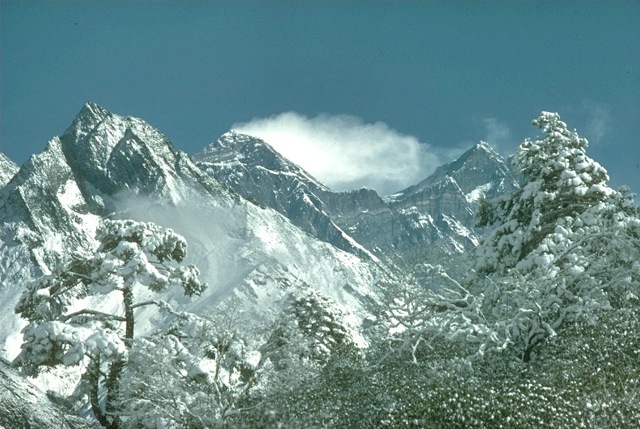 The Bird's Word Blog
Top 6 Strategies for Non-Climbers to Explore Mt. Everest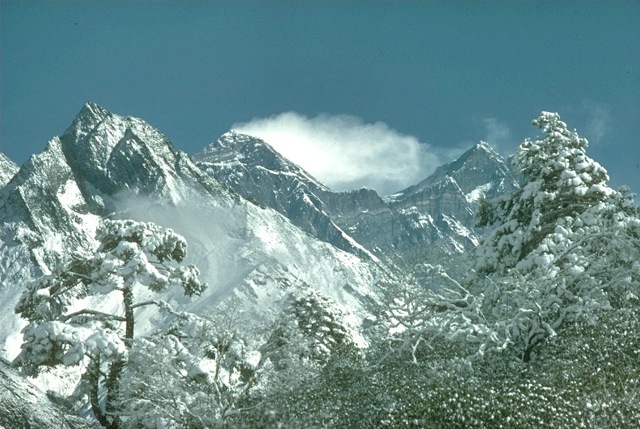 Springtime is the season when some of the most fit, daring (and wealthy) adventurers attempt to scale Mt. Everest (29,029′). Yet savvy travelers know that a summit attempt is a risky undertaking, and that summiting isn't the only way to experience the ultimate mountain.
Journeys International has a long history of advising travelers in the Everest region, beginning in the early 1970s when Journeys founder, Dr. Will Weber, worked as a Peace Corps Volunteer in Nepal. Will first worked as a high school science teacher in a Sherpa village just east of Everest. Later, Will worked in the Nepal National Parks office where he was involved in the planning and creation of Sagarmatha (Mt. Everest) National Park. After his Peace Corps term, Will returned to the United States to complete his education and founded JOURNEYS to share the world's natural beauty with adventurous travelers. In May 1978, Will made a return trip to the Himalayas escorting the company's inaugural trek to the base of Everest in Nepal.
Here are Journeys International founder Dr. Will Weber's 6 strategies for a personal Everest encounter:
1. Trek to the Everest base camp in Nepal. You will require a minimum of 8 days of hiking to get a solid glimpse, and 15 days to reach the pinnacle viewpoint of the peak from an 18,200′ non-climbing vantage point. You should have a knowledgeable guide, a high level of personal fitness and good hiking and camping gear for this route. Trekkers will come to understand that Everest is not only a peak but also a culture, a unique natural environment and one of hundreds of gigantic, soaring Himalayan peaks.
2. Drive to the north slope of Everest in Tibet. This is a side trip from the overland route between Lhasa, Tibet, and Kathmandu, Nepal. Spend a night at the Rongbuk Monastery at the base of what is known locally as Chomolungmo, "Mother Goddess of the World." The drive from Lhasa to Kathmandu normally takes 3 days and the Everest diversion adds 2 additional days for a total of 5 days. This route requires less physical exertion than trekking, but be aware that traveling in Tibet requires a special permit.
3. Trek to the Arun Valley of East Nepal. From a high ridge between Everest and Kangchenjunga you will have breathtaking views of four of the five highest mountains in the world, including especially impressive views of 28,169′ Kangchenjunga and 27,838′ Makalu. The best viewing seasons are October-November and March-April. Plan for at least 12 days. You will see the fewest other tourists and experience the greatest natural and cultural diversity on this route.
4. Fly the Everest Flightseeing trip from Kathmandu. The encounter is brief but undemanding, as you are in a comfortable pressurized aircraft and you are virtually guaranteed a peak-level view of Everest and many other high Himalayan peaks on the Nepal-Tibet border. Anyone who makes it to Kathmandu can add this experience as a comfortable round-trip morning experience on a clear day.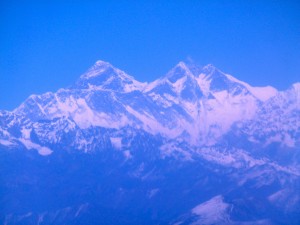 5. Fly on commercial, scheduled jet aircraft service between Kathmandu and Paro, Bhutan; Lhasa, Tibet; or Bangkok, Thailand. Your pilot may or may not point out Everest so you should bring a peak profile image to identify the mountain for yourself and your seatmates. Views are brief and usually only available on one side of the plane. Try to get the right-side window seat from Bhutan or Bangkok to Kathmandu and from Kathmandu to Lhasa. Choose the left window in the opposite directions. Some times the Lhasa to Kathmandu flights fly almost directly over the peak of Everest. A view of Everest is not assured, but if you catch a glimpse from a large jet, you will be inspired to want to see Everest much closer.
6. Hire a helicopter from Kathmandu, fly to the Khumbu area of Nepal, and have tea on the veranda of the Everest View Hotel, which offers a superb view of Everest. Return an hour later. By several measures the experience will be astounding, but it is one of the more costly options.
If you have the time and ability, hiking-in gives the best experience of Sherpa culture, wildlife, active glaciers, waterfalls and a taste of the mountaineering perspective, but with much less of the risk associated with a technical mountaineering summit attempt. Whatever your choice, any approach to Mt. Everest will be mesmerizing. Call the JOURNEYS International worldwide headquarters in Ann Arbor, Michigan, for personalized suggestions for group or private Everest exploration tailored to your dreams and preferences.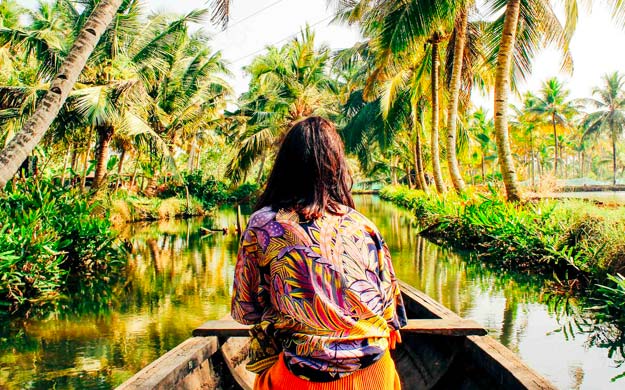 Design an adventure with Journeys International!
With over 40 years of experience, we create experiences that match your goals.
Start Planning
Travel Inspiration Delivered