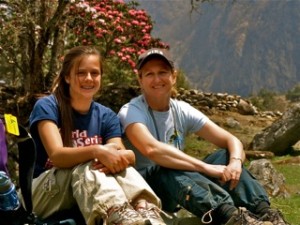 The Bird's Word Blog
Namche: Gateway to Everest
by The Journeys International Team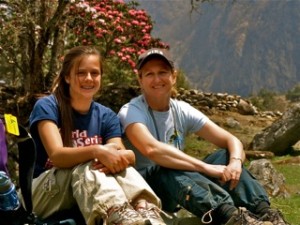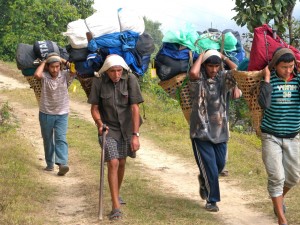 In April 2008, Journeys Client Services Director Florine Herendeen traveled to Nepal with her then-14-year-old daughter, Kellyn, and 3 other Journeys travelers. Florine wrote this post about her visit to Everest Namche Lodge Base. Visiting Everest Namche Lodge Base is one way that Journeys recommends to experience Mt. Everest while avoiding the risks associated with a technical, mountaineering ascent. 
We arrived at Lukla airstrip at an elevation of 9,000' in the region called Khumbu. Our guides and porters gathered our gear, including our personal packs, the kitchen equipment and tents. It was going to be a day and a half trek to Namche, and once we arrived there, we were going to base ourselves in a lodge, but we had chosen to include some camping as well and our first night was to be in tents. We carried only our day packs and the porters carried the loads on their backs with a support strap over the top of their heads. I felt guilty bringing more stuff than I would likely need, but the porters did not mind.
Sherpa porters make a living transporting goods along the trail. The trekking guides were referred to as "sherpas" as their job description, and most of them were also of the Sherpa ethnic group, with families who are from this high part of Nepal. Sherpas are Tibetan Buddhists. At the entrance to every small Sherpa village we found walls of large "mani" stones, carved with Tibetanprayers. We learned to keep them on our right as we passed so we could touch with our right hands. As the left hand is considered unclean. These were a continual reminder that we had entered a different world.
We trekked about five hours and arrived at our campsite in the late afternoon. The cook used the kitchen of the nearby lodge to prepare the first of the many wonderful meals we'd be enjoying on this trip. I have to admit, even though we were camping, we dined on better food than I will ever cook at home. We had the best porridge for breakfast every morning and we also had eggs, coffee, hot chocolate and toast. Lunch was typically a packed lunch consisting of a sandwich, hard- boiled egg, fruit and cheese. Dinners ranged from familiar spaghetti to local noodle soups to chicken with rice and tasty vegetables and dal (lentils.) One night dessert was homemade apple pie still warm from the oven (or whatever it was they cooked it in!). Along the way, there were snacks to be found for a mid-afternoon pick-me-up — tea, cookies and yogurt, or Snickers bars and Coca Cola, or beer and Pringles, for a range of preferences.
The second day was our toughest hiking day of the entire trip. We trekked to an altitude of about 11300 feet and arrived at our base in Namche. It was pretty much an up-hill climb with none of the occasional downhill relief of the previous day. We took it slowly, but steadily, aware of the altitude. Kellyn often got ahead of the pack but one of the guides stayed right with her. At the time it seemed to be a really tough day but, in hindsight, I realize we could have relaxed. There was plenty of time and we could go as slowly as we wanted. Also, locals or visitors who have difficulty with the hiking can ride horses.
I enjoyed the people-watching along the trail, including trekkers that visit here from all over the globe, and local children going to and from school. We observed a group of teen girls huddling together in a group as they walked and talked and giggled. Kellyn said they could have been her friends.
We were tired as we covered the final stretch to Namche but as we rounded the corner and saw the stunning village we felt it was all worth it. It appeared almost with no warning, and it was storybook perfect, a collection of white houses with colorful trim, built into the side of the mountain, backed by higher snow-capped peaks. We were overwhelmed by the beauty and by the awareness of the legendary history of the place as the staging ground for so many famous expeditions to Mount Everest.
Namche is a busy little town full of Sherpa life. There are homes, fields, a school, a small monastery and also plenty of shops and restaurants. Here you can rent the best possible equipment one might need for trekking or camping. Cell phone service and internet are available. The headquarters for Sagarmatha (Mount Everest) National Park is on the outskirts of town. Electricity came to Namche only recently but great care was taken to try and put many of the wires underground. There's a kerosene depot so that locals do not rely on wood for cooking (and visitors do not rely on wood for their hot showers!).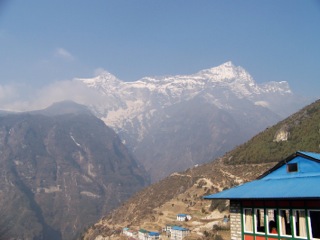 View from the lodge in Namche.
Our guesthouse – Moonlight Lodge – sat above the town center, almost at the top of the ridge. The advantage is the magnificent view, but it does take just a bit more trekking to get there. The lodge was an addition to the home of Natang Sherpa and his wife Pemba, brother-in-law and sister-in-law of Journeys co-founder Pemba Tsering Sherpa. Natang spent many years working for climbing expeditions and then as a senior guide for our trekking groups and he welcomes all Journeys trekkers as old friends.
Moonlight Lodge is simple, welcoming, clean and comfortable. As in all Sherpa homes and lodges, there is a large common room warmed by a central stove and rimmed with carpet-covered seating. And, as in the home of any Sherpa family that can afford it, the most special room is the prayer room, painted in colorful and intricate detail with Tibetan Buddhist imagery, with an altar along one wall that holds butter lamps, statues and holy books. Some of the guest rooms have their own bathrooms, and others share. Meals were prepared by the cooking staff who fed us so well on our trek up from Lukla.
Kellyn played ball games and Nintendo with local kids. Our guides and cooking staff joined us for picnics and started spontaneous drumming and dancing parties. We were offered blessings by Buddhist monks.
On our first morning in Namche, we climbed over the ridge above Moonlight Lodge and then made our way up to the famous Everest View Hotel where we relaxed and sipped hot lemon drinks on the terrace cradled by the very high peaks around us. The next day we made our way to the Sherpa villages of Khunde and Khumjung- larger, quieter, and more traditional than Namche. We visited the famous school and hospital, both established by The Himalayan Trust, a foundation created by New Zealand climber Edmund Hillary. We camped overnight on the property of a Sherpa family in Khum- jung, right by their fields of potatoes, then returned to the now familiar village of Namche.
On the third day we hiked to Thame, a smaller and less wealthy village, a few easy hours away. We walked through forests of exquisite blooming rhododendron, and the large red and pink flowers seemed almost unreal against the mountain backdrop. JOURNEYS Nepal founder, Pemba Tsering Sherpa, was born in Thame. There are people there who were very proud of Pemba, but their most famous hometown heroes are Appa Sherpa, who holds the world record for summitting Everest 17 times, and Tenzing Norgay, who along with Edmund Hillary completed the first successful ascent of Mount Everest in 1953.
The monasteries in Thame and Tengboche are the most important to Sherpa Buddhists. Monasteries are the center of spiritual life in Khumbu and many families still send at least one son to study with the lamas in hopes he will become a monk. The most famous and picturesque monastery in Khumbu, Tengboche, is one day's walk from Namche on the path to Mt Everest. Visitors are usually welcome to enter Khumbu monasteries, except during special ceremonies. With our guide acting as an interpreter we were able to converse with the monks about their lives and the services they perform for their communities.
We returned to Lukla on the same route that brought us to Namche. Surprise, surprise — getting down was quick and easy! We spent the night in Lukla at a nice guesthouse with a great shower before the following
morning's flight back to Kathmandu Airport.
It is hard for me to identify one favorite part of this trip. I've had many wonderful trips with Journeys over the years but there was something unique and extra special for me about this one. I absolutely loved it. I enjoyed the beauty of Nepal. I found the Himalayas to be awesome. I was touched by the kindness and friendliness of the people. I think what meant the most to me was the remoteness and the difference from my home and my everyday routine. I loved sharing this with appreciative clients, with the Journeys Nepal staff, and most preciously, with my daughter. We were both sad to leave and we promised to return one day.
Journeys International offers group and custom trekking in Nepal. Florine says that it feels like only yesterday that she and Kellyn had such a great mother-daughter trekking experience.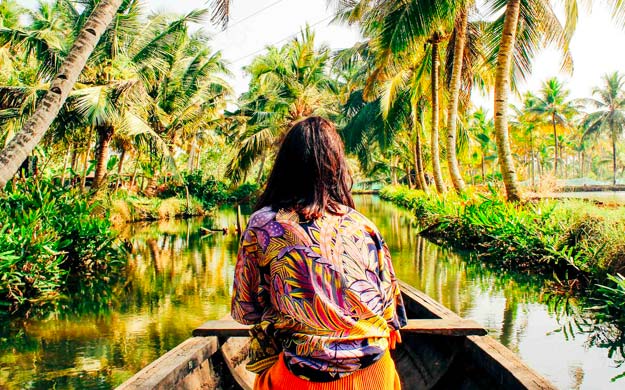 Design an adventure with Journeys International!
With over 40 years of experience, we create experiences that match your goals.
Start Planning
Travel Inspiration Delivered