The Bird's Word Blog
Exploring China with the Miao Tribe
by The Journeys International Team
Gail Scherer, Journeys Client Services Specialist, shares her experience of visiting the Langde Miao Village, including this video of the unmarried ladies performing a ceremonial dance.


I recently returned from my first trip to China, following our Finding Forgotten China itinerary with a small group of ten adventurous travelers. Throughout the trip, we visited six different villages. Each village was fascinating, with its own feeling and flair, but the highlight of the trip was our visit to Miao and Dong villages concentrated in the provinces of Guangxi and Guizhou.
Walking up the hill to the village, we encountered 12 separate benches, each with two festively dressed women. They had been waiting for us, preparing their '12 Tables Ceremony,' a ceremony that welcomes visitors into their lives and their homes. One woman held a teapot full of a fermented rice wine, which she poured into an ox horn held by the other woman. Our role in the ceremony was to stop at each of the 12 tables and have a taste of the wine. It went down smoothly, and reminded me of kirschwasser, a clear brandy made from cherries.
At the top of the hill we crossed under a gate and into the village, where musicians serenaded us. One played a Lusheng, a traditional bamboo wind instrument that reminded me of bagpipes.
Next, our guide led us through the village to one of the most truly authentic experiences of our trip—lunch at his mother's house. When we arrived, his mother and sisters were putting the final touches on a feast of rice, peanut chicken, tofu and bok choy, exotic fish dishes, and locally brewed and bottled beer. The comfortable and casual atmosphere made us all feel right at home as we helped prepare the tables for our lunch.
Full of a hearty and delicious meal, our next stop was back to the center of the village, where we experienced the moment I'd been waiting for: a performance in which all of the young unmarried women danced in their finest ethnic dress, complete with ornate silver headpieces. I had read quite a bit about this performance and the dresses—especially the headpieces—and to see it come to life in front of me was breathtaking.
The added bonus? After a beautiful 30-minute performance, the dancers invited us to join them. They patiently showed us the footsteps to the dance, which we practiced in a large circle.
I left that day feeling enriched, both physically and emotionally. Our visit to the village was a true taste of what life is like for the Miao tribe, and I can't wait to go back for more. (And sometimes, while in my kitchen cooking dinner, I find my feet still practicing the dance. Maybe I'll perfect it before I go back to the village!)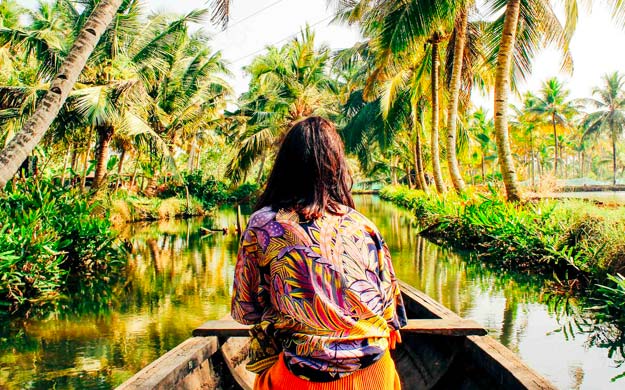 Design an adventure with Journeys International!
With over 40 years of experience, we create experiences that match your goals.
Start Planning
Travel Inspiration Delivered