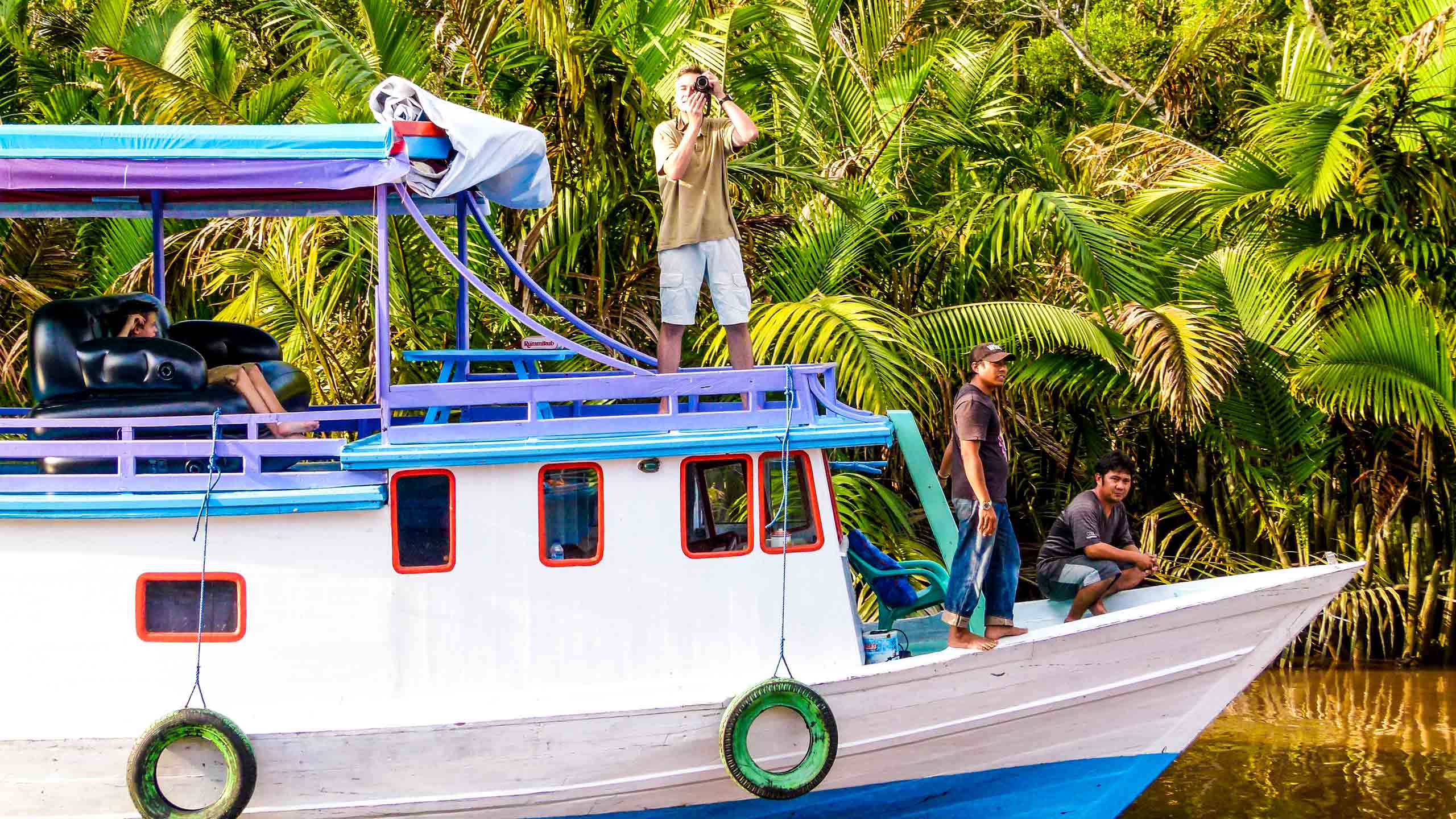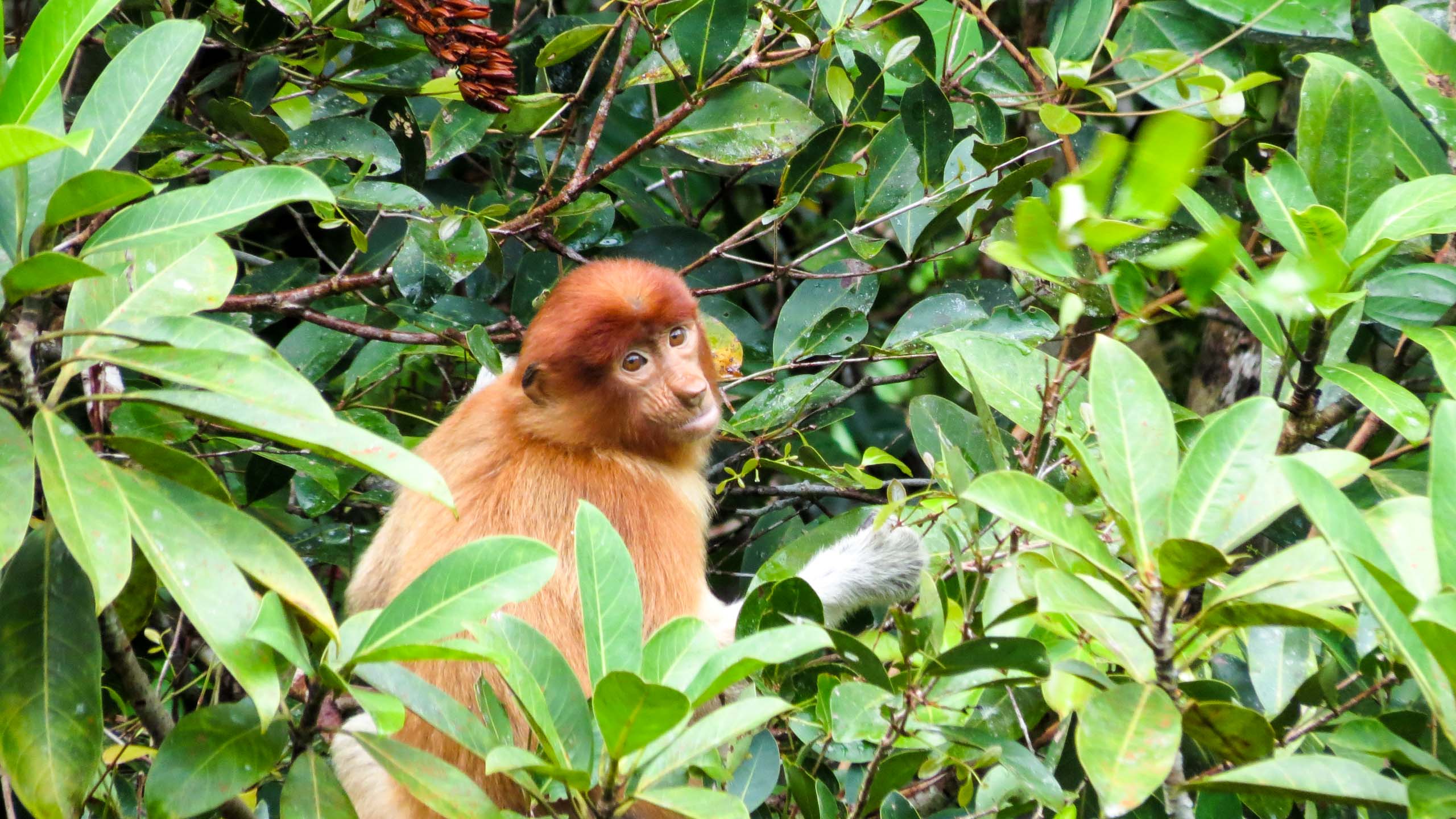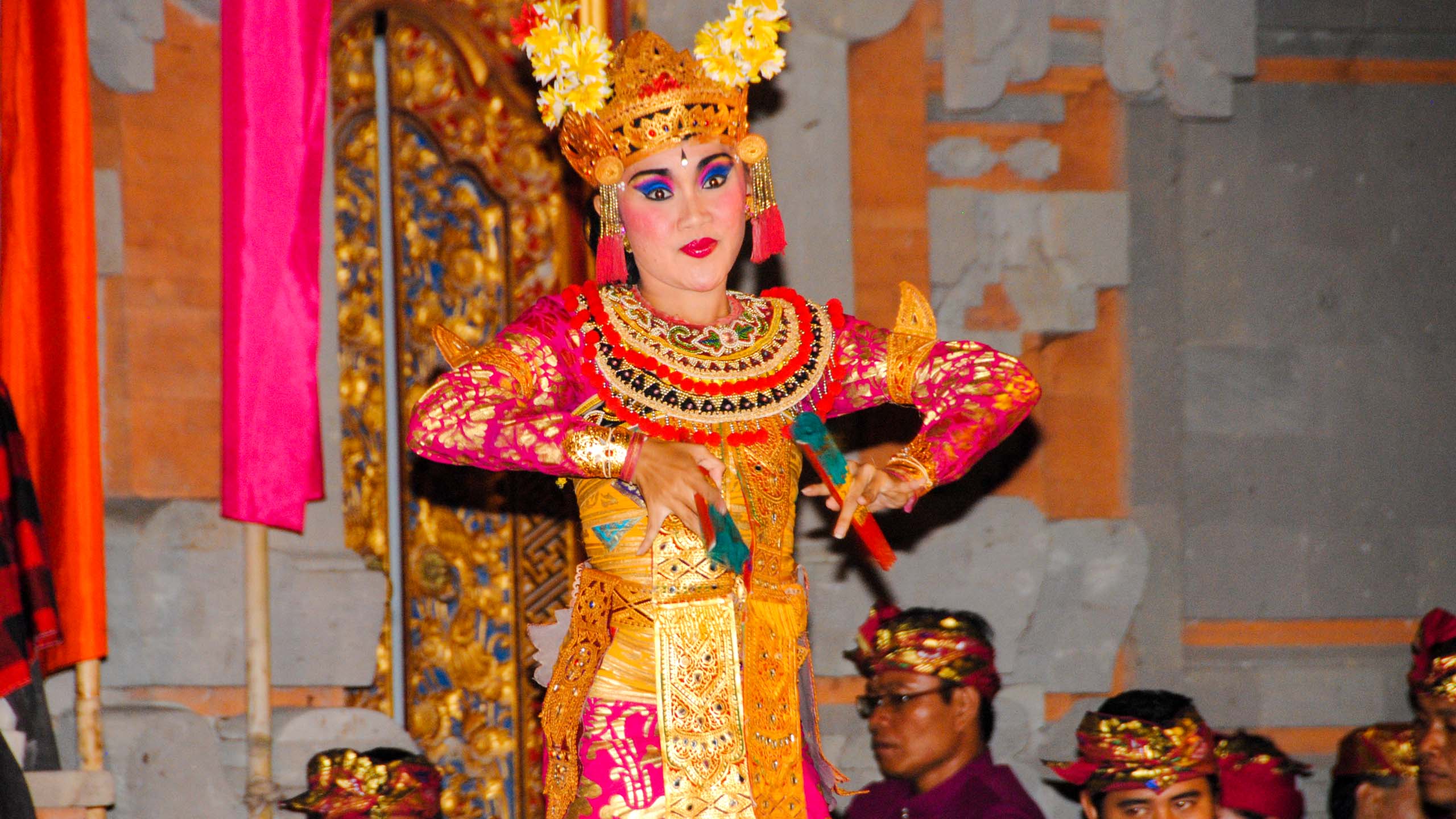 Wild Indonesia for Families with Teens
Active Bali, Borneo and Komodo for teens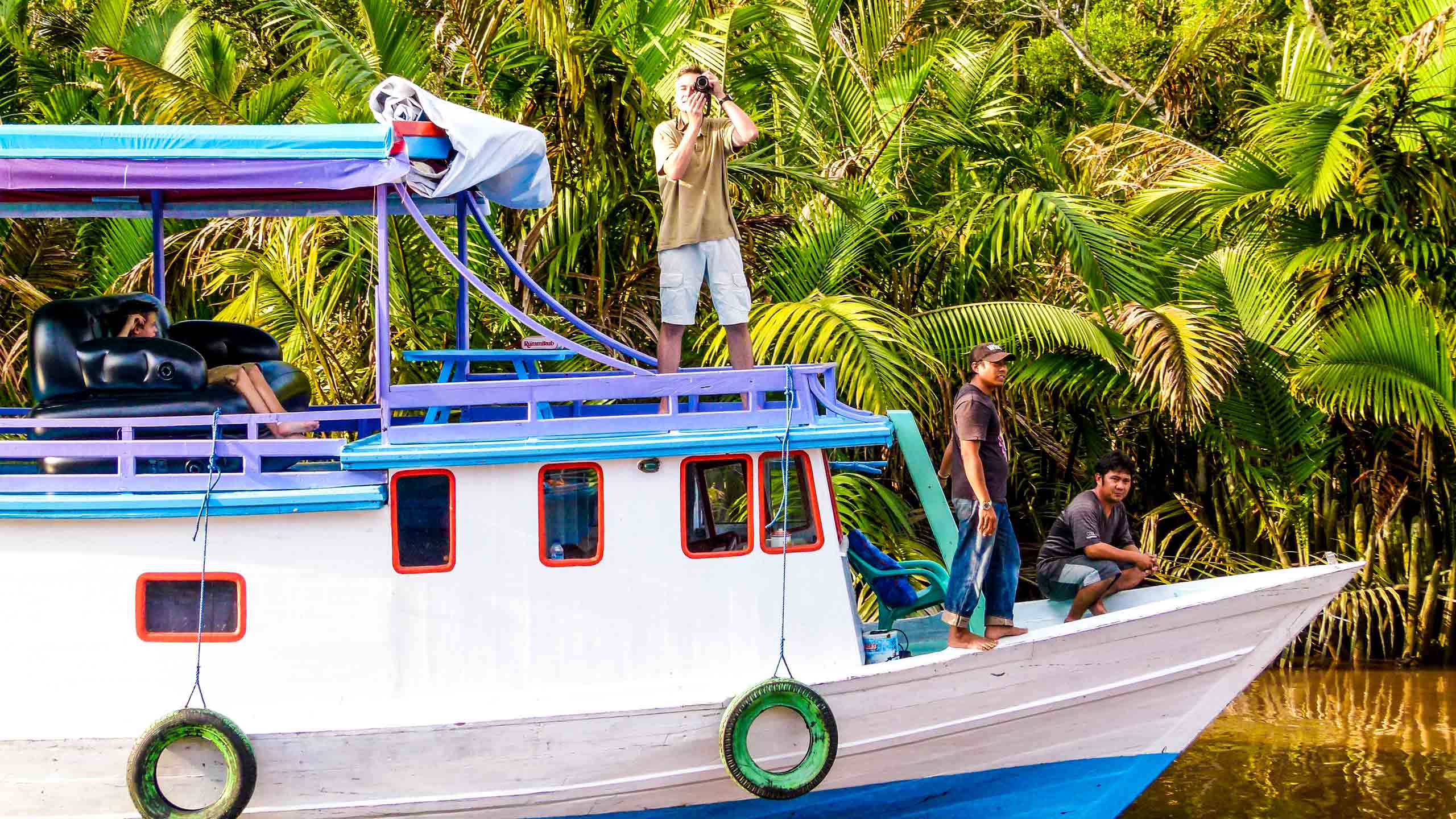 Sample Custom Trip
Kid Friendly
Enjoy hiking, snorkeling, and close-up, intimate wildlife encounters with Orangutans, Komodo Dragons, Probocis Monkeys, and coral reefs. Visit a Balinese cultural arts high school. Spend the day within a royal Balinese family compound for hands-on learning about cooking and crafts. Savor exotic fruits, engage the extraordinary color, arts, music, pageantry and very appealing volcanic landscapes of Bali.
This special trip adapts our now-famous "Apes, Arts and Dragons" trip to appeal especially to families with active teens. Expect opportunities to hike and actively engage very friendly cultures and exceptionally skilled, kid-friendly guides.
A
Day 1
Arrive Denpasar / Sanur
Your first stop is Bali, the most colorful, jubilant, festive and artistic island of Indonesia, renowned for music, dance, tropical ambiance, and luxuriant gardens. This is our transit point for exploration of the distant islands of the Archipelago. If you have not been to Bali before, you may want to arrive early for a pre-trip extension and to fully explore the island and its culture. Arrival at Ngurah Rai Airport of Bali met by your local tour guide. Proceed with guided transfer to the hotel at the tranquil corner of Sanur Beach. Check-in and the rest of the day is yours for leisure to get over your jet lag, or take a short walk exploring the beach. You may wish to arrive one day early to really re-set your circadian clock!
Lodging
Griya Santrian, Sanur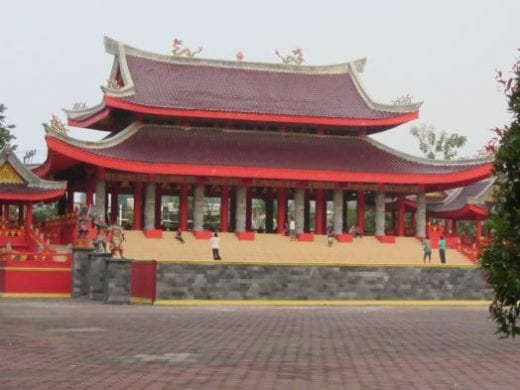 After breakfast fly to Semarang in Central Java, the entry point for Borneo touring. A night stay in Semarang is required due to flight schedules. Arriving Semarang, assisted transfer to Ciputra Hotel in Semarang City, the best available in the city. Enjoy some afternoon sightseeing of Semarang.  Semarang, an ancient city, dates to the Ninth Century when it was known as Bergota. Six hundred years later a Javanese Islamic missionary from nearby Sultanate of Demak founded a village here. In 1547, the current city was born. As a result of its large ethnically Chinese population, the city boasts several Chinese temples. These include Sam Po Kong (Gedung Batu), built in honor of the Chinese Great Admiral Zheng He who visited the area in 1405, and Tay Kak Sie Temple. Lunch at a local restaurant gives you a chance to taste some Indonesian specialties. Depending on the group we may visit just one temple and spend the afternoon relaxing or checking out the local shopping mall.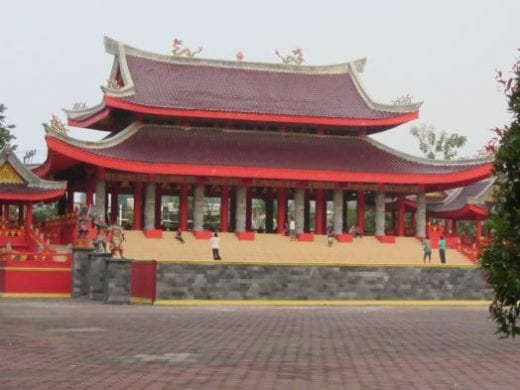 C
Day 3
Semarang / Pangkalabun / Tanjung Puting National Park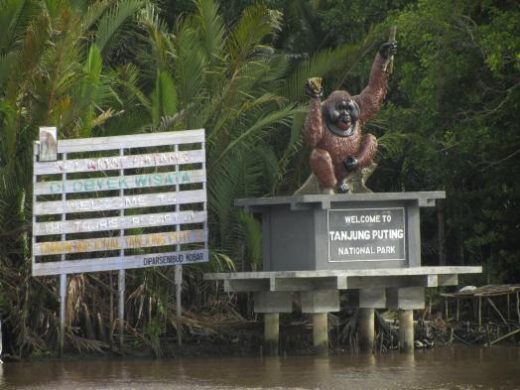 Enjoy the extensive breakfast buffet at your hotel and then transfer to the airport for your early afternoon flight to Pangkalan Bun in central Kalimantan (Borneo). Transfer to the river port to board your klotok (a traditional motorized wooden boat) to cross Kumai Bay toward the main waterway into Tanjung Puting National Park, the Sekonyer River. The two-hour float up the Sekonyer passes incredible riverside plant life. The vegetation varies from Nipah palms and mangroves, dominating the coastal forest, to the evergreen plants that proliferate in the peat swamps and dryland forest. Tanjung Puting National Park covers more than 1,600 square miles and hosts a diverse population of flora and fauna – most notably, the orangutan. Search for proboscis monkeys and the many birds of the area, as you travel upstream. The National Park is in a continuous battle against loggers, gold miners, poachers, and corporate palm oil developers. Tourism in this area offers an economic rationale for preserving the natural habitat. After a stop at Tanjung Harapan to arrange the permits, then it's straight to Rimba Lodge for two nights. The 35-room lodge, built of ironwood and set on stilts, is quite simple but beautifully-sited – and really the only accommodation in this area.  A group of long-tailed macaques lives all around the rooms, so be sure to close your door!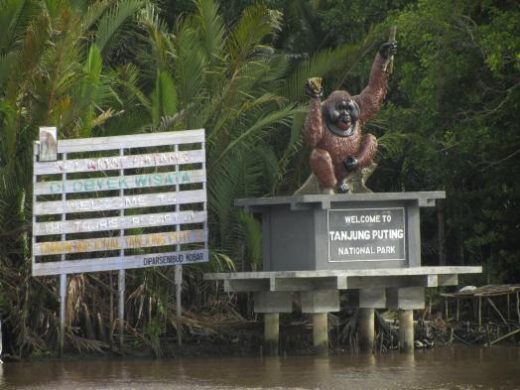 Meals
Breakfast, Lunch, Dinner
D
Day 4
Pondok Tanggui / Camp Leakey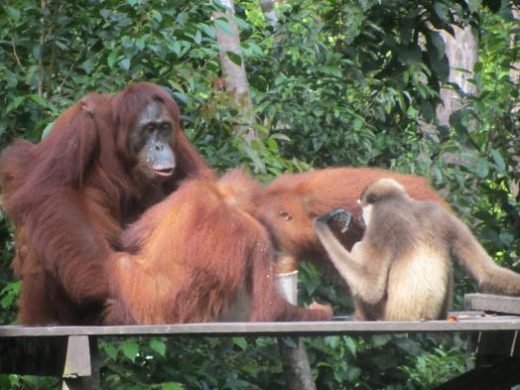 After breakfast at the lodge, head out by boat to Pondok Tanggui. After a short walk into the jungle, reach the feeding site for baby and juvenile orangutans who are in the course of rehabilitation and returning to the wild.
Afterwards, set off by boat for Camp Leakey, the historic research station in Tanjung Puting National Park. Louis Leakey set up this research station in 1971. He was both teacher and mentor for three young primatologists who would then go on to international renown: Jane Goodall and Dian Fossey, who gained fame for their work with chimpanzees and gorillas in Africa, and Birute Galdikas, who studied orangutans at Camp Leakey and authored the book Reflections of Eden (1995) about her early studies in this area.  Enjoy a beautiful 2½-hour upstream float with bird- and primate-spotting opportunities along the way. Lunch is served on board the boat before you reach Camp Leakey.  Once you arrive, hike into the primary forest and stop at the visitor center where you may come very close to semi-wild orangutans. At the afternoon orangutan feeding, usually starting around 2:30, you'll spot the orangutans as they approach from above or behind you and then watch their mealtime and gymnastics for as long as they stay.  This is a great opportunity to take close-up photographs of the animals. Orangutans are often quite curious about human beings, and they may want to investigate your pockets and your belongings. Keep a safe distance of at least 15 feet, and follow the guide's instructions carefully. Return to the boat to ride back to the lodge for the evening.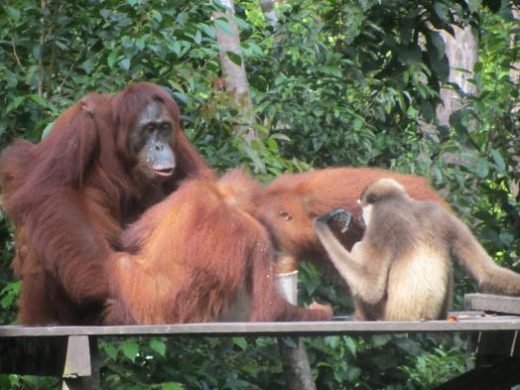 Meals
Breakfast, Lunch, Dinner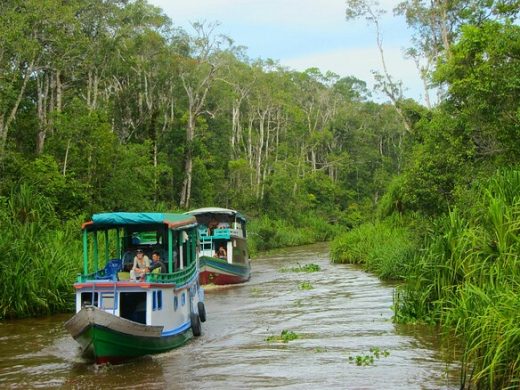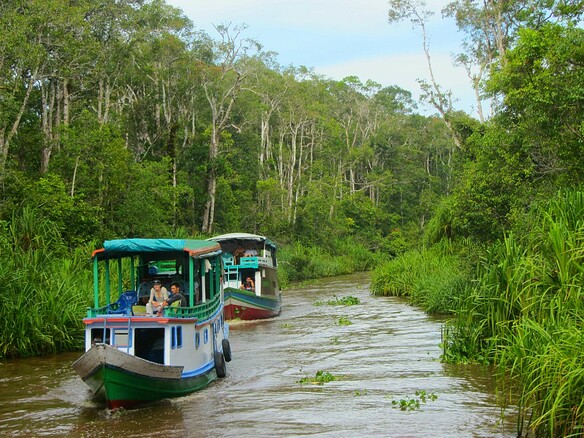 Return downriver to Kumai, and have a sightseeing transfer to the airport for a flight to Semarang early afternoon. Upon arrival meet and assisted for connecting flight to Denpasar.  Arrive in Denpasar, meet and greetings then proceed with guided transfer to hotel for overnight. Evening on your own.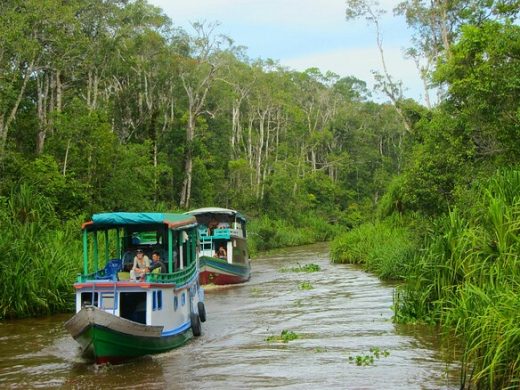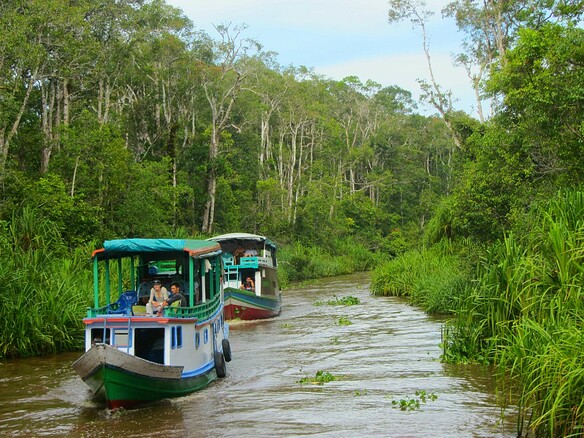 Lodging
Griya Santrian, Sanur
F
Day 6
Sanur / Labuhan Bajo / Rinca / Komodo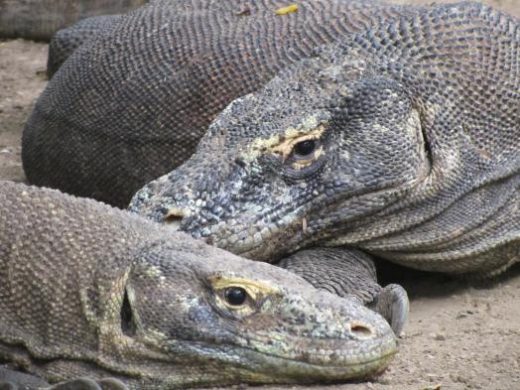 Transfer to the airport for a morning flight to Labuhan Bajo. Upon arrival at Komodo Airport of Labuan Bajo, you will be met and transferred to the harbor to board the boat to Rinca Island.  Track through the typical dry forest on Rinca island. The mix vegetation of Komodo National Park provides habitat and shade for different animals.  Deer, buffaloes, pigs, wild boar,  long tail-macaque feed on various leaves, fruit, flowers, roots, and grasses found in the park.  Komodo dragon are the top predator and all animals in the park are potential prey of Komodo dragons. Komodo dragons are scientifically described in 1912 as Varanus Komodoensis – the largest monitor lizard in the world. A ranger will lead the track. Afternoon cruise to Komodo Island. Lunch, dinner and overnight on board.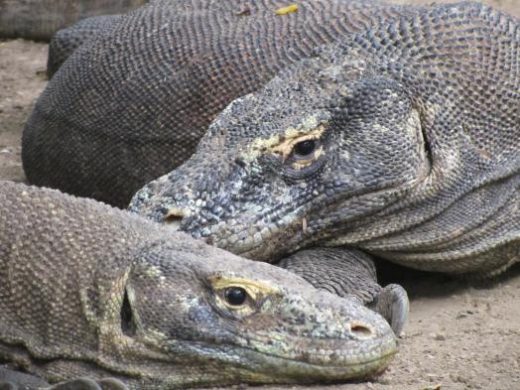 Meals
Breakfast, Lunch, Dinner
Lodging
Onboard M/V Tarata
G
Day 7
Komodo / Pink Beach / Labuhan Bajo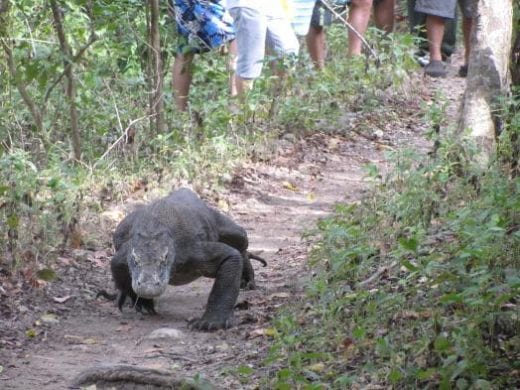 After breakfast, disembark take a half-hour walk (about a mile) to Banunggulung to see the Komodo dragons in their natural habitat. Komodo island is also home to wild animals such as deer, wild boar, and birds too, such as sulphur-crested-cockatoo, megapode and collared kingfisher. A ranger will lead this hike, carrying his forked stick to protect you. Cruise back to Labuhan Bajo with lunch onboard. There is an opportunity for swimming or snorkeling at  "Pantai Merah" or  Pink Beach.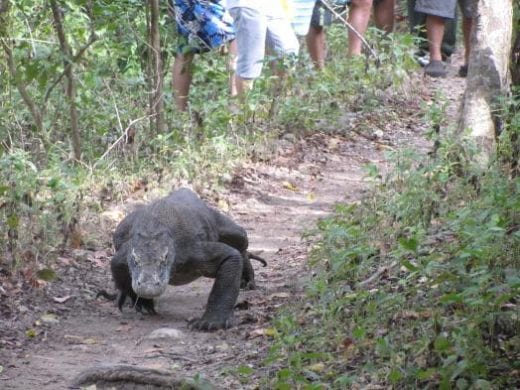 Meals
Breakfast, Lunch, Dinner
Lodging
Onboard M/V Tarata
H
Day 8
Labuhan Bajo / Denpasar / Sanur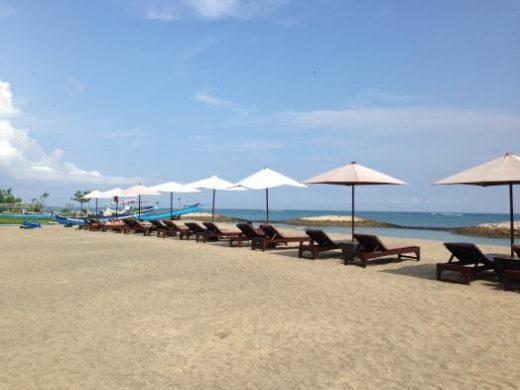 Breakfast is served on board the boat. Arriving back in Labuhan Bajo, transfer to the airport for your return flight to Denpasar, on Bali. Upon arrival,  you will be met and transferred to your hotel in Sanur for your overnight.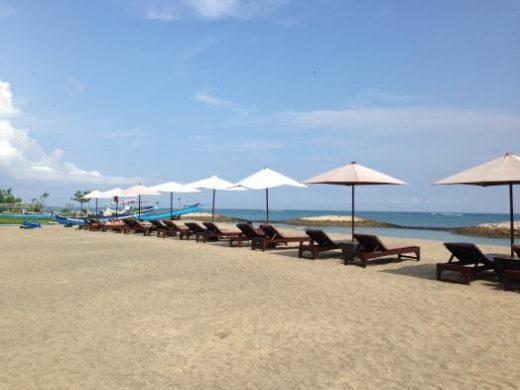 Lodging
Griya Santrian, Sanur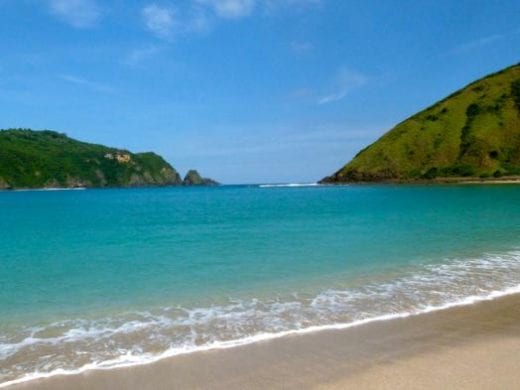 The morning is free until pick up at the appropriate time for your surfing class. Experience how it feels to break away and slide down the face of a wave… with the support of a great bunch of friendly coaches. The surf school program is fun, structured, professional and safe. The great setting, atmosphere and smiling faces make all the difference! We'll go as far as guaranteeing the best instructors and surf experience on the island. Your lesson takes place right on Kuta Beach, which has probably the best waves for learning to surf in Bali.
Lunch is available at a nearby local restaurant (at your own expense). After lunch free time for enjoying the sun, surf and sand of Bali.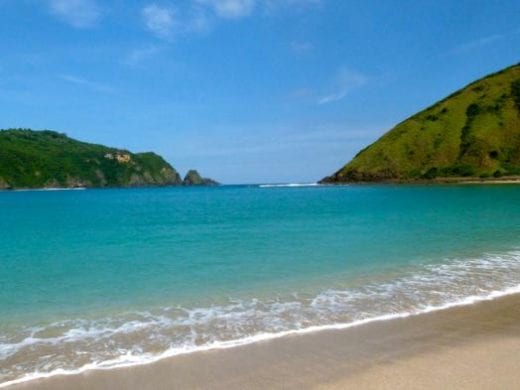 Lodging
Griya Santrian, Sanur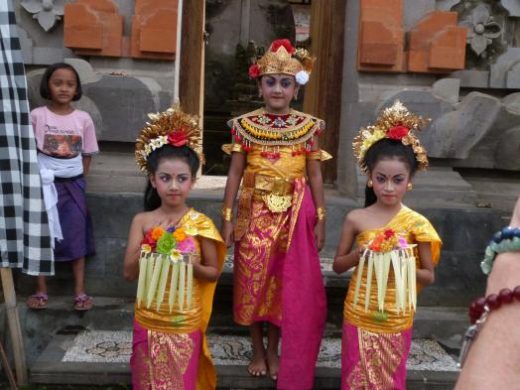 After breakfast departs for SMKN 3 Sukawati in Batubulan village, a high school where students learn, mastering their formal education, as well as Balinese traditional dances and instruments. The school principal will show us students practicing and give an explanation.  Afterwards visit Bali Bird Park with lunch included. Later drive to Ubud for a Balinese painting class.  Arrive back at the hotel in the late afternoon, where you may enjoy the pool.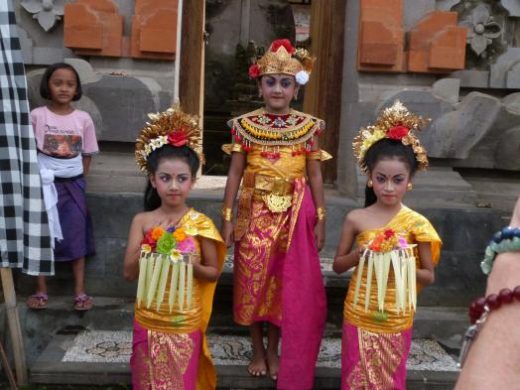 Lodging
Griya Santrian, Sanur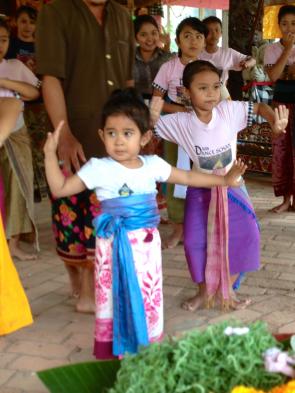 This morning, after breakfast, depart for Subak Guliang for a program of  "a day with the Balinese".
Experience Balinese warm greetings, and their traditional way of life.  Enter a  Balinese compound where you will be offered tea, coffee, and typical Balinese cakes as refreshment. The process of making coconut oil will be demonstrated after you tour the compound.  Watch the local's activities that include: weaving mats from pandanus tectorius leaves, arranging flowers and fruits for offerings.  This way of life has been inherited from generation to generation for centuries.
Continue to the elementary school where you have the chance to interact with the kids in the following program (except on school holiday).
Practice your climbing skills up a coconut tree and try to harvest coconuts.  Afterward, enjoy a refreshing drink of coconut juice directly out of the coconut.  Next Try planting and/or cultivating rice, using traditional methods and tools.  Bale Bengong (Gazebo) is the place for lunch at the conclusion of our activities. After lunch, visit Taman Nusa; a cultural park that offers a comprehensive overview of the cultures of Indonesia's various ethnic groups in an attractive and interactive way, while enjoying the natural beauty of Bali. Return to your hotel in Sanur for overnight.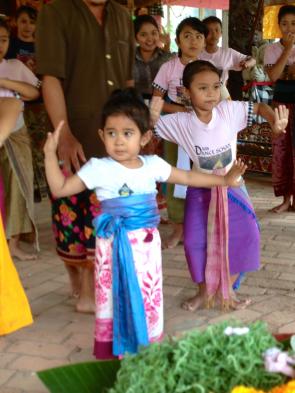 Lodging
Griya Santrian, Sanur
Today is a free day to relax at the hotel before late night transfer to the airport for departing flights home.
Lodging
Griya Santrian, Sanur
Dates & Price
Best Time of Year to Visit
Enjoy hiking, snorkeling, and close-up, intimate wildlife encounters with Orangutans, Komodo Dragons, Probocis Monkeys, and coral reefs. Visit a Balinese cultural arts high school. Spend the day within a royal Balinese family compound for hands-on learning about cooking and crafts. Savor exotic fruits, engage the extraordinary color, arts, music, pageantry and very appealing volcanic landscapes of Bali.
This special trip adapts our now-famous "Apes, Arts and Dragons" trip to appeal especially to families with active teens. Expect opportunities to hike and actively engage very friendly cultures and exceptionally skilled, kid-friendly guides.
The land cost published is for the stated group departure and is subject to change. This covers accommodations, transfers, activities, touring, guide services and meals as described in the full itinerary. The quoted Land Cost will apply when group size falls in the specified range and when travel is on the indicated dates.
Custom & private adventures are available as well, and the final cost of a custom trip will be based on the activities selected, trip duration, accommodations, etc. Developing an initial custom trip itinerary is a service we provide to all clients at no cost. If after development of the initial itinerary you request additional development but are not ready to make a deposit, a trip planning fee may apply.
Need to Know
Pricing and Payment
Reservations are accepted and confirmed after we receive a non-refundable booking deposit and a Traveler Profile Form signed by each adult on the trip as well as by the guardian for each child on the trip, and if space is available. For most group departures, the booking deposit is $500 per person per trip, though for some trips it may be more, as noted in the trip description.
The minimum booking deposit requirement for custom trips is $800 per person, and this deposit is non-refundable. A trip-planning fee of $250 per itinerary is also charged to cover costs of preparing itinerary proposals for custom trips. This fee is credited to the cost of the trip, but is nonrefundable if you do not take the trip. Custom travel during holiday seasons may require a deposit prior to trip confirmation.
An invoice for the total estimated cost of your itinerary will be sent with your reservation confirmation. For both group departures and custom trips, a second deposit of $1,000 per person is due 120 days prior to departure or at the time of booking for reservations made fewer than 120 days before departure. The balance as shown on your invoice is due 60 days prior to departure regardless of whether extensions or other arrangements are pending. Although we do our best to avoid increasing prices after we receive your deposit, in some cases it may be necessary to adjust pricing even after we receive payment to allow for changes in group size, rooming status, currency exchange rate fluctuations, fuel surcharges and other circumstances attendant to international travel. Late payments may jeopardize confirmation of your itinerary and in some cases may result in additional fees. If we have not received final payment 30 days prior to departure your reservation may be canceled and subject to our Cancellation & Refund Policy stated below.
We accept payments by Visa, MasterCard, American Express, or check drawn on a U.S. bank account. Payment for airfare is required at the time of ticketing. Discounts that may be available for some trips are not available toward bookings made through travel agencies.
Late Signups
Early reservations are encouraged! Some trips and flights fill several months before departure. We can confirm your space on a trip once we receive your deposit and signed Reservation Form. We try, but cannot guarantee, to accept late signups. In the event that we are able to accept reservations fewer than 60 days before a trip departure, additional fees of $500 or more may apply to cover administrative costs necessary to expedite your reservation confirmation and transmit your departure materials. For reservations made fewer than 60 days before departure, full payment will be due at the time of booking.
Itinerary Changes
We understand that circumstances arise that lead you to inquire about changes to your itinerary, and aim to satisfy your requests. Once activities and accommodations have been confirmed, there will be a $50 change fee, in addition to the difference in costs for the services booked. When changes are requested within one week of departure, the change fee is $100. For changes requested after a trip has begun, the change fee is $200.
Cancellations & Refunds
If you must cancel before departure, you may request a refund according to the following schedule. Some trips require additional non-refundable payments as noted in the trip description or in the trip itinerary.
| Days Prior to Departure | Cancellation Penalty |
| --- | --- |
| 90 or more | Non-refundable booking deposit and trip planning fee, if applicable |
| 45-89 | 30% of total land costs |
| 31-44 | 75% of total land costs |
| 0-30 | 100% of total land costs |
Please note: cancellation of airfare, other transit, and lodging is subject to the policies of the individual carriers or providers and are not included in the schedule above. Additional cancellation fees are the responsibility of the traveler. We strongly recommend that all travelers purchase travel insurance that includes coverage for trip cancellation or interruption which may reimburse you for cancellation penalties and extra trip expenses should a circumstance covered by the policy force you to cancel or interrupt your trip.
Departure is defined as the date on which travelers will leave their home state, province or city, or the trip departure date as indicated on the trip itinerary, whichever comes first. Cancellation date will be considered the date that we receive written notification of your intent to cancel.
Payments due at the time of cancellation remain the responsibility of the client. No partial refunds are possible for unused hotel rooms, air or land travel, trekking days, or other sight-seeing arrangements included in the land cost.
In the event Journeys International cancels a trip, for any reason, all money for services described in the trip description, less airline ticket cancellation fees, will be refunded.
Air Fares
We can help you to secure air travel arrangements to correspond with land travel booked through Journeys International. We work with an airfare consolidator to assist in booking the flights that suit your needs. Journeys International may charge a ticketing fee for this service. For group departures, if you prefer to fly on dates other than those listed as trip dates, or if you arrive at your destination other than at the group arrival time, then you may incur an additional fee to cover the separate transfer, contingency, and coordination costs which frequently arise from arrival and departure on flights different from our regular bookings. We will let you know about these fees ahead of time, if they apply. If you must change your air routing after ticketing, there is a charge of $50 per change, in addition to change or cancellation charges levied by the airline.
If you decide to make your own flight arrangements, you must provide Journeys International with a complete copy of your itinerary showing departure and arrival flights and times. You should plan to arrange your own air travel if you are using mileage credit or originating outside North America, but please be in touch with our office before you finalize ticketing so that we can help you to coordinate the correct arrival and departure dates and times.
Transfers Between Trips
You may transfer between some trips upon written request. More than 90 days before departure, the deposit transfer fee is $100 per person plus any cancellation fees charged by hotels or ground service providers. Less than 90 days before departure, full cancellation penalties from the original trip apply. In the event that Journeys International cancels a trip, you may transfer the full amount of your land payments to another trip without penalty.
Expenses Covered
Normally, our stated land costs include the cost of all guides, leaders, permits obtained after arrival, lodging accommodations, food and entry fees as specified, and all surface transportation associated with the planned itinerary. We do our best to avoid increasing prices after receipt of your deposit, but, rarely, factors beyond our control might require us to change our prices without prior notice, even after you have signed up.
Expenses Not Covered
Costs not included in the price may include: meals not indicated as included in itineraries; meals prior to arrival in starting cities; transfers, if not arriving or departing on the scheduled group flights; soft drinks, bottled water, and alcoholic beverages; medical expenses, costs of hospitalization, or evacuation from remote areas; laundry; airport departure taxes not included on your airline ticket; accommodations en route to starting cities; visas; airfares; gratuities; and insurance.
If a trip must be extended or an itinerary modified due to weather, road conditions, labor interruption, lack of transportation, political or civil disputes, medical emergency, or other causes beyond our control, then the traveler may incur additional costs that are not included in the trip price. We strongly recommend that all travelers obtain travel insurance to cover these risks.
Group-Sized Pricing & Group Minimums
Many trips are guaranteed to depart at prices published on our website with as few as two participants. However, in some cases it is necessary to adjust prices to reflect smaller group sizes. We do everything we can to make a trip operate as planned even with a single participant. Additional costs for small groups amounts vary from trip to trip. Final decision to cancel a trip due to insufficient signups is made 30 days prior to departure.
Environmental Stewardship
Journeys International believes that we have a responsibility to protect the earth for future generations of travelers. International tourism may be responsible for up to eight percent of annual worldwide emissions of greenhouse gasses. Journeys International advocates that adventure travelers who make environmentally-conscious choices when selecting their destinations and activities should also make the environmentally-conscious choice to offset the carbon footprint of their travel to compensate for their personal contributions to global climate change. Every Journeys International trip invoice includes an optional donation to the Earth Preservation Fund's carbon offset program to be used to purchase and permanently retire certified carbon credits to offset the carbon footprints of Journeys' travelers.  The Earth Preservation Fund purchases carbon credits that have been certified under a reliable third-party standard. Travelers who choose to make this donation will receive a receipt for 501(c)3 tax deduction. There is no penalty for opting out of this donation.
Pre-Departure Services
We look forward to working with you! After we receive your deposit we will send you a pre-departure information packet containing things like medical and immunization information, visa and other permit forms, a recommendation for travel insurance, packing checklist, reading list, cross-cultural information, and an initial invoice for the balance due. If you would like, we can also book your extended land travel arrangements for before and after your trip. About 2-3 weeks before departure, we will send you a final departure packet including last minute reminders and local contact information for your destination. We send some of our materials by mail, so if you are leaving home before the scheduled trip departure date, please let us know how we can best reach you so that you will receive your materials prior to your departure.
Please call our office at any time if you have questions about your trip or for additional information.
Lodging Accommodations
Lodging accommodations are usually double occupancy in hotel rooms, tents, or other facilities as described or noted in trip itineraries. Please contact our office to discuss pricing and availability of alternative accommodations. We try to honor specific requests for lodging, but in some cases we may have to book and confirm equivalent standard accommodations. If you are traveling alone but would prefer a roommate, then let us know! We are often able to match solo travelers. If a roommate is not available or if you prefer single accommodation, then you must pay the Single Supplement, if one applies. On some trips, it is not possible to guarantee single accommodations.
Fitness to Travel
Good physical and mental health are essential for the enjoyment of Journeys International's trips. In many cases participants travel in rugged areas remote from modern medical facilities. Good physical conditioning is recommended as preparation for all trips, especially those involving trekking. Most trips require some walking. By paying the booking deposit and signing the Reservation Form, the traveler certifies that he/she is fit for rigorous travel and does not have any physical, mental, or other condition that would create a hazard for him/herself or other travelers. It is essential that any participant with a medical condition requiring regular treatment or which may be affected by vigorous activity, prolonged travel, high altitude, heat, cold, natural phenomena, or particular foods, notify Journeys International in writing prior to booking.
We assume no responsibility for medical care and we cannot guarantee meeting special dietary requirements or vegetarian needs. Participants may be required to furnish a physician's statement of good health. Journeys International's or the individual trip leader's or guide's judgment shall provide the ultimate determination of an individual's fitness to embark upon, or to continue, a trip. Journeys International reserves the right to refuse reservations or deny participation prior to departure of anyone whom it deems unsuitable for a trip. Once a trip has been confirmed, medical circumstances will not be considered as exceptions to our cancellation policy. All participants must be covered by a current major medical insurance policy for the duration of their trip. Proof of such coverage may be requested.
Duration
13 Days
The number of days, or duration, in a destination corresponds with the itinerary as published. This is the time period covered by the land cost.
Group Size
From 4 - 12
The stated range indicates minimum required for guaranteed departure and maximum accepted on the scheduled dates. Exceptions can often be made for private departures.
Activity Level
Match the trip's intensity to your ability and motivation.
Gentle
Easy walking, with opportunities for low-key physical activity.
Active
Energetic exploration with optional day hikes, leisurely cycling, or light canoeing.
Vigorous
Day-long active excursions and options for demanding activity in varied environments.
Challenging
Strenuous hiking or other intense activity that may be at high altitude or over rough terrain.
Demanding
Multi-day trekking and other activities requiring endurance or strength. Steep trails. No technical expertise necessary.
Comfort Level
Choose accommodations and amenities that fit your personal style
Simple
Our most natural accommodations. Bath facilities often shared, sometimes rustic.
Delightful
Comfortable and especially personal. Small to mid-sized lodges, typically with private bath.
Superior
Lodges and hotels with additional amenities, refined artistry, or extra-special settings.
Deluxe
Exclusive or luxury lodges, hotels, or safari camps with fine dining options.
Uncommon
The most indulgent accommodations arranged specially for private trips.
Single Supplement
The single supplement is applicable if a roommate is not available or if single accommodation is specifically requested. While single accommodation is not available on all trips, we will try and honor this request whenever possible.