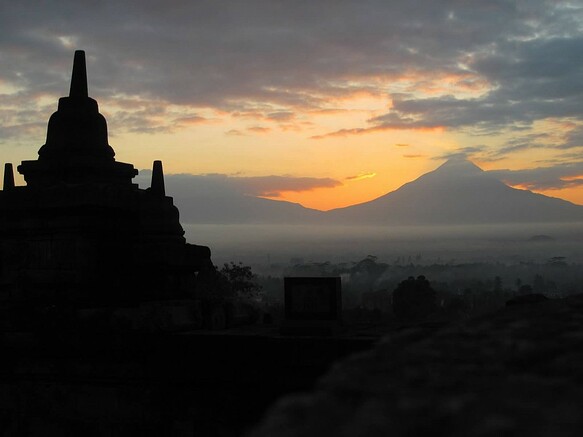 The Bird's Word Blog
Travel to Indonesia: A Sort of Family It Would Seem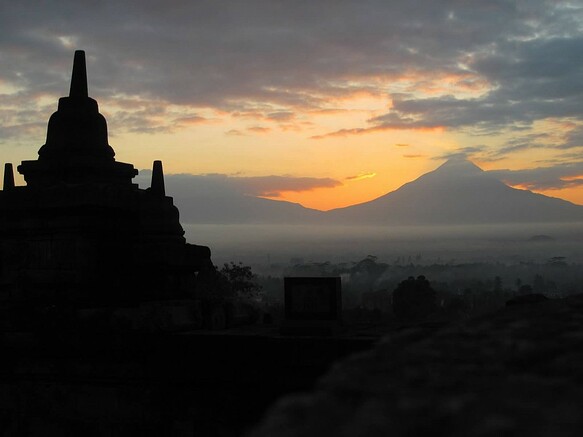 Journeys Adventure Specialist Lené Miller accompanied a group to Indonesia for Apes, Arts, and Dragons. One of the travelers, Rick Peller, wrote and performed this beautiful poem for the group at the culmination of their trip.
This is a poem, I wrote today, I hope that it will please ya
It's all about the weeks we spent exploring Indonesia
We landed Sunday at the airport in Denpasar, Bali
Apes and Arts and Dragons was the theme of this great folly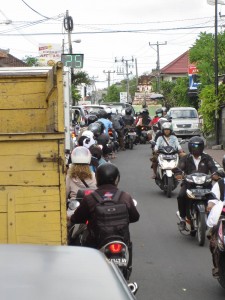 The drive to where we'd stay that night was harrowing enough
With motorcycles everywhere, the traffic was quite rough
The Hotel Mercure, on the beach was beautifully serene
With pathways winding everywhere, a complicated scheme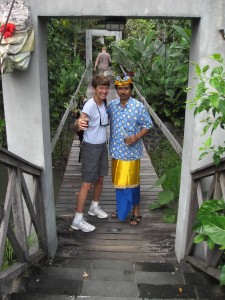 Our local tour guide, Budi, in his Indonesian dress
Described the Bali culture, quit confusing, quite a mess
Polygamy was covered and adultery as well
The rules of life are complex ones, as far as I can tell
Like India, on Bali one is born into a caste
But the differences are many, Budi told us way too fast
While Hindus born in India must pray three times per day
On Bali, Hindus pray just once, and eating meat they may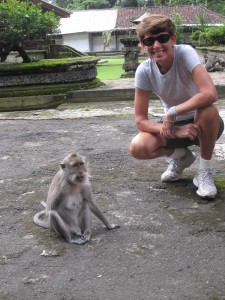 Taman Ayun temple, then the Monkey Forest too
Then Tanah Lot Sea Temple on the first day we would do
Our next day flight was early, we got up and left at four
Just to find the fight was cancelled. As a start, this rated poor..
An extra day on Bali and one temple visit missed
Our group was great cause no one said, "Lené, I'm really pissed!"
Later on that day another flight was finally made
Again the group did not complain when transit was delayed
On we flew to Borneo, the cab ride gave us pain
Then spent our trip up river in torrential pouring rain
We stayed at Rimba Lodge three nights, with showers kind of funky
And often when we stepped outside we'd see a little monkey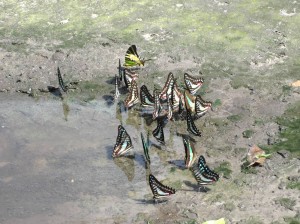 On the river trip to Leakey we viewed wildlife on both sides
And birds were seen and ID'd with assistance from our guides
Black and Rhino Hornbills, Myna Birds and Swifts galore
Kingfishers with their stork bills, Greater Coucal and some more
To see the Broadbills, black and red, we tried our very best
The structures in the river we determined were their nests
The Crested Serpent Eagle flew across the river high
Woodpecker with white belly was another bird I spied
We saw Proboscis Monkeys with their flattened bulbous noses
Up in the trees displaying all, in compromising poses
Orangutans were present on the pier where we would dock
And Percy, the Orangutan, our progress he tried to block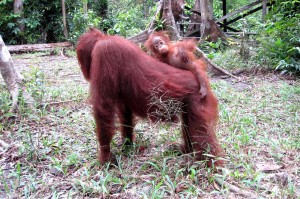 Three feedings we would witness with orangutans galore
The apeish acrobatics I'll remember ever more
Orangutans and gibbons climbed high up there with the birds
We cautiously looked upwards to avoid the falling turds
The village Sungai Sekonyer was visited as well
And fireflies amongst the trees – a bit of over-sell
Our guide Ami was friendly, and the boat had tasty food
Success inside the jungle put us in the proper mood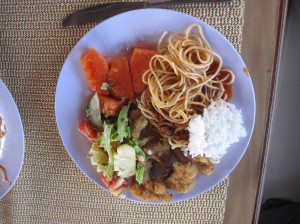 Back in Semerang up the temple side we climbed
Borbodur at sunrise was just perfectly sublime
This Buddhist temple monument was truly quite impressive
Even if the temperature in sunlight was oppressive
The 1500 bas reliefs and statues by the score
Had been destroyed by earthquakes, but rebuilt and then restored
The monument has many tiers with artwork that depicts
The tales and myths of Buddha, between many cracks and nicks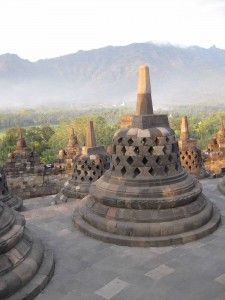 Upon descending we were met by omnipresent hawkers
Who hounded us to buy their wares like unrelenting stalkers
T-shirts, trinkets, temple models, whatever you can name
Were hawked with pleading faces, a negotiating game
The Sonobuoyo Museum we quickly ambled through
Costumes, weapons, instruments, and puppets old and new
Indonesian ballet after dinner we would view
Music, costumes, fireworks, child accidents, a few.
The Yogyakarta Palace, where the current Sultan lives
Displays the family history and generally gives
Impressions of the differences between the rich and poor
The Sultans many buildings built with marble on the floor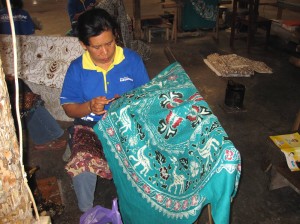 The factories we visited for silver and Batik
The tradesmen showed us how it's done with intricate technique
From stores attached, some goods were bought, Rupiahs were well spent
For tourist groups discounts applied at twenty-ish percent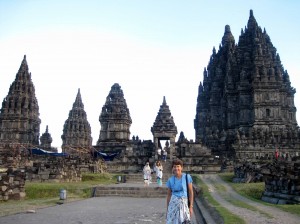 The Hindu temple, Prambanan was next on the agenda
We needed sarongs and hard hats, I think that I remember
Similar but different from Borobudur was this
The facts are jumbled in my mind with details that I missed
The final segment of our trip we flew to sunny Flores
We hoped Komodo Dragons and our snorkels would not bore us
The treks were fun, saw dragons wild, and more at ranger stations
Completing what we came to see on each of our vacations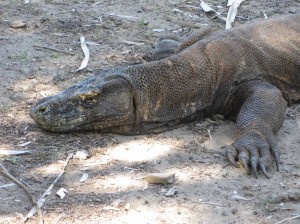 Snorkeling was great among the gorgeous coral reefs
A few of us it happened turned to petty coral thiefs
The crewmen on the boat were nice, they gave us TLC
To make our stay aboard the ship as pleasant as could be
The composition of the group that made the trip was varied
Some of us were single, and then some of us were married
But somehow for two weeks we worked together as a team
With mutual respect, a sort of family it would seem
All in all, I have to say, the trip was quite superb
It met our expectations, and high credit is deserved
To Journeys and our friend Lené, we offer our heartfelt thanks…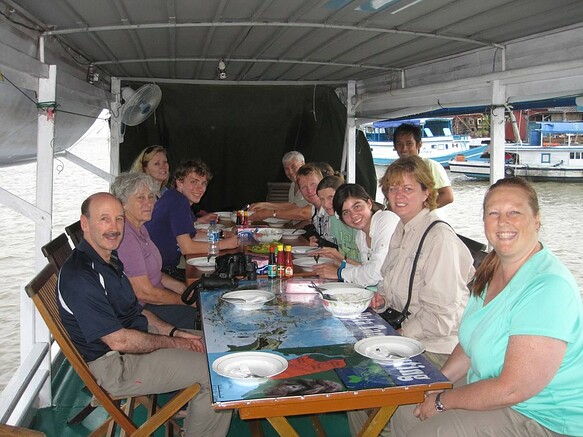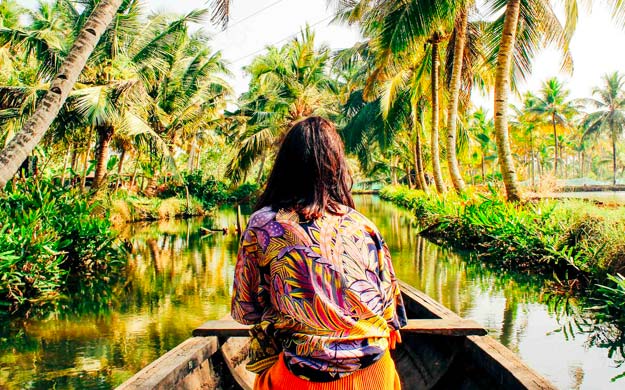 Let Journeys International design your dream adventure!
With over 40 years of experience, we design the perfect custom and private trips.
Start Planning
Travel Inspiration Delivered