Great Barrier Reef Island Resorts Adventure Tours
Cap off your visit to Australia or the Pacific with a stay on a Great Barrier Reef Island. Each has its own unique charm and beauty. We recommend at least three or four nights to get the most out of your tropical experience. Below are a few of the many choices available.
Dates: Anytime before or after your Journeys trip
Grade: I, easy walking to II+, hiking & snorkeling
Cost: Prices vary, please inquire for current rates and packages.
Dunk Island Resort
Dunk Island is Australia's most beautiful tropical rainforest island. This island of peace and plenty offers an amazing variety of activities, facilities and experiences. With an enormous variety of activities to choose from, it's hard deciding just what to do next. You could start the day with a rainforest walk and take in the spectacular views from the summit of Mt Kootaloo. After breakfast, glide around the island on a guided jet ski tour, stopping off for a snorkel over the bommies at Naturalist Beach. During lunch you can plan the afternoon ahead. Perhaps some water skiing followed by a game of tennis. Or should that be parasailing followed by squash? And that's just one day on Dunk Island. You've still got to fit in cruising or snorkeling the Great Barrier Reef, a visit to the Artists' Colony, horse riding on the beach, and some fishing! But in between this frenzy of fun you'll still find time to relax and unwind. It's as if there's a powerful tonic in the balmy breeze washing away the stress. For the family, Dunk is as good as it gets. The Kids Club has its own meal times and activities so that mum and dad can enjoy being a couple again. Imagine the freedom and romance of a sunset sail, knowing that the kids are in safe hands and having a ball.
Heron Island Resort
Heron Island is a true coral cay right on the Great Barrier Reef. Here you can swim straight off the beach to an endless garden of coral where the waters are literally teeming with beautifully colored fish and marine life. It's what you don't see around Heron that makes the resort so special. You won't see any buildings above the tree line. And you won't bump into any day-trippers either. The reef experience on Heron is exclusively for guests, a unique experience few other resorts in the world can offer. There's a relaxed island lifestyle that sets Heron apart, a sophisticated yet casual resort atmosphere. Here the emphasis is on exploring and discovering the natural attractions that have made Heron famous around the world. You'll enjoy some of the world's best reef diving. There's a choice of spectacular sites just minutes from the beach, and can you imagine a better place to learn to dive? Join a guided reef walk to learn more about the unique ecology of the Great Barrier Reef or snorkel off the beach and come face to face with the kaleidoscope of marine life just below the surface. Enjoy a day trip to explore an idyllic, uninhabited coral cay or spend the day just lazing by the pool. The choice is yours. A Heron holiday combines the rare excitement of nature with all the comforts of an international resort.
Wilson Island Resort
This tiny, remote coral cay is both part of the Great Barrier Reef and surrounded by it with pristine reef and beach environments including rare turtle and bird breeding grounds. Wilson Island is located 8 nautical miles from Heron Island (approximately 40 minutes by boat) and is offered in combination with Heron Island as a complete 5-night escape (including 3 nights of camping). The comfortable designer-inspired tented accommodations are located on six permanent tent sites. Guests are able to enjoy exceptional snorkeling, bird watching, and island and reef walks. Or you can simply relax within the peaceful natural setting, enjoying the stunning views. Available weekly starting Thursdays, subject to max. 12 people. Closed February for bird nesting season.
Please note: Guests must be at least 16 years of age to stay on Wilson Island.
Lizard Island Resort
Lizard Island is one of a kind – a work of nature's art. Located right on the Great Barrier Reef, it is a private paradise with 24 powdery white beaches. If you're looking for something out of the ordinary, then Lizard Island should be at top of your list. This is one of Australia's premier resorts. Being situated right on the Great Barrier Reef is rare enough, but Lizard Island offers both inner and outer Reef experiences. Here you can snorkel off a secluded beach to discover a garden of giant clams, many of which are a meter in length. Some of these giant clams are reputed to be over 120 years old! And there are 23 more soft, powdery white beaches just waiting to be explored. Lizard Island is also renowned for its diving. At the world-famous "Cod Hole," you'll come face to face with a massive potato cod swimming right up to inspect you with child-like curiosity. You can even arrange a picnic lunch for two on a "private beach" to enjoy this magical location, completely undisturbed. There are many magnificent walks, and on at least one, you can expect to glimpse a monitor, the lizard after which the island was named.
Brampton Island Resort – The Whitsundays
A fun, tropical Whitsunday Island, Brampton Island is almost entirely national park with seven golden sandy beaches and its own coral reef. Sitting at the southern entrance of the Whitsunday Passage, Brampton is a blue water, white sand, tropical island haven with the A to Z of activities. Whatever you want to do, the fun-loving staff is there to help you make the most of it. Like advice on the best spots to fish or snorkel? Just ask. Maybe a few tips on sailboarding? Sure thing! Like all water sports instruction on Brampton, it's free. You can discover the coral reef by snorkeling the underwater adventure trail. Trips to the Great Barrier Reef can also be arranged. Or you might just want to explore the island on a leisurely bush walk through the National Park. Perhaps a round of chip and putt golf. Maybe take the mini-train to the daily fish feeding. Or how about a game of tennis or a few serves of beach volleyball? Then again, you could simply laze on the beach or by the pool. When evening comes, you can enjoy live entertainment.
Bedarra Island Resort
Bedarra Island is an exclusive private hideaway. A romantic rainforest retreat where a fortunate few can savor the finer things in life. There are times when you simply don't wish to be found, when you need to escape and unwind. Imagine a place where time is measured only by the passage of the sun. Where you can do as you wish, when you wish. That place is Bedarra, an exclusive haven catering to those who desire a more civilized escape.
Your villa is one of sixteen hidden in the rainforest. The view of the sunlight dancing across the water from your balcony is almost hypnotic. The food is simply exquisite, a standard that guests demand, which means that there is a team of chefs and a new menu every day. The superb seafood is always fresh, as if you caught it yourself.
There are many ways to fill the day but a beach picnic comes highly recommended. You set off by boat with a hamper fit for royalty to discover one of the many secluded bays. Bedarra often has more beaches then guests, so your privacy is assured. And after cooling off in the pool, the legendary Bedarra bar offers one of Australia's finest selections of wine, spirits, and imported beers. On Bedarra, you set your own agenda.
Please note: Guests must be at least 16 years of age to stay at Bedarra Island Resort.
Hayman Island Resort
Award-winning Hayman in Australia's magnificent Great Barrier Reef is one of the world's most acclaimed resort destinations and a member of the Leading Hotels of the World. Hayman presents a unique private island experience of natural beauty, tranquility, and adventure. It is an award-winning five-star resort complemented by a warm and sincere community of 500 employees and their families, all within a breathtaking natural environment. It is Australia's most celebrated private island destination, beautifully situated in the magnificent Great Barrier Reef and presenting an array of unique and memorable resort and Reef experiences. Built around a stunning white sand beach front on the southwestern side of the island, Hayman offers 244 guest rooms, suites, penthouses, as well as a beach villa. The resort is the only facility on the island, and buildings housing the accommodation, restaurants, guest service areas, marine facilities, and operational plant have been designed to blend in with the natural beauty of the surroundings. No part of the resort is higher than four stories and throughout, shady ponds and gentle waterfalls thread their way among beautiful gardens, spacious walkways, and open air lanais.
Hayman's flora is diverse and includes the poplar gum, Port Jackson fig, Moreton Bay ash, Mackay cedar, Whitsunday kurrajong, grass trees, and various wattles. A variety of birds inhabit the island, including white cockatoos, painted lorikeets, kookaburras, stone curlews, and kingfishers. From May to November, butterflies traditionally swarm in thousands within the confines of shaded gullies in order to feast on the nectar of the eucalyptus and other flowering plants. Guests may catch sight of Hayman's colony of Proserpine rock wallabies and can experience natural bush land and observe Australian flora and fauna during a walk on the island. All flora and fauna are protected under the Nature Conservation Act. The crystal clear waters surrounding Hayman are a kaleidoscope of colored coral and tropical fish. Hayman is also home to families of swans and ducks who reside in the resort's lagoons. Everything is integrated into a beautiful landscape, which is a blend of manicured gardens meandering throughout the resort, rugged bush land, and exquisite beaches.
Hayman provides unique culinary indulgences as well. The resort boasts fabulous restaurants and bars, plus a lounge. The resort hosts evenings with the Chef in the kitchens, or guests can choose to dine in special outdoor island settings.
Hayman provides an ideal setting for exciting sporting pursuits and relaxing leisure activities, all within the magnificent resort facilities and island landscape. Younger guests are invited to visit a dedicated children's activities center at Hernando's Hideaway. Hayman's beautiful setting in the Great Barrier Reef presents opportunities to enjoy a range of adventures in the waters lapping the island. Guests can enjoy private or group scheduled tours to nearby beaches and other fabulous Reef locations.
Throughout the year, the weather is warm. The winter months offer warm days, requiring only a light jacket or sweater during the evening hours.
Customize Your Dream Adventure
We are here to help craft tailor-made adventures for individuals, couples, families, and groups of explorers.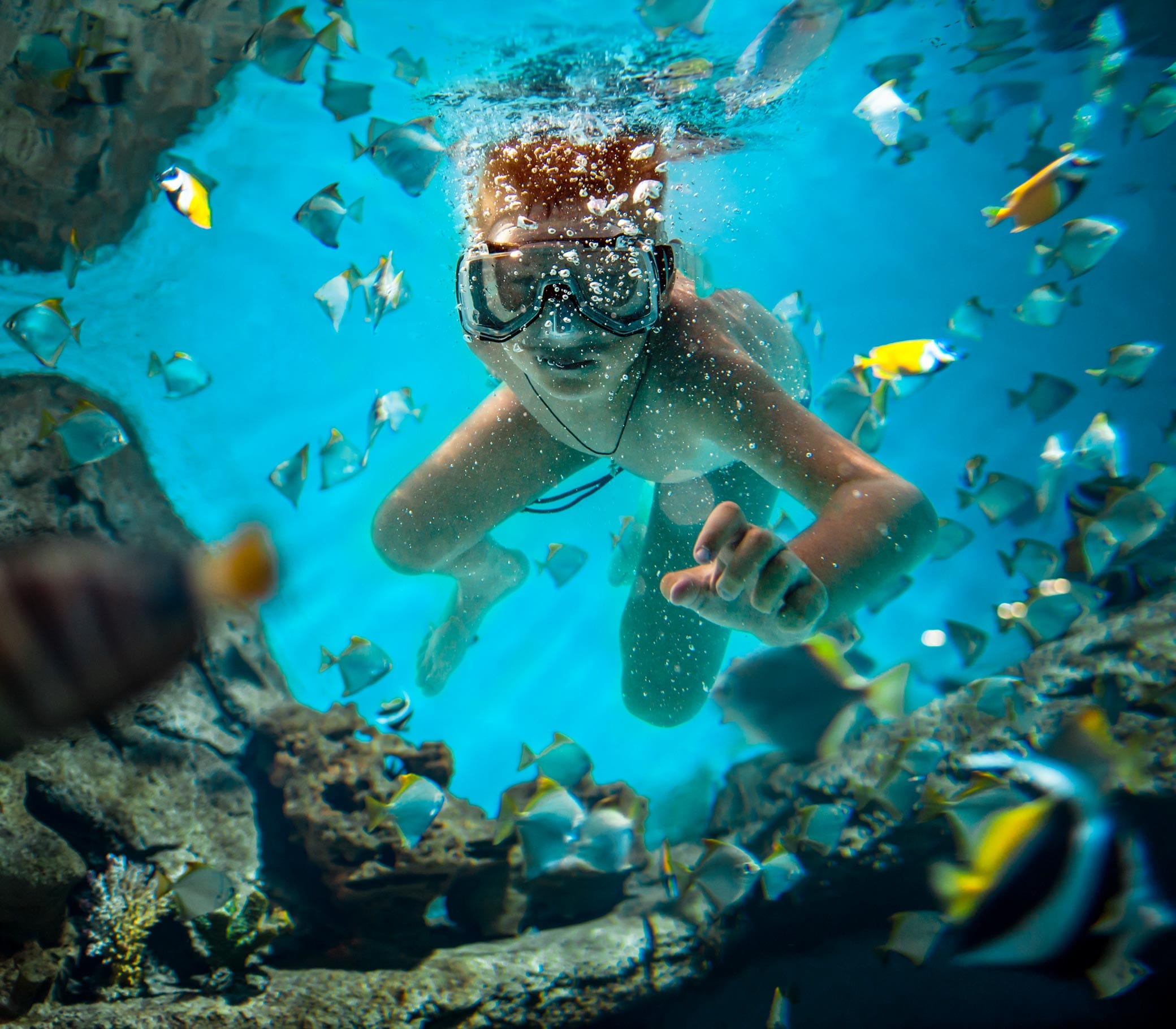 Attractions
Things to See & Do Near Great Barrier Reef Island Resorts