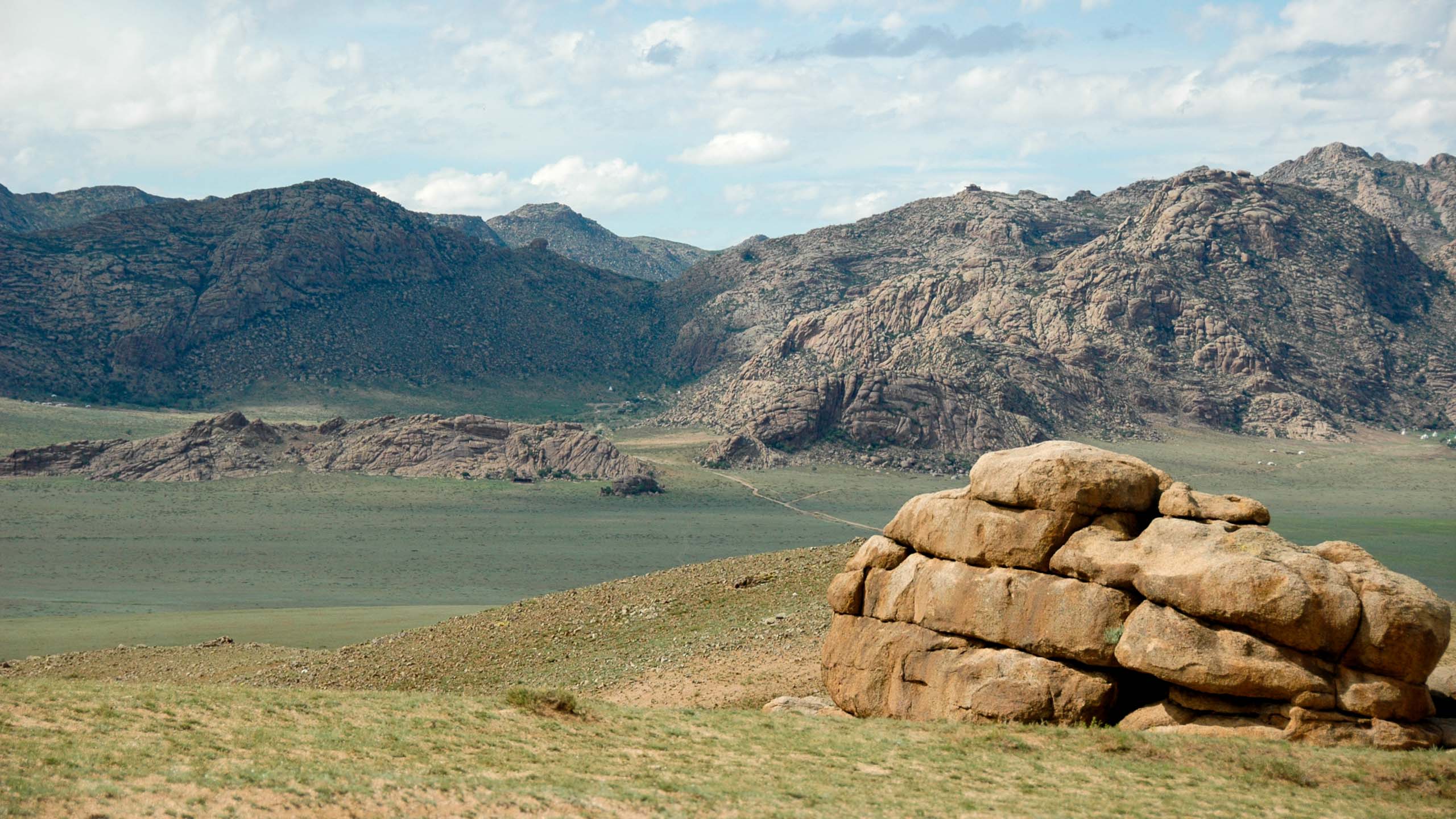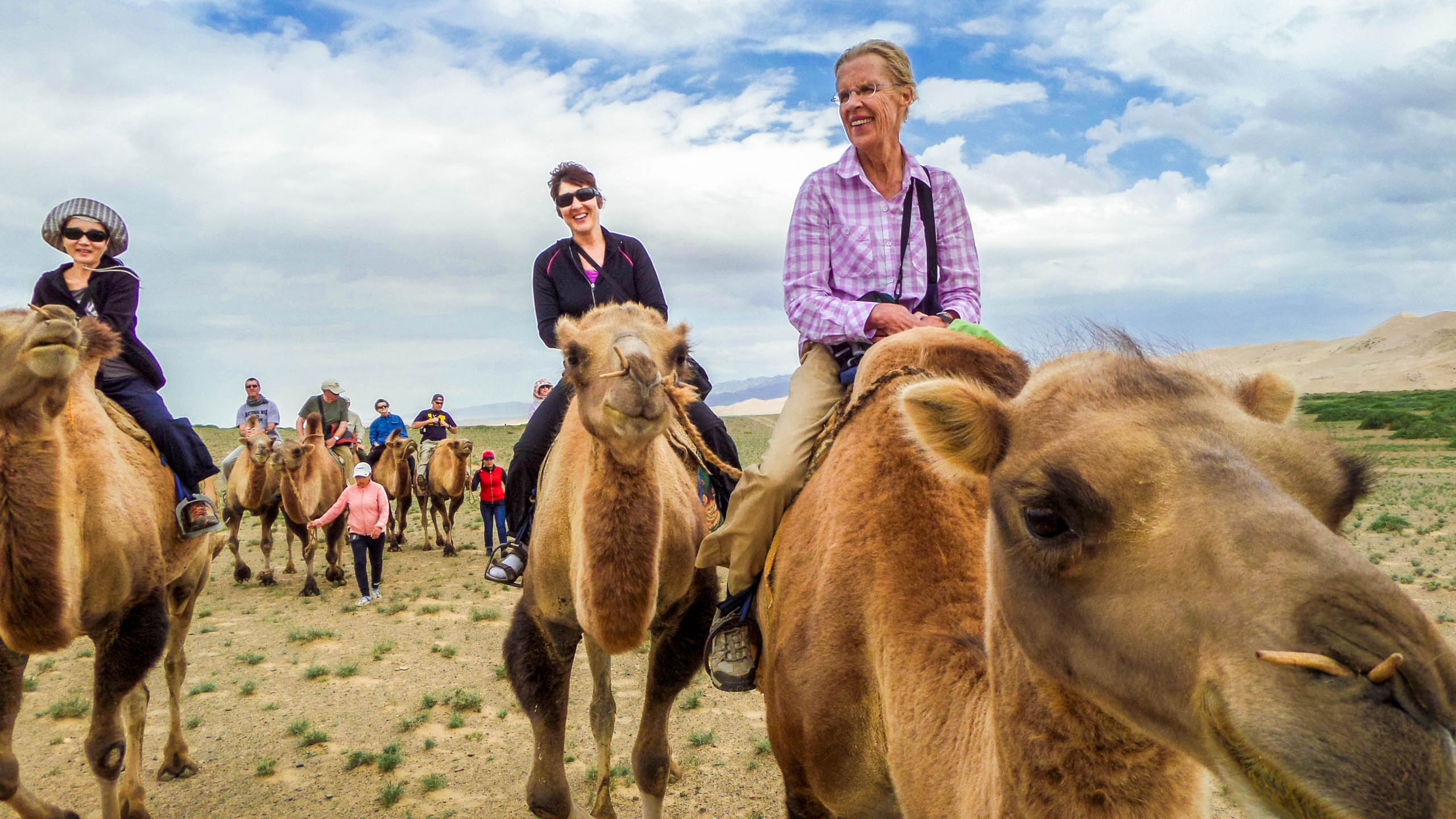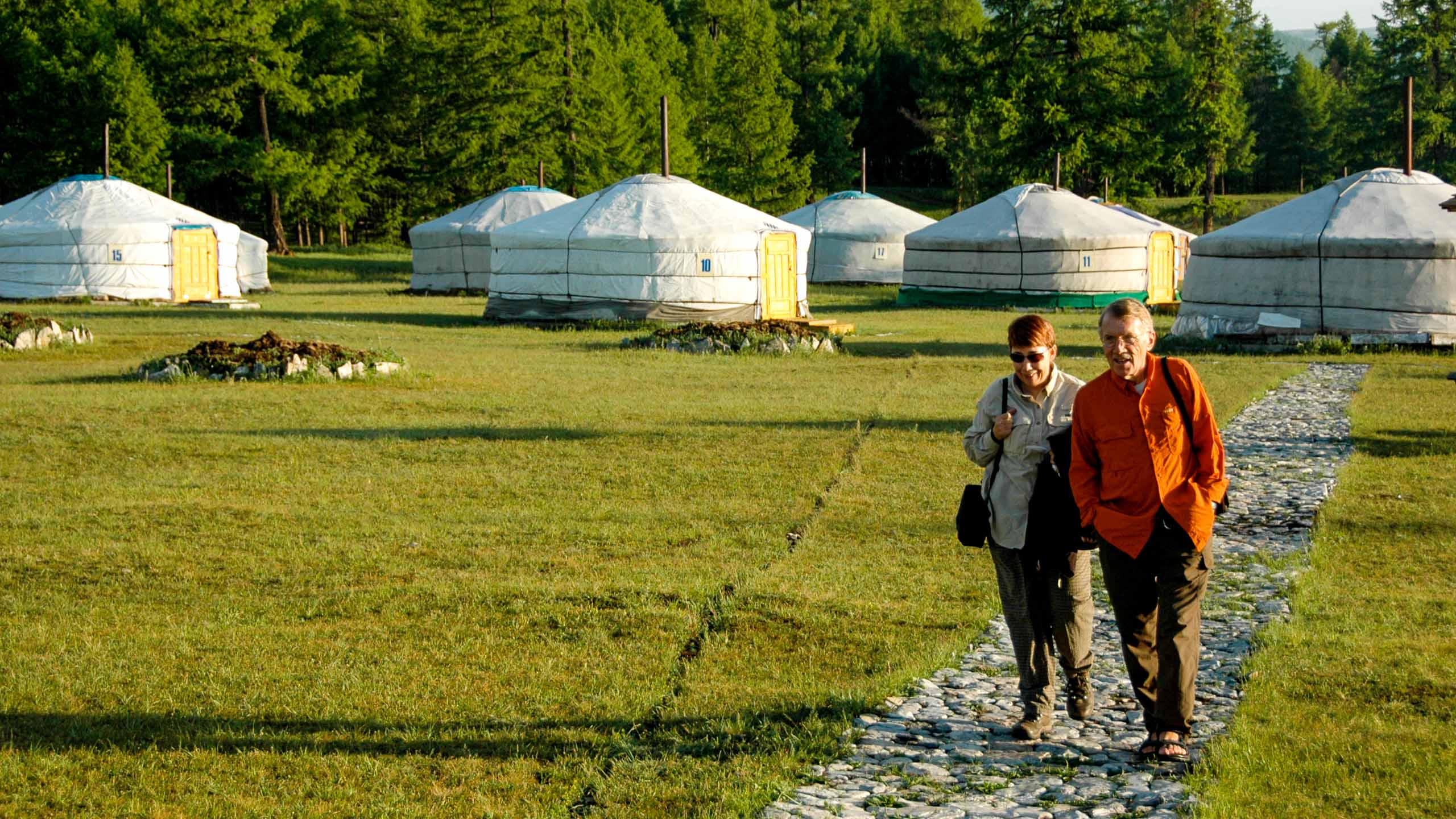 A Taste of Mongolia
Gobi Desert, Karakorum, Yol Valley, and Ugii Lake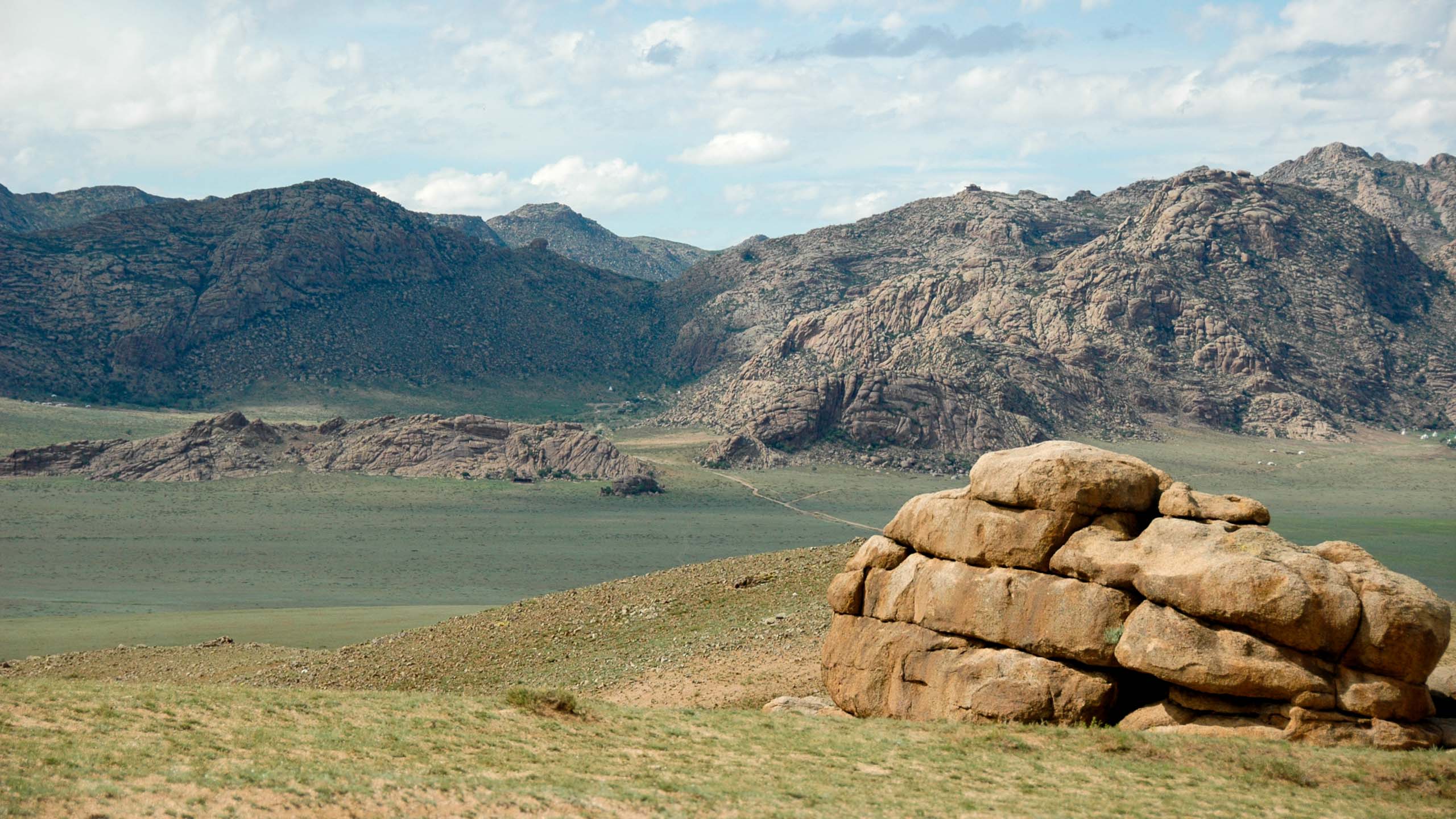 A short tour that still covers all the must-see landscapes of this beautiful and sparsely populated country. Meet the friendly, but shy nomadic locals that make their homes in traditional gers as they tend to the livestock and admire the beauty of the country from the vast grasslands to the lush green mountains at Terelj and Hustai National Parks, plus look for dinosaur bones in the barren Gobi Desert at the Flaming Cliffs.
Great For
Spectacular Scenery
Escaping Civilization
Village Culture
A
Day 1
Arrive Ulaan Baatar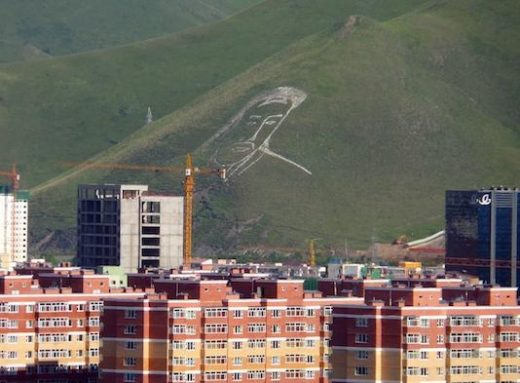 On arrival in the capital of Mongolia, you'll be met and assisted with the transfer to your centrally located hotel. The rest of the day will be free to relax.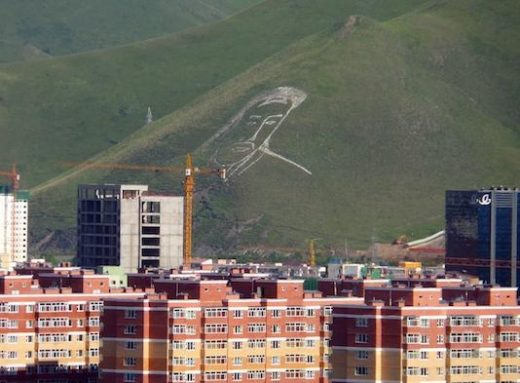 Lodging
Ramada Hotel or similar
B
Day 2
Ulaan Baatar City Tour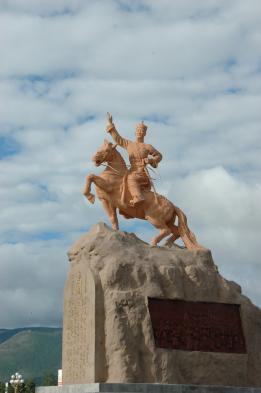 This will be your day to acquire a good background of the cultural, religious, and natural history of Mongolia. Your tour of Ulaan Baatar includes a visit to Gandantegchinlen Monastery, the largest and most significant monastery in Mongolia, and one of Ulaan Baatar's most interesting sights. Built in the mid 19th century, it is the only monastery where Buddhist services continued during the communist years, and the temples are thronged during religious services. Also tour the Megjid Janraisig Temple, the most important part of the monastery. This temple, also known as Avalokiteshvara Temple, was built in 1911-1912 to celebrate the end of Manchu domination in Mongolia and it is said to have cured the great and revered Bogd Gegeen Khan of blindness. Visit the newly-renovated Museum of National History to learn about Mongolia's history from the pre-Mongol Empire to 20th-century history.
You'll have some free time this afternoon to do what you like. Consider exploring around Sükhbaatar Square (previously known as Chinggis Square) where you will find a large seated bronze statue of Genghis Khan and an equestrian statue of Damdin Sükhbaatar, one of the leaders of Mongolia's 1921 revolution.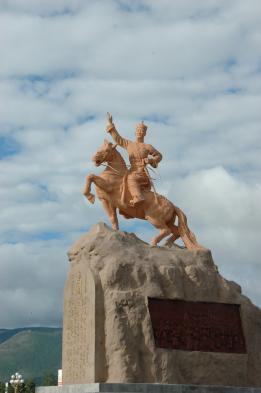 Meals
Breakfast, Lunch, Dinner
Lodging
Ramada Hotel or similar
C
Day 3
Gobi Desert & Flaming Cliffs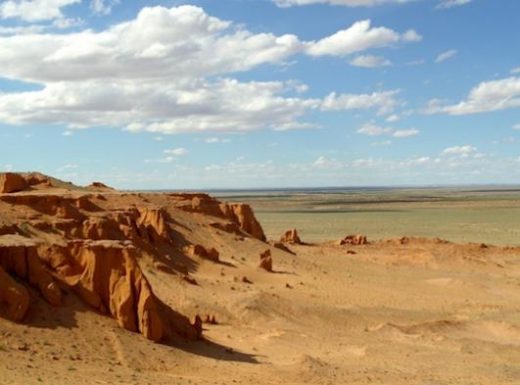 In the morning, you will fly to the Gobi Desert (approx. 1.5 hr), one of the most famous and exotic areas in the world. The Gobi occupies about one-third of Mongolia and consists of sand dunes and dry mountain ranges. As one of the harshest environments on earth with extreme temperature and seasonal changes, the Gobi is surprisingly full of wildlife such as white and blacktail gazelles, wild *** or "hulan" in Mongolian, wild camel or "havtgai", antelopes, ibex, and argali sheep, the biggest wild sheep on the planet. The majority of Mongolia's population of Bactrian camels live in this area, and you can take a camel ride if you like. Upon arrival, transfer to the base camp at the Gobi. From the airport, you'll make the drive to Bayan Zag, also known as the Flaming Cliffs, to explore the Gobi "Cemetery of Dinosaurs" and the trail of Roy Chapman Andrews. You will also stop at the Petrified Forest, where you will find the remains of mammals, in particular, the skeleton of a hornless rhinoceros, the largest known mammal in the world. Accommodations will be in a "ger" a traditional dwelling of the Mongolian nomads. This round tent-like structure is held up by a wooden frame and covered by wool felt making it very easy to collapse and assemble again and easily transported. The gers are basic, but clean and comfortable. Each ger contains two to four beds and a wood-burning stove, which is lit for cold nights. Toilet and shower facilities are generally in a separate modern building with men's on one side and women's on the other.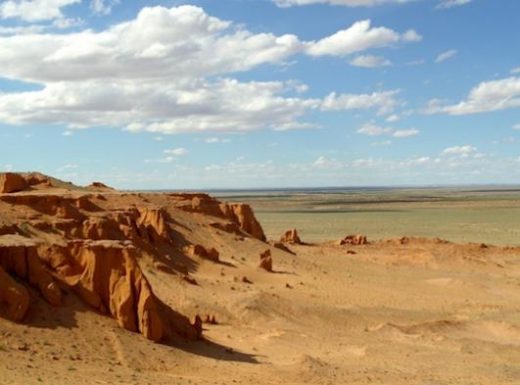 Meals
Breakfast, Lunch, Dinner
D
Day 4
Khongor Sand Dunes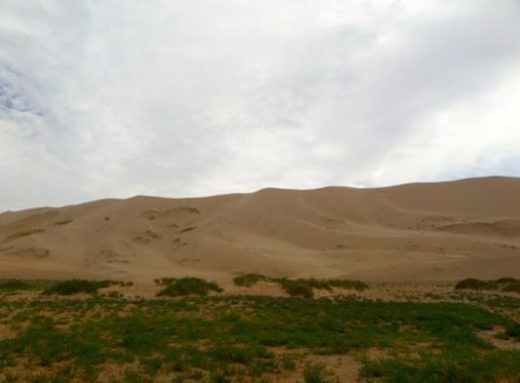 After breakfast, drive about four hours to Khongorinn Els Sand Dunes, the largest sand dunes in Mongolia. These dunes lie in the Gobi Gurvan Saikhan National Park. The drive takes you through incredible desert scenery with flat, stony plains; outcrops of vegetation; hills of interesting rock formations; and herds of wild antelope racing across the plains. The roads are flat and fairly even, so the drive will take only around four hours. The dunes are also known as "Singing Sand Dunes" due to the shifting sand blown by the wind, causing a sound that sounds like someone singing. Visit a camel breeding family, with the option of riding a camel through the dunes. You also visit a beautiful oasis near the dunes for excellent photo opportunities.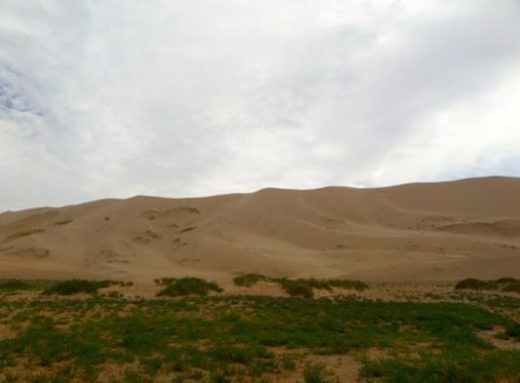 Meals
Breakfast, Lunch, Dinner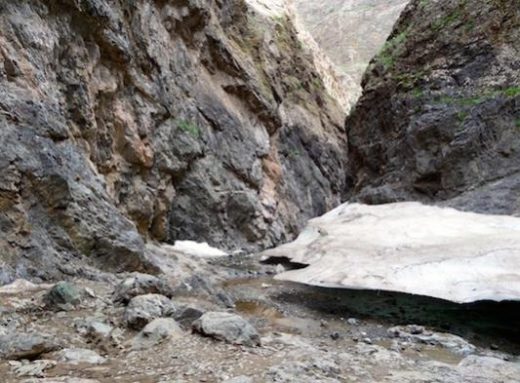 In the morning, you'll drive to the Yol Valley National Park for a morning trek with opportunities to photograph the stunning landscape, "Gobi Glacier", and intriguing wildlife. Yol (Lammergeyer) Valley is the narrow canyon of river that flows through Zuun Saikhan Mountain (alt. 9,236'). Its gorge has sheer rock walls, and, during the rainy season, rain falls at the summit of the mountain and flows down into the sheer canyon to form waterfalls. A small museum marks the entrance to the protected zone and provides information on the petrified trees and flora and fauna of the Gobi. You will have the opportunity to do some horseback or camel riding or if you like, trek to the gorge.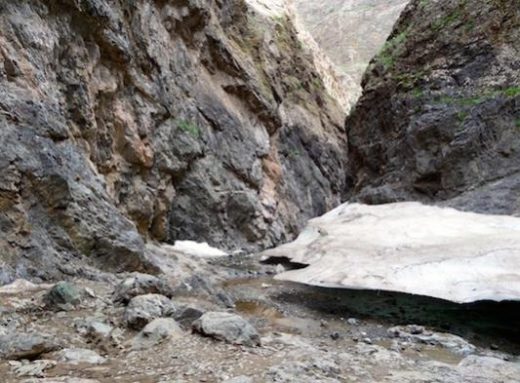 Meals
Breakfast, Lunch, Dinner
F
Day 6
Terelj National Park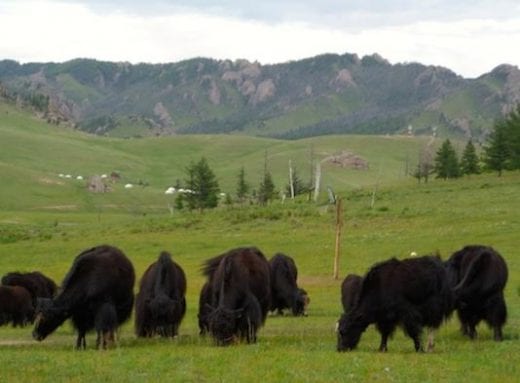 Today you catch a flight back to Ulaan Baatar and drive to Terelj National Park where you see Turtle Rock and visit the Temple of Meditation. There is horse and camel-back riding available in the park. Many nomads live right in the park where there is plenty of lush fields for their livestock to graze.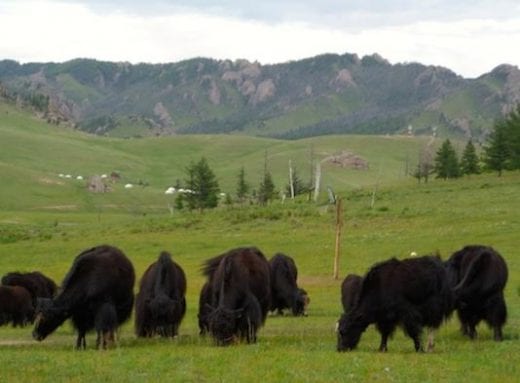 Meals
Breakfast, Lunch, Dinner
G
Day 7
Hustai National Park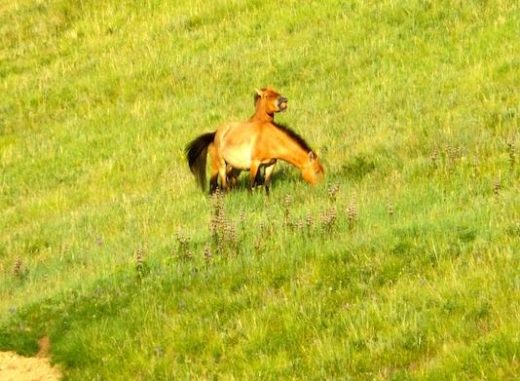 After a leisurely breakfast, head out on the drive to Hustai National Park (approx. 62 miles), the site of a unique re-introduction of Przewalski's Horse (Equus Przewalskii), called "takhi" by the locals. It became extinct in the wild in 1969 and since 1992, has been successfully re-introduced in Hustai from zoos around the world. This has been an international effort monitored by the Foundation for the Przewalskii Horse, based in the Netherlands and MACNE (Mongolian Association for Conservation of Nature and the Environment.) The park extends through the Khentii Mountains and includes the western edge of the Mongolian steppe. It contains large patches of birch and aspen forests and visible remains of Neolithic graves. Other wildlife found here include red deer, the wolf, and Mongolian gazelle. Overnight at a Ger Camp.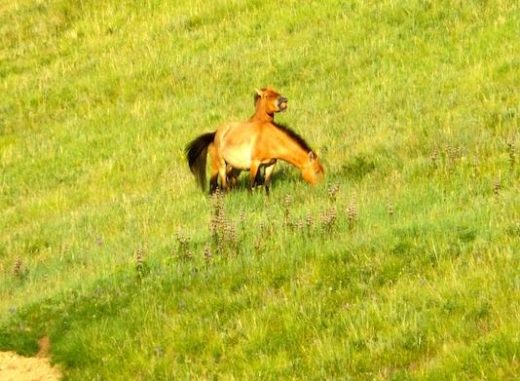 Meals
Breakfast, Lunch, Dinner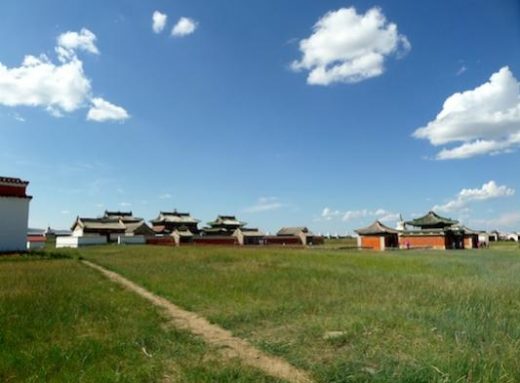 After breakfast at the camp, transfer to Karakorum (approx. 80 miles). Situated on the banks of River Orkhon, the site of the imperial capital, Karakorum was chosen by Genghis Khan in 1220. The city, capital of the largest land empire the world has ever known, served as a supply point for the Mongol armies and was a cosmopolitan and multi-cultural place in its time. Today almost nothing remains of the once-great city, but the sense of its grandeur and importance can still be felt by the visitor. Karakorum was located on trade routes and was surrounded by walls with four gates, each with its own market. The nearby Erdene Zuu Monastery was the first Buddhist monastery built in Mongolia, constructed using stones and bricks from the ruins of the ancient city in 1586. During the communist purges of the 1930s, many of the temples in the monastery complex were destroyed, but the remaining temples and stupas are some of the best examples of Mongolian Buddhist architecture. Erdene Zuu is now both a museum and a functioning monastery. Also visit Shanh Hiid, the local active Buddhist temple, which, along with the Erdene Zuu, is the only monastery in the region to have survived the 1937 purge. Overnight in a Ger at the Karakorum base camp.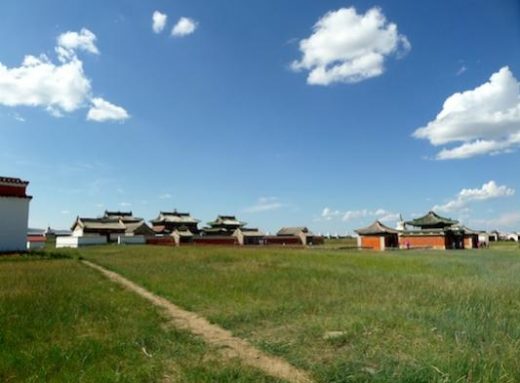 Meals
Breakfast, Lunch, Dinner
I
Day 9
Ulaan Baatar & Bogdo Khaan Winter Palace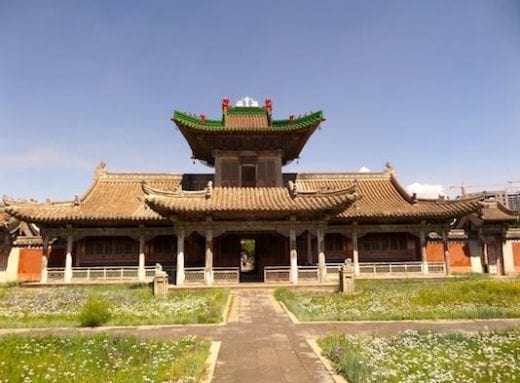 On your drive back to Ulaan Baatar, visit the Bogdo Khaan Winter Palace Museum. The Bogdo Khaan Winter Palace is the home of the last Mongolian King, Javzun Damba Khutagt VII. The museum contains a number of Buddhist artworks and the private collection of Bogdo Khaan, composed of gifts from rulers and kings from all over the world. The artworks displayed here were made by the top Mongolian, Tibetan, and Chinese master- sculptors of the 18th and 19th centuries and represent the gods of the Buddhist pantheon. If you did not have time on your earlier trip through Ulaan Baatar, visit the Museum of National History.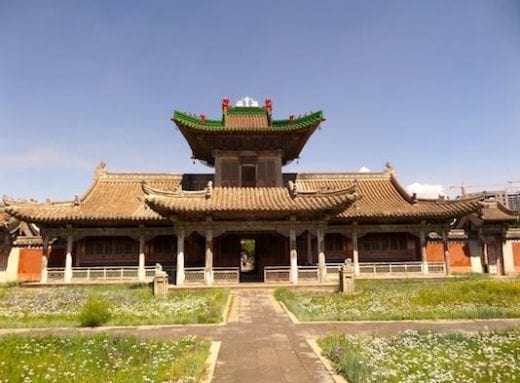 Meals
Breakfast, Lunch, Dinner
Lodging
Ramada Hotel or similar
J
Day 10
Depart Ulaan Baatar
Transfer to the airport for your onward flight back to the U.S., or perhaps add on an extension to Seoul, South Korea.
Dates & Price
Best Time of Year to Visit
A short tour that still covers all the must-see landscapes of this beautiful and sparsely populated country. Meet the friendly, but shy nomadic locals that make their homes in traditional gers as they tend to the livestock and admire the beauty of the country from the vast grasslands to the lush green mountains at Terelj and Hustai National Parks, plus look for dinosaur bones in the barren Gobi Desert at the Flaming Cliffs.
Cost includes flights within Mongolia.
Need to Know
On this wide-ranging trip, participants' endurance and patience may be tested by difficult roads, transportation, and uncertainties like hot, cold, wet, or dry weather, but we have great faith in the local company and guides whom we employ.
Included in costs: Meals as noted, each night in double occupancy accommodations, land transfers between components, English speaking guides, park or site entry fees, surface transport, equipment other than personal gear, government tax, airport transfer assistance, in-country ticket reconfirmation and check-in assistance (where permitted), complete pre-departure packet, toll-free pre-departure phone assistance.
Not included in costs: Meals not noted as included, gratuities, beverages (except tea or coffee at meals), international or domestic airfare unless specified, airport departure taxes not included with air tickets, visas, itinerary changes after confirmation, any services not included in itinerary, any costs incurred due to canceled or delayed flights, acts of nature or other happenings beyond our control, or other costs as are more fully described in Journeys Terms & Conditions.
Deposit and payment schedule: $1,500 initial deposit, or the greater applicable amount based on the trip and the proximity of the departure date. A second deposit of $800 per person is due four months prior to departure, and final payment for land arrangements is due 90 days prior to departure. Any applicable permit fees required in advance are non-refundable. Airlines require full payment when tickets are issued. The deposit may be made by Visa, MasterCard, American Express, or check, and the Reservation Form may be submitted by fax, mail, or via our website. Full payment schedule and cancellation penalties are described in our Terms and Conditions as noted on our website and elsewhere. Please request these if you do not have them before advancing a deposit.
Air fares: Journeys can make complete air arrangements applicable to your trip as noted in this itinerary. If you wish to redeem frequent flyer mileage or arrange flights directly with the airline, you may do so on your own at no penalty. If you do, please consult with us on exact arrival and departure dates and times before having your tickets issued to avoid errors.
Insurance: When you make your application, we strongly recommend the purchase of comprehensive travel insurance in case of emergency situations. Please contact us for a recommended policy.
Itinerary Change Fee: There will be a $40 fee for changes once an itinerary has been confirmed and approved. Additional cancellation penalties or change fees may apply as per our terms and conditions. The passenger is responsible for such fees.
Additional Notes: A surcharge may apply for peak season dates (Water Festival in April, Christmas, New Year, etc.)
Duration
10 Days
The number of days, or duration, in a destination corresponds with the itinerary as published. This is the time period covered by the land cost.
Group Size
2 - 12
The stated range indicates minimum required for guaranteed departure and maximum accepted on the scheduled dates. Exceptions can often be made for private departures.
Comfort Level
Simple
Gers outside the city, some deluxe, some basic
Activity Level
Match the trip's intensity to your ability and motivation.
Gentle
Easy walking, with opportunities for low-key physical activity.
Active
Energetic exploration with optional day hikes, leisurely cycling, or light canoeing.
Vigorous
Day-long active excursions and options for demanding activity in varied environments.
Challenging
Strenuous hiking or other intense activity that may be at high altitude or over rough terrain.
Demanding
Multi-day trekking and other activities requiring endurance or strength. Steep trails. No technical expertise necessary.
Comfort Level
Choose accommodations and amenities that fit your personal style
Simple
Our most natural accommodations. Bath facilities often shared, sometimes rustic.
Delightful
Comfortable and especially personal. Small to mid-sized lodges, typically with private bath.
Superior
Lodges and hotels with additional amenities, refined artistry, or extra-special settings.
Deluxe
Exclusive or luxury lodges, hotels, or safari camps with fine dining options.
Uncommon
The most indulgent accommodations arranged specially for private trips.
Single Supplement
The single supplement is applicable if a roommate is not available or if single accommodation is specifically requested. While single accommodation is not available on all trips, we will try and honor this request whenever possible.