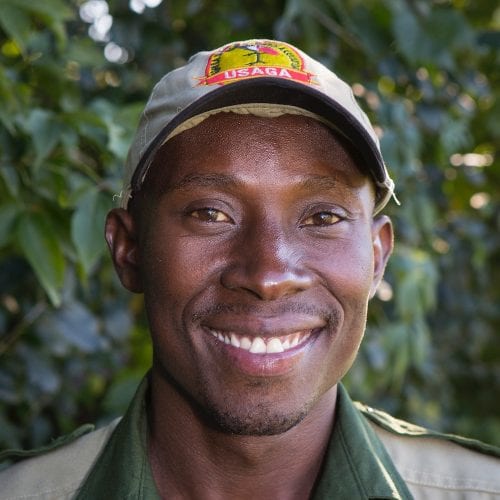 Paul Tamwenya loves leading Journeys trips in Rwanda and Uganda. He came to our attention when he stopped to aid a broken-down vehicle of ours in Uganda. Paul picked up six of our travelers in his van, and took us to where we could meet a new vehicle. We were immediately impressed both by his courtesy and the breadth of his local knowledge.
Paul is the perfect guide for anyone who wants to go on a private birding, primate, or natural history tour in Uganda or Rwanda. His knowledge of East Africa is exceptional since he was born in eastern Uganda near the foothills of Mountain Elgon National Park, and as a young boy, accompanied his grandfather, a great hunter of birds and small mammals.
Paul is a trained ornithologist with very impressive credentials, education, and experience. He has been formally trained in tourism guiding, bird guiding, and advanced motoring techniques. Not only is he a member of Africa Birding Club, NatureUganda, Uganda Safari Guides Association (USAGA), the Uganda Bird Guides Club (UBGC), the Uganda Tourist Driver Guides Club (UTDGC), and a chairman of the Uganda Cultural Guides Club (UCGC), but he also heads two sites where common birds are monitored through NatureUganda courtesy of Birdlife International. He is a consummate spotter, and has seen all 800-plus species of birds in Uganda. His exceptionally keen vision and years of experience are a definite asset to any wildlife safari. He will share his knowledge—and his philosophy—about whatever wildlife you see. In his words, "Finding game is always difficult anywhere in the world and requires good spotting, luck, and perseverance. There are always going to be some species seen well and others not at all, so it's just about impossible to 'mop up' all wanted species. This can be frustrating, but not when you take a more philosophical approach and count on the positive side all the special, localized and endemic birds that you did see."
Paul is great at pointing out – and bringing out – the positives of any adventure. Maybe this is because of how much he enjoys traveling and guiding. He is always happy to be out in the wild, and endeavors to bring his travelers great experiences. Paul's enthusiasm for birding and all wildlife is contagious, and he is happiest when travelers have "lots of smiles at the end of the day."  Paul is thankful to all his traveling companions for their participation and interest.