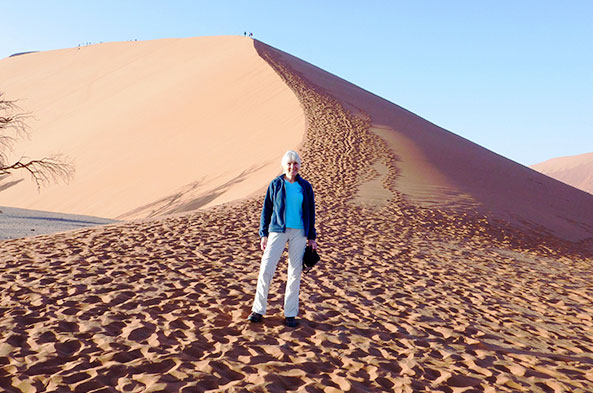 The Bird's Word Blog
A Tour of Delights on a Private African Safari
by The Journeys International Team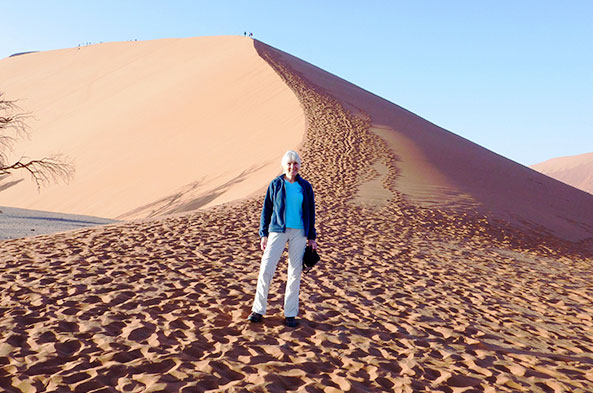 In early 2017, Carolyn Parker, a seasoned world traveler and operating room nurse from Cincinnati, OH, set out on a private African safari—a 24-day journey to see all she could see of southern Africa, including Namibia, Botswana and South Africa. As she shared her magnificent stories with Journeys International, she added that of all her worldly travels, this trip ranked as one of her top three ever—mostly thanks to the wonderful people of this region. Here are the highlights from each of the places she visited. 
---
Sossusvlei, Namibia
Every traveler knows this one universal truth: a guide can make or break your trip. In Namibia, Carolyn arrived to meet Joas, her guide for her time in Sossusvlei, which is where you find the iconic red sand dunes of the Namib. The clear blue skies contrast with the giant red sand dunes to make this one of the natural wonders of Africa and a photographer's heaven.
Joas, a skilled naturalist and tracker, understood that Carolyn was there to learn and explore. He carried a stick with him, and used it as a teaching tool. He would spell things in the sand to reiterate what Carolyn was learning, and jokingly referred to it as his "discipline stick."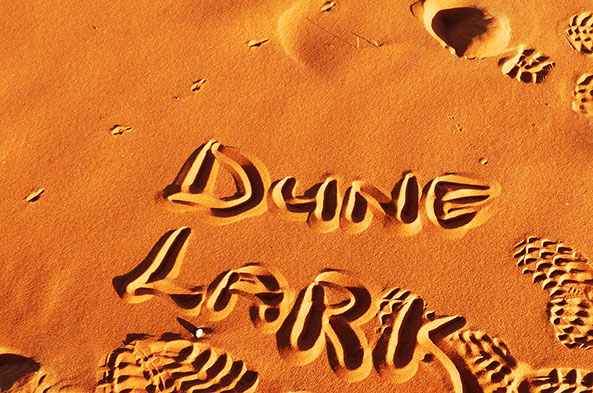 He talked about the acacia trees, and their big long thorns that shrink as the trees grow and need less protection. He could find secrets hidden in the sand that would look like nothing special to an inexperienced guide. He found a nest of a white lady dancing spiders, an unusual creature that lays 60 eggs, then eats all of them but two.
And as any good guide does, he took the time to know Carolyn, learning that she is a wine-loving vegetarian. To provide the best trip possible, he made sure that every meal included a tasty glass of wine and a variety of vegetarian options. The kitchen staff at Koulala lodge was outstanding, and happy to make different foods for her every day, including popcorn (one of her favorites!), and offer a variety of wines for her to try.
Every evening, Joas and Carolyn would recap their adventures with a sundowner, and he would then quiz her on things she'd learned along the way. But she taught him things as well; by the end of their time together, she was quizzing him on the four stages of drinking wine.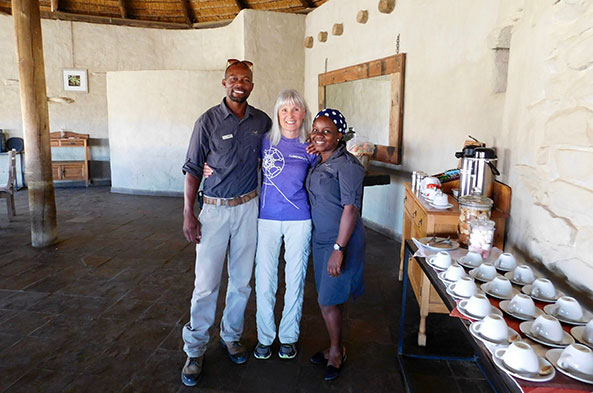 ---
Okavango Delta, Botswana
The highlight in Botswana was the Okavango Delta. Lying in the middle of the largest expanse of sand on earth, the Okavango Delta is one of Africa's most amazing, sensitive, and complex environments, supporting a dramatic spectacle of wilderness and wildlife. Unique as one of the world's few inland deltas, the placid waters and lush indigenous forests offer a safe haven for innumerable bird and wildlife species.
Here, Carolyn enjoyed one of her favorite lodges of the entire trip, plus wildlife, wildlife, and more wildlife. She noted an obvious increase in wildlife protection from the last time she visited this region, and saw an emphasis on natural resource preservation as a draw for tourism. She learned how the government is training former poachers to be guides, and how they are teaching farmers methods to keep lions away from their herds.
She and her guide saw wildlife by boat and vehicle. From her lodge, she got into a mokoro, a type of canoe commonly used in Botswana to glide across the shallow waters of the Delta. From the mokoro, she saw hippos, looked at grasses in the water, and got out on an island to explore by foot.
On overland safaris, the wildlife was abundant! One of the highlights while on a Kwondokoro Camp safari was watching a mama cheetah eating its fresh kill while her cubs watched, then stepping back to let the cubs have their turn.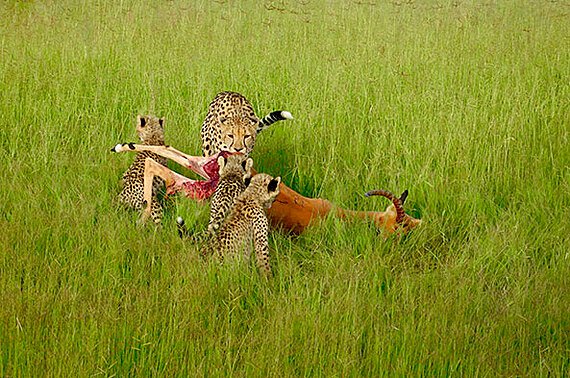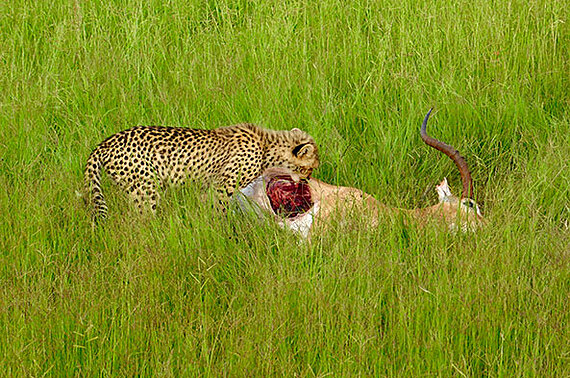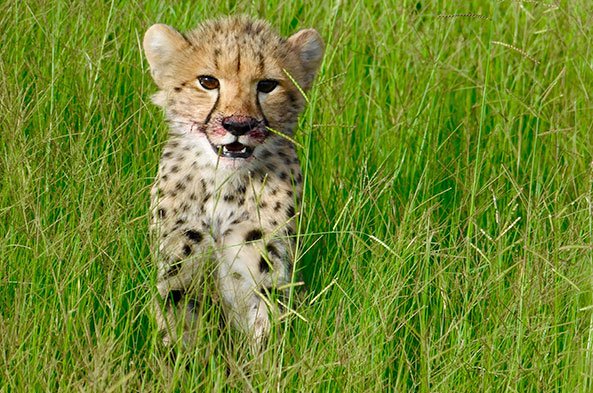 After multiple safaris every day, she would return to her lodge where the manager would be waiting with a glass of wine. When dinner was ready, the woman in charge announced that it was time to eat, and eat they did. With soup, a buffet for the main course, plenty of desserts, the wine flowing, and the hospitality outstanding, Carolyn was smitten. She asked her guide if she could change her plans and stay an extra night, and the guide and the lodge were both happy to accommodate her request. Because she was on a private safari, she had the flexibility to linger.
---
Cape town and winelands, South Africa
Finally, it was time to go to South Africa. Carolyn said goodbye to Botswana and boarded a plane for Capetown, a town that consistently captivates the hearts of all who visit. With its bustling harbor, world-class beaches, top-notch vineyards, and its mountainous surroundings brimming with diverse flora and fauna, opportunities for adventure abound.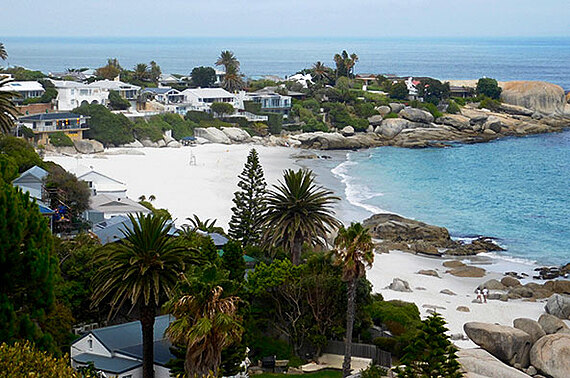 Here, Carolyn met her guide David, somebody she now describes as a friend for life. Since this was a custom trip, David went out of his way to learn Carolyn's interests and make adjustments to the itinerary along the way. One such adjustment included a visit the hospital and museum where the first successful heart transplant took place. (As an operating room nurse, this was of huge interest to Carolyn.)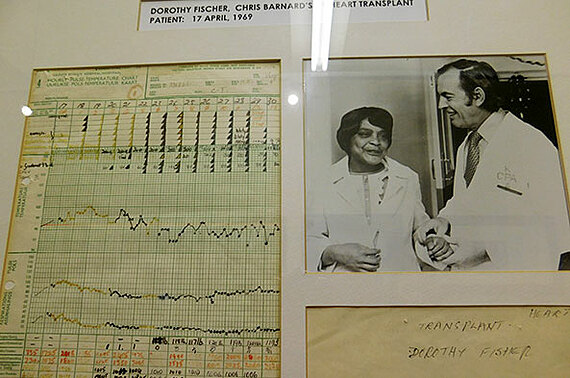 While driving to Franschhoek winery, David suggested impromptu stops along the way, giving Carolyn more in-depth glimpses into a local, organic restaurant where they grow all of their dishes' ingredients themselves, a winery, a small town, and more. When it was time to spend a day horseback riding, David was supposed to go home for the night, but he ended up getting a room for himself so he could stay and pick her up after the ride, instead of requiring her to call a cab. Talk about service above and beyond!
Then one day the most amazing thing happened. Carolyn and David were touring Franschhoek and walked by the #1 restaurant in the country, The Tasting Room. Typically, you have to wait months to get a reservation at this restaurant, but ever the adventurer, Carolyn popped in to see if by any chance they could get a table for that night.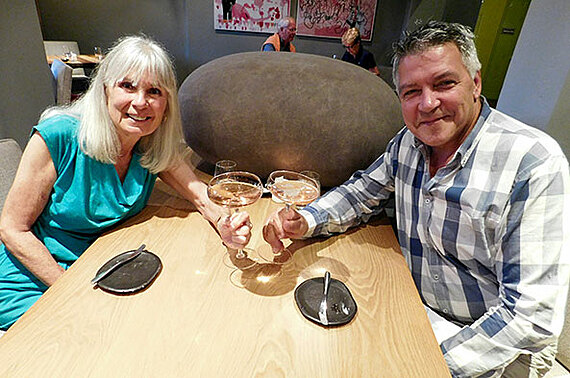 Turns out, they were in luck. There had been an 8pm cancellation. David's mouth fell open when he heard the news. They were in for a treat. The 10-course meal (including vegetarian options for every course), with wine pairing for each course as well, took four hours to eat!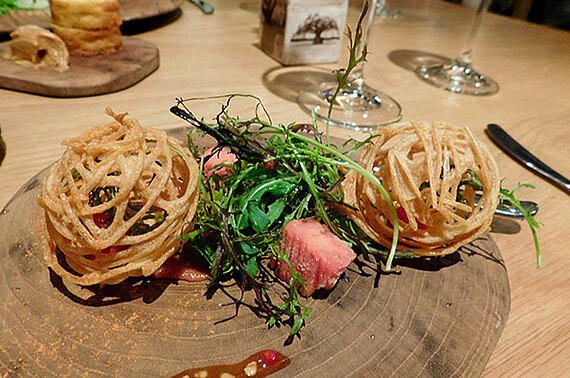 Carolyn's trip ended with a grand finale in the Sabi Sands Private Game Reserve. Safari after safari after safari revealed more wildlife every time. Here she saw more leopards than elsewhere. Because the animals don't feel threatened, they weren't afraid to walk next to the vehicle, to give you an up-close view of their spots.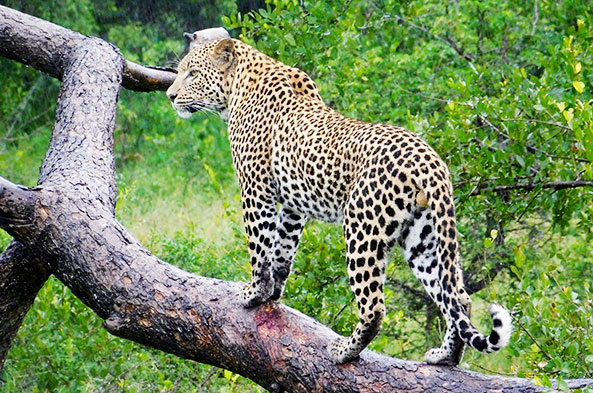 The first night at this lodge, After an especially tiring day, Carolyn opted to skip dinner so she could retire early. She found that the management had run a hot bubble bath for her and delivered her dinner and champagne to her room, with candles and lanterns. Knowing that this service is available to every guest didn't make it any less special for Carolyn!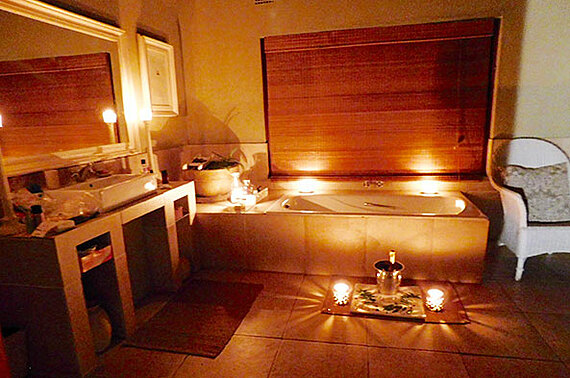 ---
It's all about the people
After spending this time in southern Africa, seeing such a huge variety of wildlife, amazingly dramatic landscapes, and tasting an eclectic variety of food and wine, Carolyn's favorite part of the trip was the people.
Of all her travels all over the world, Carolyn promises that the people in the southern part of Africa will be the nicest people you'll meet in the whole world.
"They make your visit everything and more. There's nothing like the people in Africa—they're always friendly, always upbeat, always personal, always willing to talk about their lives, and are truly interested in yours."
---
Travel Tip
Carolyn recommends reading books about your destination before you travel—not travel books, but stories that tell the tales of the people and places you'll be visiting. To prepare for her trip, she read books about the area, including Dangerous Beauty: Life and Death in Africa: True Stories from a Safari Guide (by Marc C. Ross), which helped connect her with the people and places even before she arrived.
She also came home with a book she recommends called Killing for Profit: Exposing the Illegal Rhino Horn Trade (by Julian Rademeyer), which follows the bloody trail from the front lines of the rhino wars in South Africa, Zimbabwe and Mozambique to the medicine markets of Southeast Asia.
---
Which safari is right for you?
Africa is a big place, and with so many choices it can be hard to know which safari is the right choice—especially if it's a once-in-a-lifetime choice. Take this quiz to find out what safari is right for you.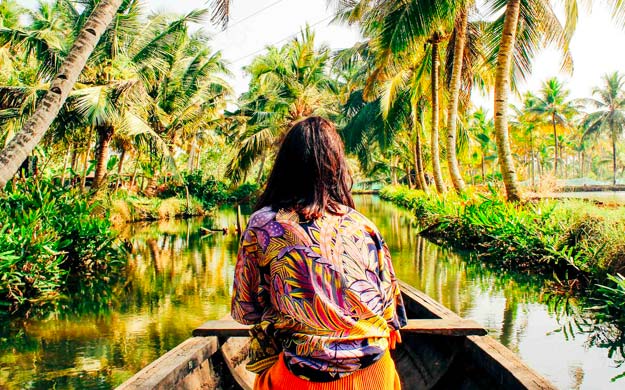 Design an adventure with Journeys International!
With over 40 years of experience, we create experiences that match your goals.
Start Planning
Travel Inspiration Delivered