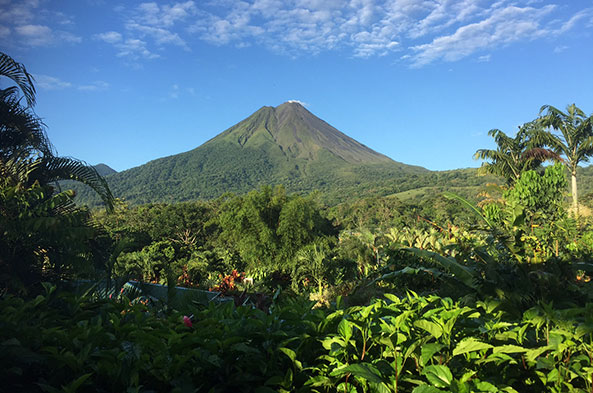 The Bird's Word Blog
Travel to Costa Rica: Activities and Adventure for Everyone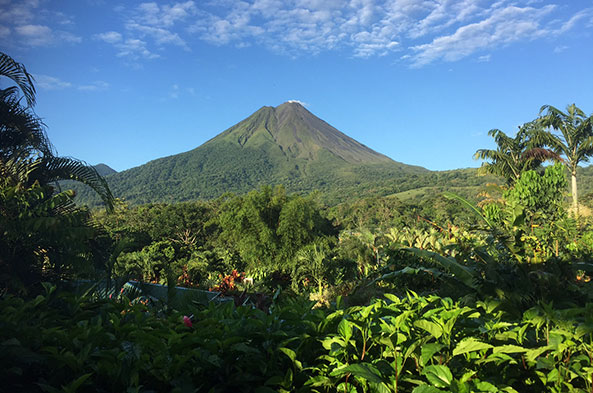 At only about 20,000 square miles, Costa Rica is a country that is packed with a vast variety of climates and landscapes, and the country remains a big ecotourism destination, as well as a goal for those seeking nothing but resort pampering or off-the-charts adventure. Beaches? Check. Volcanoes? Check. Biodiversity? Absolutely.
This post originally appeared on HI Travel Tales, a travel blog for people interested in adventurous, insider, curious, peek-around-the-corners travel.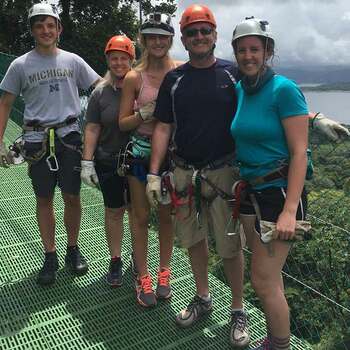 Recently, HI Travel Tales had the opportunity to talk to Jim Dalton, who enjoyed a 2016 Journeys International trip to Costa Rica with his family: his wife, Stephanie; daughter Mara, 25; daughter Ava, 18; and son Connor, 16.
The Dalton family of Ann Arbor, Mich., has a tradition: When a child graduates from high school, he or she gets to choose a destination for a trip, and they like to seek places that are different than where they have been. Ava selected Costa Rica.
Jim, the dean of the College of Pharmacy at University of Michigan, has been traveling the world since high school and his work has also taken him to many places, particularly around Europe, in the last decade. As a family they've been to more than 15 states, plus a number of international destinations. The family loves trying new foods when traveling, and they generally like active travel, choosing hiking, vineyard tours, glacier tours, searching for Grizzly bears (yeah, really), dog-sledding or wildlife tours.
"We really enjoy the family time together when we are moving about and learning something new together," he said. "We hope to travel as a family for many years to come." Then he added, "We don't know where Connor will take us in 2019!"
Here, Jim Dalton and family share some insights and tips about their Costa Rica trip and travel in general.
---
Choosing the Destination and Preparing for travel
 HITT: Why did you choose this destination? What inspired you to visit Costa Rica?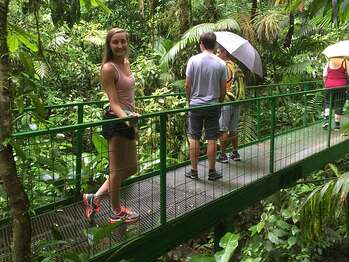 Our daughter chose Costa Rica for our family vacation this year. She graduated from high school and, per family tradition, was allowed to choose our destination. She wanted a destination unknown to all of us where we could be active and explore a new culture.
HITT: What were your biggest concerns about packing and preparing for your trip to Costa Rica?
Dalton: Our largest concerns at the time were news reports regarding the Zika virus. It turned out to be a non-issue. We packed plenty of insect repellent and never had a problem.
---
Costa Rica Travel Tips and Advice
HITT: What advice would you give to others who travel to Costa Rica?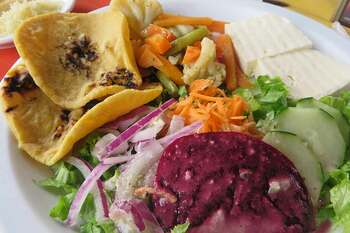 Dalton: Invest in an experienced local guide like we did. Our guide, Carlos, was fantastic. He pointed out animals, sites of interest, knew off-the-beaten-path places to hike, and took us to tasty local restaurants, not to mention helped us remember our Spanish!!
HITT: What optional sites or places do you absolutely recommend travelers experience or see when visiting Costa Rica?
Dalton: We loved the Mistico Arenal Hanging Bridges tour! Our local guide (driver) was an experienced bird enthusiast and pointed out dozens that we would have missed otherwise. The experience of having a band of coatimundi walk by while hiking in the rain forest was a once in a lifetime experience.
HITT: If you could change one thing about your experience or something you did, what would it be?
Dalton: We would have flown home from Guancaste instead of San Jose and avoided the long drive back from Tamarindo to San Jose.
HITT: What day or experience in Costa Rica has become the story you tell most often—whether good, or perhaps less than ideal, but now perhaps humorous or educational?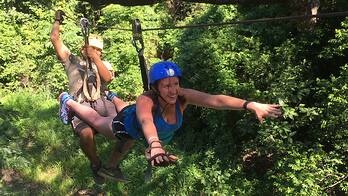 Dalton: The zip lines, hanging bridges, and night hike through the rain forest in Arenal were incredible, and so they are the stories that I tell the most! My eldest daughter was the only one to express an extreme fear of heights but the Sky Trek zip lines in Arenal tested everyone's limits. Being over 600 feet above the rain forest floor and hanging on a zip line for about half a mile gives you plenty of time to think about how precious life is, the durability of your harness, and whether or not the assistants hooked you up to the line correctly. Tears, laughter, exhilarating rides, and a fantastic GoPro video will be memories that last a life time. We went zip lining again the next day near Tamarindo with a much smaller, family owned outfit and were flying through the air upside down, like Superman, without a care in the world.
HITT: What was your favorite Costa Rican food while traveling there?
Dalton: Our guide who drove us from Arenal to Tamarindo dined with us in Arenal and at one of his favorite local restaurants on the way. We had a great time meeting the local people, enjoying Caribbean beans and rice (gallo pinto), and local coffee. Costa Rican coffee was fantastic and was something we packed into our suitcases to take home!
Read the full article on the HI Travel Tales site.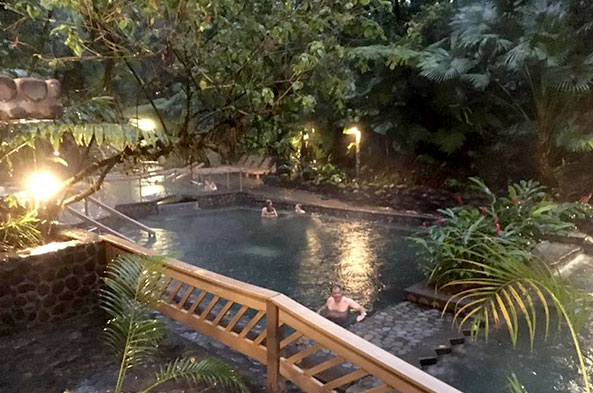 ---
Take your family to Costa Rica
Journeys International has many options for travel to Costa Rica, and can help you plan your perfect family vacation. Request more information and we'll be in touch soon!
---
About the Author, HI Travel Tales
Two lifetimes of globetrotting across several continents and dozens of countries fueled the love of people, places and cultural explorations for travel journalists Therese Iknoian and Michael Hodgson. Their blog, HI Travel Tales, was launched in 2014 to share their experiences and discoveries, not only as a married couple but also as solo travelers. They love collaborating with other travelers to communicate their stories, too, and have a growing slate of contributors, including many now from the Journeys International family.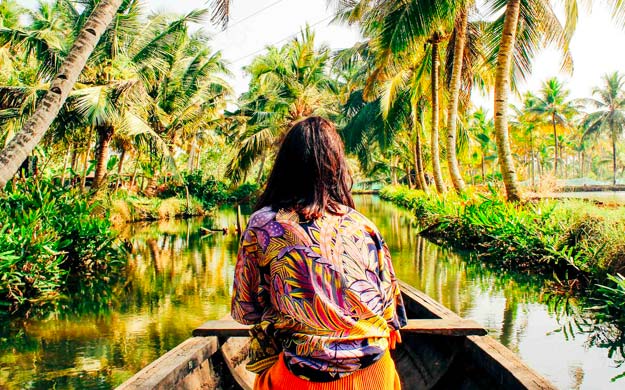 Design an adventure with Journeys International!
With over 40 years of experience, we create experiences that match your goals.
Start Planning
Travel Inspiration Delivered