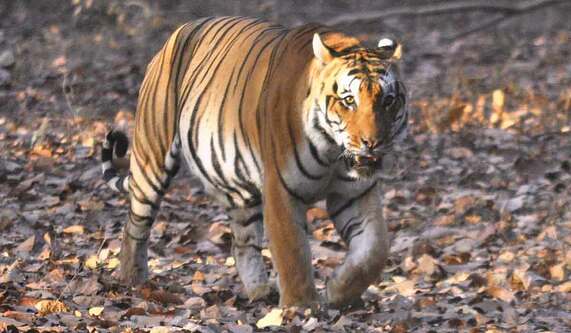 The Bird's Word Blog
Best Wildlife Safari in India Includes Much More than Just Wildlife
by The Journeys International Team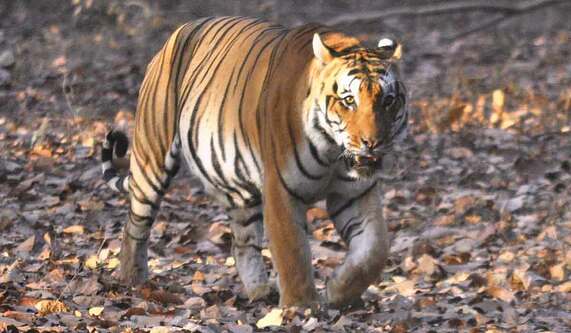 Journeys International has partnered with one of the sharpest and most seasoned naturalist guides in India to create what is quite possibly the best wildlife safari in India. In addition to multi-day safaris in Kaziranga National Park and the Kanha Tiger Reserve, this tour also includes important cultural elements that help complete a visitor's understanding of how the wildlife in this region is connected to the people and place. Here, traveler Jill Pavlat shares her experience on the Tribal Culture & Tigers of Northeast India trip.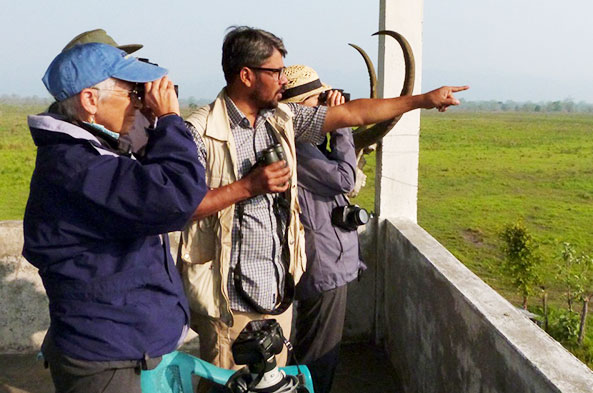 The trip's guide, Avi, points out wildlife to visitors.
---
This post originally appeared on HI Travel Tales, a travel blog for people interested in adventurous, insider, curious, peek-around-the-corners travel.
Jill and Dan Pavlat of Livonia, Mich. wanted to see a tiger. To help make that dream come true, they signed up for a Journeys International trip to India that took them on safari twice—double down on your opportunities when your goal is to see such an elusive creature. Along the way, they immersed themselves in the rest of the cultural experiences that India had to offer, including food, tribal dances, small villages and, of course, wild animals galore. They wrote a journal and shared it with Journeys and HI Travel Tales. Read on to travel with them in India's parks and countryside.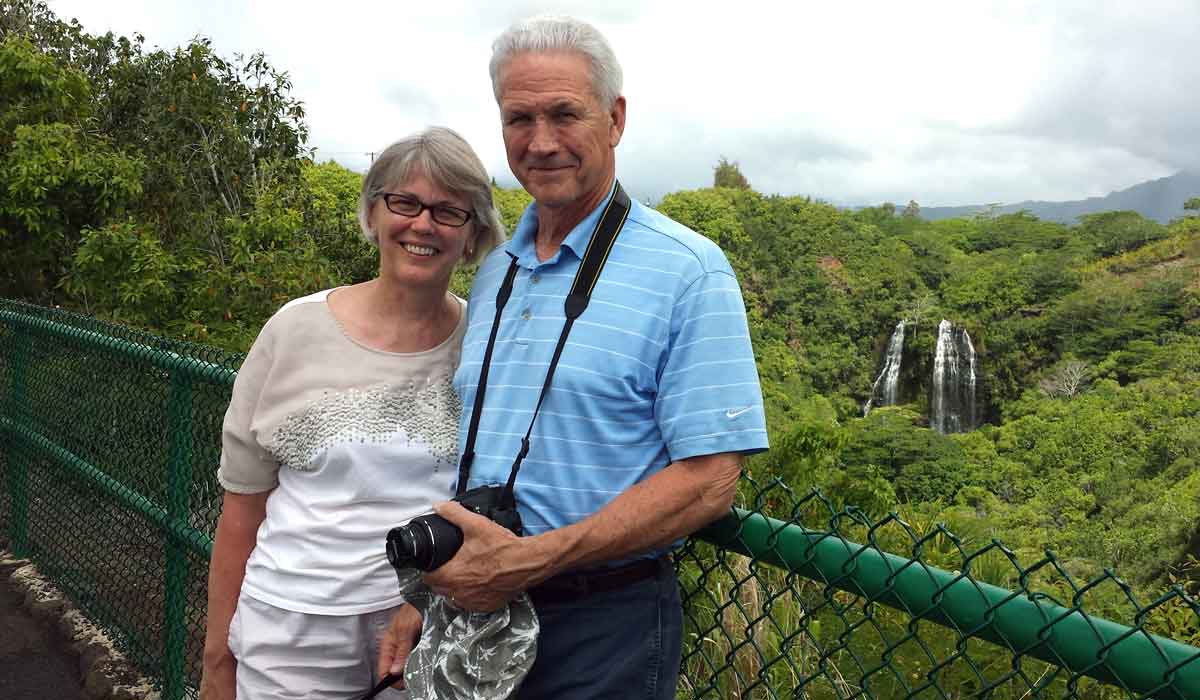 Jill and Dan Pavlat, in India
---
We journeyed to India with the primary purpose of seeing a tiger in the wild so we signed up for a trip, Tribal Culture & Tigers of Northeast India, that took us on safari in two of India's national parks. Our trip included a stop in the village of Ziro where we would meet some of the local Apatani people and learn about their culture. (Ed. Note: The
Apatani Cultural Landscape is a tentative UNESCO World Heritage site.) There, we could take part in the annual tribal celebration of Myoko, which included warm hospitality along with ritual animal sacrifices after which the gods and goddesses would bless the village.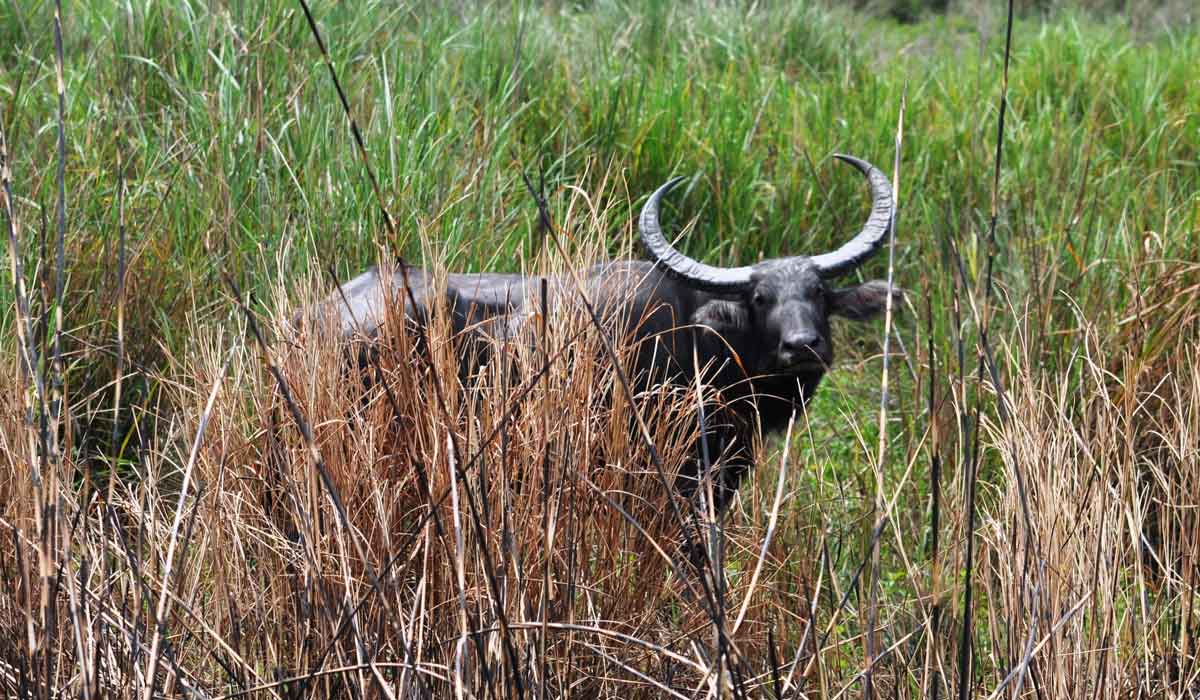 Asian buffalo peering through the grasses (Photo by Jill Pavlat)
Let the Wildlife Viewing Begin!
Via Delhi and then to Guwahati, we were off to Kaziranga National Park. We were thrilled to see wild animals everywhere—we traveled no more that a quarter-mile in our open-air jeep before we spotted a wild Asian one-horned rhino. As we rounded a bend we spotted seven more! There were also wild Asian elephants, Asian buffalo, deer, Asian badger and an array of birds. And all this on the first day! On subsequent days, we took two more safari trips and were never disappointed in the variety and number of animals we saw, including the elusive king cobra.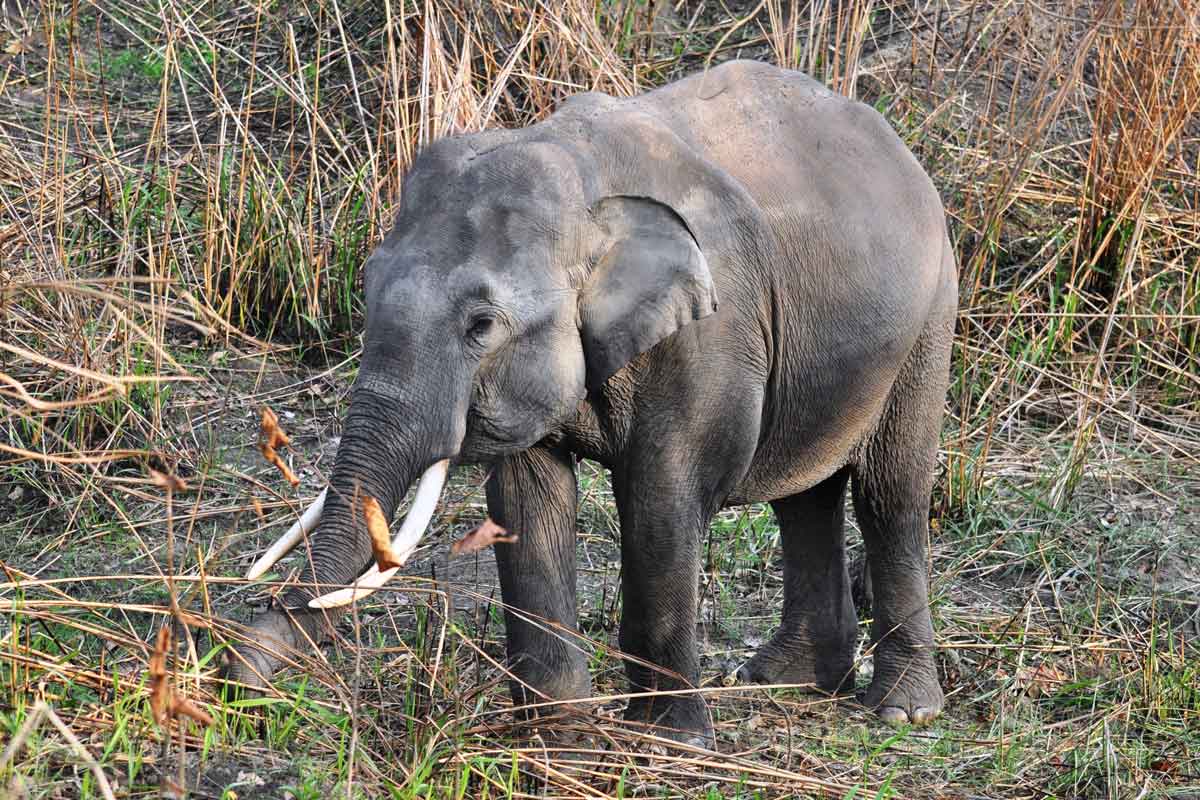 Asian Elephant, up close and personal (Photo by Jill Pavlat)
Following Kaziranga, we drove through the rice fields and tea plantations that make up the state of Assam. The luscious greens from both crops flooded the countryside. We arrived at the Brahmaputra River to catch a ferry to take us to the island of Majuli where we visited a monastery. The monks there practice a form of Hinduism called Vaishnavism. During our visit, the younger monks performed a drum dance for us honoring Vishnu.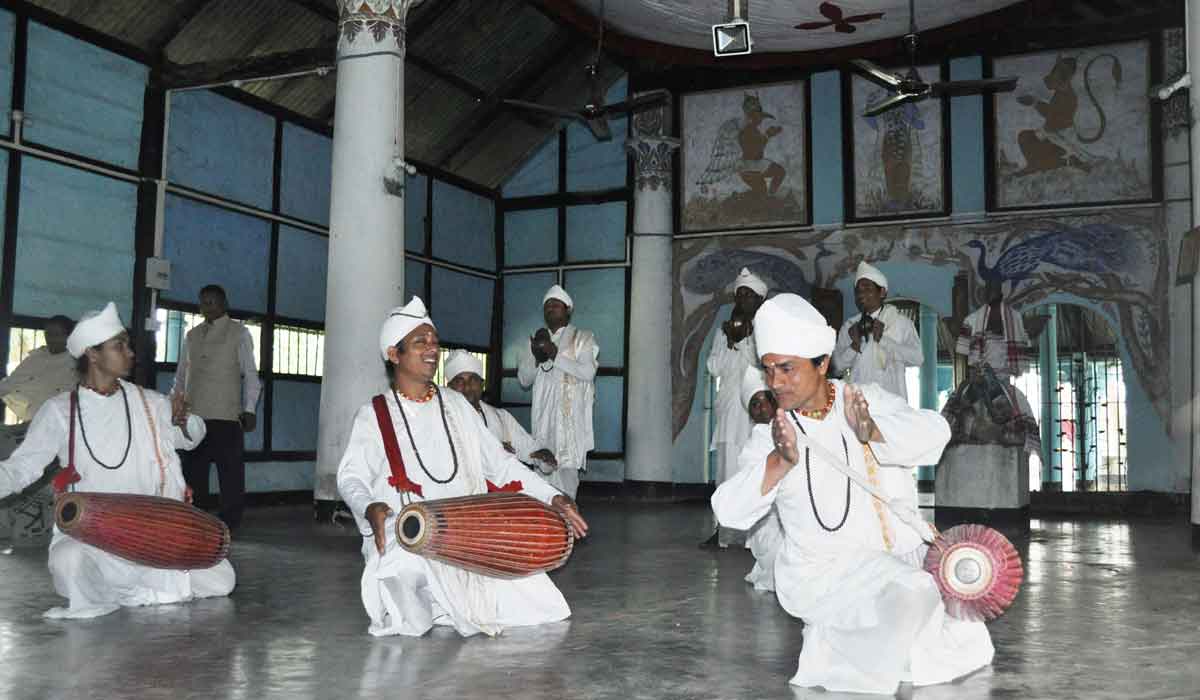 Drum dance honoring Vishnu (Photo by Jill Pavlat)
After leaving Assam we had a grueling yet visually exciting seven hours of travel to the state of Arunachal in far northeastern India. That is where the old village of Ziro is, nestled in a valley in the foothills of the Himalaya Mountains. Once there, we lodged with Apatani tribe members for a homestay. We met with some of the older women, who still have traditional facial tattoos and large nose plugs (a tradition no longer practiced among the younger women.)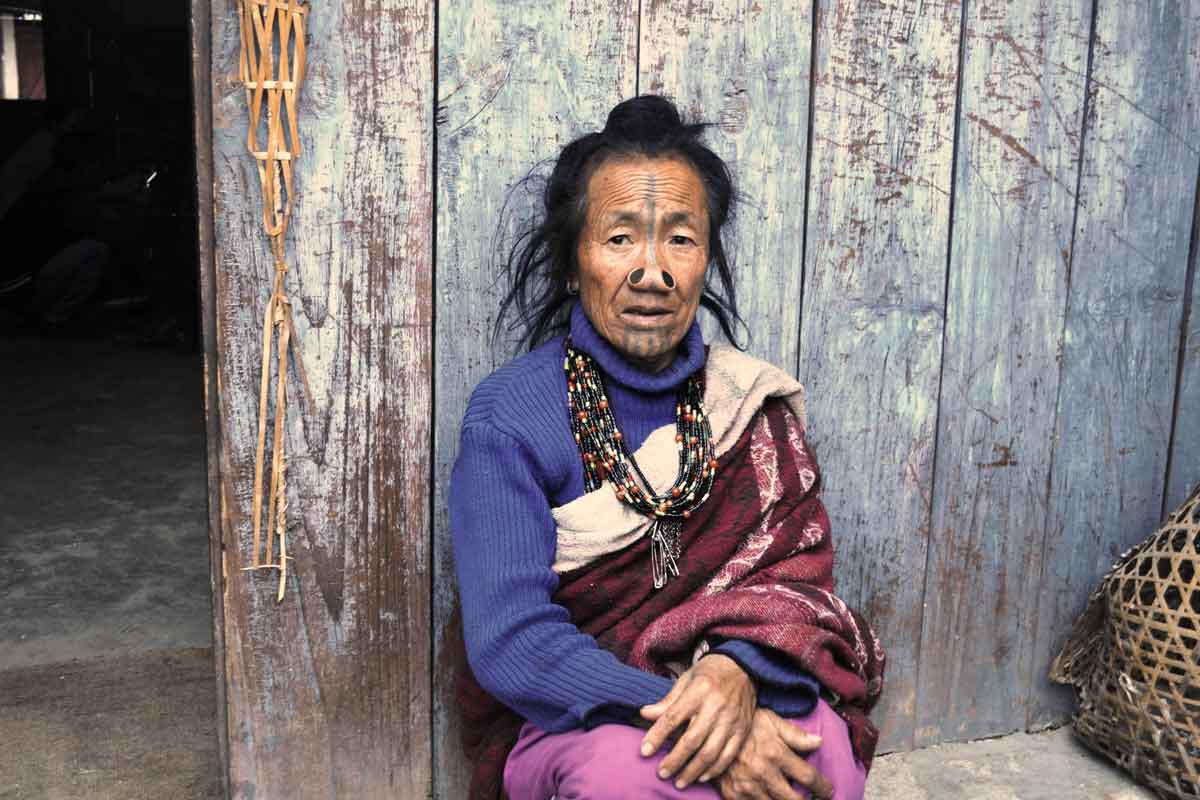 Apatani tribal woman with traditional facial tattoos (Photo by Jill Pavlat)
Apatani Tribe's Myoko Celebration of Prosperity
We traveled into the larger town of Ziro in time to watch the celebration of the Myoko. Male members of the Apatani tribe, including small children, march and chant carrying cane branches as they parade throughout town to welcome Myoko. Following this part of the celebration, homes are opened to anyone to visit and share food and rice beer or millet wine. Our local guide took us to several homes to meet some of the people and to partake in this part of the celebration. It was an incredible experience to be with the people in their homes and to share in their generosity.
The next day was the main day of celebration, with sacrifices to the gods and goddesses so they will bless the community. Pigs are brought to the sacrificial alter before sunrise. Recently married women appear in festive attire and sprinkle rice flour and rice beer over the dozens of pigs. (Ed. Note: The priest selects a few pigs for a special ritual where the pig's belly is cut open and its heart is ripped out while the animal is still alive!) After the sacrifice there was more celebration, focusing on prosperity, friendship and fertility. This was an experience I could have never imagined and will remember forever.
When we left Ziro we headed to Dibrugarh, which is only miles from the border with Myanmar, to fly into Kolkata (Ed. Note: formerly known as Calcutta) where we spent a couple of days sightseeing. We visited a renowned local painter who mixes his own paints from local plants and materials. We saw an ornate Jain temple (there are many throughout India), the Queen Victoria monument, street artisans, vendors of all kinds, and the omnipresent free-roaming cattle. And we will not forget the multi-course Bengali dinner!
On Safari in India: Wildlife Viewing Calls
Towards the end of the trip, we returned to our main goal: to see tigers. We boarded another plane which took us to Raipur then onward to Kanha National Park, where we stayed at the pleasant Singinawa Jungle Lodge.
We went out on safari several times and were not disappointed with what we saw. First we saw one tiger at a distance, and then we were incredibly fortunate to spot two different tigers, both male and both of which walked in front of our jeep with only a couple of yards separating us. What majestic creatures!
This was the thrill we had hoped for, and the reason we had come to India.
---
Join the Best Wildlife Safari in India
Join Avi on this multifaceted trip that immerses you in some of India's most fascinating areas and offers firsthand experience with the richness of the country. Let us know you're interested and we'll be in touch.
---
About the Author, HI Travel Tales
Two lifetimes of globetrotting across several continents and dozens of countries fueled the love of people, places and cultural explorations for travel journalists Therese Iknoian and Michael Hodgson. Their blog, HI Travel Tales, was launched in 2014 to share their experiences and discoveries, not only as a married couple but also as solo travelers. They love collaborating with other travelers to communicate their stories, too, and have a growing slate of contributors, including many now from the Journeys International family.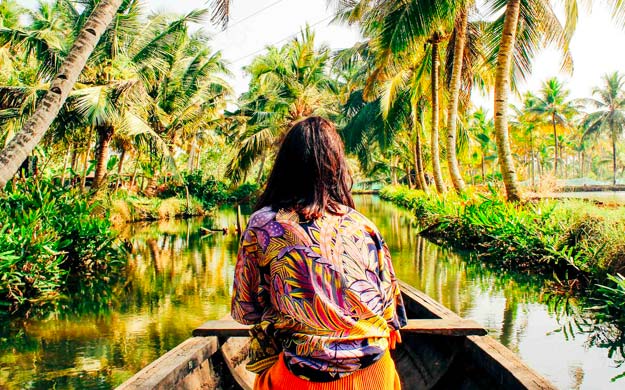 Design an adventure with Journeys International!
With over 40 years of experience, we create experiences that match your goals.
Start Planning
Travel Inspiration Delivered