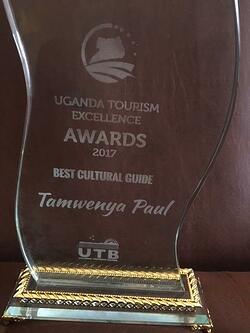 The Bird's Word Blog
Congratulations, Paul: Best Cultural Guide in Uganda
by The Journeys International Team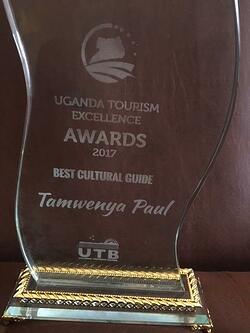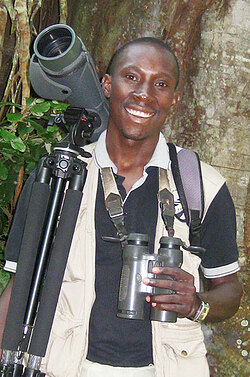 Journeys International is proud to congratulate our long-time Uganda and Rwanda guide and friend Paul Tamwenya for being recognized as the best cultural guide in Uganda by the Uganda Tourism Board.
At the beginning: a broken-down car
Paul first came to our attention when he stopped to aid our broken-down vehicle during a tour in Uganda. He picked up six of our travelers in his van, and we were immediately impressed both by his courtesy and the breadth of his local knowledge.
A leader and a guide
Paul is a trained ornithologist with very impressive credentials, education, and experience. He has been formally trained in tourism guiding, bird guiding, and advanced motoring techniques. Not only is he a member of Africa Birding Club, NatureUganda, Uganda Safari Guides Association (USAGA), the Uganda Bird Guides Club (UBGC), the Uganda Tourist Driver Guides Club (UTDGC), and a chairman of the Uganda Cultural Guides Club (UCGC), but he also heads two sites where common birds are monitored through NatureUganda courtesy of Birdlife International.
Contagious enthusiasm
Paul is a consummate spotter, and has seen all 800-plus species of birds in Uganda. His exceptionally keen vision and years of experience are a definite asset to any wildlife safari. He is always happy to be out in the wild, and his enthusiasm for birding and all wildlife is contagious. He is happiest when travelers have "lots of smiles at the end of the day."
Birds of a Feather
As if Paul's credentials, education, and enthusiasm weren't enough, Paul is also a leader in his community. In 2007, he realized a growing need to support orphaned children who had lost their parents to HIV/AIDS, so he founded Birds of a Feather, a nonprofit providing educational facilities, health care, and basic welfare necessities to orphaned, abandoned, and vulnerable children in his home, the Nangaiza village. By helping children learn basic skills, he was also helping them create independent, practical and better lives for themselves. With this laser focus on one village, the impact runs deep.
Recognized by Uganda Tourism Board
On February 19, 2017, the government of Uganda and the Uganda Tourism Board recognized Paul's leadership by awarding him the Best Cultural Guide award.
Upon receiving the award, he said, "It is a tremendous honor to be acknowledged by the government of Uganda, and the Uganda Tourism Board in particular. After being a founding member of the Uganda Cultural Guides Club and leading many trips, I am humbled as the award is a great honor and big inspiration. For all those who voted and vetted, I am indebted and thank you so much!"
Travel with Paul
If travel to Uganda and Rwanda is at the top of your list, we highly recommend planning your trip with Paul. He guides private & custom trips as well as two itineraries that he played a significant role in designing (but he is in high demand, so book early to be sure you can have Paul as your guide!):
Let us know if you'd like to learn more about gorilla trekking and travel to Uganda. We are standing by to answer all of your questions. Tell me more about trips with paul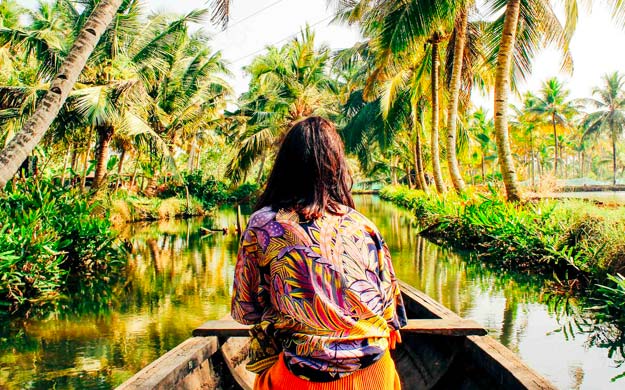 Design an adventure with Journeys International!
With over 40 years of experience, we create experiences that match your goals.
Start Planning
Travel Inspiration Delivered