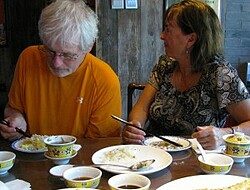 The Bird's Word Blog
Highlights of China's Silk Road Tours
by The Journeys International Team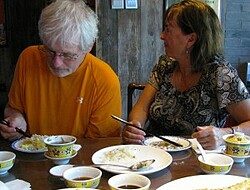 Journeys Adventure Specialist, Kerina Rowley, shares her experience on a Tracing the Ancient Silk Route excursion.
Another successful trip to China came and went. What a wonderful two and a half weeks! I was accompanied by a fantastic group of adventure travelers who had a profound understanding and respect for other cultures. Some of them had been to China in previous years, and for others, this was their first taste of the east. For me, this was my second time to China, and I can tell you that it's just as fascinating and satisfying as the first time I went. Like many larger countries, there are vast differences between the regions and provinces throughout China. What is proper, traditional, or common in the north might be the opposite in the south. A delicacy served in the west may not be on menus in the east. The variety of cultures makes it seem like you're in a completely different country every day.
Here are some things that stand out in my mind from the trip:
Adventurous Dining
Over the course of our trip, we ate everything from cute, character-shaped dumplings in Xian to spicy stir-fried beans in Xiahe to lamb shish-kabobs and freshly made naan bread in Kashgar. China is ideal for the adventurous palate. There are endless "exotic" foods to try, such as cold jellyfish appetizers, scorpion soup and of course, the famous Peking Duck.
Camel Riding
Well, I can cross "riding a camel" off my bucket list. This was part of the trip I was really looking forward to. From Dunhuang, this early morning ride allowed us to absorb the amazing colors of the sunrise over the desert sand dunes as we plodded along on our camels. We also hiked up to the top of one of the sand dunes for a bird's eye view of the desert. Some of us even scaled a portion of the Great Wall. The sand dunes, the camels, the wall and the scenery all collided into one true desert adventure!
Buddhist Culture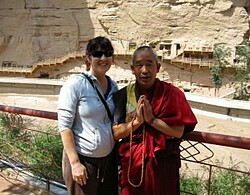 The highlight for the group, I would have to say, was our time spent in Lanzhou and Xiahe (pronounced "she-ha"). This is a very Tibetan region and a good place for those looking for that Tibetan experience. We visited the ancient city walls at Bajiao village and the seemingly deserted White Cliffs Monastery. What made this visit extra special were the missing crowds of tourists – we were the only visitors here! Another favorite was Bingling Caves in Lanzhou, which required a boat ride to reach these intriguing Buddhist carvings and meet the sole monk who ran the monastery here. At Labrang Monastery in Xiahe, we met a young, happy monk who appeared to enjoy his life – evident from his non-stop smiles and giggles.
Guides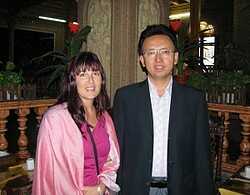 Our guides were all great – from our bubbly and outgoing guide "Sean" in Beijing to our quiet, but ever so endearing guide in Xiahe "Brad", who even took us to his home to meet his mother. Below I'm standing with Ali Mohammad, a Uygher, who took care of us toward the end of the trip in Kashgar. Ali was warm and friendly. He was also very knowledgeable about the region and enjoyed showing us "the ways of the Uygher".
"Tracing the Ancient Silk Route" was a fabulous journey for all of us. We learned so much and came away with a great appreciation for the history of China and her people. It's always a learning experience when you step outside your comfort zone to see how other people live. I'm grateful for my time in China not just because of the food, the camel rides, the history, the scenery, or our excellent guides, but also for the opportunity to learn and experience new cultures and traditions.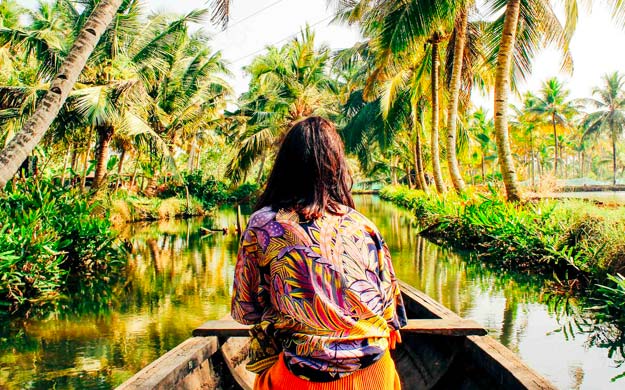 Design an adventure with Journeys International!
With over 40 years of experience, we create experiences that match your goals.
Start Planning
Travel Inspiration Delivered