The Bird's Word Blog
How Chile stole my heart
by The Journeys International Team
Sally Grimes-Chesak, Director of Marketing and Family Programs at Journeys, spent 15 days in Chile in October to attend an adventure travel conference. She went into it looking for knowledge to help her in her job, and came out of it with a new love—Chile.
In October, I embarked on my first visit to South America, to attend the Adventure Travel World Summit in Puerto Varas, Chile. Having worked at Journeys for just over a year now, and being fairly new to the industry as a whole, I went into the trip with expectations of soaking in everything I could about the country, its highlights, new lodges and hidden-away gems that we could recommend to our clients, as well as to meet many of our global partners and attend seminars to learn more about how to develop and run the best adventure travel trips possible.
What I didn't expect, though, was just how much I would fall in love with Chile.
Atacama Desert
The first half of my trip was in the amazing Atacama Desert, towards the northern point of Chile. From our home base in San Pedro de Atacama, my traveling companions and I:
Hiked through Moon Valley, where we were overwhelmed by some of the most spectacular and other-wordly landscapes I could ever imagine
Witnessed a blessing ceremony performed by indigenous people who were asking for blessings for their crops.
Tasted delicious wine from one of the highest wineries in the world
Strolled through the adorable and welcoming small town of San Pedro, buying souvenirs and enjoying sweet potato sopapillas
Mountain biked through the sandy landscape of Devil's Throat
Hiked through Cuchabrache, a canyon with petroglyphs that are thousands of years old
Got up close and personal with Tatio Geysers, and soaked in a hot spring
Witnessed the most amazing stars while our guide explained the beautiful Chilean belief that when a person dies, their soul becomes a new star
And a trip to the desert wouldn't be complete without a massage and oxygen therapy treatment from our hotel's spa
Lake District
We said goodbye to the desert and headed south to explore the Lake District and Puerto Varas, home of the conference. Puerto Varas is a welcoming and walkable town on the shore of the second largest lake in Chile, Lianguihue Lake, with views of mountains, forests and national parks. Its most stunning feature, though, is the beautiful backdrop of Osorno Volcano, which frequently pulled us away from the conference, begging to be gazed upon.
Our first outing in the Lake District was sea kayaking in Reloncavi's Fjord, which offered unbelievable views of the lush forests surrounding us. We even spied two dolphins swimming in front of us! Partway through, our guides directed us to a quaint farmhouse off the shore, where we met a local family and enjoyed a warm and comforting lunch.
Next was a road bike ride to Ensenada and the Petrohué Falls, stopping for an unexpectedly glamorous lunch on the beach with an amazing view of the volcano. After spending the night near the Falls, we set forth through small towns, hopped on a ferry, went over dirt roads, loaded all our luggage on pack horses, hiked on a muddy trail, climbed aboard a small boat, and headed in the direction of the most remote island I've even been to, surrounded by the calmest waters I've ever seen.
And last but definitely not least was my favorite pastime, horseback riding. We spent an entire day roaming through the mountains of this beautiful area on horseback, getting to see the sights and hear the sounds from a taller, more intimate perspective.
I came on this trip thinking I would gain new knowledge that would help me in my job. And while I definitely did that, I also left with an overwhelming sense of love, admiration, and respect for the people and places that are Chile—and wondering how many more places out there will have the same affect on me in the future.
Fall in love with Chile on a Journeys International trip!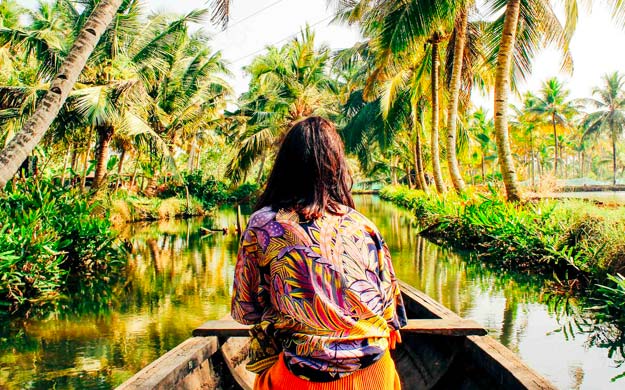 Design an adventure with Journeys International!
With over 40 years of experience, we create experiences that match your goals.
Start Planning
Travel Inspiration Delivered