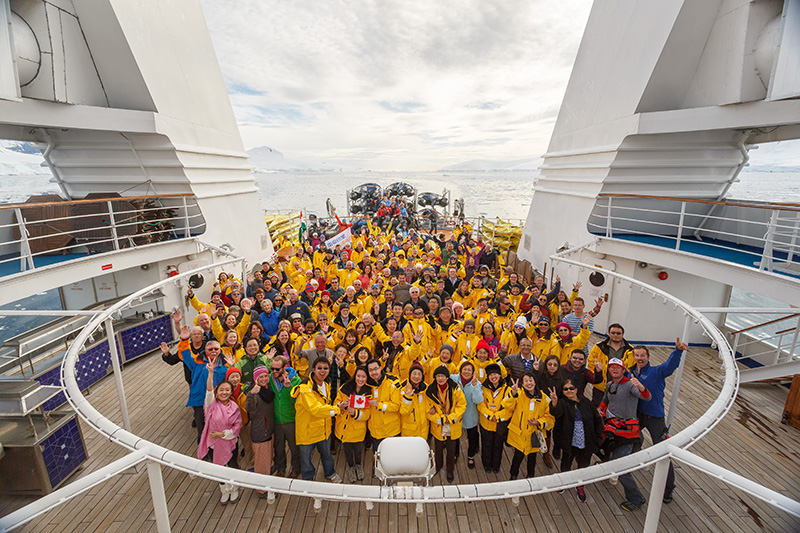 The Bird's Word Blog
How to Dress Onboard a Polar Expedition Ship
by The Journeys International Team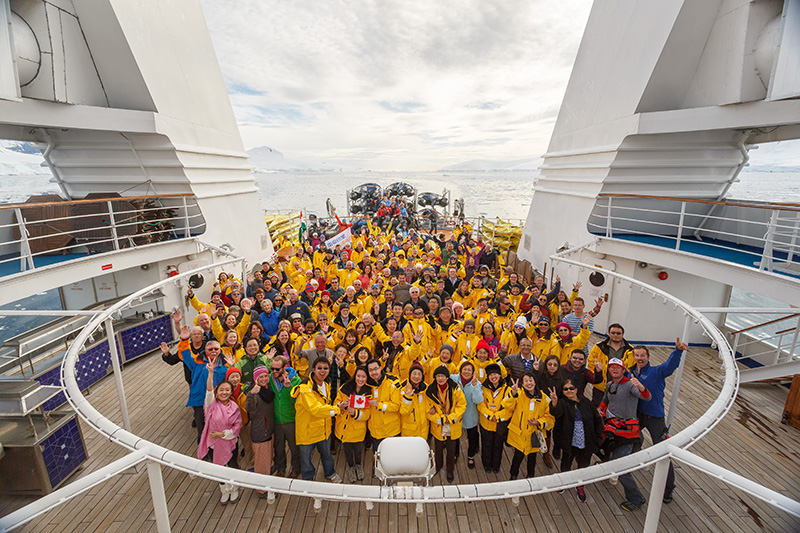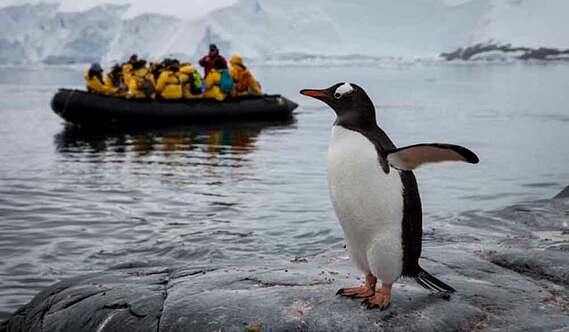 Deciding to visit Antarctica is one of the best decisions you'll ever make, but it can also result in a lot of questions. One of the most common questions we hear is "How cold is it…and what should I wear?" Here are some tips on what to pack and what to expect during your polar adventure.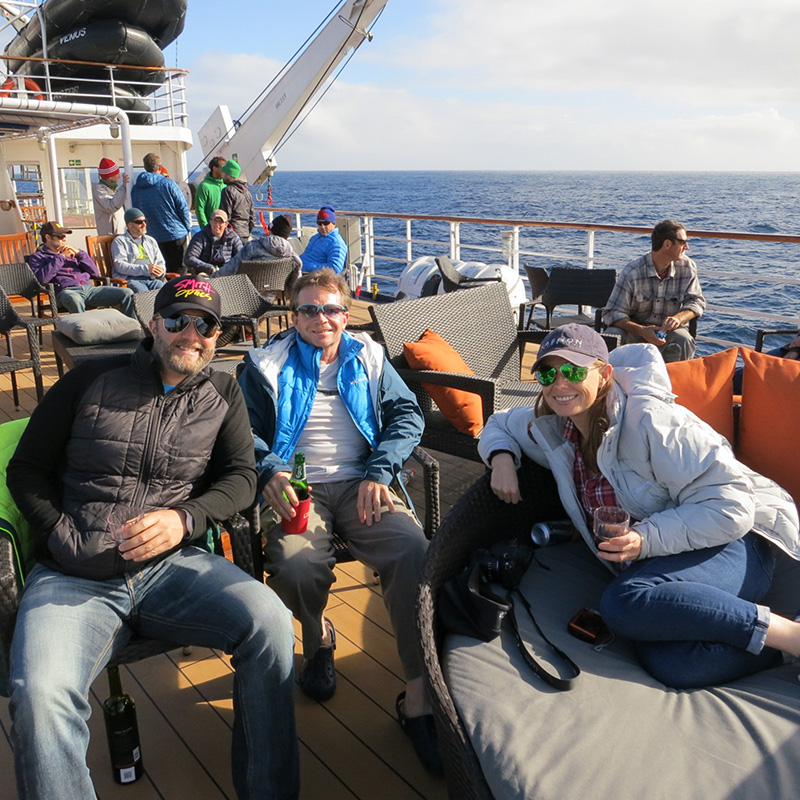 How should I dress for life onboard?
Three words: Layers, layers and layers.
When you're on expedition, you could be sitting down to dinner one minute and running to the deck to see a pod of whales nearby the next. Temperatures on the decks will range from below freezing to warm enough to stand out in a t-shirt, depending on the region and the current wind, snow or rain, and sunlight conditions.
It's important that all passengers wear closed toe, non-slip shoes at all times on the ship–even during dinner. Flip-flops, slippers, sandals and slippery soles (ballet shoes, in particular) just aren't safe in the hallways, or out on the decks.  Some Expedition Leaders and guests prefer shoes with no laces that slip on, so long as they have a heel for safety and good arch support. Dock shoes are another popular type of footwear onboard.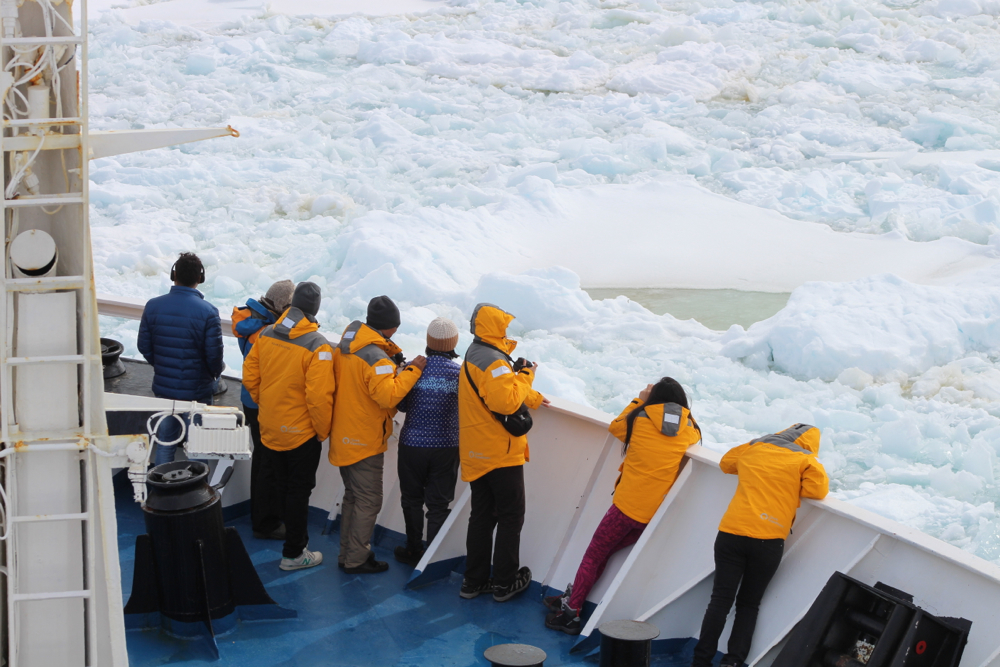 Passengers watch on deck as Ocean Diamond powers its way
through Antarctic sea ice. Photo: Miranda Miller
So plan to wear layers and appropriate shoes that allow you to move inside and out at a moment's notice, cover and uncover as the weather shifts, and be comfortable no matter what your situation. Aside from spotting wildlife, you might also be:
listening to expert lectures or watching polar movies in the presentation hall;
enjoying beverages and trading stories with new friends in the lounge;
browsing history, geography, photo and other polar books in the library;
shopping for souvenirs in the onboard boutique;
stretching your legs in the gym, or taking part in optional, ship-specific onboard activities like yoga classes, crazy hat parties, on-deck special events, and more;
hanging out in your room checking email, unloading your camera or enjoying a brief rest and recharging your batteries for your next adventure.
How should I dress for the lounge and dining room?
Again, the key is to dress comfortably and casually onboard, always in layers so you can quickly adjust to temperature changes.
This includes meals, which are an informal affair. Our guests range from 20 to 80 years old (with the occasional family with young children) and come from all corners of the world—it's a diverse group of adventure seekers, each with their own unique fashion sense.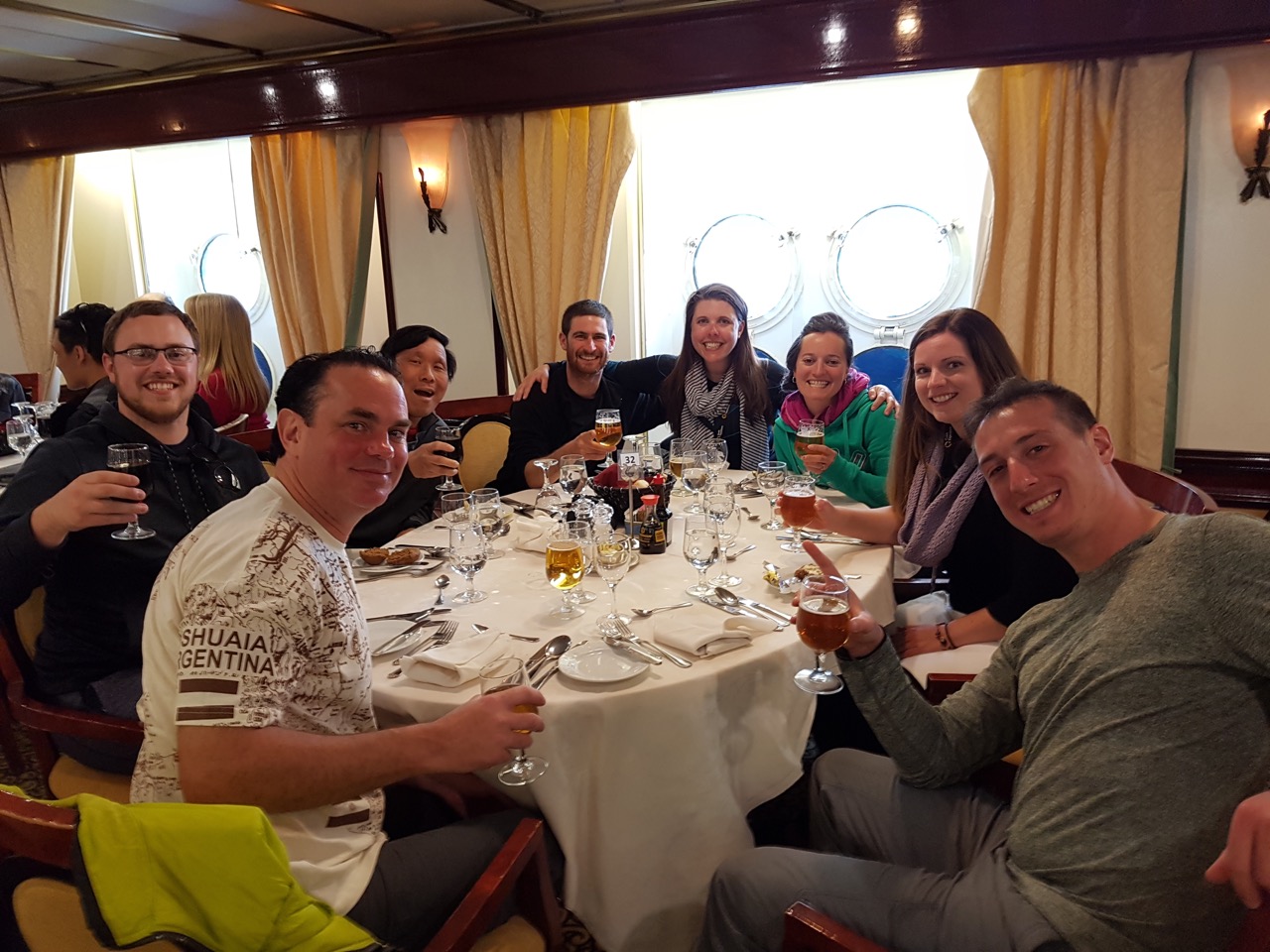 Passengers enjoy dinner in the Ocean Diamond dining room.
Photo: Antarctic Explorer photojournal, December 2016.
But you don't want to have to run back to your room for warmer clothes when that intercom announcement comes on that there are belugas just up ahead!  So no matter your personal fashion sense, leave the formalwear at home; meals are casual and comfortable.
And don't worry, no one will find it impolite if you hang your light jacket or sweater over the back of your chair during dinner, or have it with you in the lounge or lecture hall.
Pack it versus wash it
Laundry service is available on each expedition ship at a reasonable cost, and passengers have told us that airline baggage fees typically exceed laundry costs. Plan on packing fewer items and using laundry service.
What not to pack
You don't have to worry about packing large, bulky items like a parka, waterproof boots or even a water bottle—that's all provided. And that's a good thing since luggage weight is a factor on all commercial airlines; even more so when you're trip is Antarctic Express, which includes a charter flight over the Drake Passage. 
---
Have more questions about what to bring on your polar expedition? Let us know! Our Polar expert recently returned from Antarctica, and she can share her experiences and advice with you.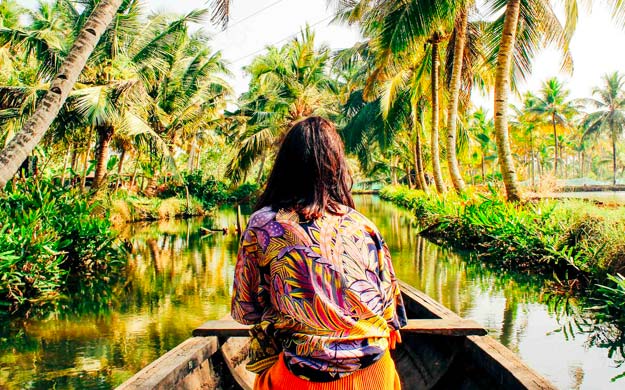 Design an adventure with Journeys International!
With over 40 years of experience, we create experiences that match your goals.
Start Planning
Travel Inspiration Delivered