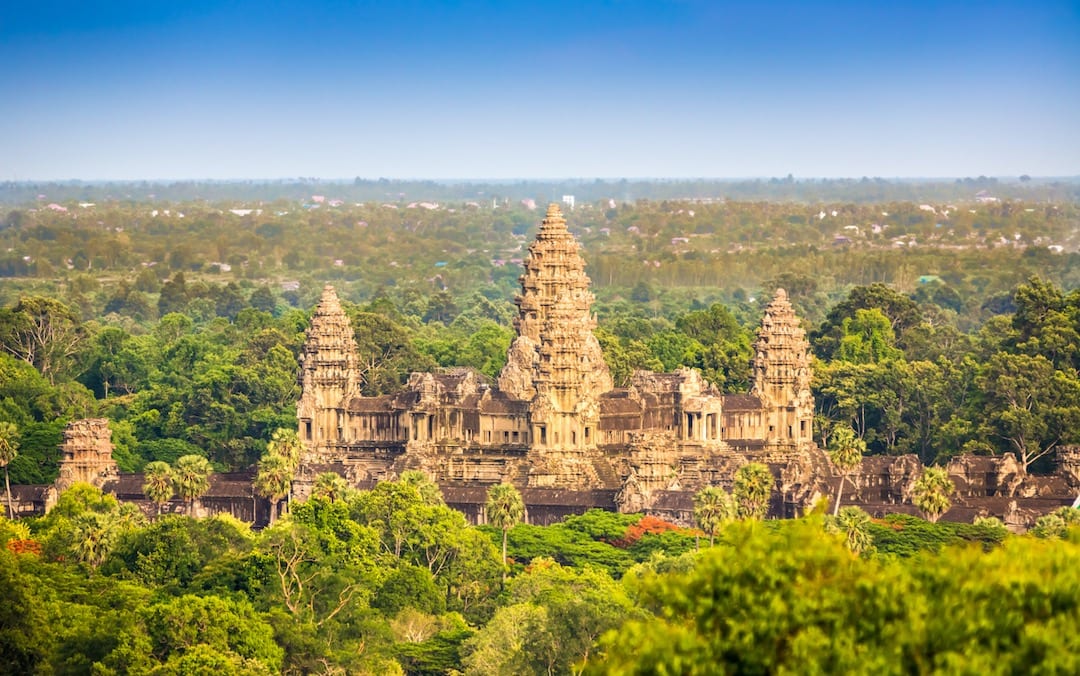 The Bird's Word Blog
I Didn't Know Cambodia Would Be So Spectacular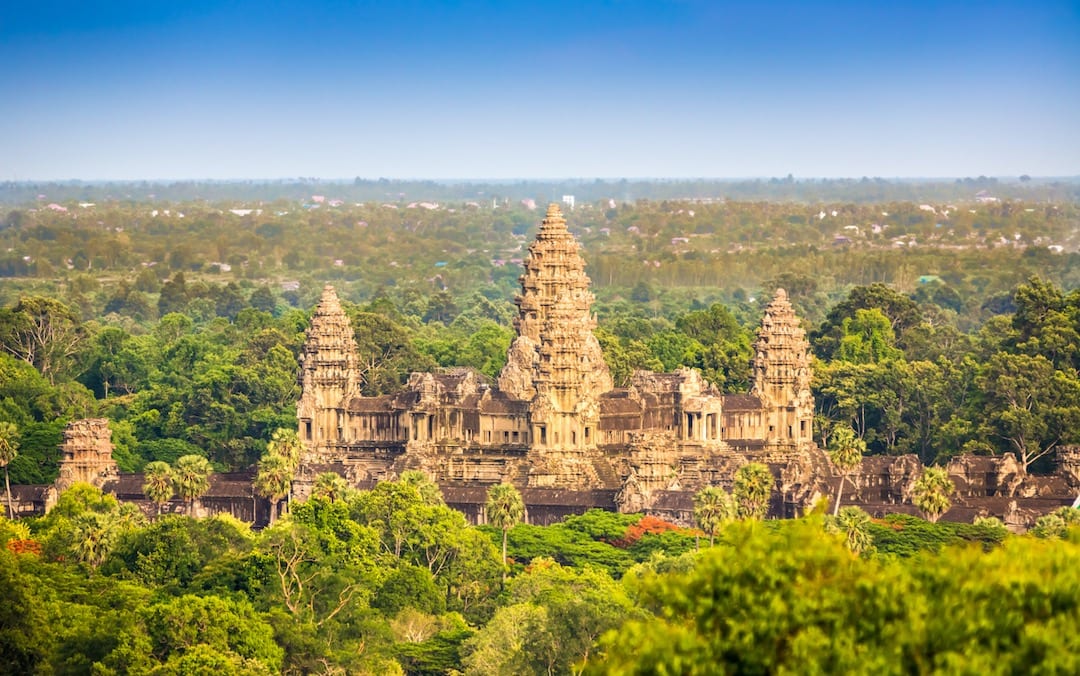 I didn't know Cambodia would be so spectacular. When I was in middle school, I learned about the history of Cambodia, particularly under the Khmer Rouge. My classmates and I performed a simulation for parents to see what life was like under the dictatorship. It was sad and intense, and I learned a lot. After that unit, I hadn't heard much about Cambodia – it's not a very high-profile country. But it turns out that it is spectacular.
Siem Reap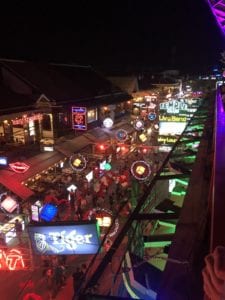 I arrived in Siem Reap on a Friday evening and wandered by foot along the famed Pub Street. All around me were bars and restaurants with delicious food at very low prices. Pub Street has something for everyone. If you're looking for a wild night out, there are places for you. If you're looking for a relaxed dinner and a quiet drink, there are places for you, too. I saw people of all ages and many different nationalities. I've heard that it's often a very crowded part of town because it attracts so many types of travelers, but when I was there it didn't feel crowded at all. (Perhaps that was due to the great global fear of Coronavirus?) Overall my experience on Pub Street was lively, yet not too crowded.
The next day, I stumbled on one of Siem Reap's gathering places for young travelers, called Garden Village. It has hostel accommodations (not where I stayed), as well as an open swimming pool, water basketball, bar and restaurant, pool table, swings, hammocks, and awesome energy. I met people from all over the world.
Angkor Wat
After a few days in Siem Reap town, my friends and I visited the magnificent Angkor Wat complex (pictured below). Although it is possible to explore the ruins independently, we chose a group tour (4:30am-1:30pm) to make the absolute most of our time. It was definitely worth it. The ruins are stunningly beautiful and standing among countless other people from all over the world waiting for the sun to rise and illuminate the ancient site is incredible in and of itself.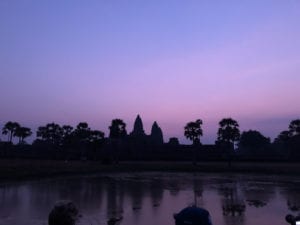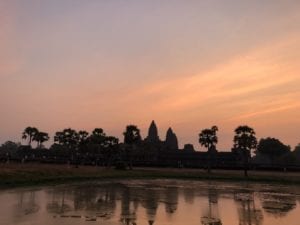 We saw four temples: Angkor Wat, Ta Prohm, Bayon, and Baphuon (Temple Mountain). I found the temples both beautiful and fascinating. I was happy to see more than just Angkor Wat, because as magnificent as it is, it's far from the only temple in Siem Reap, and the others are definitely worth seeing as well. In Angkor Wat, there were two monks blessing people who chose to stop, and I received a blessing from them as well. I still have the string that they gave me on my wrist!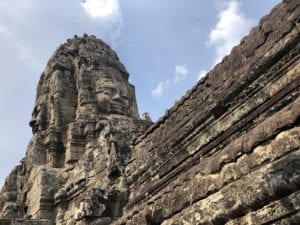 If I had to choose, I'd say that Bayon Temple was my favorite. Our tour guide explained that each of the 216 Buddhas in the temple shows a stage of life. For example, a smile with open eyes shows birth and the excitement of the beginning of a journey. Tired eyes and a softer smile show old age and the exhaustion that often comes with it. A face with a soft frown depicts sickness, and a face with a blank expression and eyes closed represents death. Our guide reminded us that these are elements of everyone's cycle of life. The symbolism and meaning of these carvings and structures was powerful, and their meaning resonated deeply with me.
Angkor Wat and its neighboring temples are a must-see. I'm grateful to have had the opportunity to go and I'm very happy that I chose to go with a tour. I learned so much more than I would have on my own, and I will carry these memories and photos with me forever.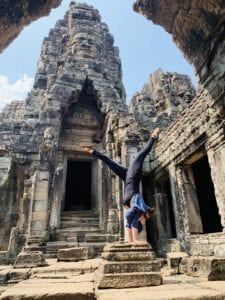 Battambang
In order to see more of Cambodia than just Siem Reap and not feel too rushed with only one week in the country, we decided to take a 5-hour bus ride to another province called Battambang. Battambang gets many fewer travelers than Siem Reap, and it is pretty evident. As we drove, I looked out the window and saw long spans of undeveloped land dotted with shacks and huts serving as houses. Exploring the city center gave me a chance to see how people in Cambodia live beyond working in tourist bars and restaurants. Battambang is fairly developed, with more apartments and small houses than the huts I saw on the way, but also less commercialized than Siem Reap.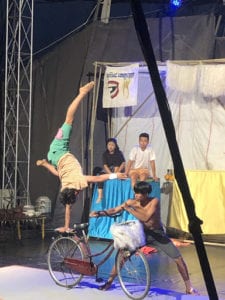 In Battambang, we encountered an impressive non-profit organization called Phare Ponleu Selpak. It's sort of an art school, and also much more – it offers visual arts, performance arts, kindergarten education, and social services for underprivileged Cambodian children and young adults. Part of the performing arts curriculum includes circus skills, and students train in Battambang to be circus performers. Once they graduate, they can perform in the professional circus in Siem Reap and earn money to support their families.
My friends and I went to see the student circus show and it was amazing. The 15-22-year-old performers exhibited astonishing talent at acrobatics, body contortion, juggling, ring trapeze, music, and more! It was inspiring to see the hard work of these young people come to life and fill the stage. We also got to see an accompanying exhibit of phenomenal paintings, drawings, and sculptures by the visual arts students. If you traveling through Cambodia, I highly recommend attending this show in Battambang and supporting the work of this school.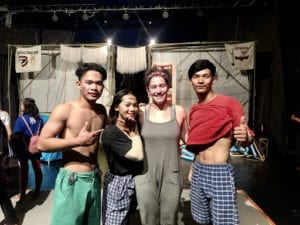 Cambodia is a wonderful country full of friendly faces. I am so grateful to have spent a week here, and to have seen so many different aspects of the culture and day-to-day life. And if/when you visit, keep an eye out for immense talent… it might just blow you away!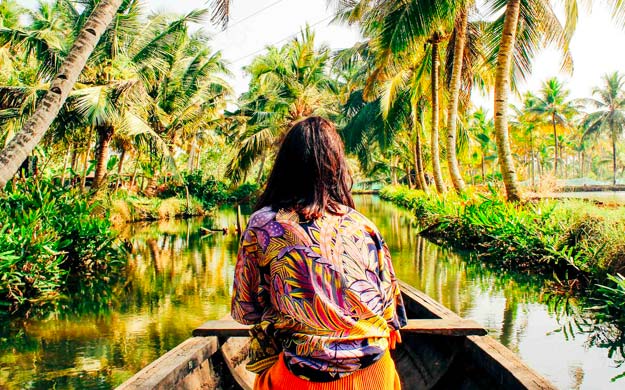 Design an adventure with Journeys International!
With over 40 years of experience, we create experiences that match your goals.
Start Planning
Travel Inspiration Delivered