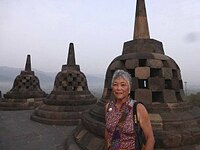 The Bird's Word Blog
Lessons from Journeys Travelers in 2014
by The Journeys International Team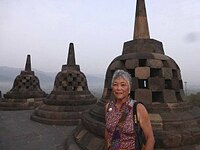 Strength. Understanding. Opportunity. Engagement. Sally Grimes-Chesak, Director of Marketing and Family Programs, gathered reflections from a handful of Journeys travelers about what they learned on their adventures with us this past year.
We each have our own reasons for traveling: to see places we've only dreamed of, to spend quality time with family, to experience wildlife in its natural environment, to step outside of ourselves…. Yet whatever the initial inspiration to hit the road, the lessons you learn while traveling will linger for years to come. Here's what some of our travelers took away from their journeys in 2014.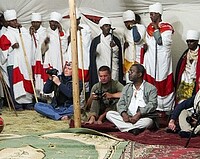 Myles Dixon, San Francisco, CA
Most Recent trip: Ethiopia
Number of trips with Journeys: 1
About me: In 2006 I retired from the US State Department, where I worked in fraud prevention and passport services. In college, I became enthralled with Ethiopia during an anthropology class. It became my dream to visit the country and see it for myself. I am an orthodox Christian, and knew very little about the Ethiopian Orthodox Church, but when I saw the rock churches shaped like a cross, it became a life goal to visit there. Nobody else in my family travels, so they all thought I was crazy.
What I learned: For me, the trip was an intense spiritual experience. I visited during the Timkat Festival, the Ethiopian Orthodox celebration of the Epiphany. Towards the end of the procession, some little boys pushed me into a tent where nobody except the monks and priests are supposed to be. They gave me a seat and let me stay, and from 11pm through the morning I sat with them while they chanted. I didn't understand anything because the chanting was in the language of the church but I could feel the intensity of the devotion, and I was swept away by it. The sights and sounds lifted me spiritually in a way I've never experienced before.
---
Jeff Nystuen, Seattle, WA
Most Recent trip: Madagascar
Number of trips with Journeys: 9
About me: I have a PhD in ocean physics and am an acoustical oceanographer. On my first Journeys trip in 1979, Will Weber introduced me to birding. The hobby stuck, and has now become part of my desire to travel. I'm from a family of travelers. I started international traveling when I was 13. My father took a sabbatical leave from the University of Michigan and we traveled as a family for eight months, with extended stays in Nepal, Turkey and East Africa. I haven't stopped traveling since.
What I learned: We all have preconceptions of what places around the world are like, but we're often wrong, at least partially. We should go to see these places for ourselves, broaden our minds, and gain an understanding of other cultures and places. Try to go to places that are off the beaten path and logistically challenging; that's where the real learning happens. And, as a bonus, see spectacular wild places and wildlife, including birds.
---
Melissa Siwiec, Ann Arbor, MI
Most Recent trip: Costa Rica
Number of trips with Journeys: 1
About me: My mom and I reconnected after being estranged for many years when she called me to say she had cancer. She now lives with me, and our trip with Journeys was a chance for her to fulfill a lifelong dream of seeing the ocean. We had very little time to plan, though. She was in remission, but got the news that her cancer had come back quickly and aggressively. Between recovering from a surgery and going into the next round of aggressive chemo, we made the decision to take this trip, and called Journeys to see if they could help make it happen. Four days later we were on a plane, headed to Costa Rica. The trip provided an opportunity to enjoy life, build positive memories for the next round of chemotherapy, and leave cancer behind for one full week.
What I learned: My mom is strong – much stronger than she thinks. The best part of the trip was watching her zipline. She jumped to the front of the line, and said "Somebody take a picture because nobody is ever going to believe I'm doing this!" Another touching moment of the trip was when our Catholic guide, who knew my mom is Catholic, diverted from the itinerary to take us to his church. They prayed together, and our guide gave my mom his mother's rosary, which she now wears every day. Mom is a very positive person and has an ability to ignore bad things that are right in front of her and instead focus on the good in life. Watching her is inspiring; even with an aggressive round of chemo in her future, she is already looking forward to another trip.
---
Cynthia Henry, Manteca, CA
Most Recent trip: Japan
Number of trips with Journeys: 8
About me: In 2003, I retired from a career as a teacher and school psychologist. I traveled extensively growing up and as an adult, but my life (and traveling style) changed when I fell off an exercise ball in 2005 and sustained a spinal cord injury. Originally fully paralyzed, I am now partially paralyzed and travel everywhere in a wheelchair. I go on one trip each year, and I need a friend to come with me on each trip to help with my wheelchair. Working with Journeys to plan my travel carefully is an imperative part of my travels.
What I learned: I've become very aware of the similarities and difference in cultures, but what stands out to me the most is that wherever I am, people go out of their way to be helpful to me. Even if we speak different languages, they are always there to help with my wheelchair. I think they are so excited to see a 70-year-old woman in a wheelchair visiting their country that they simply want to help however they can!
---
Laura Kofoid, Chicago, IL
Most Recent trip: Nicaragua
Number of trips with Journeys: 8
About me: My husband and I always planned to travel the world with our two children, but assumed we would start when they were older. After my husband survived two brain tumors, we decided there was no time to waste, so we began traveling with Journeys when our kids were 2 and 7 years old. Now 12 and 17, they are hearty adventurers, and help plan our future trips. We gave them a choice of where we could go next, and between Macchu Picchu, Easter Island, Bhutan or Papau New Guinea, they chose Papau New Guinea, because "nobody goes there."
What I learned: I've watched my kids become citizens of the world, not just citizens of their local community. Traveling gives them a realistic balance against what they read or hear in the media. For example, when we went on an African safari they heard about and saw affects of poaching. And while in Indonesia, our Muslim guide, fasting for Ramadan, would serve lunch or water but wouldn't eat or drink. This opened up a conversation about the contrast between how Muslims are portrayed in the media versus the real-life experience of engaging with our guide. Our kids have an understanding of things that others might not, because they've seen it firsthand.
---
John Clement, Albany, NY
Most Recent trip: Turkey
Number of trips with Journeys: 3
About me: As an elementary teacher, I didn't think traveling was something I would ever be able to do, but I desperately wanted to visit Madagascar and see the lemurs. I made it happen, and now I'm hooked, so I funnel my energy and funds into as much travel as possible.
What I learned: My travels aren't just for me; they are also for the children I teach. I bring lessons about the world back to them so they can experience the world vicariously. One lesson I've learned and shared is that in America, we have the opportunity to move up, but in some countries, if you are born into a certain class, you have no choice but to stay there. For example, in Egypt, I was talking to a female guide who was going to school to be an attorney, but she knew that it wouldn't be possible in Egypt because women can't have jobs as attorneys. We are fortunate to live in a country with opportunities, and I encourage my students to never squander those away.
---
Marie Milks, Honolulu, HI
Most Recent trip: Indonesia
Number of trips with Journeys: 10
About me: I was born and raised in Hawaii, and eventually made my way to Washington DC to attend Georgetown Law, where I met my husband. My husband and I first traveled with Journeys in 1993, when we decided to go to Burma as part of our 25th anniversary. Because my husband had spent two years in the Peace Corps in Iran, he connected with (Journeys' founder) Will Weber, who had also been in the Peace Corps.
What I learned: When I travel, I want to feel truly connected with the people and cultures I encounter. With Journeys, trips don't feel contrived or scripted. You are truly engaged with the people, not just witnessing things happening around you. One of my favorite experiences was in Uganda, where I saw the gorillas in their natural habitat. The icing on the cake was Paul, our fabulous guide and birding expert, who added so much to the trip because of his in-depth knowledge of the region and the wildlife.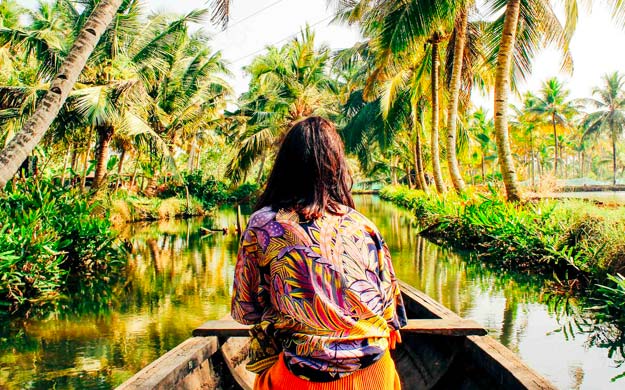 Design an adventure with Journeys International!
With over 40 years of experience, we create experiences that match your goals.
Start Planning
Travel Inspiration Delivered