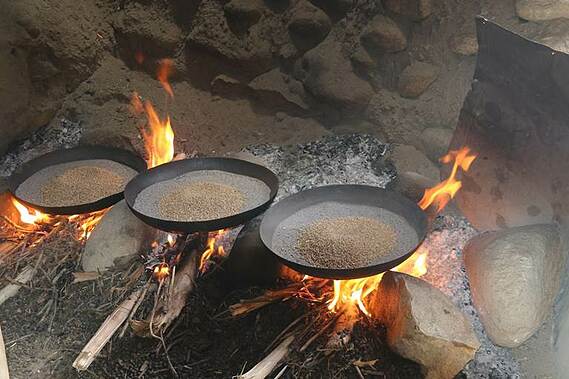 The Bird's Word Blog
The Kingdom of Lo and the Art of Barley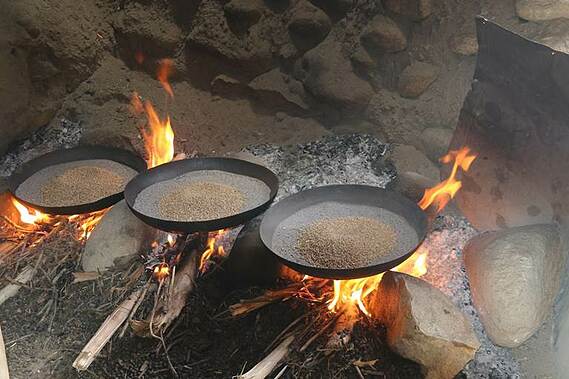 Long-time traveler Dick Siebel recently traveled to the once-forbidden fabled Kingdom of Lo in the Upper Mustang region of Nepal on a custom adventure with Journeys International. The trip was timed with the beginning of the harvest season and the spectacular three-day Tiji Festival.
Access to this region was restricted by the government of Nepal until 1992, and Mustang was accessible only by foot until the last bit of road was completed in 2015. Mustang's culture has descended in its pure form from the Red Hat sect of Tibetan Buddhism (contrasting to the Yellow Hat sect to which the Dalai Lama belongs), and it remains one of the only spots on earth where Tibetans live according to their own unimpeded traditions.
While there, Dick witnessed the annual tradition of processing recently harvested barley, a crucial element to year-round food security.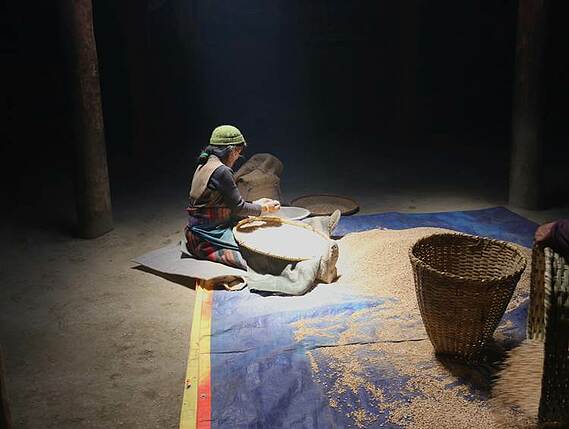 ---
As we drove nearer toward Lo Manthang in Upper Mustang we passed villages with monasteries and sometimes monasteries standing alone without other people living nearby. The villages are where there is land that is or can be made level enough for agriculture and there is enough water for crops. The principal crop at these altitudes, around 12,000 feet, is barley.  In one such village we visited the monastery and decided to check out an obviously old building out back. It looked abandoned and turned out to be a building that had been an active part of the monastery but was no longer used by the monks. We saw faded and partial wall paintings typical of the monasteries, confirming its prior use.
We also discovered that it is now in use by some of the local people. We passed through an anteroom with a vigorous fire heating some flat pans, but I'll come back to that later. From there we looked into a quiet dark room with a hole in the roof. A beam of sunlight poked through the dusty air directly on a woman sitting on the floor with a flat basket where she was cleaning barley. By tossing the grain in the basket, foreign materials such as small stones are segregated and can be picked out.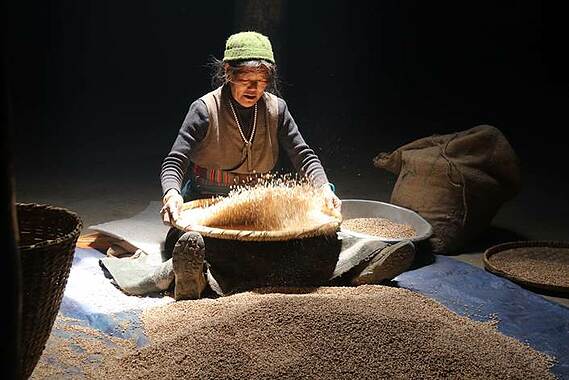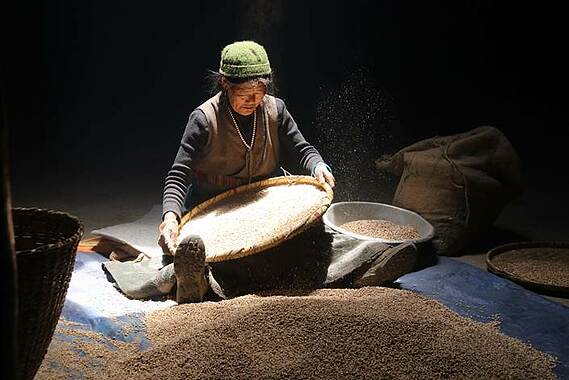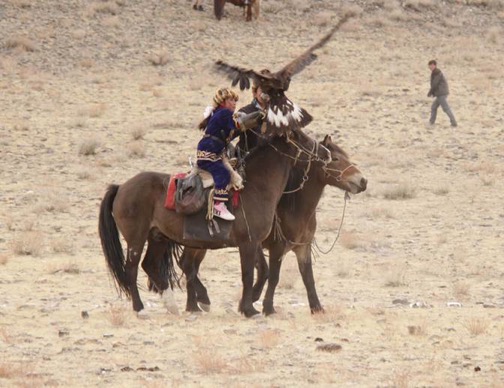 The woman was quite pleased to meet with the unexpected visitor, show me what she was doing, and have her picture taken. Neither of us could understand the other's language. It's now known by the local people that they consent to pictures for a small price. The customary amount is 100 Nepalese Rupees, which presently amounts to almost exactly $1.00. I took so many photos of this lady that I gave her 200 rupees.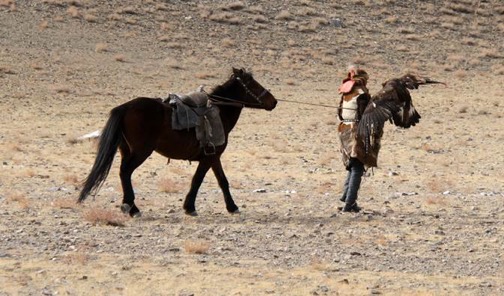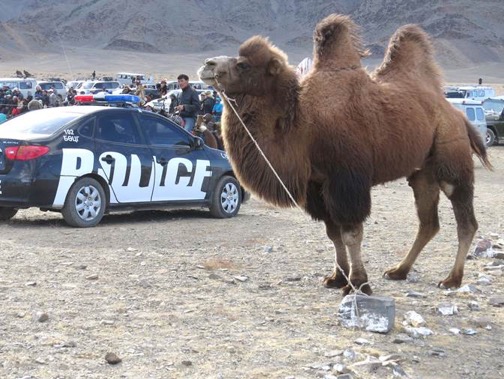 It's impossible for me to tell how old this lady is but I'll guess in her fifties. You may notice that her hair is dark. It is extremely rare to see any grey or white hair in the Tibetan people. Age shows earlier in their faces.
The average life expectancy in Nepal is now about 69 years, almost ten years less than in the US. That's for all of Nepal and I question whether the number is that high in Mustang. The people in this high altitude region have a life of hard work, often outdoors, as well as the environmental stresses, and most likely a poorer diet than most of the Nepalese people. The people here are genetically more Tibetan than Nepalese and life expectancy in Tibet is a couple years less than in Nepal.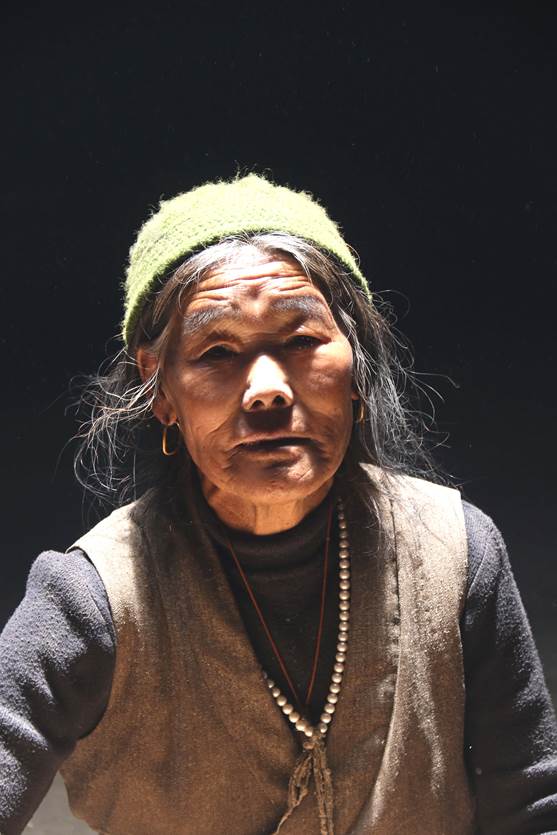 I then checked out what was happening back in the anteroom. Two other women were roasting barley in flat pans over a surprisingly vigorous fire. Firewood is scarce in this high country and small fires are preferred. Roasting would help them keep the grain dry and free of weevils as it is stored for the winter. It will then be ground to flour by hand.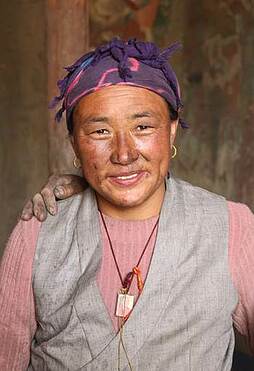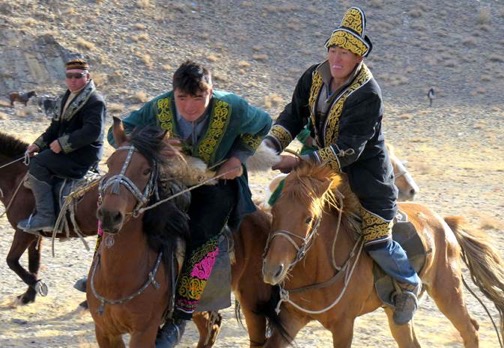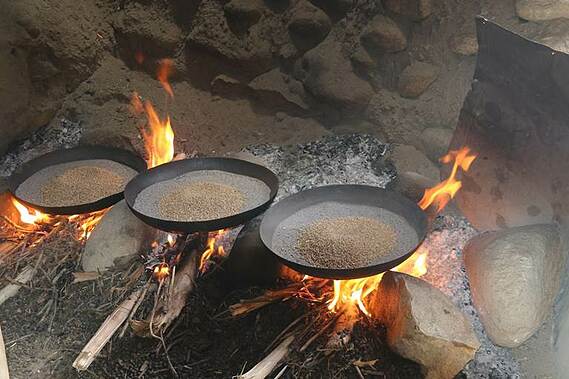 ---
See the world without lifting a finger
 Let Journeys International plan your custom adventure. We'll take care of the details; all you have to do is tell us your dreams.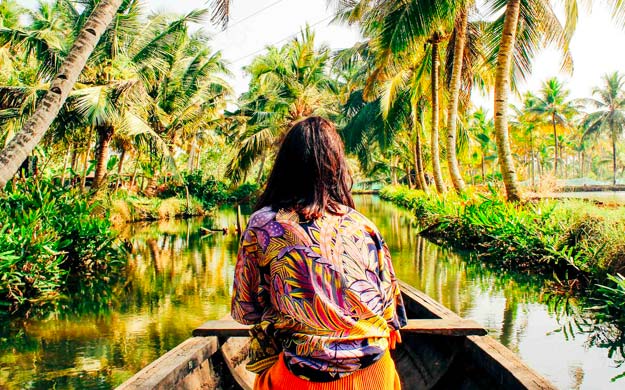 Design an adventure with Journeys International!
With over 40 years of experience, we create experiences that match your goals.
Start Planning
Travel Inspiration Delivered