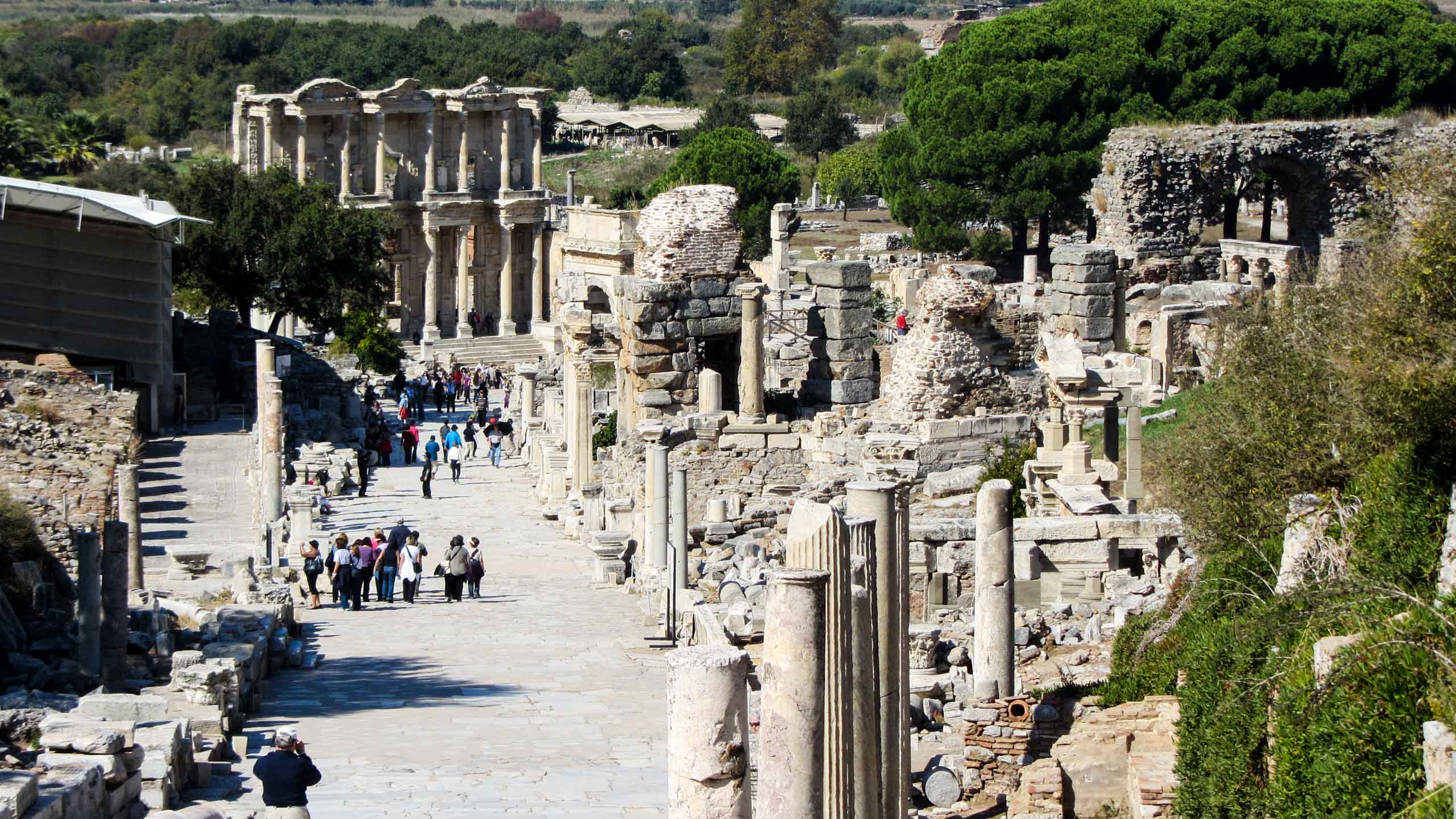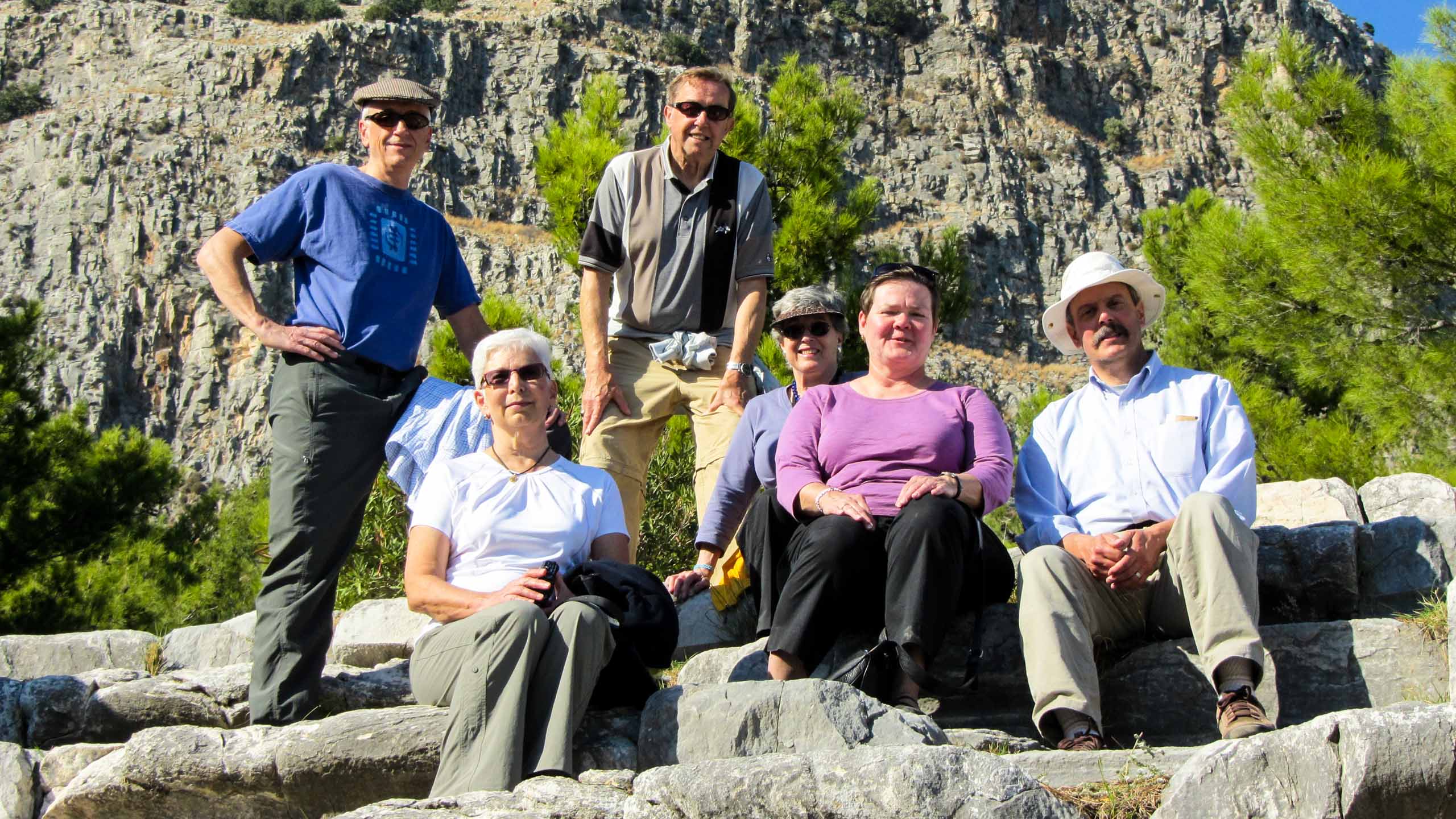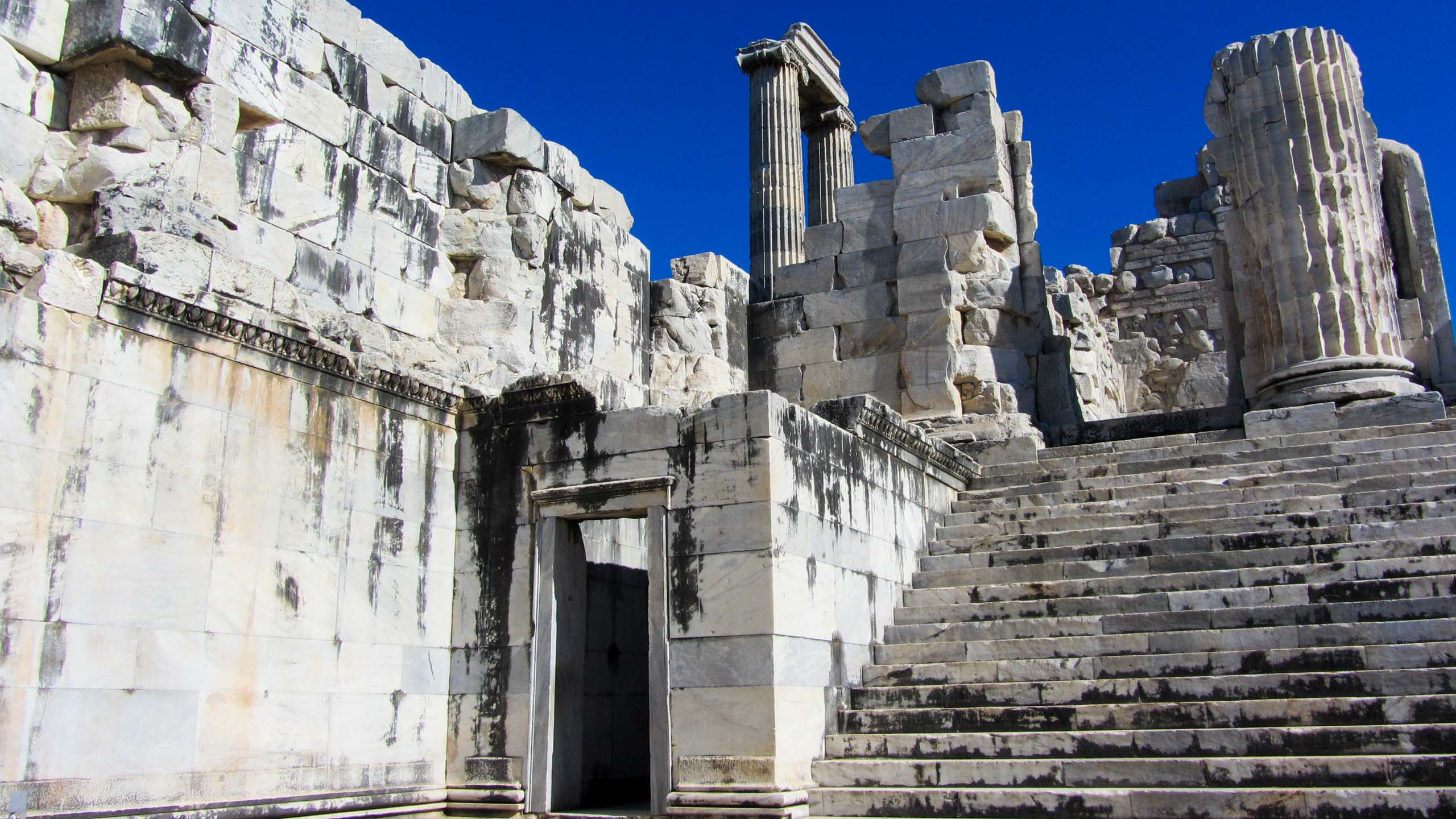 Cappadocia, Ephesus and the Coast
Comprehensive itinerary includes the best-known sites and sailing on the Mediterranean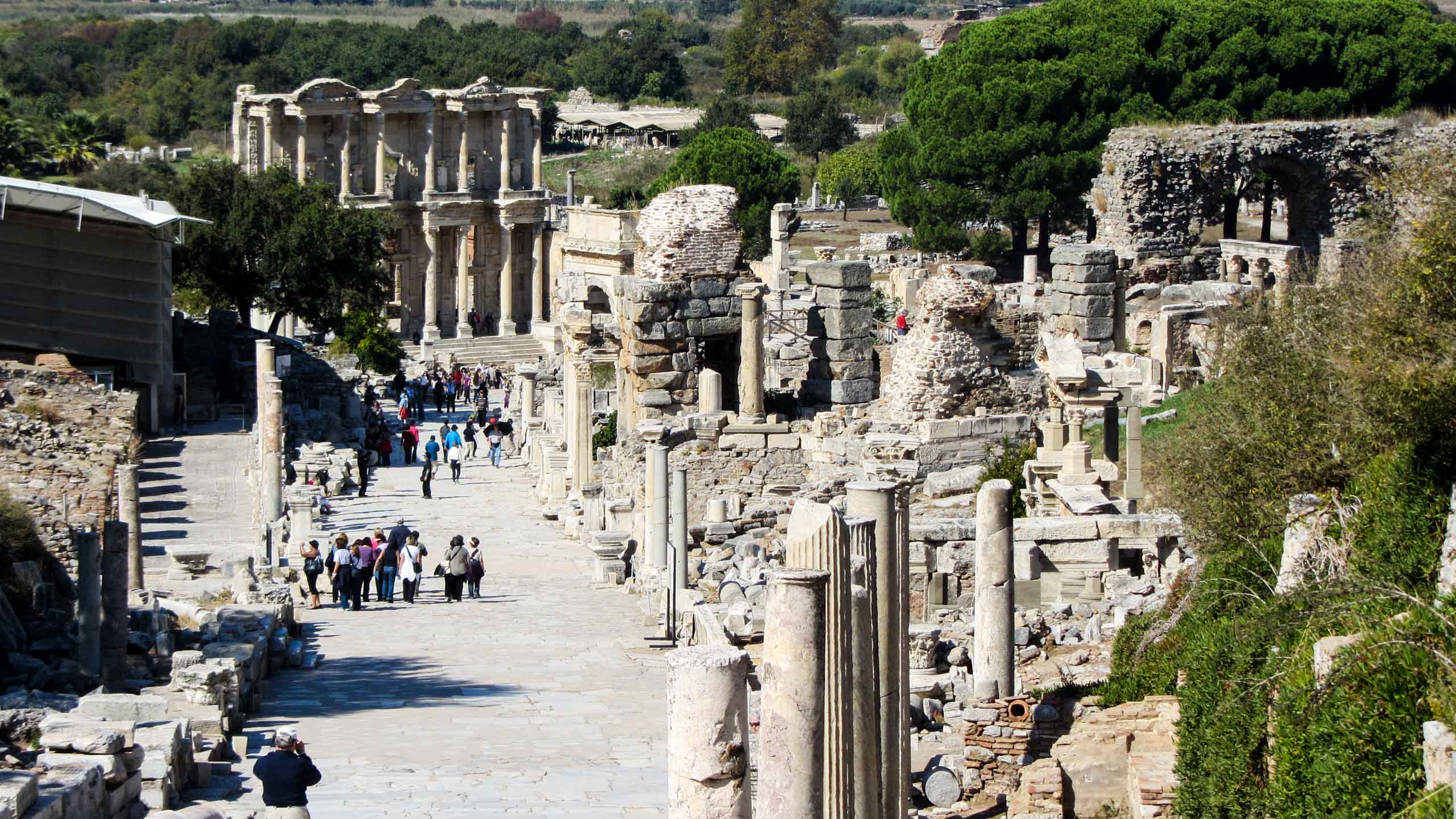 Explore Turkey's buzzing bazaars, pristine coastline, rural villages and fairy-tale Cappadocian landscapes.  Immerse yourself in historic and cosmopolitan Istanbul. Enjoy the attractions that have drawn travelers here for millenia. Begin with Istanbul and the Bosphorus, continue to  Fethiye and Oludeniz, exploring small islands of the Mediterranean while staying aboard a traditional gulet. Visit the Roman ruins at Ephesus, the mountain towns of Sirince and Gokcealan, the spa town of Pamukkale, and Konya and the whirling dervishes. Behold the amazing region of Cappadocia with its otherworldly rock formations, cave churches, and the ancient underground city of Kaymakli. While touring, be sure to schedule time for a hammam (Turkish bath) treatment, sample the sweets and the spices, listen for the atmospheric calls to prayer, and find at least one opportunity to relax at a sidewalk cafe with cay (tea) and nargileh (water pipe), or a Turkish coffee and some pistachio baklava.
Great For
Seeing It All
Historic Ruins
Varied Landscapes
We've been to 48 countries, and it's hard to see how our Journeys Turkey trip could have been improved. It was OUTSTANDING. The guide and driver took care of everything in a timely and thoughtful way. Hotels were exceptional, interesting and intriguing. Cappadocia, Aphrodesias, the Toros mountains… all spectacular! Beyond the Bosphorus, April 2012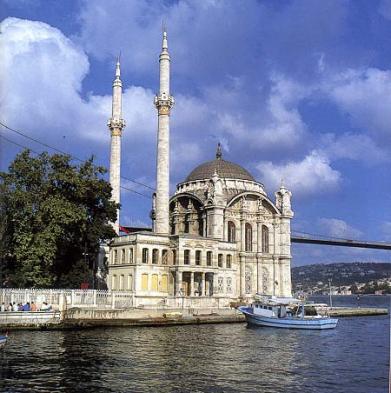 Upon arrival at Istanbul Airport, you will be met and escorted to your hotel. Stay overnight in Istanbul in a lovely small boutique hotel.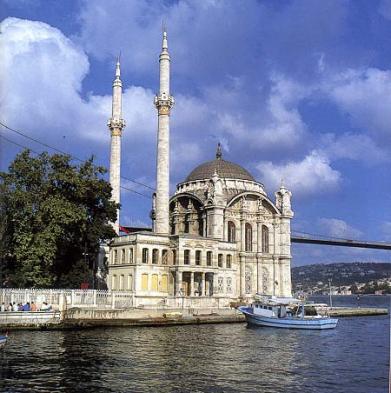 Lodging
Amiral Palace or similar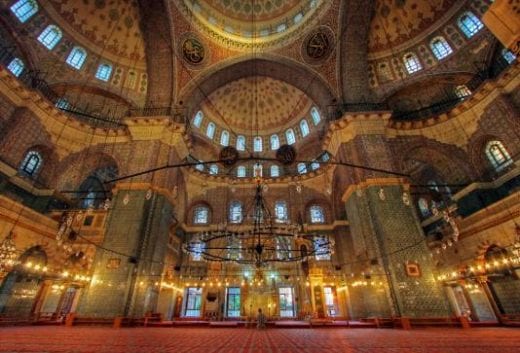 After a post-breakfast hotel pick-up, your journey begins in Istanbul, the only city in the world situated on two continents. Byzantium, Constantinople, Istanbul — its three names span more than 2,600 years, nearly 1,600 of them as the capital of two of the greatest empires the world has known, the Byzantine and Ottoman. We visit the Topkapi Palace, Hagia Sophia, the Blue Mosque, and the Hippodrome, where chariot races and the Byzantine riots took place.  Later, visit the Grand Bazaar, a centuries-old fascinating warren of more than 4,000 (!) small shops filled with intriguing sights and scents, for shopping.  Although a good spot for travelers, it's also a flourishing hub for locals as well as import/export businesses.  Overnight in Istanbul.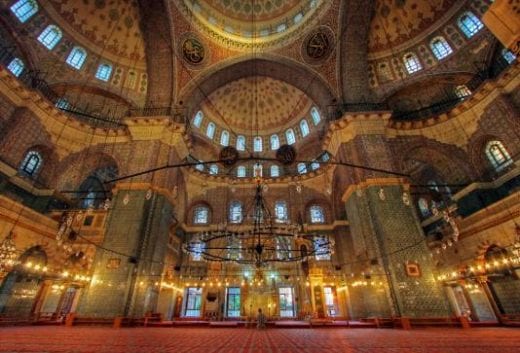 Lodging
Amiral Palace or similar
C
Day 3
Istanbul / Bosphorus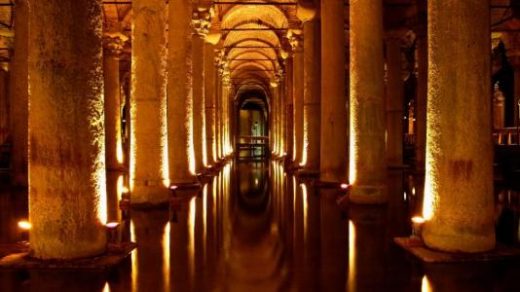 Embark on the second day of exploring Istanbul, where today you'll investigate the intriguing watery depths of the 6th-century Basilica Cistern. Afterward, you'll have some free time in the Spice Bazaar (also known as the Egyptian Bazaar) with its domed and vaulted shops selling spices and herbs, a real treat that will engage all the senses.
Later, head to the pier for a public ferry cruise on the Bosphorus.  Start the trip at the Golden Horn and sail along the waterway separating two continents, Asia and Europe, with marble palaces, old wooden villas of Ottoman architecture, and modern residential mansions along the way.  Stop in Sariyer district, an interesting blend of old and modern, and visit Ortakoy, more of a local destination. Ortakoy, once literally "the village in the middle" on the European side of the Bosphorus, is now among Istanbul's most eclectic, arty neighborhoods, with unusual boutiques, atmospheric cafes, cozy bistros, and great people watching.  Afterward, return to your hotel for your overnight in Istanbul.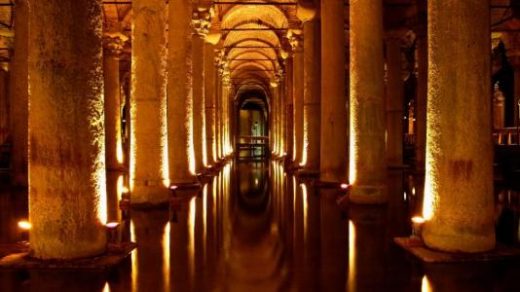 Lodging
Amiral Palace or similar
D
Day 4
Istanbul / Dalaman / Fethiye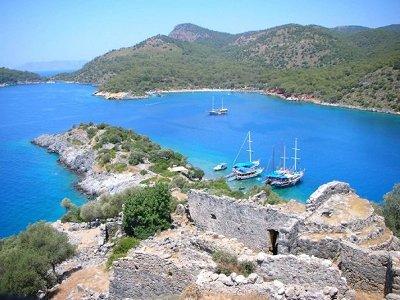 After breakfast, transfer to Istanbul Airport for an hour and 20 minute flight to Dalaman and a short drive to Fethiye, where you'll meet your gulet, home for the next three nights, and depart in the late morning.
Traveling by gulet (traditional two-masted wooden sailing vessel) is an evocative and relaxing way to experience Turkey's western Mediterranean coast.  After setting sail from Fethiye, there are opportunities to swim at Turunc Bay or Karacaoren before lunch is served, then the afternoon is spent sailing along the coast.  The gulet will moor for the night at St. Nicholas Island with its remains of an old settlement and its ancient church.  Some medieval sources claim that Nikolaos of Myra, known as Saint Nicolas (Santa Claus), lived here for some time; one of the island's churches has frescoes dedicated to him.  Watching the sunset on St. Nicholas Island offers a lovely end to a perfect day.
Enjoy a quiet evening on board.  Weather permitting, you may even wish to sleep on a mattress on deck under the stars.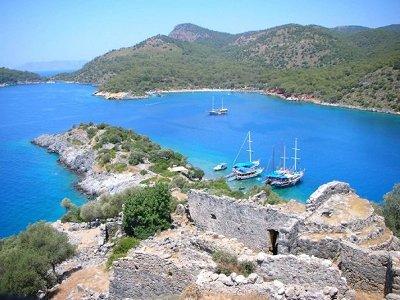 Meals
Breakfast, Lunch, Dinner
Lodging
Onboard a lovely gulet (5 to 8 cabins)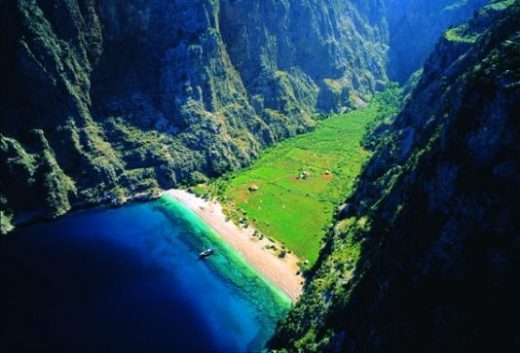 Breakfast is served on deck before continuing the cruise for Butterfly Valley, the Oludeniz area, and then on to Cleopatra's Bay or Merdivenli Bay.  Oludeniz is Turkey's most famous beach with its beautiful blue lagoon. Butterfly Valley, just around the corner, is a conservation area for Jersey Tiger Moth butterflies.  The bays offer scenic, protected anchorage for yachts and gulets.  All of these areas also provide interesting opportunities for hiking verdant valleys and swimming in turquoise waters, whatever you prefer.
The gulet will moor overnight in Sarsala Bay or Tasyaka.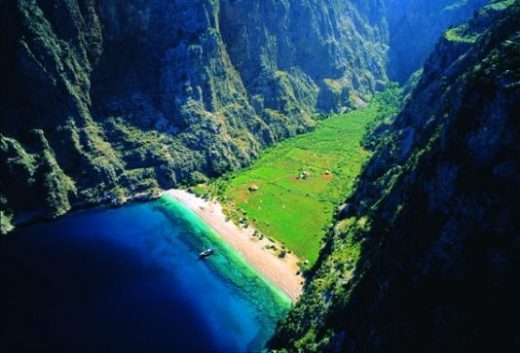 Meals
Breakfast, Lunch, Dinner
Lodging
Onboard a lovely gulet (5 to 8 cabins)
F
Day 6
Yassicalar / Samanlik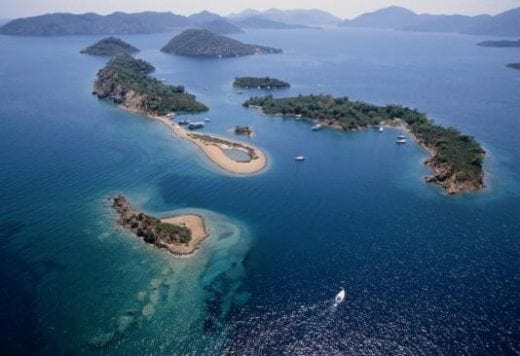 Today we sail to Tersane Island (once used as a ship dockyard during the Ottoman period) to swim, snorkel, or just laze in the sunshine. The island was inhabited in the past as evidenced by its many ruined houses, fruit trees, and goat herds. However, islanders migrated to Rhodes in 1922 after Greece and Turkey agreed to a foreign population exchange. There are also remains of two churches and a tomb that can be explored by the ambitious.
After lunch, sail to Yassicalar (Flat Island), stop at Red Island or Samanlik Bay for a break, then head onward to Fethiye harbor, where you will spend a final night on board before your adventure continues on land.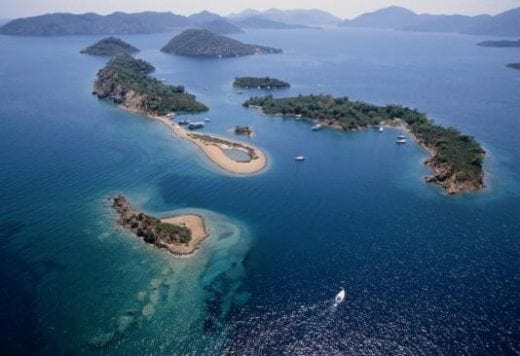 Meals
Breakfast, Lunch, Dinner
Lodging
Onboard a lovely gulet (5 to 8 cabins)
G
Day 7
Fethiye / Sirince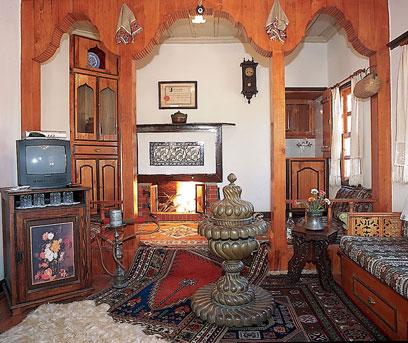 Bid farewell to the gulet and her crew after breakfast, then drive to the Ephesus area, where you will spend two nights in the historic hilltop village of Sirince in a small family-owned boutique hotel.  The late afternoon and evening are yours at leisure.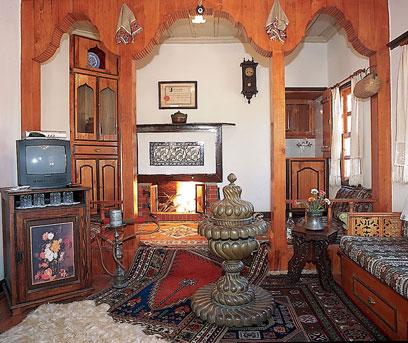 Lodging
Nisanyan Evleri or similar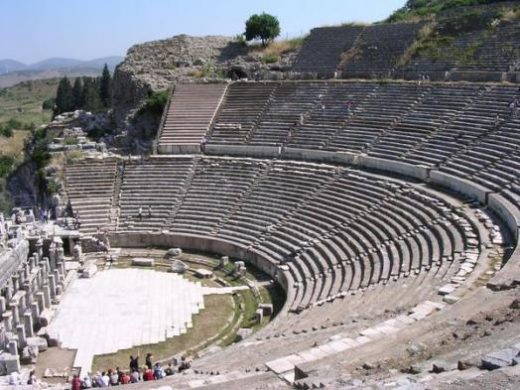 Set off for Ephesus, where you will spend several hours exploring one of the seven wonders of the ancient world.  One of the most splendid cities of its time, Ephesus had a commanding location at the mouth of the Cayster River, making it the foremost commercial city of the region.  As the river gradually changed course and the harbor silted up, Ephesus eventually lost its importance and was abandoned.  The best-preserved classical city on the eastern Mediterranean and among the best places in the world to get a feel for what life was like in Roman times, Ephesus has been under excavation for more than 100 years.  You'll explore around, learn about, and marvel at the stunning ruins, including the Temple of Hadrian, the Library of Celsus, the Sacred Way, the Great Theater, the agora, the Gate of Hercules, and more.
After visiting Ephesus,  stop at nearby Meryemana, by legend — and later affirmed by Pope Paul VI — the house of the Virgin Mary near the end of her life.  The house and its small shrine are visited by religious pilgrims, and the views of Ephesus and the surrounding countryside along the way are wonderful.
Return to your inn at Sirince village, where the remainder of the afternoon and evening are yours at leisure.  You may wish to visit the ruins of the Church of St. John the Baptist to see its frescoes, wander the town's backstreets, see the lovely old houses, and poke your head into shops and homes selling locally-produced olive oil, wines, olive soap, handmade lace, and other finds.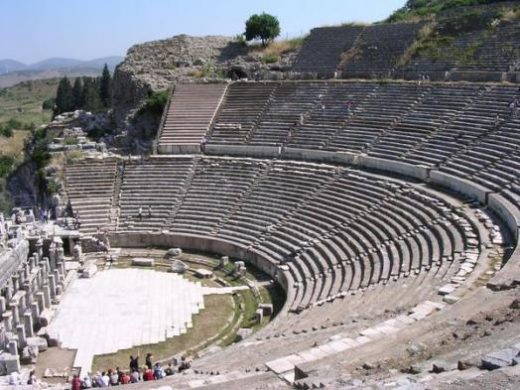 Lodging
Nisanyan Evleri or similar
I
Day 9
Sirince / Halkapinar Village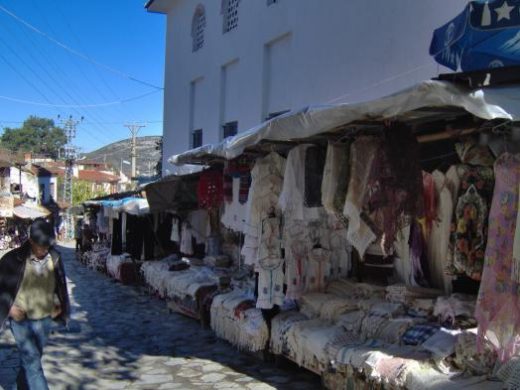 Sirince is famous for its vineyards, fruits, and fruit wines, and today we will spend time exploring village farms together.   Also visit the Soke plain, a rich agricultural land, one of Turkey's largest cotton-growing areas, and also important for wheat and flour, as well as handicrafts, and forestry.
Travel to Halkapinar Village day's end, your base for the next two nights.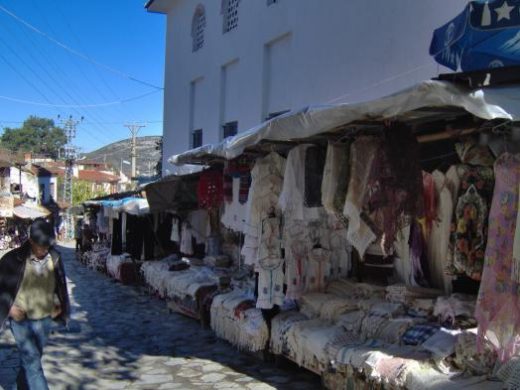 Lodging
In a comfortable Turkish family home
J
Day 10
Halkapinar Village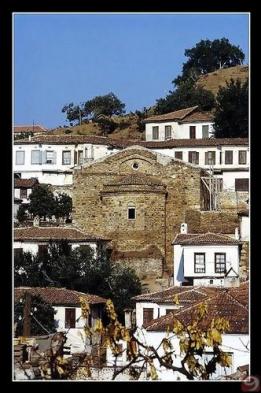 Spend a relaxing day exploring village life in and around famous for its Sultana grapes and hillsides full of citrus, olive, and fig trees, as well as cotton, wheat, and other crops.
Halkapinar Village offers an attractive countryside of lazy charm with a pleasingly warm climate, the scent of oranges, and an impressive backdrop of mountains.  Return to your village hotel for the night.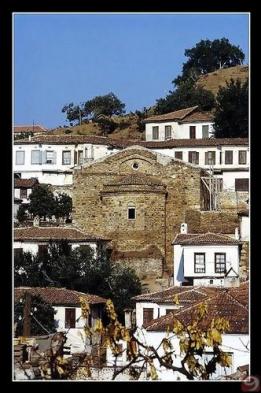 Lodging
In a comfortable Turkish family home
K
Day 11
Halkapinar Village / Pamukkale / Hierapolis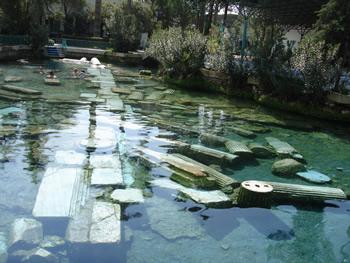 Depart early for a drive to the lovely ancient spa town of Pamukkale, known for the curative powers of its waters as well as fabulous ruins.  Shortly after arriving, visit the ruins of ancient Hierapolis, where life in the early centuries of the modern era is brilliantly preserved.  See the Antique Pool, Temple of Apollo, Hellenistic Theater, Byzantine church, Roman baths, and magnificent necropolis.
After visiting Hierapolis, check-in at your Pamukkale hotel, a thermal hotel where you can enjoy the warm mineral waters and the settlement's sleepy village charm.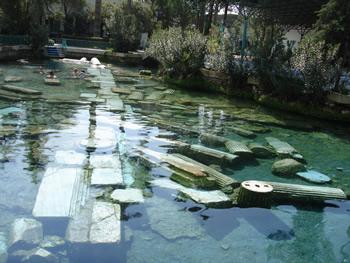 Meals
Breakfast, Lunch, Dinner
Lodging
Pam Thermal Hotel or similar
L
Day 12
Pamukkale / Konya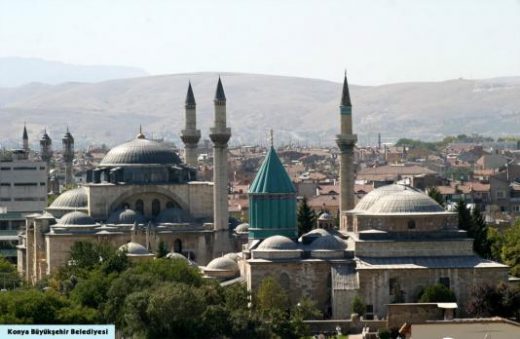 Head out early for Konya.  On arrival, have lunch and then set off to see the sights, including the Mausoleum of Mevlana, the world-wide famous mystic, and Karatay Theological School, known for its beautiful tiles.  Stay overnight in Konya, charming in its juxtaposition of old and new, ancient mosques and market mazes, orders of whirling dervishes and modern tea houses.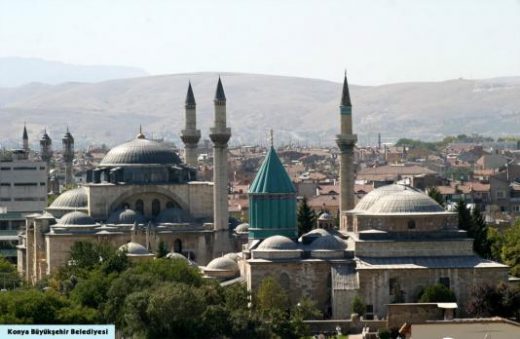 Meals
Breakfast, Lunch, Dinner
Lodging
Bera Mevlana or similar
M
Day 13
Konya / Cappadocia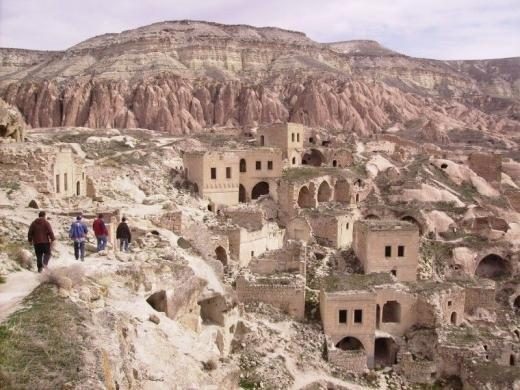 Set off early on a full-day adventure, beginning with a stop at the 13th Century Silk Road Sultanhan Caravanserai.  Afterward, drive to Cappadocia's surreal landscape of mountain-fringed high plateau, craggy mushroom and conic rock formations, and underground cities. Visit Urgup and its Three Sisters Fairy Chimneys in the heart of Cappadocia, then head on to Pigeon Valley in Uchisar, where people have carved pigeon houses and beehive homes into the rock. Afterward, descend into the spectacular 7th century underground city of Kaymakli, one of the largest and the deepest of some 200 ancient underground communities in Cappadocia.
At day's end, check-in at an interesting and atmospheric Cappadocia hotel, your base for the next three nights, and relax for the evening.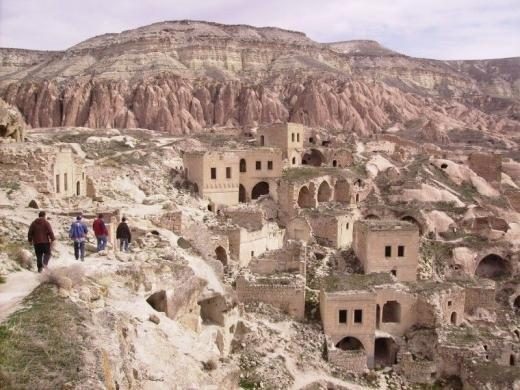 Lodging
Gamirasu Cave Hotel or similar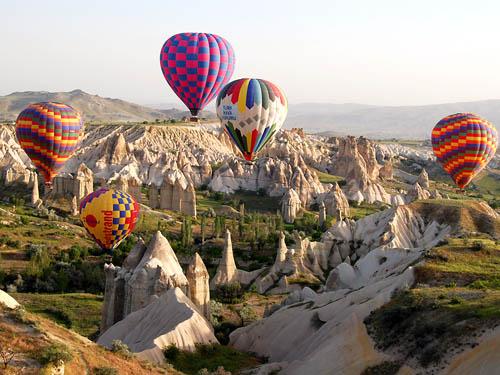 Early this morning you may take an optional hot air balloon ride over the area (additional cost).  Return to your Cappadocia hotel in time for a leisurely breakfast.
Later, drive to Mustafapasa through the tabletop mountains and small villages of Cappadocia.  In  Mustafapasa (known as Sinasos in Greek), there are many spectacular old Greek houses, very fine examples of late Greek settlements, and interesting architecture.
In the afternoon visit the Goreme Open Air Museum to see the world famous cave churches with biblical frescoes from the 11th Century.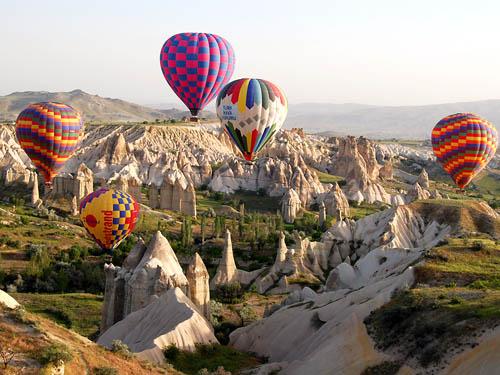 Lodging
Gamirasu Cave Hotel or similar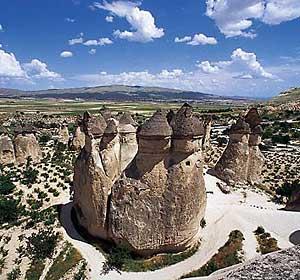 Continue with your relaxing rural break, visiting small communities of friendly people, exploring rock-cut churches and caves, or simply studying rocky valleys from the comfort of the hotel grounds.
Stop for a ~three-mile walk to Cavusin Village through Rose Valley, one of the most attractive valleys of Cappadocia with its fabulous volcanic rock formations and ancient rock-cut hermit churches adorned with frescoes and paintings. Stop at Pasha's Vineyards to view best examples of Fairy Chimneys.
Spend a final night at your hotel in Cappadocia before wrapping up your time in this fine area.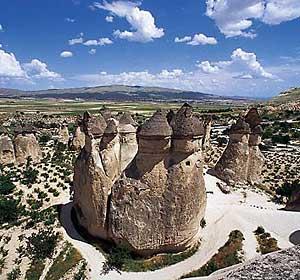 Lodging
Gamirasu Cave Hotel or similar
P
Day 16
Cappadocia / Istanbul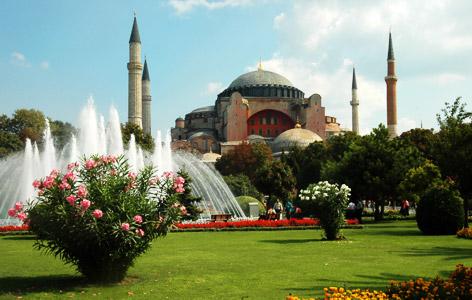 After breakfast, transfer to Kayseri Airport for your flight to Istanbul, where you'll be transferred to your Istanbul hotel on arrival.  If you're up for it, spend one final afternoon and evening exploring this alluring capital that spans two continents.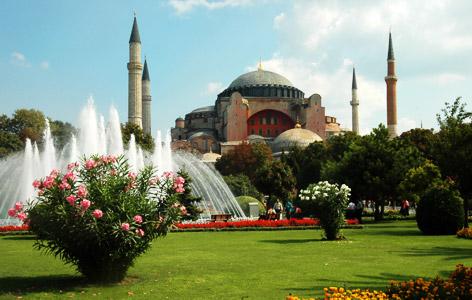 Lodging
Amiral Palace or similar
Q
Day 17
Istanbul / Onward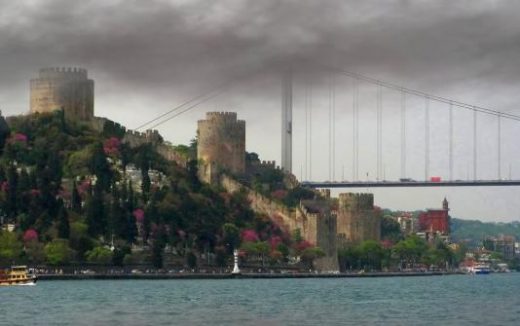 After breakfast, transfer to Istanbul's Ataturk Airport for your international flight.  Or contact us if you haven't had your fill of Turkish delights and allow us to arrange a trip extension designed just for you.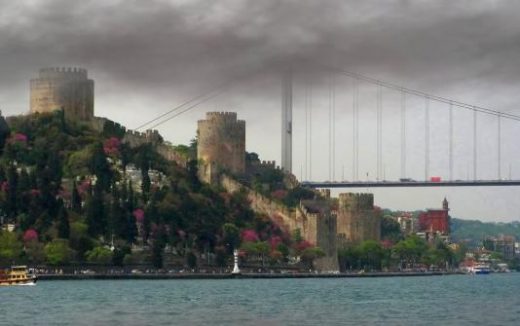 Dates & Price
Best Time of Year to Visit
Explore Turkey's buzzing bazaars, pristine coastline, rural villages and fairy-tale Cappadocian landscapes.  Immerse yourself in historic and cosmopolitan Istanbul. Enjoy the attractions that have drawn travelers here for millenia. Begin with Istanbul and the Bosphorus, continue to  Fethiye and Oludeniz, exploring small islands of the Mediterranean while staying aboard a traditional gulet. Visit the Roman ruins at Ephesus, the mountain towns of Sirince and Gokcealan, the spa town of Pamukkale, and Konya and the whirling dervishes. Behold the amazing region of Cappadocia with its otherworldly rock formations, cave churches, and the ancient underground city of Kaymakli. While touring, be sure to schedule time for a hammam (Turkish bath) treatment, sample the sweets and the spices, listen for the atmospheric calls to prayer, and find at least one opportunity to relax at a sidewalk cafe with cay (tea) and nargileh (water pipe), or a Turkish coffee and some pistachio baklava.
Based on double occupancy.
Includes domestic flights (cost subject to change with airfare changes)
Groups of 8 or more travelers are joined on private gulet (with AC)
Groups of under 8 travelers will join others passengers on gullet (no AC)
Main guide accompanies travelers on gulet with groups of 5 or more
Need to Know
This trip can be booked privately anytime.
Pricing and Payment
Reservations are accepted and confirmed after we receive a non-refundable booking deposit and a Traveler Profile Form signed by each adult on the trip as well as by the guardian for each child on the trip, and if space is available. For most group departures, the booking deposit is $500 per person per trip, though for some trips it may be more, as noted in the trip description.
The minimum booking deposit requirement for custom trips is $800 per person, and this deposit is non-refundable. A trip-planning fee of $250 per itinerary is also charged to cover costs of preparing itinerary proposals for custom trips. This fee is credited to the cost of the trip, but is nonrefundable if you do not take the trip. Custom travel during holiday seasons may require a deposit prior to trip confirmation.
An invoice for the total estimated cost of your itinerary will be sent with your reservation confirmation. For both group departures and custom trips, a second deposit of $1,000 per person is due 120 days prior to departure or at the time of booking for reservations made fewer than 120 days before departure. The balance as shown on your invoice is due 60 days prior to departure regardless of whether extensions or other arrangements are pending. Although we do our best to avoid increasing prices after we receive your deposit, in some cases it may be necessary to adjust pricing even after we receive payment to allow for changes in group size, rooming status, currency exchange rate fluctuations, fuel surcharges and other circumstances attendant to international travel. Late payments may jeopardize confirmation of your itinerary and in some cases may result in additional fees. If we have not received final payment 30 days prior to departure your reservation may be canceled and subject to our Cancellation & Refund Policy stated below.
We accept payments by Visa, MasterCard, American Express, or check drawn on a U.S. bank account. Payment for airfare is required at the time of ticketing. Discounts that may be available for some trips are not available toward bookings made through travel agencies.
Late Signups
Early reservations are encouraged! Some trips and flights fill several months before departure. We can confirm your space on a trip once we receive your deposit and signed Reservation Form. We try, but cannot guarantee, to accept late signups. In the event that we are able to accept reservations fewer than 60 days before a trip departure, additional fees of $500 or more may apply to cover administrative costs necessary to expedite your reservation confirmation and transmit your departure materials. For reservations made fewer than 60 days before departure, full payment will be due at the time of booking.
Itinerary Changes
We understand that circumstances arise that lead you to inquire about changes to your itinerary, and aim to satisfy your requests. Once activities and accommodations have been confirmed, there will be a $50 change fee, in addition to the difference in costs for the services booked. When changes are requested within one week of departure, the change fee is $100. For changes requested after a trip has begun, the change fee is $200.
Cancellations & Refunds
If you must cancel before departure, you may request a refund according to the following schedule. Some trips require additional non-refundable payments as noted in the trip description or in the trip itinerary.
| Days Prior to Departure | Cancellation Penalty |
| --- | --- |
| 90 or more | Non-refundable booking deposit and trip planning fee, if applicable |
| 45-89 | 30% of total land costs |
| 31-44 | 75% of total land costs |
| 0-30 | 100% of total land costs |
Please note: cancellation of airfare, other transit, and lodging is subject to the policies of the individual carriers or providers and are not included in the schedule above. Additional cancellation fees are the responsibility of the traveler. We strongly recommend that all travelers purchase travel insurance that includes coverage for trip cancellation or interruption which may reimburse you for cancellation penalties and extra trip expenses should a circumstance covered by the policy force you to cancel or interrupt your trip.
Departure is defined as the date on which travelers will leave their home state, province or city, or the trip departure date as indicated on the trip itinerary, whichever comes first. Cancellation date will be considered the date that we receive written notification of your intent to cancel.
Payments due at the time of cancellation remain the responsibility of the client. No partial refunds are possible for unused hotel rooms, air or land travel, trekking days, or other sight-seeing arrangements included in the land cost.
In the event Journeys International cancels a trip, for any reason, all money for services described in the trip description, less airline ticket cancellation fees, will be refunded.
Air Fares
We can help you to secure air travel arrangements to correspond with land travel booked through Journeys International. We work with an airfare consolidator to assist in booking the flights that suit your needs. Journeys International may charge a ticketing fee for this service. For group departures, if you prefer to fly on dates other than those listed as trip dates, or if you arrive at your destination other than at the group arrival time, then you may incur an additional fee to cover the separate transfer, contingency, and coordination costs which frequently arise from arrival and departure on flights different from our regular bookings. We will let you know about these fees ahead of time, if they apply. If you must change your air routing after ticketing, there is a charge of $50 per change, in addition to change or cancellation charges levied by the airline.
If you decide to make your own flight arrangements, you must provide Journeys International with a complete copy of your itinerary showing departure and arrival flights and times. You should plan to arrange your own air travel if you are using mileage credit or originating outside North America, but please be in touch with our office before you finalize ticketing so that we can help you to coordinate the correct arrival and departure dates and times.
Transfers Between Trips
You may transfer between some trips upon written request. More than 90 days before departure, the deposit transfer fee is $100 per person plus any cancellation fees charged by hotels or ground service providers. Less than 90 days before departure, full cancellation penalties from the original trip apply. In the event that Journeys International cancels a trip, you may transfer the full amount of your land payments to another trip without penalty.
Expenses Covered
Normally, our stated land costs include the cost of all guides, leaders, permits obtained after arrival, lodging accommodations, food and entry fees as specified, and all surface transportation associated with the planned itinerary. We do our best to avoid increasing prices after receipt of your deposit, but, rarely, factors beyond our control might require us to change our prices without prior notice, even after you have signed up.
Expenses Not Covered
Costs not included in the price may include: meals not indicated as included in itineraries; meals prior to arrival in starting cities; transfers, if not arriving or departing on the scheduled group flights; soft drinks, bottled water, and alcoholic beverages; medical expenses, costs of hospitalization, or evacuation from remote areas; laundry; airport departure taxes not included on your airline ticket; accommodations en route to starting cities; visas; airfares; gratuities; and insurance.
If a trip must be extended or an itinerary modified due to weather, road conditions, labor interruption, lack of transportation, political or civil disputes, medical emergency, or other causes beyond our control, then the traveler may incur additional costs that are not included in the trip price. We strongly recommend that all travelers obtain travel insurance to cover these risks.
Group-Sized Pricing & Group Minimums
Many trips are guaranteed to depart at prices published on our website with as few as two participants. However, in some cases it is necessary to adjust prices to reflect smaller group sizes. We do everything we can to make a trip operate as planned even with a single participant. Additional costs for small groups amounts vary from trip to trip. Final decision to cancel a trip due to insufficient signups is made 30 days prior to departure.
Environmental Stewardship
Journeys International believes that we have a responsibility to protect the earth for future generations of travelers. International tourism may be responsible for up to eight percent of annual worldwide emissions of greenhouse gasses. Journeys International advocates that adventure travelers who make environmentally-conscious choices when selecting their destinations and activities should also make the environmentally-conscious choice to offset the carbon footprint of their travel to compensate for their personal contributions to global climate change. Every Journeys International trip invoice includes an optional donation to the Earth Preservation Fund's carbon offset program to be used to purchase and permanently retire certified carbon credits to offset the carbon footprints of Journeys' travelers.  The Earth Preservation Fund purchases carbon credits that have been certified under a reliable third-party standard. Travelers who choose to make this donation will receive a receipt for 501(c)3 tax deduction. There is no penalty for opting out of this donation.
Pre-Departure Services
We look forward to working with you! After we receive your deposit we will send you a pre-departure information packet containing things like medical and immunization information, visa and other permit forms, a recommendation for travel insurance, packing checklist, reading list, cross-cultural information, and an initial invoice for the balance due. If you would like, we can also book your extended land travel arrangements for before and after your trip. About 2-3 weeks before departure, we will send you a final departure packet including last minute reminders and local contact information for your destination. We send some of our materials by mail, so if you are leaving home before the scheduled trip departure date, please let us know how we can best reach you so that you will receive your materials prior to your departure.
Please call our office at any time if you have questions about your trip or for additional information.
Lodging Accommodations
Lodging accommodations are usually double occupancy in hotel rooms, tents, or other facilities as described or noted in trip itineraries. Please contact our office to discuss pricing and availability of alternative accommodations. We try to honor specific requests for lodging, but in some cases we may have to book and confirm equivalent standard accommodations. If you are traveling alone but would prefer a roommate, then let us know! We are often able to match solo travelers. If a roommate is not available or if you prefer single accommodation, then you must pay the Single Supplement, if one applies. On some trips, it is not possible to guarantee single accommodations.
Fitness to Travel
Good physical and mental health are essential for the enjoyment of Journeys International's trips. In many cases participants travel in rugged areas remote from modern medical facilities. Good physical conditioning is recommended as preparation for all trips, especially those involving trekking. Most trips require some walking. By paying the booking deposit and signing the Reservation Form, the traveler certifies that he/she is fit for rigorous travel and does not have any physical, mental, or other condition that would create a hazard for him/herself or other travelers. It is essential that any participant with a medical condition requiring regular treatment or which may be affected by vigorous activity, prolonged travel, high altitude, heat, cold, natural phenomena, or particular foods, notify Journeys International in writing prior to booking.
We assume no responsibility for medical care and we cannot guarantee meeting special dietary requirements or vegetarian needs. Participants may be required to furnish a physician's statement of good health. Journeys International's or the individual trip leader's or guide's judgment shall provide the ultimate determination of an individual's fitness to embark upon, or to continue, a trip. Journeys International reserves the right to refuse reservations or deny participation prior to departure of anyone whom it deems unsuitable for a trip. Once a trip has been confirmed, medical circumstances will not be considered as exceptions to our cancellation policy. All participants must be covered by a current major medical insurance policy for the duration of their trip. Proof of such coverage may be requested.
Duration
17 Days
The number of days, or duration, in a destination corresponds with the itinerary as published. This is the time period covered by the land cost.
Group Size
2 - 12
The stated range indicates minimum required for guaranteed departure and maximum accepted on the scheduled dates. Exceptions can often be made for private departures.
Comfort Level
Superior
Comfortable and delightful hotels and gulet
Activity Level
Match the trip's intensity to your ability and motivation.
Gentle
Easy walking, with opportunities for low-key physical activity.
Active
Energetic exploration with optional day hikes, leisurely cycling, or light canoeing.
Vigorous
Day-long active excursions and options for demanding activity in varied environments.
Challenging
Strenuous hiking or other intense activity that may be at high altitude or over rough terrain.
Demanding
Multi-day trekking and other activities requiring endurance or strength. Steep trails. No technical expertise necessary.
Comfort Level
Choose accommodations and amenities that fit your personal style
Simple
Our most natural accommodations. Bath facilities often shared, sometimes rustic.
Delightful
Comfortable and especially personal. Small to mid-sized lodges, typically with private bath.
Superior
Lodges and hotels with additional amenities, refined artistry, or extra-special settings.
Deluxe
Exclusive or luxury lodges, hotels, or safari camps with fine dining options.
Uncommon
The most indulgent accommodations arranged specially for private trips.
Single Supplement
The single supplement is applicable if a roommate is not available or if single accommodation is specifically requested. While single accommodation is not available on all trips, we will try and honor this request whenever possible.