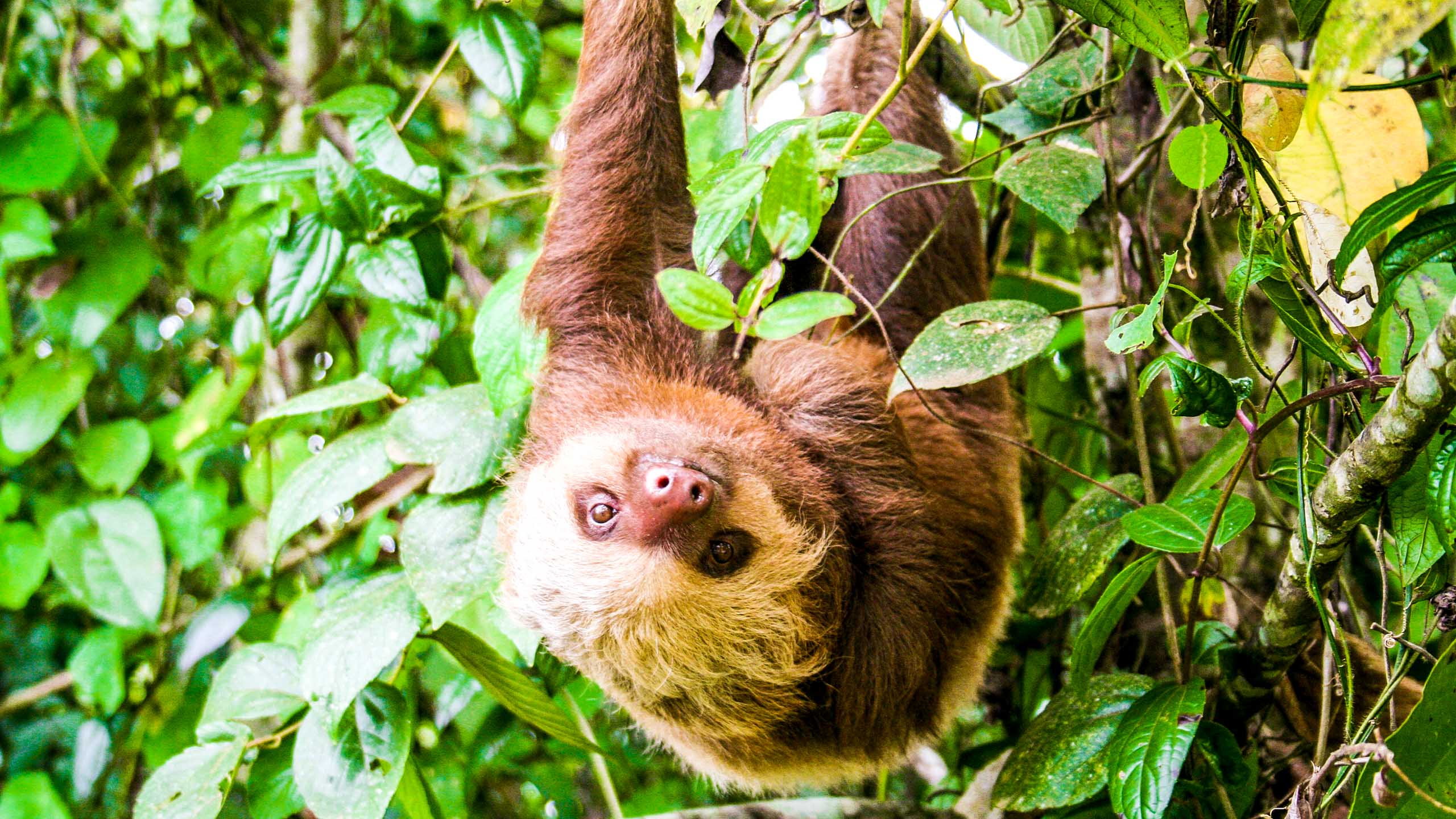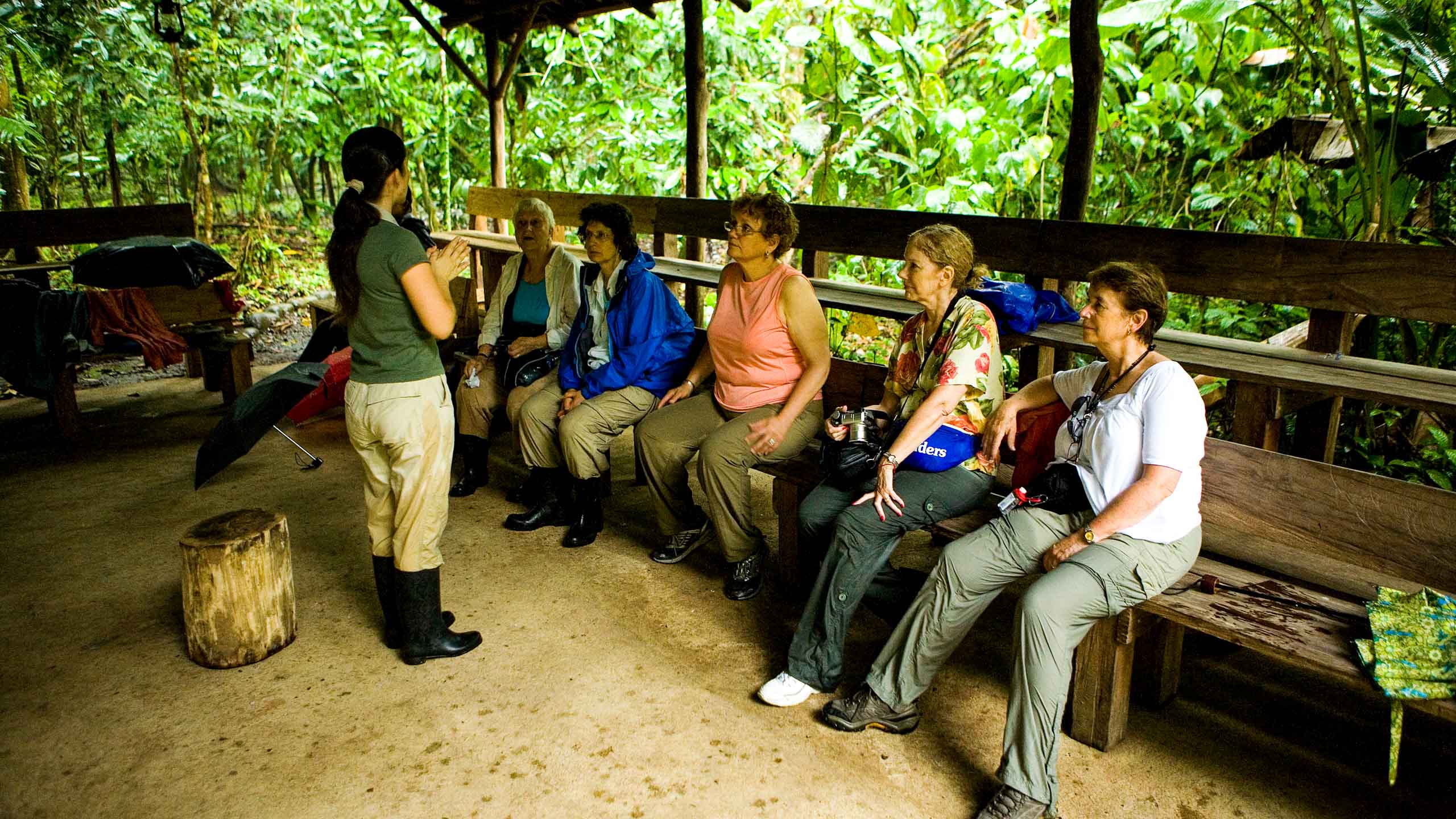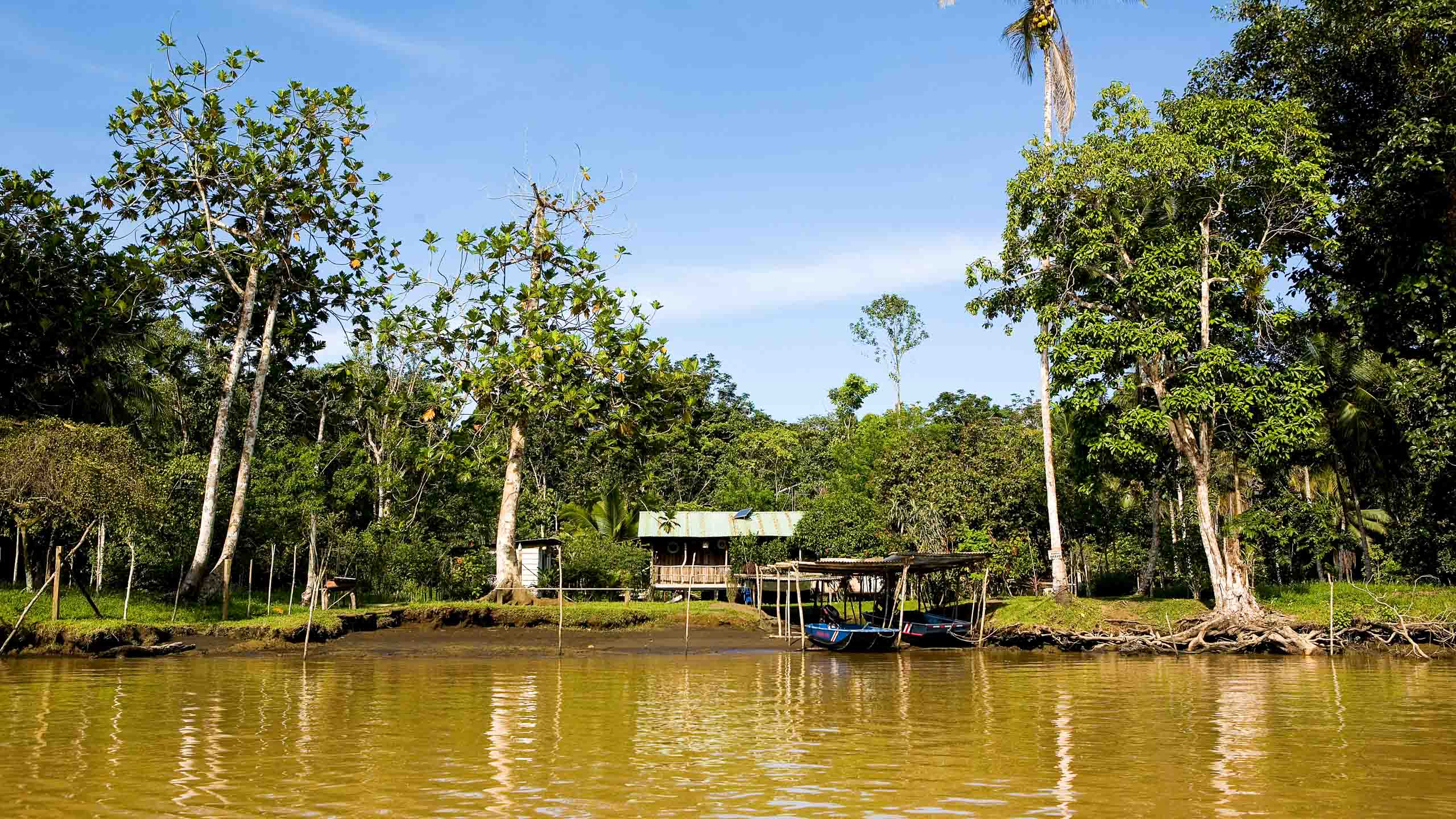 Northern Escape for the Wildly Curious
The little known sites to explore on your second trip to Costa Rica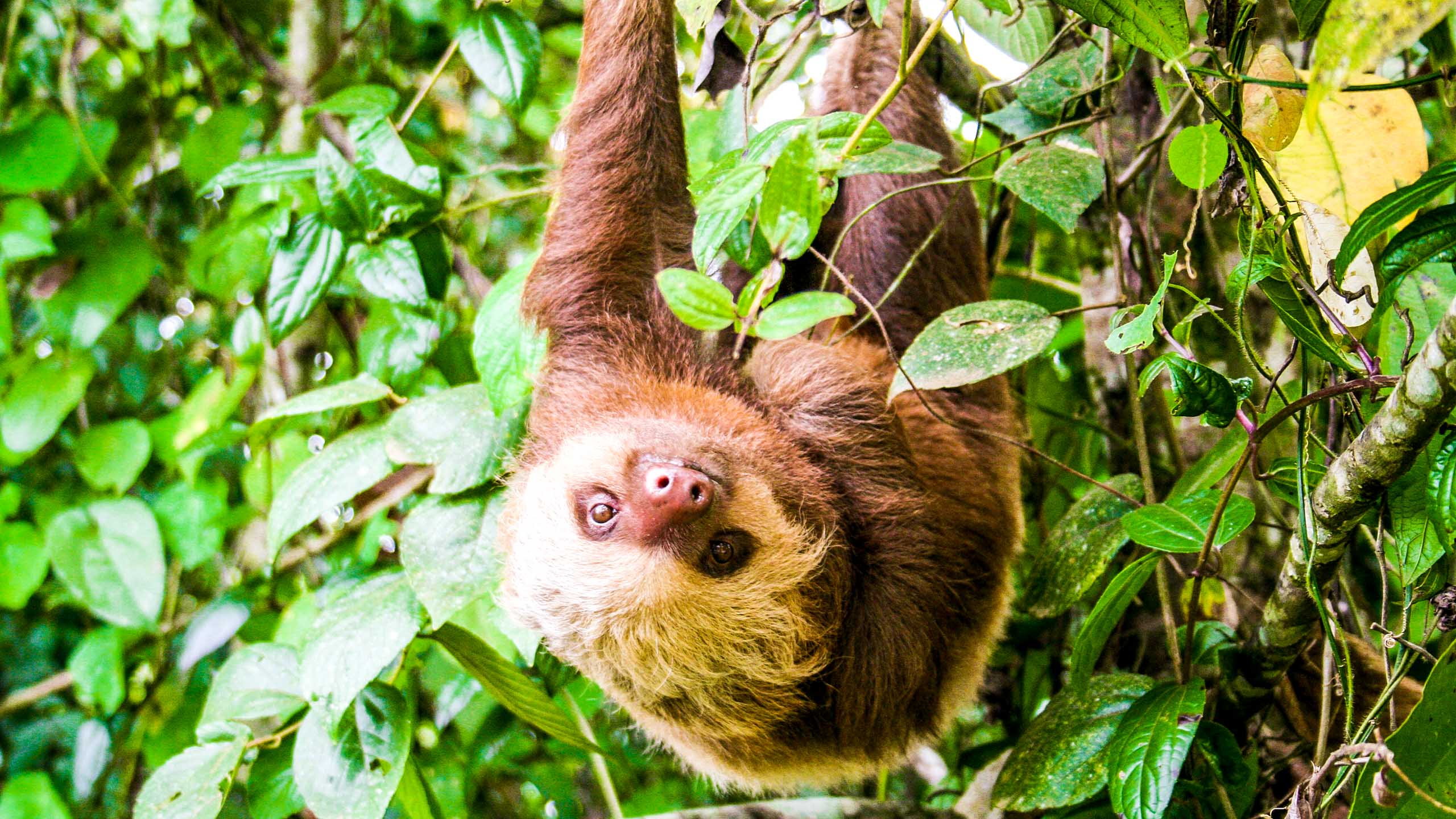 Avoid the traffic and mass tourist circuit on this imaginative nature-focused itinerary to spectacular ecological sanctuaries of northern Costa Rica. Arrive and depart from Liberia on the Pacific slope and travel to the Rincon de la Vieja Volcano National Park on the Caribbean watershed. Explore the volcanic features of this lesser-known natural area as well as Palo Verde National Park and the Tempisque River noted for amazing wildlife concentrations. Hike in the cloud forest of Monteverde and conclude your stay with two nights at Punta Islita and the picturesque Pacific Beaches of Samara and Carillo.
A
Day 1
Arrive Liberia/Borinquen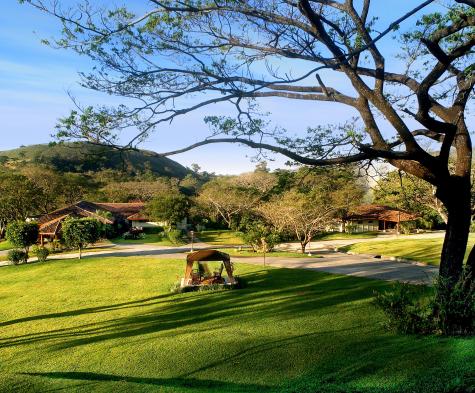 Arrive in Liberia. Meet your guide and depart for the one hour drive to the Borinquen Resort in the Rincon de La Vieja area.  Overnight at Boriquen Resort.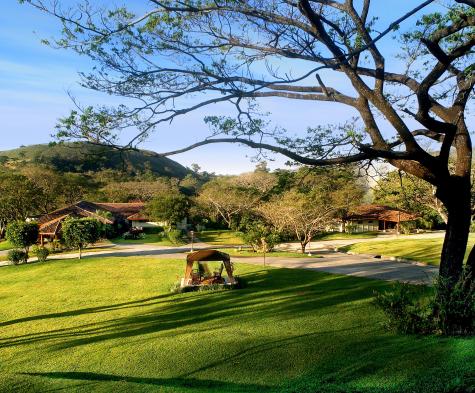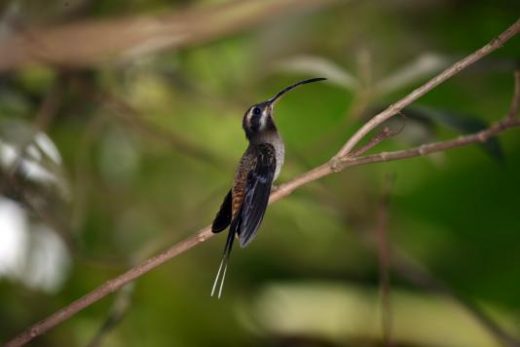 Today you will drive approximately 1.5 hours to the Penjamo Blue River Reserve. This is a private reserve located at the base of Rincon de la Vieja Volcano National Park within the Caribbean watershed. Hike through the rainforest where you'll have a chance to see foothill birds that are difficult to see elsewhere.  Visit the Rio Penjamo, a river made blue by the leaching of minerals through the river bed and sculpted by cascading waterfalls and natural waterslides.  You'll see first-hand the point source of the blue color, and have plenty of opportunities for a relaxing soak or swim in the natural pools. Overnight at Borinquen Resort.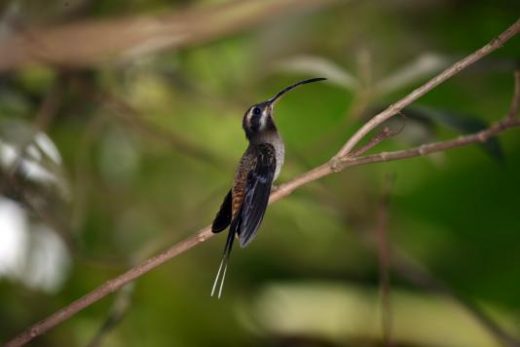 Meals
Breakfast, Lunch, Dinner
C
Day 3
Borinquen/Monteverde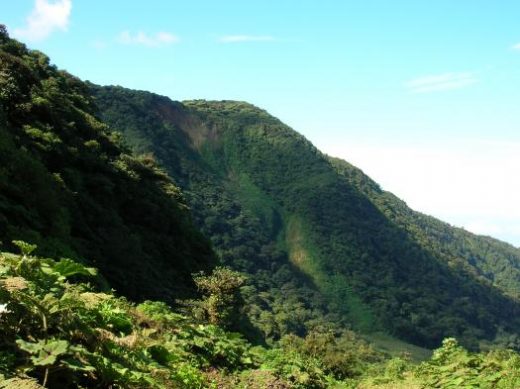 After breakfast, depart for the approximately 4-hour drive to Monteverde, with a visit to the Rincon de la Vieja National Park en route.  This volcanically active area has numerous steaming fumaroles, detectable at a distance by the rising steam clouds seen through the trees and the odor of sulfur nearby.  Numerous rivers in the region have geothermically heated acidic waters and in one section natural mud pots ("Las Pailas") boil and burble.  Eat lunch before continuing on to Monteverde. Overnight at Fonda Vela.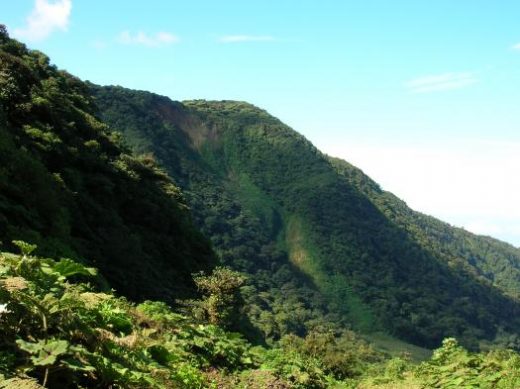 Meals
Breakfast, Lunch, Dinner
Lodging
Trapp Family Lodge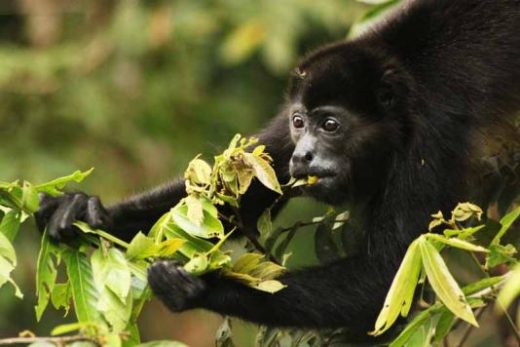 In the morning, you'll go on an exciting and interesting zipline tour of the Monteverde canopy, with opportunities to learn more about the area and to see birds and other wildlife. Your guide will also provide interesting history on the plants and human activity in the region.
After lunch, enjoy a guided visit to the Monteverde Cloud Forest Reserve. Located in the Tilaran Mountain Range of Puntarenas Province, the Reserve is one of the premier natural history destinations in Costa Rica. Later in the afternoon, the forest may be cool and misty from low cloud cover, so bring a light jacket for your walk.
The forest consists of lush, verdant vegetation containing understory palms, majestic canopy trees, arching "ropy" lianas, bizarre "strangler" fig trees, and epiphytes — small plants that grow on the trees. Outstanding among the epiphytes are orchids — although most are small and high in the tree canopy, more orchid species (>500!) are found in Monteverde for its size than any other place yet known. As you walk through the forest, you may encounter a variety of wildlife. Frequently-sighted mammals include white-faced capuchin and howler monkeys, white-nosed coatis, two-toed sloths, kinkajous, and agoutis. Of the 400 bird species found in or nearby the reserve, outstanding species you may see include the legendary crimson and iridescent-green Resplendent Quetzal (which spends about half the year in the area during its breeding season from February or March to July). The wonderful songs of many of these birds will accompany you as you travel through the forest.
Later in the evening, take a night hike with a renowned Monteverde Naturalist through the forested 237-acre Curi-Cancha Reserve.  Approximately 50% of the reserve is fully recovered forest, 45% consists of secondary forest and the remaining 5% is open areas.  At Curi-Cancha, you will have the opportunity to see the Cloud Forest and a transitional Pre-Montane Wet Forest. You will surely spot lots of wildlife!  Overnight at Fonda Vela.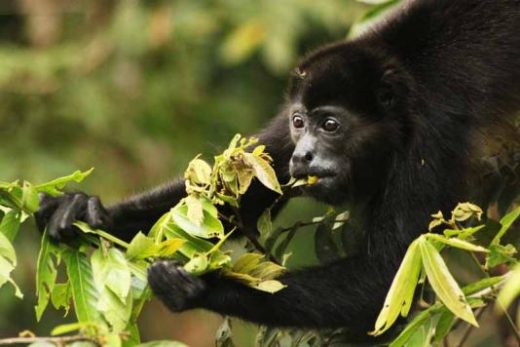 Meals
Breakfast, Lunch, Dinner
Lodging
Trapp Family Lodge
E
Day 5
Monteverde / Punta Islita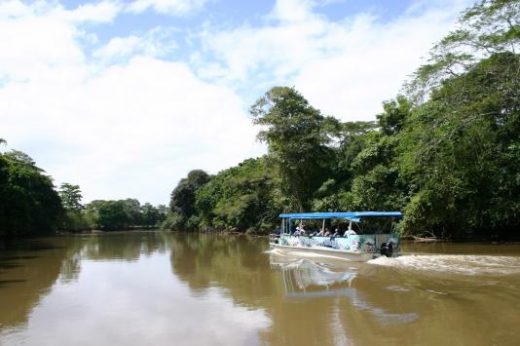 After breakfast depart for the 4-hour drive to Punta Islita. Along the way, we can stop for a safari boat tour at Bebedero River.
Enjoy a riverboat tour bordering Palo Verde National Park, a wildlife refuge located between the Tempisque and Bebedero rivers, where you can find the biggest area of wetlands in Costa Rica. This rich ecosystem combines rivers, marshland, mangroves and dry forest supporting wildlife such as huge crocodiles, groups of monkeys, and several bird species.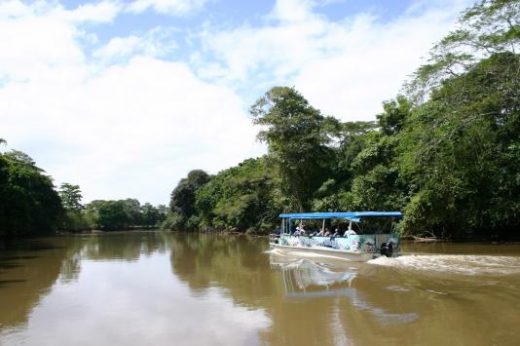 Meals
Breakfast, Lunch, Dinner
Lodging
Hotel Punta Islita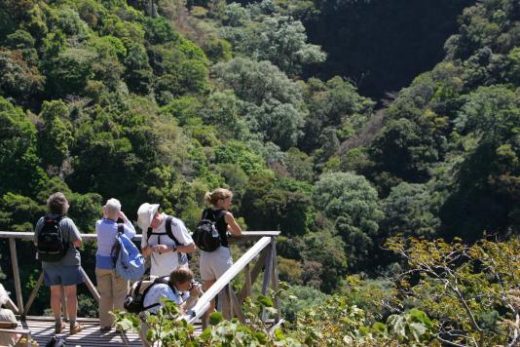 Spend two full days at Punta Islita, each day you'll have the opportunity to join in the varies activities of the lodge. You'll also have the opportunity to visit Islita Art Museum, take a cooking class, tour the area on horseback, do some hiking, or visit the nearby Samara and Carrillo beaches for just relaxing. Overnight at Hotel Punta Islita.
Note: This a great place to meet locals from the village. Activities can be arranged locally.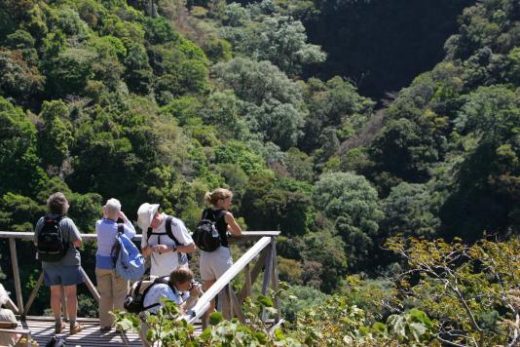 Meals
Breakfast, Lunch, Dinner
Lodging
Hotel Punta Islita
G
Day 8
Punta Islita/Liberia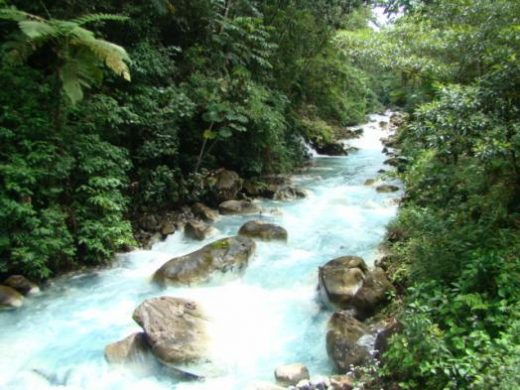 Transfer to Liberia International airport (2 hour drive). So long, Costa Rica!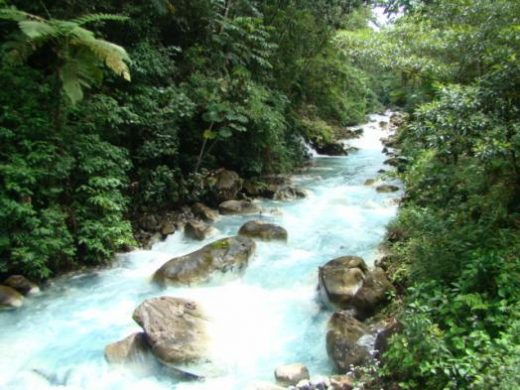 Dates & Price
Best Time of Year to Visit
Avoid the traffic and mass tourist circuit on this imaginative nature-focused itinerary to spectacular ecological sanctuaries of northern Costa Rica. Arrive and depart from Liberia on the Pacific slope and travel to the Rincon de la Vieja Volcano National Park on the Caribbean watershed. Explore the volcanic features of this lesser-known natural area as well as Palo Verde National Park and the Tempisque River noted for amazing wildlife concentrations. Hike in the cloud forest of Monteverde and conclude your stay with two nights at Punta Islita and the picturesque Pacific Beaches of Samara and Carillo.
Holiday surcharges apply.
The cost quoted is the Land Cost and is subject to change. This covers accommodations, transfers, activities, touring, guide services and meals as described in Journeys' Trip Notes. The quoted Land Cost will apply when group size falls in the specified range and when travel is on the indicated dates.
Need to Know
We are happy to have you participate in a Journeys International program!
Please read these terms and conditions thoroughly. They contain information that will be important to your planning and guide how we will handle any circumstances that may change in the midst of planning or while a program is underway. If after reading our materials and talking with our staff you decide to participate in a Journeys International program, please send us your deposit along with your completed Reservation Form and Explorer Information Forms. Important: Your booking is only complete once we receive your deposit, completed Reservation Form, and completed Explorer Information Form, and once we have confirmed that space is available.
Pricing and Payment
We will confirm your reservations once we receive a non-refundable booking deposit, a Reservation Form signed by each person responsible for payment, and an Explorer Information Form signed by each participating adult or the guardian for each participating child, and if space is available. Custom programs during holiday seasons may require a deposit prior to confirmation. The deposit contributes to non-recoverable costs of holding space and servicing your booking through the stages of preparation, execution, and follow-up and cannot be refunded if you choose to cancel.
We charge an additional planning fee of $250 per program for preparing customized proposals. This fee may be credited to your total cost upon booking, but it is non-refundable if you choose not to finalize your reservation.
Prices are stated in U.S. Dollars, based on double room occupancy, unless otherwise noted. We will send an invoice for your total estimated cost when we send your reservation confirmation. The balance as shown on your invoice is due 60 days prior to your program start date regardless of whether any arrangements are still pending. Although we do our best to avoid increasing prices after we receive your deposit, in some cases it may be necessary to adjust pricing after we receive payment to allow for changes in group size, rooming status, currency exchange rate fluctuations, fuel surcharges and/or other circumstances attendant to the challenges of adventure.
Late payments may jeopardize confirmation of your program participation and in some cases may result in additional fees. If we have not received final payment 30 days prior to departure, then your reservation may be canceled subject to our Cancellation & Refund Policy stated below.
Payment for airfare is required at the time of ticketing. Discounts that may be available are not available toward bookings made through third-party travel agencies, advisors, or planners.
We accept payments by Visa, MasterCard, American Express, or check drawn on a U.S. bank account. Paying by credit card offers you certain consumer protections, including the ability to initiate a chargeback if you believe we have committed consumer fraud. You may not use credit card chargeback as an alternative to compliance with your agreement with these terms and conditions.
Late Signups
Early reservations are encouraged! Some programs and flights fill several months in advance. We can confirm your space once we receive your deposit and signed Reservation and Explorer Information Forms. We try, but cannot guarantee, to accept late signups. In the event that we are able to accept reservations fewer than 60 days before a program's start date, additional fees may apply to cover administrative costs necessary to expedite your reservation confirmation and transmit your program materials. For reservations made fewer than 60 days in advance of your program's start, full payment is due at the time of booking.
Program Changes
We understand that circumstances arise that lead you to inquire about changes to your custom program, and we aim to satisfy your requests. Once activities and accommodations have been confirmed, we charge a $50 change fee, in addition to the difference in costs for the services booked. When changes are requested less than one week before your program's start, the change fee is $100. For changes requested after a program has begun, the change fee is $200.
Journeys International reserves the right to change or reprice any program due to acts of insurrection, strikes, weather, road conditions, acts of God or government, or any other force majeure or cause beyond the company's control. Journeys International cannot guarantee conformity with the provided program plan at any point in time. Among other things, if necessary Journeys International may change the scheduled dates of a program; omit or alter sections of the plan; substitute lodgings, leaders, or conveyances; or change meals, activities, or waypoints; all without notice and without allowance for refunds and with participants bearing the responsibility for increased costs, if any. Should this become necessary, Journeys International will not be liable for extra costs that participants may incur as a result of changes, including but not limited to flight change fees, additional meal costs, or additional accommodations. We strongly recommend that participants purchase Travel Protection Plans, or travel insurance, adequate to cover such costs.
Cancellations & Refunds
If you must cancel before your program begins, please notify Journeys International in writing by emailing info@journeysinternational.com or writing to your adventure specialist directly. You may request a refund according to the following schedule. Some programs require additional non-refundable payments beyond this schedule, as noted in the program description. In the case of cancellation, such amounts are withheld in addition to the amounts listed here.
| Days Prior to Departure | Cancellation Penalty |
| --- | --- |
| 61 or more | Non-refundable booking deposit and planning fee, if applicable |
| 31-60 | Non-refundable booking deposit and planning fee, if applicable, plus 50% of total land costs above amount of initial deposit |
| 0-30 | 100% of total land costs |
Please note: cancellation of airfare, other transit, lodging, and ticketed tours and activities is subject to the policies of the individual carriers or providers and is not included in the schedule above. Additional cancellation fees are the responsibility of the traveler. We strongly recommend that all participants purchase Travel Protection Plans, or travel insurance, that includes coverage for trip cancellation or interruption and that may reimburse you for cancellation penalties and extra expenses should a circumstance force you to cancel or interrupt your participation.
Departure is defined as the date on which travelers will leave their home state, province or city, or the program start date as indicated on the program description, whichever comes first. Cancellation date will be considered the date that we receive written notification of your intent to cancel according to the local time observed in Ann Arbor, Michigan, USA.
Payments due at the time of cancellation remain the responsibility of the participant. No partial refunds are possible for unused hotel rooms, air or land travel, program days, or other sight-seeing arrangements included in the land cost.
If Journeys International cancels or postpones a program before the program starts for reasons completely within its discretion, such as but not limited to insufficient group size, all money for services described in the program description will be refunded in the form of credit towards a future program with Journeys in the same location originally planned, less unrecoverable fees and penalties already paid to airlines, accommodations, or other service providers, or the client may submit a written request for a refund to the original form of payment. If a program's cancellation is necessary due to acts of insurrection, strikes, weather, road conditions, acts of God or government, or any other force majeure or cause beyond the company's control, credits and refunds will be issued according to the standard cancellation schedule, less unrecoverable fees and penalties already paid to airlines, accommodations, or other service providers, without regard to whether client or company initiates cancellation or postponement. Once a program begins, there are no refunds for unused goods or services.
Air Fares
We can help you to secure air travel arrangements for Journeys International programs. We work with an airfare consolidator to assist in booking the flights that suit your needs. Journeys International and/or the airfare consolidator may charge a ticketing fee for this service. For group programs, if you prefer to fly on dates other than those listed as program dates, or if you arrive at your destination other than at the group arrival time, then you may incur additional fees to cover the separate transfer, contingency, and coordination costs which frequently arise from arrival and departure on flights different from our regular bookings. We will let you know about these fees ahead of time, if they apply. If you must change your air routing after ticketing, there is a charge of $50 per change, in addition to change or cancellation charges levied by the airline.
If you decide to make your own flight arrangements, you must provide Journeys International with a complete copy of your itinerary showing departure and arrival flights and times. You should plan to arrange your own air travel if you are using mileage credit or originating outside North America, but please be in touch with our office before you finalize ticketing so that we may help you to coordinate the correct arrival and departure dates and times. If you arrange your own flights, we can book ground transfers to meet you on arrival in your destination if you wish, and you agree to pay additional costs, as applicable.
Transfers Between Programs
You may transfer between some programs upon written request. More than 60 days before your program start date, the deposit transfer fee is $100 per person plus any cancellation fees charged by airlines, hotels, or ground service providers. 60 days or fewer before the program start date, full cancellation penalties from the original program apply. In the event that Journeys International cancels a program, you may transfer the full amount of your payments to another program without penalty, subject to availability.
Expenses Covered
Normally, our stated total costs include the costs of all guides, leaders, facilities, permits obtained after arrival, lodging accommodations, costs of described activities, food as specified, and all surface transportation associated with the activities described in the itinerary. We do our best to avoid increasing prices after receipt of your deposit, but factors beyond our control might require us to change our prices without prior notice, even after you have signed up.
Expenses Not Covered
Costs not included in the price may include: meals not indicated as included in program descriptions; meals prior to arrival in starting cities; transfers, if not arriving or departing on the scheduled group flights; soft drinks, bottled water, and alcoholic beverages; medical expenses, costs of hospitalization, or evacuation from remote areas; laundry; airport departure taxes not included on your airline ticket; accommodations en route to starting cities; visas; airfares; gratuities; and insurance.
If a program must be modified due to medical emergency, acts of insurrection, strikes, weather, road conditions, acts of God or government, or any other force majeure or cause beyond the company's control, then the participant may incur additional costs that are not included in the program price. We strongly recommend that all participants purchase Travel Protection Plans, or travel insurance, to cover these risks.
Travel Insurance
Journeys International strongly recommends that you purchase a Travel Protection Plan, or travel insurance, sufficient to protect your investment in travel, personal assets and health during your program. Doing so will mitigate a significant amount of financial risk and decrease your need to worry about things beyond your control. We do not require you to purchase such travel insurance; however, we know many travelers who have benefited from purchasing travel insurance because the insurance carrier assumed risks that would otherwise have been the risk of the traveler. Travel Protection Plans often cover things like theft, baggage loss, trip interruption or cancellation, emergency evacuation, emergency medical treatment, flight delay or cancellation, airline or service provider bankruptcy, jury duty, personal or family sickness leading to cancellation, U.S. Department of State Travel Warnings about terrorism issued for the destination, and other risks as described in the insurance policy. In particular, consider the availability of higher-cost "Cancel for Any Reason" and/or "Interrupt for Any Reason" policies that may allow policy-holders to recoup a significant portion of trip costs under a much wider range of circumstances than standard policies may allow; we have seen travelers benefit from this selection when public health crises, personal turmoil, and civil unrest arose in their destinations. Please note that while we at Journeys will do our best to help you to have a pleasant and successful experience, Journeys International assumes no liability for many of the types of losses described above. If you choose not to purchase travel insurance and you suffer a loss, then you will be responsible for the associated costs.
For your convenience, we will provide a recommendation for an insurance carrier that offers competitive rates and has proven reliable, fair, and prompt in responding to claims, but we can offer no guarantee that our recommended carrier will meet your needs and you are welcome to contact any insurance carrier that you prefer. It is important to obtain insurance immediately upon signing up for your program in order for problems arising from pre-existing conditions to be covered.
All participants must be covered by a current major medical insurance policy that covers you while in your travel destination for the duration of your trip. For some individuals or for some destinations, it may be advisable to purchase a supplemental policy. Contact your provider for coverage details.
Group-Sized Pricing & Group Minimums
Many programs are guaranteed to depart at prices published on our website with as few as two participants. In some cases, it may become necessary to increase prices depending on the size of the group. We do everything we can to make a program operate as planned even with a single participant. Additional costs for small groups vary from program to program. When pricing for a group program is based on the number of participants, staff and guests of Journeys International (such as topic experts, journalists, photographers, leaders-in-training, or others) are not included in the numbers counted to determine the price. Final decision to cancel a program due to insufficient signups is made at least 60 days prior to departure.
Lodging Accommodations
Lodging accommodations are usually double occupancy in hotel rooms, tents, or other facilities as described in trip itineraries. Please contact our office to discuss pricing and availability of alternative accommodations, if desired. We try to honor specific requests for lodging, but in some cases, we may have to book and confirm equivalent-standard accommodations. In rare cases it may become necessary to make same-day or out-of-class substitutions.
If you are joining alone for a group program but would prefer a roommate, then let us know! We are often able to match solo participants. If a roommate is not available or if you prefer single accommodation, then you must pay the Single Supplement, if one applies. For some programs it is not possible to guarantee single accommodations.
Assumption of Risk
Throughout any program of Journeys International, certain risks and dangers may arise. These include, but are not limited to, travel by train, foot, automobile, aircraft, raft, boat or other means of conveyance; the hazards of traveling in rough or mountainous terrain; high altitude; undeveloped areas; the forces of nature; civil unrest; terrorism; labor interruption; close proximity to fellow program participants; exposure to illness or virus; and accident or illness in remote areas without means of rapid evacuations or availability of medical supplies and facilities. The unique nature of adventure programs entails inherent risks that may be involved in unique program activities and travel away from home and, in fact, the specific nature of these activities is often a reason for participation. Even if a trip or program is rated "easy" these dangers and risks are present. Journeys International and its agents and operators will have no liability regarding emotional distress, equipment, access to, or adequacy of medical care, evacuation plans, or emergency supplies that may be provided. When you sign the Explorer Information Form, you agree to participate in these activities with full knowledge of the dangers and risks involved and agree to assume all risks, including trauma, sickness, injury, and death.
While Journeys International intends that your experience be safe and comfortable, Journeys does not have legal or operational control or ownership of facilities, staff, services, or transportation providers and acts only as agent for the owners of such facilities, staff, services, and transportation. Journeys International is not responsible for any negligent or willful act or failure to act by any such person or entity, nor for any act or inaction of any third party not under its control.
In consideration of the right to participate in Journeys International programs and the service arranged for you by Journeys International and its agents and representatives, you unconditionally and fully assume all risks of bodily injury, death, emotional trauma, property damage, and/or theft, however caused, including those mentioned above, as a result of participation, and release Journeys International, its agents, and its representatives from any and all liability, actions, causes of actions, suits, debts, demands that you may have, including for bodily injury, death, or property damage, loss of income, and other claims.
Fitness to Join
Good physical and mental health are essential for the enjoyment of Journeys International's programs. It is your responsibility to select/design a trip appropriate to your own abilities and interests. You are responsible for being in sufficiently good health to undertake your trip, and for consulting with your physician for medical advice regarding travel. On some Journeys International programs, participants travel in rugged areas remote from modern medical facilities. Good physical conditioning is recommended as preparation for all programs, especially those involving hiking or trekking. Most programs require some walking. By signing the Explorer Information Form, participants certify that they are fit for rigorous activity and do not have any physical, mental, or other condition that would create a hazard for him/herself or other participants. It is essential that any participant with a medical condition requiring regular treatment or which may be affected by vigorous activity, prolonged travel, high altitude, heat, cold, natural phenomena, or particular foods, notify Journeys International in writing prior to booking. We assume no responsibility for medical care, and we cannot guarantee meeting special dietary requirements or vegetarian needs. Participants may be required to furnish a physician's statement of good health for some programs.
Journeys International's or the individual group leader's or guide's judgment shall provide the ultimate determination of an individual's fitness to embark upon, or to continue, a program. Journeys International reserves the right to refuse reservations or deny participation to anyone whom it deems unsuitable for a program or certain activities. Once a reservation has been confirmed, medical circumstances will not be considered as exceptions to our cancellation policy. All participants must be covered by a current major medical insurance policy for the duration of their participation. Proof of such coverage may be required.
Personal Conduct
You are responsible for acting in a manner considerate and respectful of fellow group members and local culture in areas visited.
You are responsible for reading all health-related information provided in advance of the program, adhering to all guidance given by guides and site staff, and conforming to the established standards of personal hygiene to minimize risk of disease. This may include a requirement to wear a face mask when in proximity to other people, whether indoors or outdoors, or other measures intended to limit the spread of disease; failure to do so when requested may result in your dismissal from the program.
Certain activities included in your program may require specific safety precautions. You are responsible for listening to instructions, adhering to guidance, and following the protocols provided for safety throughout the program. If you are unsure about safety precautions, you are responsible for seeking advice. If guides or staff perceive your behavior as risky, uncooperative, or otherwise unsafe, they may remove you from an activity for the safety of yourself and others.
Smoking or vaping are not permitted in buses, cars, below decks on boats, in tented camps, in designated non-smoking areas, or during guided tours and activities. Participants agree not to consume cannabis for the duration of the program and understand that possession or use of cannabis may be illegal and subject to severe punishment in some destinations. Participants agree to follow all local laws in the jurisdiction(s) where the program takes place and acknowledge that Journeys International cannot be responsible for ensuring participants' compliance nor for any costs or consequences of non-compliance.
Sexual harassment or misconduct of any sort by Journeys program participants is not tolerated. You may not make jokes or sexually suggestive comments or gestures regarding the bodies or bodily activities of fellow participants, program staff, site staff, or any people you encounter during your program. You may not touch fellow participants, program staff, site staff, or any people you encounter during your program unless invited. You may not solicit sexual services during the dates of your participation in a Journeys program.
Environmental Stewardship
Journeys International believes that we have a responsibility to protect the earth for future generations. Tourism may be responsible for up to eight percent of annual worldwide emissions of greenhouse gasses. Journeys International advocates that adventure travelers who make environmentally conscious choices when selecting their destinations and activities should also make the environmentally conscious choice to offset the carbon footprint of their travel to compensate for their personal contributions to global climate change. Every Journeys International invoice includes an optional donation to the Earth Preservation Fund's carbon offset program to be used to purchase and permanently retire certified carbon credits to offset the carbon footprints of Journeys' program participants. The Earth Preservation Fund purchases carbon credits that have been certified under a reliable third-party standard. Participants who choose to make this donation may also be eligible to claim a tax deduction. There is no penalty for opting out of this donation.
Recording
Journeys International may take photographic, audiographic, and videographic recordings during your program, and may use your image and voice for promotional and commercial use without compensation.
Planning & Preparation Services
We look forward to working with you! After we receive your deposit, we will send you a planning packet containing things like medical and immunization information, visa and other permit forms, a recommendation for travel insurance, packing checklist, reading list, cross-cultural information, and an initial invoice for the balance due. About 3 weeks before your program begins, we will send you a final notes packet including last-minute reminders and contact information for your program. You are responsible for reading all information provided, and for bringing all clothing and equipment noted on the packing list. If you are leaving home before the scheduled trip departure date, please let us know how we can best reach you in case any details change in the days immediately prior to your program's start.
Please call our office at any time if you have questions about your trip or for additional information.
Duration
8 Days
The number of days, or duration, in a destination corresponds with the itinerary as published. This is the time period covered by the land cost.
Group Size
2- 6
The stated range indicates minimum required for guaranteed departure and maximum accepted on the scheduled dates. Exceptions can often be made for private departures.
Activity Level
Match the trip's intensity to your ability and motivation.
Gentle
Easy walking, with opportunities for low-key physical activity.
Active
Energetic exploration with optional day hikes, leisurely cycling, or light canoeing.
Vigorous
Day-long active excursions and options for demanding activity in varied environments.
Challenging
Strenuous hiking or other intense activity that may be at high altitude or over rough terrain.
Demanding
Multi-day trekking and other activities requiring endurance or strength. Steep trails. No technical expertise necessary.
Comfort Level
Choose accommodations and amenities that fit your personal style
Simple
Our most natural accommodations. Bath facilities often shared, sometimes rustic.
Delightful
Comfortable and especially personal. Small to mid-sized lodges, typically with private bath.
Superior
Lodges and hotels with additional amenities, refined artistry, or extra-special settings.
Deluxe
Exclusive or luxury lodges, hotels, or safari camps with fine dining options.
Uncommon
The most indulgent accommodations arranged specially for private trips.
Single Supplement
The single supplement is applicable if a roommate is not available or if single accommodation is specifically requested. While single accommodation is not available on all trips, we will try and honor this request whenever possible.