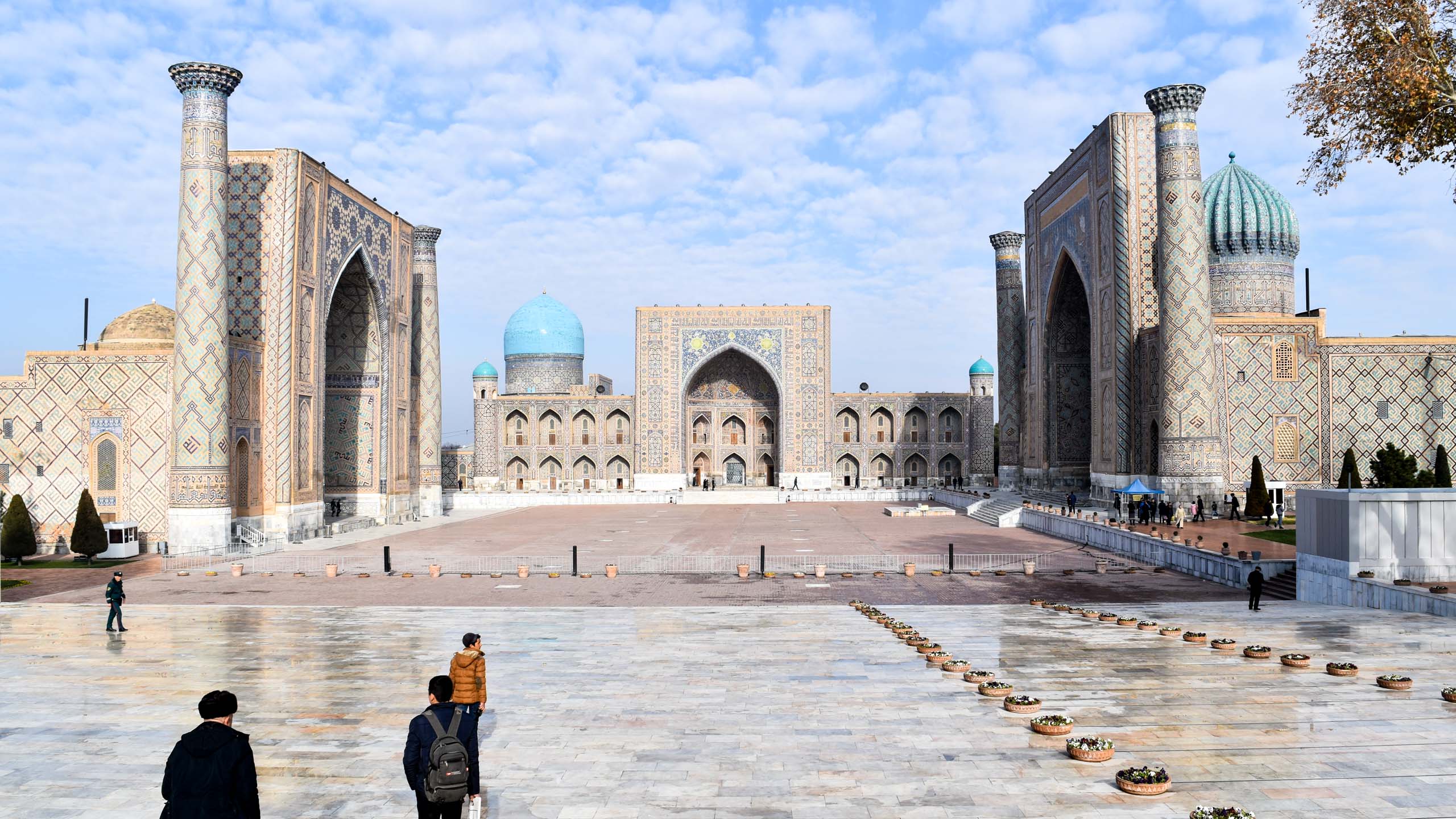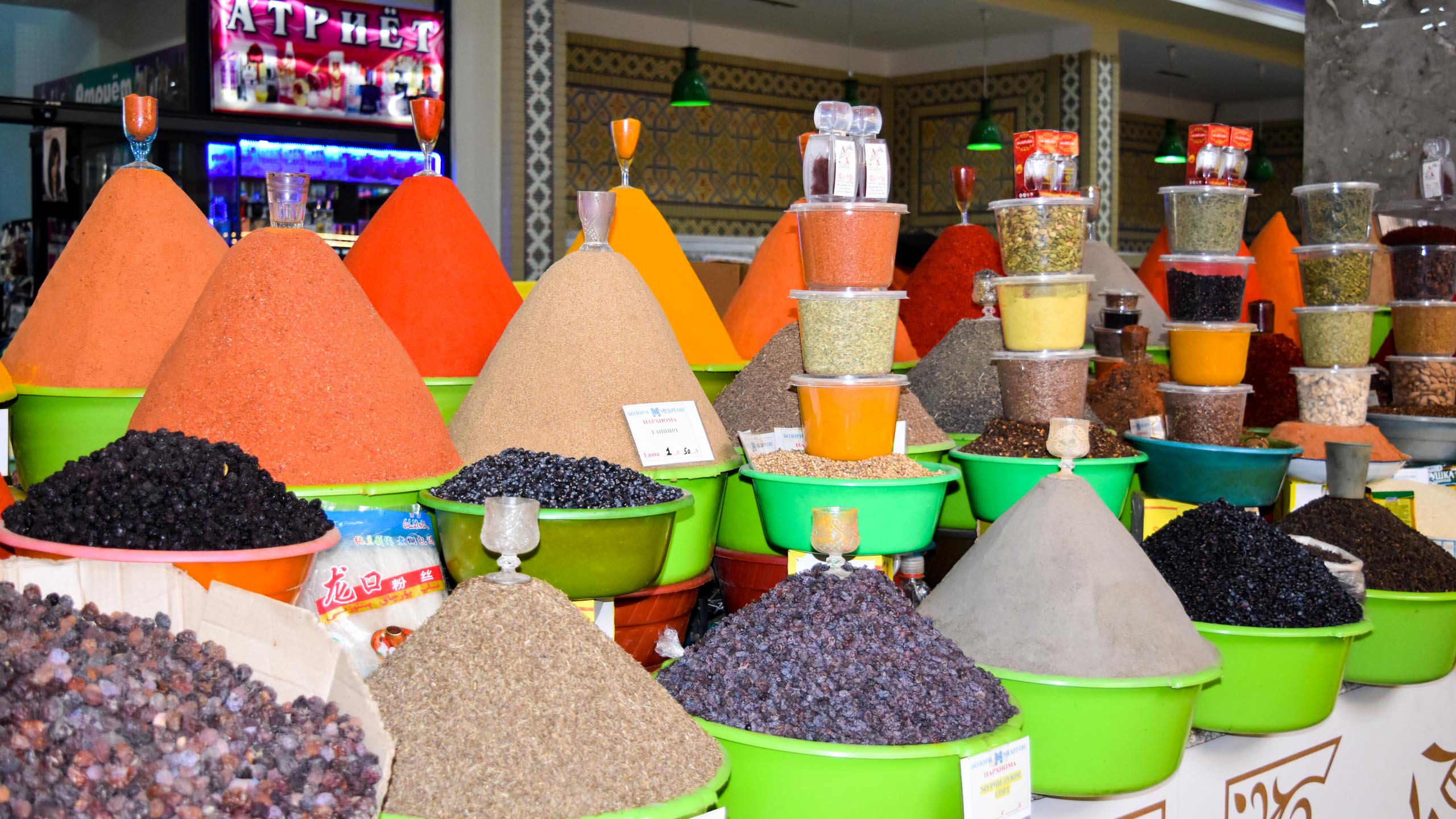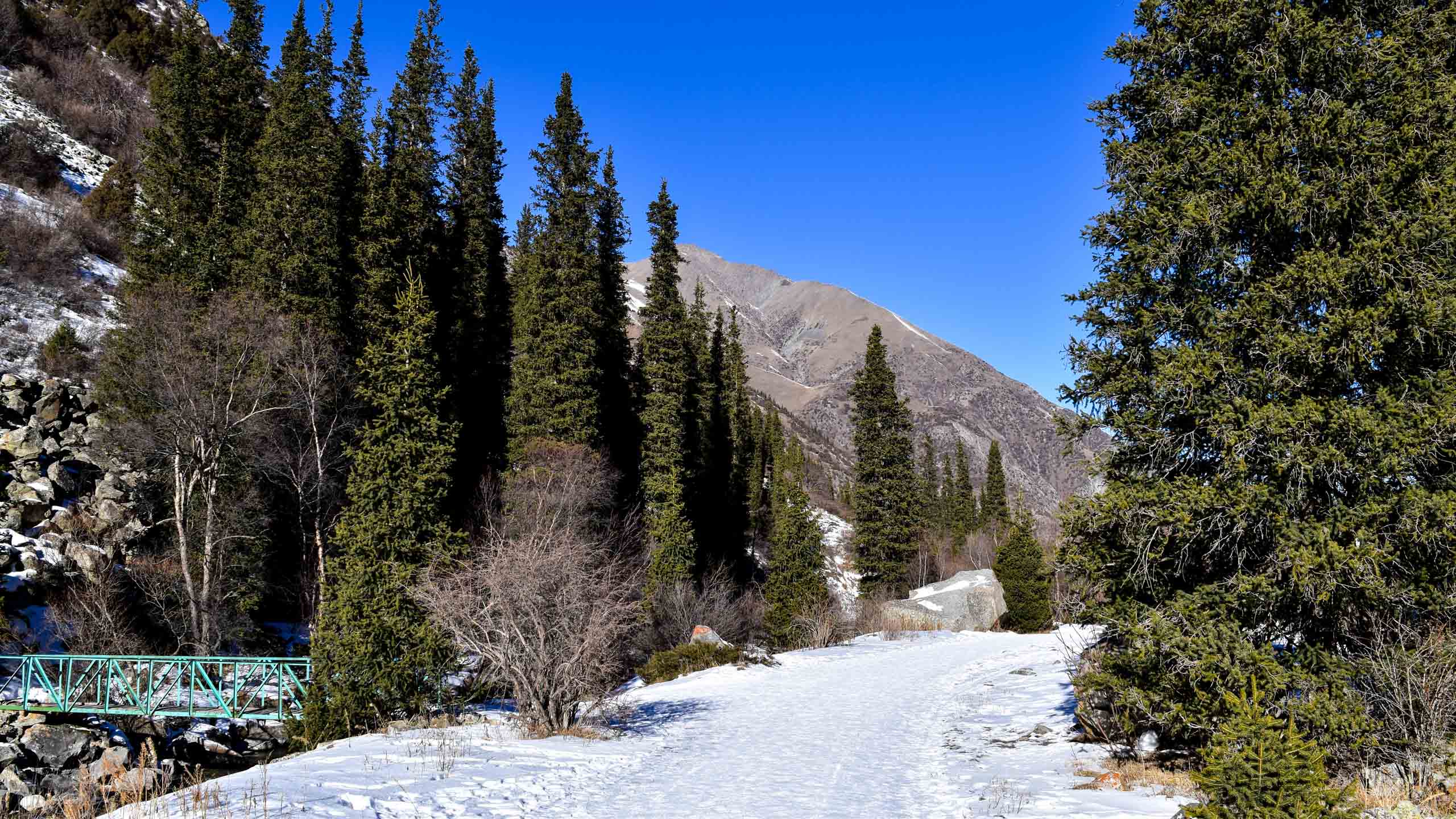 Silk Road through the Stans
Trace the paths of past and present through Uzbekistan, Tajikistan, Kyrgyzstan, and Kazakhstan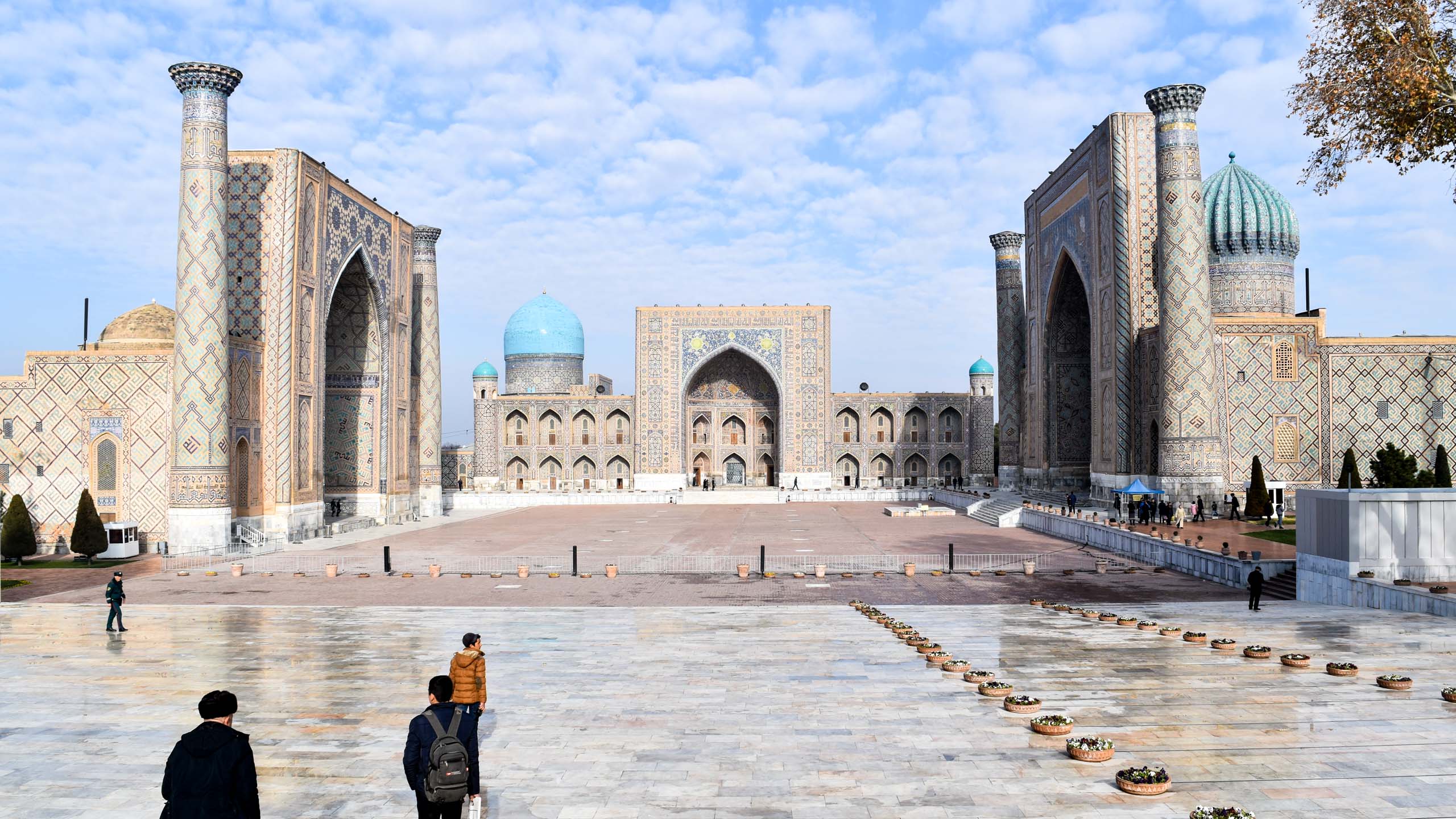 Sample Custom Trip
Join a Group
Discover the wonders, intrigue, and cultures of the 3,000-year-old Silk Route linking Asia to Europe and Africa. Retrace historic caravan paths that will take you through stunning desert landscapes, into alpine mountains, past sparkling lakes, and into the midst of urban, village, and nomadic communities. Historically one of the world's most traveled regions, today few travelers venture here. If you can take the time to experience this full journey, you will gain a unique perspective on an important region with multi-layered beauty to uncover.  Knowledgeable local guides facilitate your border crossings, handle the details of accommodations, and lead in-depth sightseeing throughout the trip.
Note: On this adventure, you should expect long drives, poor road conditions, border delays, and rustic accommodations in some places.
Great For
Rich culture
Deep history
Cross-cultural connection
A
Day 1
Arrive Almaty, Kazakhstan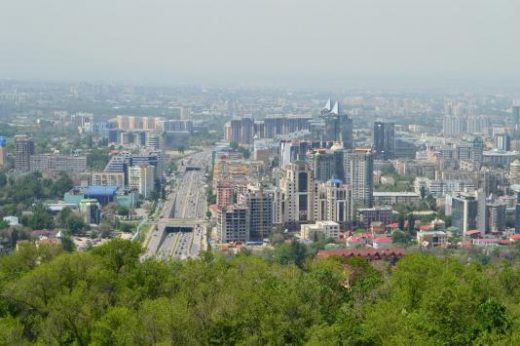 On arrival in Almaty, you will be met and transferred to your hotel. Almaty is the largest as well as the most culturally diverse city in Kazakhstan.
Depending on your arrival time, after you've had a chance to freshen up, you'll head out with your guide for a walking tour to see architecture iconic of Almaty: beautiful wooden Russian buildings such as the Zenkov Cathedral, the ex-assembly House of Czar Officers, and an early 20th century apparel shop. Also visit 28 Panfilov's Guardsmen Park and explore the Green Bazaar.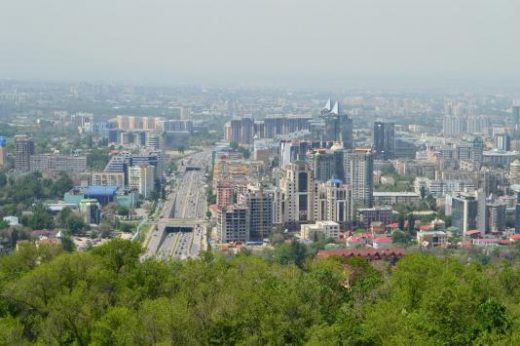 Lodging
Hotel Otrar or Hotel Plaza or similar
B
Day 2
Almaty City Tour & Almaty Lake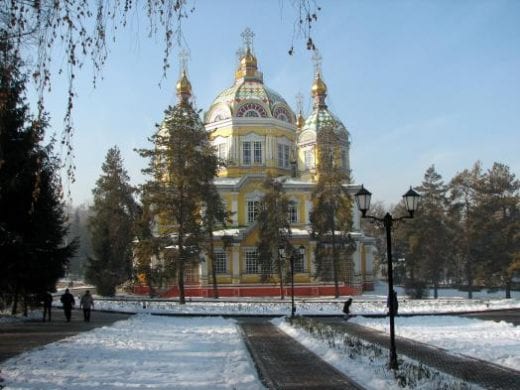 Spend the day getting yourself acquainted with Almaty's history on a city tour beginning with a visit to the National Museum of History. Next, explore the Republic Square and take a cable car ride to Kok Tobe for panoramic views of the city.
This afternoon, head out for an excursion to the picturesque Big Almaty Lake, whose turquoise surface reflects the surrounding peaks like a mirror. Afterwards, visit the Sunkar Bird Refuge to learn about the birds of prey in the area. Sunkar was originally established to protect the Sakar falcon, which was captured and exported to Arabia for big money. The reserve is now home to 15 different species of birds including owls, eagles, lammergeier, vultures, hawks, and falcons. Though most birds at the center are not able to be re-released, there is a breeding program that releases golden eagles and Sakar falcons back into the wild. You'll also see a show performed by some of the birds.
Return to your hotel in Almaty for your overnight.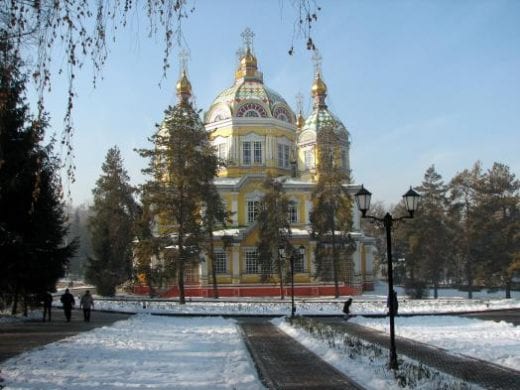 Lodging
Hotel Otrar or similar
C
Day 3
Drive to Karakol, Kyrgyzstan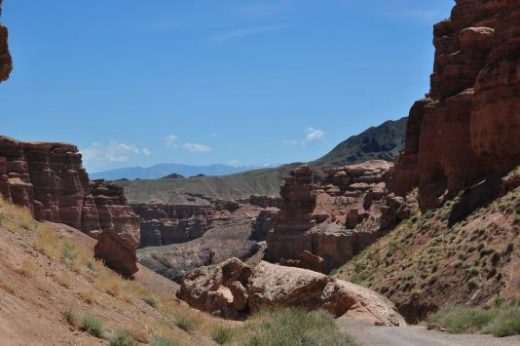 After breakfast, head towards the border to the next country, Kyrgyzstan, first stopping to visit the amazing Charyn Canyon. This canyon is considered to be the younger brother of the Grand Canyon, smaller, but similar in appearance. The dramatic erosion made by the Charyn River has created an impressive landscape. This area is also known as the Valley of Castles due to its peculiar bright red color and rock formations that resemble castles. It's just as spectacular during the day as it is under the starlit skies of the night.
Continue across the border into Kyrgyzstan and proceed with border formalities. Meet your Kyrgyz guide and proceed along the picturesque Karkara Valley, famous for its mountain flowers that attract many bee keepers, to your hotel in Karakol.
Today's total estimated driving time: 250 miles.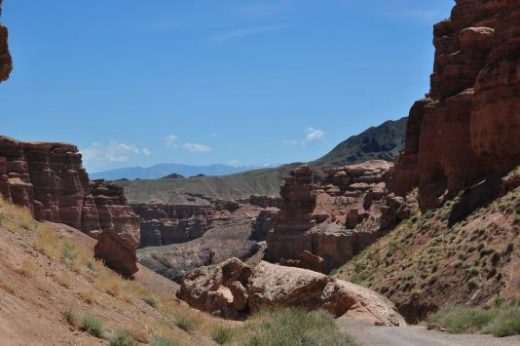 Lodging
Hotel Karagat or similar
D
Day 4
Karakol to Kochkor Village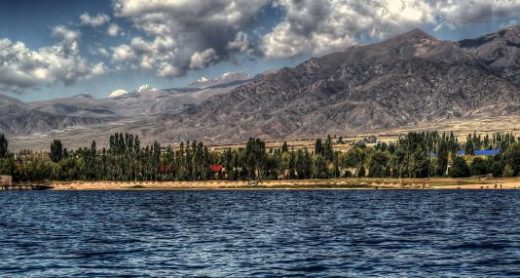 The atmosphere of Karakol will take you back a hundred years and give you the feel of Tsarist Russia. You'll spend some time exploring the city including the old Russian-style homes, built between 1870 and 1910; the 19th-century Russian Orthodox Church; and the Dungan Mosque, built by Chinese architect Chou Seu and skilled Chinese carvers in the early 1900's.
Afterwards, head out on a drive offering spectacular scenery and frequent stops as you travel to Kochkor Village. Your first stop will be Jeti-Oguz Gorge for the chance to admire the fantastic rock formations made of red sandstone. The local pastures here are used by shepherds grazing their flocks of sheep and herds of horses. Proceed along the south shores of Issyk-Kul, the world's second largest alpine lake (only smaller than Lake Titicaca in South America) to Kochkor, the biggest producer of traditional Kyrgyz felt handicrafts. When you arrive at Kochkor, you will meet a family that will show you how to make woolen felt carpets. You can even participate in the process! Dinner and overnight will be at a local home stay.
Total driving distance is about 155 miles.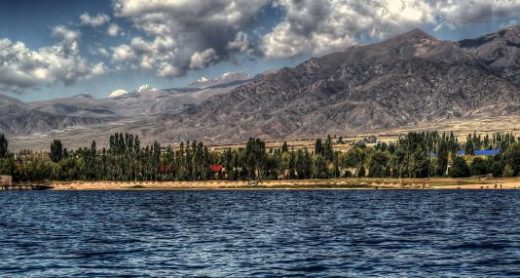 E
Day 5
Son-Kul Lake via the Kalmak-Ashuu Pass
The drive today continues to the alpine region of Son-Kul Lake over the Kalmak-Ashuu Pass (2,046 ft). Son-Kul is the second largest lake after Issyk-Kul Lake and the largest fresh water lake in Kyrgyzstan. It is surrounded by broad pastures dotted with yurts, grazing cattle, and mountains. The shepherds in the neighboring regions drive their livestock up in the mountains and set a yurt camp where they live during summer months. This region is an excellent place to get familiar with the traditional lifestyle of Kyrgyz nomads. At your yurt camp, you can enjoy horseback riding, an easy hike to the mountains to observe an amazing panorama of Son-Kul Lake and mountains, play with the local children, or participate in a cooking class featuring national cuisine.
Total driving distance: approximately 80 miles.
F
Day 6
Overland to Jalal-Abad
The road to Jalal-Abad travels over the spectacular Moldo Ashuu (11,280 ft) and Kok Art (10,496 ft) passes. Along the way, you will see the colorful landscapes of the Naryn River basin. This river is the largest in Kyrgyzstan, flowing further in Uzbekistan as Syr Darya, and feeds into the Aral Sea. Arrive in Jalal-Abad, located in the foothills of the Babash Ata Mountains near the Uzbekistan border, and check-in to your hotel for the night.
Total driving distance: approximately 205 miles.
G
Day 7
Drive to Osh via Uzgen - Kyrgyzstan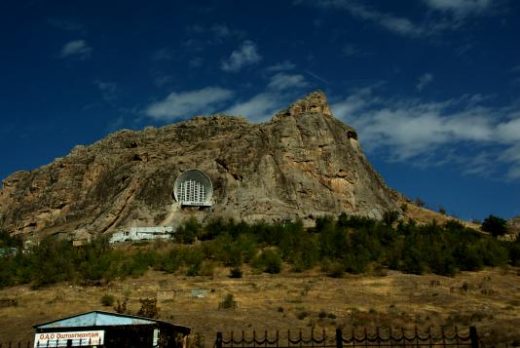 As you make your way to Osh, the southern capital of Kyrgyzstan, you'll stop at the ancient town of Uzgen, located on the banks of the Kara Daria River in the Fergana Valley. It is thought the city dates back to the fourth century BCE and was an important stop on the Silk Road. Here you'll see the 2,000-year-old minaret and mausoleum complex, which are well-preserved. The mausoleum complex represents 11th and 12th-century Karakhanid Dynasty architecture and from the minaret, you can get good views of Uzen town and possibly even the snow-covered Pamir Mountains on clear days. Another interesting aspect of this town are the historical rice mills, which process red rice, a specialty used by the locals to make "plov" (pilaf) and you will have a chance to learn more about Uzen rice as well as visit the rice market.
Situated at a crossroad of the ancient Silk Road, at over 3,000 years old, Osh is the oldest city in Kyrgyzstan. The age of the city has been determined by the rock drawings and inscriptions found on the northern slopes of the four-­headed Sulayman Mountain, located in the center of Osh. This mountain, also known as "Solomon's Throne", is a historical and architectural monument, and still a popular site for Muslims. Osh is also known for its bazaar, one of the oldest of its kind in Central Asia, located in the heart of the city. This 2,000 year old market brings sellers from all over the world. This is a great place to get a glimpse into the fascinating diverse cultures, traditions, and business activities. After spending some time exploring the market, visit the Historical Museum. The museum was carved inside the Sulayman Mountain, Kyrgyzstan's only UNESCO World Heritage Site in Kyrgyzstan. As one of the largest museums in Kyrgyzstan, its collections include more than 33,000 archeological and ethnographic items, handicrafts, paintings, sculptures, and graphics from the region. Also visit a local bread bakery where you'll have a chance to learn how to bake "lepyoshka," a flatbread similar to Indian naan. You'll even be able to prepare the dough, shape it, decorate it, and bake it yourself. Next, visit the workshop of Zakir Aka, a knife maker who has been making knives by hand for almost 60 years. These knives make a great gift for the cook in your life.
Enjoy dinner with a local family. The host will demonstrate and explain local cooking techniques including Central Asia's most popular meal, Plov.
Total driving distance: approximately 62 miles.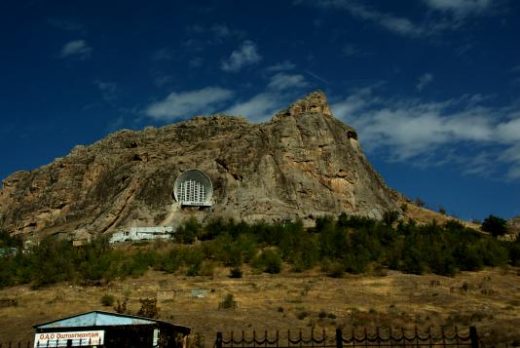 Lodging
Hotel Sunrise or similar
H
Day 8
Overland to Khujand - Tajikistan
Today will be a long driving day as you make your way to the Tajikistan border and on to Khujand, but there will be great views and frequent stops along the way.
In Khujand, visit the mausoleum of Sheikh Muslihiddin, the ruler of Khujand during the 12th century as well as a famous poet. Also visit the Historical Museum, which features a set of marble mosaics depicting the life of Alexander the Great as well as traditional Tajiki textiles and carpets. Before retiring to your hotel for the night, visit the Panjshanbe Bazaar, the largest bazaar in Tajikistan where many locals come to do their shopping for fruits, vegetable, breads, and spices as well as household items. This market's unique architectural style combines classicism, Soviet, and oriental designs.
Total driving distance is about 230 miles.
Lodging
Khujand Grand Hotel or similar
I
Day 9
Drive to Dushanbe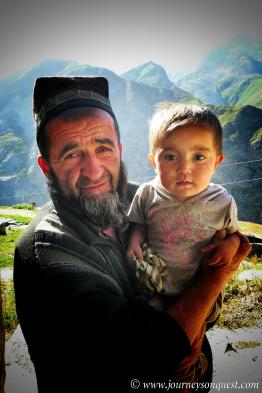 From Khujand, make the drive through Varzob Gorge and Istiklol Tunnel to Dushanbe, the capital of Tajikistan. The beautiful landscape and views of snowy peaks and passes are spectacular. Stop at the ancient city of Istarafshan, founded by the Persian king Cyrus the Great during the seventh century. Explore the old town including the Kok Gumbaz (Blue Dome) Mosque, beautifully tiled in turquoise, and the Hazrat-i Shoh Mosque to see some fine carvings and painted ceilings. Also see Mug Teppe, where a great fortress once stood.
Continue on to Dushanbe, enjoying amazing views of the Fan Mountain range and the emerald-colored Iskandarkul Lake that reflects off the mountains. Also make a few stops at local villages to get acquainted with the people and watch as they carry on with their daily activities.
Overnight in Dushanbe. Estimated driving distance: 225 miles.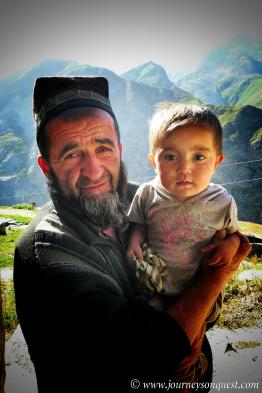 Lodging
Hotel Atlas or similar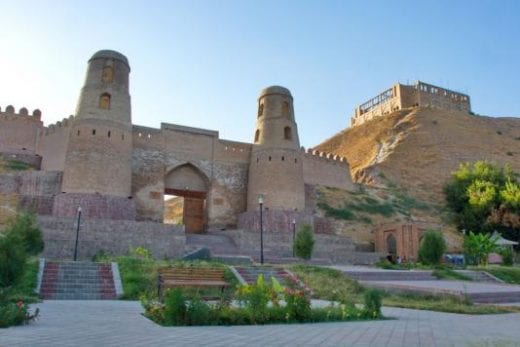 Dushanbe, which translates to "Monday" in the Tajik language, is the capital and largest city in Tajikistan. This ancient city dates back to 3,000 years with archeological digs revealing the remains of Greek-Bactrian settlements as well as other medieval settlements. Your exploration of Dushanbe continues this morning with a visit to the Museum of Antiquities, home to the UNESCO protected reclining Buddha – the largest statue of Buddha in Central Asia. See the city's main religious sites including the main mosque, the Russian Orthodox Church, and the 19th century synagogue. Visit Rudaki park to see the huge statue of Somoni, honoring this Samanid Dynasty founder, and explore the Shah Mansur (Green) Bazaar.
This afternoon, make the short drive out from the town and visit Hissar Fortress, the 18th-century former residence of Bek, a deputy to the Emir of Bukhara. At one time, the fort contained a palace, pool, and garden, but now only the stunning gate and twin towers remain.
Return to your hotel where the rest of the day is free to explore on your own.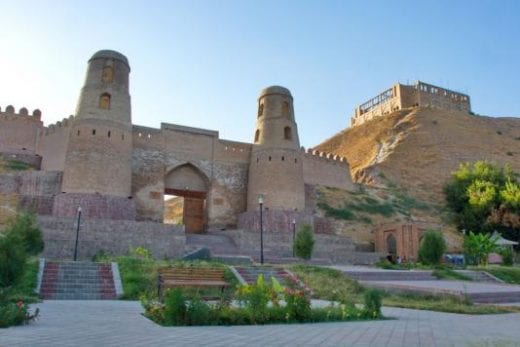 Lodging
Hotel Atlas or similar
K
Day 11
Drive to Termez, Uzbekistan
Today's drive takes you across the Uzbekistan border to Termez, stopping to see the amazing architectural details of the 12th-century Jarkurgan Minaret on the way. Termez is considered to be a pearl of the East, an ancient city at the crossroads of civilizations and the heart of Central Asia. The city was repeatedly destroyed, but survived and today gives a hospitable welcome to visitors. The city dates back as far as the sixth century and became an important center for Buddhism during the third to the first centuries BCE.
Estimated driving distance: 155 miles.
Lodging
Hotel Meridian or similar
You'll spend the day exploring Termez, beginning with the Termez Archeological Museum where you will discover ancient archeological findings that date back to the Kushan and Greco-Bactrian Periods. Next, visit the Buddhist Temple complex of Fayaz-Tepe (3-1 century BCE), a U-shaped structure containing a series of corridors, cells, and sanctuaries. There is also a unique 30-foot-high Buddhist dagoba. Your visit concludes at the Kampyrtepa Complex, one of the oldest archeological monuments in Uzbekistan. It was a waypoint for merchants traveling the Great Silk Road where they could rest, ship their goods, and pray before continuing with their journey.
Lodging
Hotel Meridian or similar
M
Day 13
Overland to Samarkand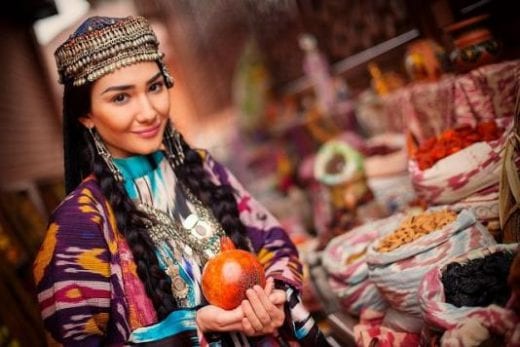 Another long driving day takes you to Samarkand, one of the oldest inhabited cities in Uzbekistan. Along the way, stop to visit another ancient city, Shakrisabz, a UNESCO World Heritage Site and the birthplace of Tamerlane. Shakrisabz, which means "Green City," was a center of science and art during Tamerlane's rule and today you'll find modern buildings intermingled with ancient structures, bringing a unique blend to the city. A few of the town's most important sites include the 14th-century Ak-Saray Palace (White Palace), Tamerlane's summer palace; Kok Bumbaz Mosque (Blue Dome), built by Ulugh Beg in 1437 to honor his father, Shah Rukh; and the Hazrat-i Imam Complex, which contains the Tomb of Jehangir, Tamerlane's oldest and favorite son.
End the day in Samarkand, the capital of the Tamerlane's Empire during the 14th-century.
Estimated driving distance: 230 miles.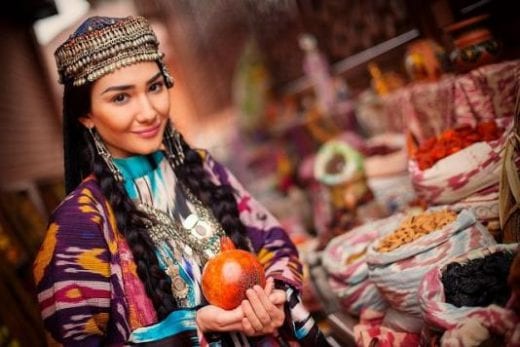 Lodging
Hotel Grand Samarkand or similar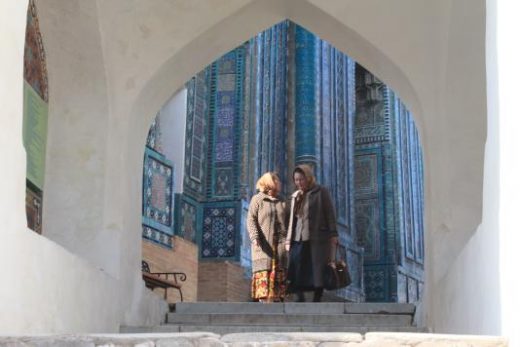 The historic town of Samarkand sits at a crossroad of the Silk Road trade routes  and is a melting pot of world cultures. Founded in the seventh century BCE with the name Afrosiab, Samarkand received its most significant development during Tamerlane's period between the 14th and 15th centuries. Many of the city's ancient sites have been well-preserved or restored to their former glory. Imagine yourself in the days of Tamerlane as you visit sites significant during his rule. Visit the Gur-e Amir mausoleum of Tamerlane; Registan Square, where people once gathered to hear royal proclamations and view public executions; and Bibi-Khanym Mosque, built in the early 15th century to commemorate Tamerlane's wife. You will also see the Ulugbek Observatory, named after the grandson of Tamerlane and famous astronomer. A highlight of the day is probably a visit to the Shah-i-Zinda Necropolis, with its 20 beautifully decorated mausoleums where the nobles of the Timurids are buried. Samarkand is also the best place on your journey to learn about traditional crafts, including embroidery, silk weaving, copper engraving, ceramics, carving and painting on wood, which all still flourish today. If you like, spend some of your free time at the local bazaar.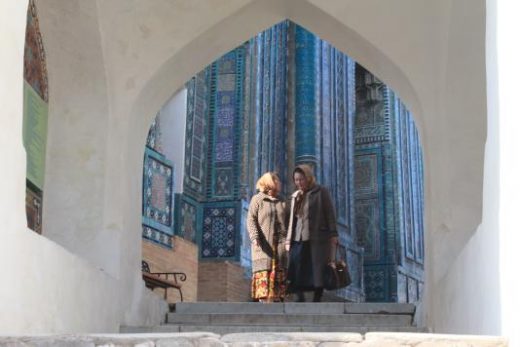 Lodging
Hotel Grand Samarkand or similar
O
Day 15
Drive to Bukhara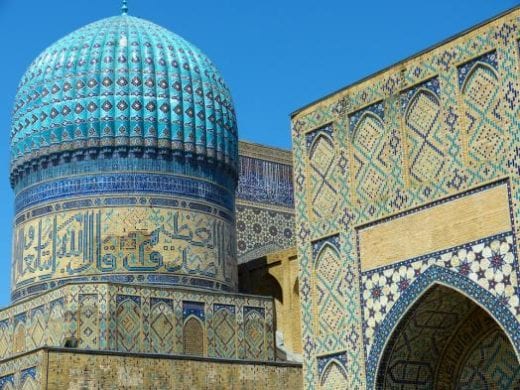 After breakfast, make the drive to Bukhara, location of many UNESCO World Heritage Sites and once an important city on the Silk Route known for scholarship, trade, culture, and religion. It was considered the intellectual center of the Islamic world, and today many of its monuments, mosques and mausoleums, dating back as far back as the ninth century, still remain intact. Your guide will take you to the most beautiful places in the city including Poi Kalon, its Minaret and Mosque, and Madrasah. The Kalon Minaret is known as the "Tower of Death" because for many years criminals were executed here by being thrown from the top. The stunning 16th-century Kalon Mosque's courtyard contains 288 domes resting on 208 pillars. The Madrasah is known for its two large domes that tower above the surrounding buildings in Bukhara. Also visit the Toki Zargaron Trading Domes and the Magoki Attori Mosque, built on the remains of the Zoroastrian Moh Temple. This temple is an excellent example of Kara-khanid era architecture.
Overnight in Bukhara. Estimated driving distance: 167 miles.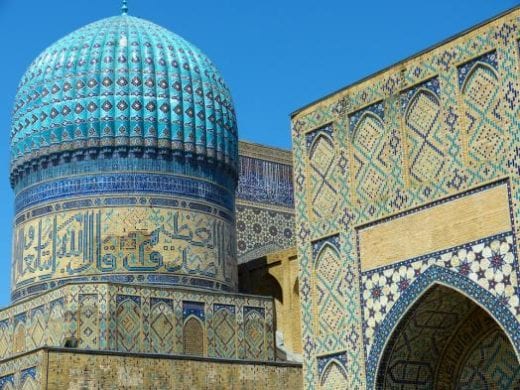 Lodging
Hotel Asia Bukhara or similar
P
Day 16
Bukhara City Tour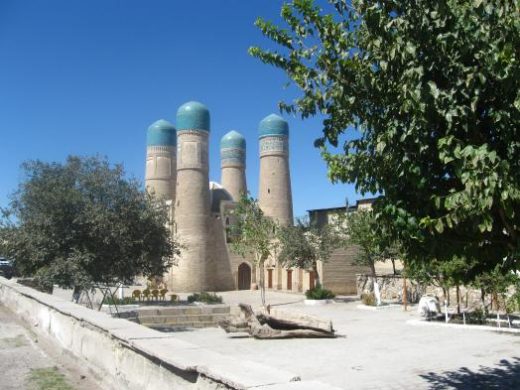 On today's city tour of Bukhara, you will find extraordinarily inspiring examples of ancient architecture and markets with the chance to talk, shop, and visit with local people whose small shops and enterprises are integrated in the historic areas. Visit Ismail Samanid and Chashma Ayub Mausoleums; Bolo Khauz, an unusually designed mosque built in 1712 for the mother of Ashtarkhanid ruler, Abul Fayud Khan; the fifth-century Ark Citadel and fortress that housed many of Bukhara's rulers; and Chor Minor, an Indian style Madrasa with four minarets.
This evening, enjoy a folklore show at Nadir Divan Begi Madrasa, one of the oldest and most beautiful madrasas in Bukhara. This is a great opportunity to take part in traditional Uzbeki dance and music over dinner.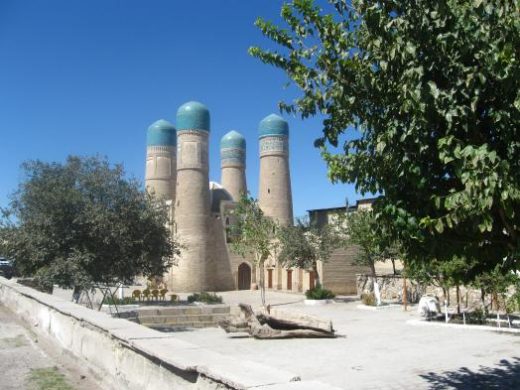 Lodging
Hotel Asia Bukhara or similar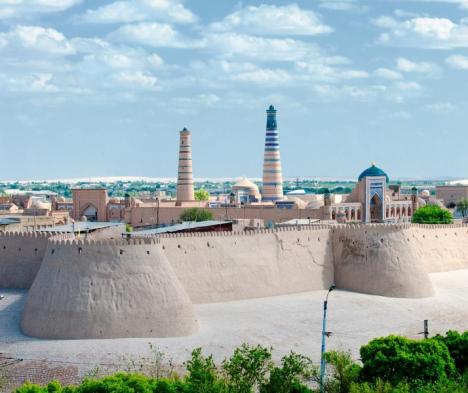 Today is a long driving day as you make your way to Khiva through the Kyzilkum (Red Sands) Desert, following the route of invaders, nomads, Persian Armies, and ruthless leaders such as Alexander the Great and Genghis Khan. Stops along the way include a picnic lunch on the banks of the Amu Darya (Oxus) River.
Arrive in Khiva, a sleepy town that was the last resting place of caravans before crossing the desert into Persia. It is said that Khiva was founded by Shem, son of Noah, around 2,500 years ago when he discovered a well in the middle of the desert and shouted, "Khi-wa!" which means, "sweet water." Take a stroll through its narrow streets, peeking into the small courtyards through the wooden carved doors.
Estimated driving distance: 291 miles.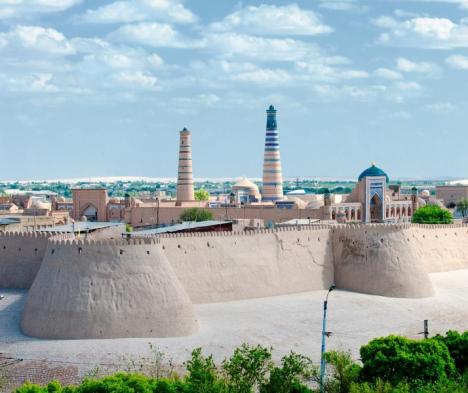 Lodging
Hotel Asia Khiva or similar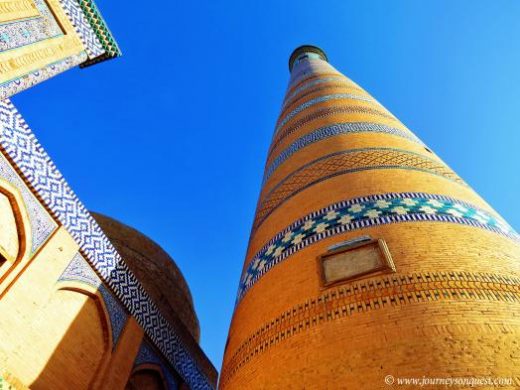 This ancient town, a UNESCO World Heritage Site, is like a living city museum with the well preserved atmosphere of an ancient city. You'll spend the morning exploring its historical structures in the old town including the 17th century Kunya Ark Fortress, the oldest remaining khan's residence in Khiva; Mohammed Amin Khan Madrasa, a former Muslim University built in the mid-19th-century; the beautifully decorated Islamic Khodja Minaret; the Palvan Kari Complex; and the Rafanek Madrasa.
In the afternoon, continue your exploration with visits to the 16th-century Uch-Avliyo (3 Saints) Mausoleum, dedicated to the three brothers whose fields were saved when they prayed for rain; the unique Juma Mosque, which is quite different from most other Central Asian mosques as it has no high portals, entrance arches or domes, just a one-story building surrounded by a solid blank wall with three doors. However, its prayer hall is quite impressive with pillars that vary in shape and decoration, some dating back to the 10th century; Tash-Hauli Palace Complex, an excellent example of Asian secular architecture of the 19th century and where a cobra still guards the treasures of the last khan; and the 17th century Arab Mohammed Khan Madrasa, one of the oldest madrasas in Khiva.
Everywhere within this old town, you will find fine, ornate wood carvings, an art that has been cultivated in Khiva since ancient times. A highlight of the tour today is the panoramic view over the city from the Akshi Bobo Tower during sunset.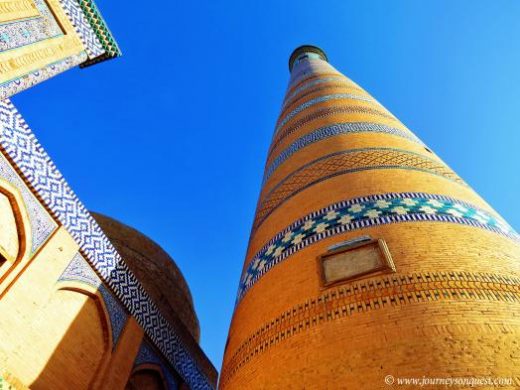 Lodging
Hotel Asia Khiva or similar
S
Day 19
Flight to Tashkent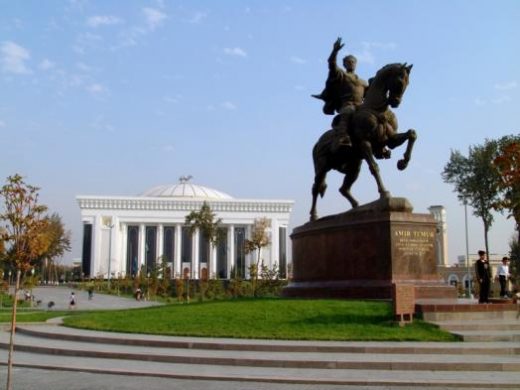 After breakfast, transfer to the airport for your flight to Tashkent, the capital of Uzbekistan and the largest city in the country. On arrival, you will be met and taken on a city tour to the ancient squares and buildings and well as the modern section of this 2,000 year old city. Your first stop will be a visit to the Kukeldash Madrasa, which still serves as a Koran School. This madrasa, built in the mid 16th century by the Shaybanid Dynasty rulers, is built from yellow brick. Next, visit the Khast-Imam Square, the religious center of Tashkent, with its beautiful Barak Khan Madrasa. Finish the day out with a visit to Tillya Sheikh (Friday) Mosque, one of the largest mosques in Tashkent and the Kaffal Shashi Mausoleum where you can see the Koran written by the third Caliph Osman (644-656).
Overnight in Tashkent.
Note: If extending to Turkmenistan, you'll drive to the border into Turkmenistan today.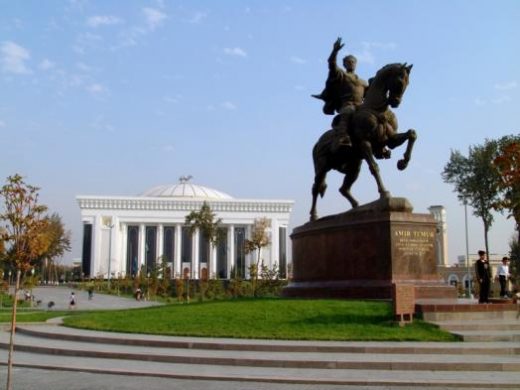 Lodging
Hotel City Palace or similar
T
Day 20
Depart Central Asia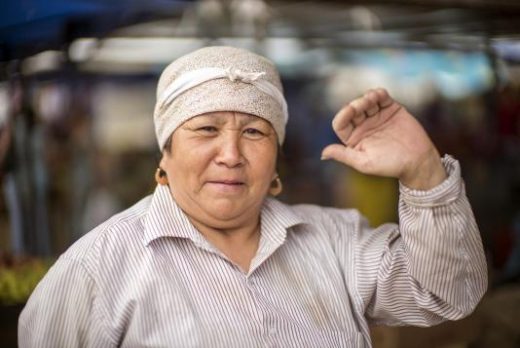 After breakfast, transfer to the airport for your onward flight or extend on into Turkmenistan or Moscow.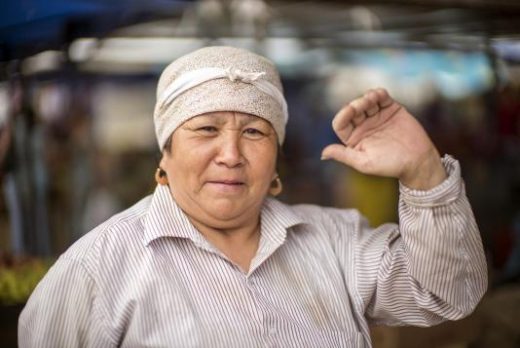 Dates & Price
Dates
Customized for you on your dates, or join a group on the following dates:
For dates and customization options for this adventure, please contact us.
Best Time of Year to Visit
Discover the wonders, intrigue, and cultures of the 3,000-year-old Silk Route linking Asia to Europe and Africa. Retrace historic caravan paths that will take you through stunning desert landscapes, into alpine mountains, past sparkling lakes, and into the midst of urban, village, and nomadic communities. Historically one of the world's most traveled regions, today few travelers venture here. If you can take the time to experience this full journey, you will gain a unique perspective on an important region with multi-layered beauty to uncover.  Knowledgeable local guides facilitate your border crossings, handle the details of accommodations, and lead in-depth sightseeing throughout the trip.
Note: On this adventure, you should expect long drives, poor road conditions, border delays, and rustic accommodations in some places.
Includes Khiva to Tashkent flight
Need to Know
IMPORTANT NOTE: Please be aware that the tourism infrastructure is not up to Western standards. Therefore, most accommodations, even 4*, will not be the same as what we are used to here in the U.S. Also, keep in mind that road conditions and travel can sometimes be rough, and vehicles are more prone to break-downs. We will do our best to ensure a pleasant experience, and you will have some of the best cultural encounters and scenery possible, but please try to have an open mind as you embark on this adventure.
The price includes Visa support in Uzbekistan, Turkmenistan, and Tajikistan; Visas are not required in Kyrgyzstan for US citizens and no visa is required in Kazakhstan up to 15 days of travel.
We are happy to have you participate in a Journeys International program!
Please read these terms and conditions thoroughly. They contain information that will be important to your planning and guide how we will handle any circumstances that may change in the midst of planning or while a program is underway. If after reading our materials and talking with our staff you decide to participate in a Journeys International program, please send us your deposit along with your completed Reservation Form and Explorer Information Forms. Important: Your booking is only complete once we receive your deposit, completed Reservation Form, and completed Explorer Information Form, and once we have confirmed that space is available.
Pricing and Payment
We will confirm your reservations once we receive a non-refundable booking deposit, a Reservation Form signed by each person responsible for payment, and an Explorer Information Form signed by each participating adult or the guardian for each participating child, and if space is available. Custom programs during holiday seasons may require a deposit prior to confirmation. The deposit contributes to non-recoverable costs of holding space and servicing your booking through the stages of preparation, execution, and follow-up and cannot be refunded if you choose to cancel.
We charge an additional planning fee of $250 per program for preparing customized proposals. This fee may be credited to your total cost upon booking, but it is non-refundable if you choose not to finalize your reservation.
Prices are stated in U.S. Dollars, based on double room occupancy, unless otherwise noted. We will send an invoice for your total estimated cost when we send your reservation confirmation. The balance as shown on your invoice is due 60 days prior to your program start date regardless of whether any arrangements are still pending. Although we do our best to avoid increasing prices after we receive your deposit, in some cases it may be necessary to adjust pricing after we receive payment to allow for changes in group size, rooming status, currency exchange rate fluctuations, fuel surcharges and/or other circumstances attendant to the challenges of adventure.
Late payments may jeopardize confirmation of your program participation and in some cases may result in additional fees. If we have not received final payment 30 days prior to departure, then your reservation may be canceled subject to our Cancellation & Refund Policy stated below.
Payment for airfare is required at the time of ticketing. Discounts that may be available are not available toward bookings made through third-party travel agencies, advisors, or planners.
We accept payments by Visa, MasterCard, American Express, or check drawn on a U.S. bank account. Paying by credit card offers you certain consumer protections, including the ability to initiate a chargeback if you believe we have committed consumer fraud. You may not use credit card chargeback as an alternative to compliance with your agreement with these terms and conditions.
Late Signups
Early reservations are encouraged! Some programs and flights fill several months in advance. We can confirm your space once we receive your deposit and signed Reservation and Explorer Information Forms. We try, but cannot guarantee, to accept late signups. In the event that we are able to accept reservations fewer than 60 days before a program's start date, additional fees may apply to cover administrative costs necessary to expedite your reservation confirmation and transmit your program materials. For reservations made fewer than 60 days in advance of your program's start, full payment is due at the time of booking.
Program Changes
We understand that circumstances arise that lead you to inquire about changes to your custom program, and we aim to satisfy your requests. Once activities and accommodations have been confirmed, we charge a $50 change fee, in addition to the difference in costs for the services booked. When changes are requested less than one week before your program's start, the change fee is $100. For changes requested after a program has begun, the change fee is $200.
Journeys International reserves the right to change or reprice any program due to acts of insurrection, strikes, weather, road conditions, acts of God or government, or any other force majeure or cause beyond the company's control. Journeys International cannot guarantee conformity with the provided program plan at any point in time. Among other things, if necessary Journeys International may change the scheduled dates of a program; omit or alter sections of the plan; substitute lodgings, leaders, or conveyances; or change meals, activities, or waypoints; all without notice and without allowance for refunds and with participants bearing the responsibility for increased costs, if any. Should this become necessary, Journeys International will not be liable for extra costs that participants may incur as a result of changes, including but not limited to flight change fees, additional meal costs, or additional accommodations. We strongly recommend that participants purchase Travel Protection Plans, or travel insurance, adequate to cover such costs.
Cancellations & Refunds
If you must cancel before your program begins, please notify Journeys International in writing by emailing info@journeysinternational.com or writing to your adventure specialist directly. You may request a refund according to the following schedule. Some programs require additional non-refundable payments beyond this schedule, as noted in the program description. In the case of cancellation, such amounts are withheld in addition to the amounts listed here.
| Days Prior to Departure | Cancellation Penalty |
| --- | --- |
| 61 or more | Non-refundable booking deposit and planning fee, if applicable |
| 31-60 | Non-refundable booking deposit and planning fee, if applicable, plus 50% of total land costs above amount of initial deposit |
| 0-30 | 100% of total land costs |
Please note: cancellation of airfare, other transit, lodging, and ticketed tours and activities is subject to the policies of the individual carriers or providers and is not included in the schedule above. Additional cancellation fees are the responsibility of the traveler. We strongly recommend that all participants purchase Travel Protection Plans, or travel insurance, that includes coverage for trip cancellation or interruption and that may reimburse you for cancellation penalties and extra expenses should a circumstance force you to cancel or interrupt your participation.
Departure is defined as the date on which travelers will leave their home state, province or city, or the program start date as indicated on the program description, whichever comes first. Cancellation date will be considered the date that we receive written notification of your intent to cancel according to the local time observed in Ann Arbor, Michigan, USA.
Payments due at the time of cancellation remain the responsibility of the participant. No partial refunds are possible for unused hotel rooms, air or land travel, program days, or other sight-seeing arrangements included in the land cost.
If Journeys International cancels or postpones a program before the program starts for reasons completely within its discretion, such as but not limited to insufficient group size, all money for services described in the program description will be refunded in the form of credit towards a future program with Journeys in the same location originally planned, less unrecoverable fees and penalties already paid to airlines, accommodations, or other service providers, or the client may submit a written request for a refund to the original form of payment. If a program's cancellation is necessary due to acts of insurrection, strikes, weather, road conditions, acts of God or government, or any other force majeure or cause beyond the company's control, credits and refunds will be issued according to the standard cancellation schedule, less unrecoverable fees and penalties already paid to airlines, accommodations, or other service providers, without regard to whether client or company initiates cancellation or postponement. Once a program begins, there are no refunds for unused goods or services.
Air Fares
We can help you to secure air travel arrangements for Journeys International programs. We work with an airfare consolidator to assist in booking the flights that suit your needs. Journeys International and/or the airfare consolidator may charge a ticketing fee for this service. For group programs, if you prefer to fly on dates other than those listed as program dates, or if you arrive at your destination other than at the group arrival time, then you may incur additional fees to cover the separate transfer, contingency, and coordination costs which frequently arise from arrival and departure on flights different from our regular bookings. We will let you know about these fees ahead of time, if they apply. If you must change your air routing after ticketing, there is a charge of $50 per change, in addition to change or cancellation charges levied by the airline.
If you decide to make your own flight arrangements, you must provide Journeys International with a complete copy of your itinerary showing departure and arrival flights and times. You should plan to arrange your own air travel if you are using mileage credit or originating outside North America, but please be in touch with our office before you finalize ticketing so that we may help you to coordinate the correct arrival and departure dates and times. If you arrange your own flights, we can book ground transfers to meet you on arrival in your destination if you wish, and you agree to pay additional costs, as applicable.
Transfers Between Programs
You may transfer between some programs upon written request. More than 60 days before your program start date, the deposit transfer fee is $100 per person plus any cancellation fees charged by airlines, hotels, or ground service providers. 60 days or fewer before the program start date, full cancellation penalties from the original program apply. In the event that Journeys International cancels a program, you may transfer the full amount of your payments to another program without penalty, subject to availability.
Expenses Covered
Normally, our stated total costs include the costs of all guides, leaders, facilities, permits obtained after arrival, lodging accommodations, costs of described activities, food as specified, and all surface transportation associated with the activities described in the itinerary. We do our best to avoid increasing prices after receipt of your deposit, but factors beyond our control might require us to change our prices without prior notice, even after you have signed up.
Expenses Not Covered
Costs not included in the price may include: meals not indicated as included in program descriptions; meals prior to arrival in starting cities; transfers, if not arriving or departing on the scheduled group flights; soft drinks, bottled water, and alcoholic beverages; medical expenses, costs of hospitalization, or evacuation from remote areas; laundry; airport departure taxes not included on your airline ticket; accommodations en route to starting cities; visas; airfares; gratuities; and insurance.
If a program must be modified due to medical emergency, acts of insurrection, strikes, weather, road conditions, acts of God or government, or any other force majeure or cause beyond the company's control, then the participant may incur additional costs that are not included in the program price. We strongly recommend that all participants purchase Travel Protection Plans, or travel insurance, to cover these risks.
Travel Insurance
Journeys International strongly recommends that you purchase a Travel Protection Plan, or travel insurance, sufficient to protect your investment in travel, personal assets and health during your program. Doing so will mitigate a significant amount of financial risk and decrease your need to worry about things beyond your control. We do not require you to purchase such travel insurance; however, we know many travelers who have benefited from purchasing travel insurance because the insurance carrier assumed risks that would otherwise have been the risk of the traveler. Travel Protection Plans often cover things like theft, baggage loss, trip interruption or cancellation, emergency evacuation, emergency medical treatment, flight delay or cancellation, airline or service provider bankruptcy, jury duty, personal or family sickness leading to cancellation, U.S. Department of State Travel Warnings about terrorism issued for the destination, and other risks as described in the insurance policy. In particular, consider the availability of higher-cost "Cancel for Any Reason" and/or "Interrupt for Any Reason" policies that may allow policy-holders to recoup a significant portion of trip costs under a much wider range of circumstances than standard policies may allow; we have seen travelers benefit from this selection when public health crises, personal turmoil, and civil unrest arose in their destinations. Please note that while we at Journeys will do our best to help you to have a pleasant and successful experience, Journeys International assumes no liability for many of the types of losses described above. If you choose not to purchase travel insurance and you suffer a loss, then you will be responsible for the associated costs.
For your convenience, we will provide a recommendation for an insurance carrier that offers competitive rates and has proven reliable, fair, and prompt in responding to claims, but we can offer no guarantee that our recommended carrier will meet your needs and you are welcome to contact any insurance carrier that you prefer. It is important to obtain insurance immediately upon signing up for your program in order for problems arising from pre-existing conditions to be covered.
All participants must be covered by a current major medical insurance policy that covers you while in your travel destination for the duration of your trip. For some individuals or for some destinations, it may be advisable to purchase a supplemental policy. Contact your provider for coverage details.
Group-Sized Pricing & Group Minimums
Many programs are guaranteed to depart at prices published on our website with as few as two participants. In some cases, it may become necessary to increase prices depending on the size of the group. We do everything we can to make a program operate as planned even with a single participant. Additional costs for small groups vary from program to program. When pricing for a group program is based on the number of participants, staff and guests of Journeys International (such as topic experts, journalists, photographers, leaders-in-training, or others) are not included in the numbers counted to determine the price. Final decision to cancel a program due to insufficient signups is made at least 60 days prior to departure.
Lodging Accommodations
Lodging accommodations are usually double occupancy in hotel rooms, tents, or other facilities as described in trip itineraries. Please contact our office to discuss pricing and availability of alternative accommodations, if desired. We try to honor specific requests for lodging, but in some cases, we may have to book and confirm equivalent-standard accommodations. In rare cases it may become necessary to make same-day or out-of-class substitutions.
If you are joining alone for a group program but would prefer a roommate, then let us know! We are often able to match solo participants. If a roommate is not available or if you prefer single accommodation, then you must pay the Single Supplement, if one applies. For some programs it is not possible to guarantee single accommodations.
Assumption of Risk
Throughout any program of Journeys International, certain risks and dangers may arise. These include, but are not limited to, travel by train, foot, automobile, aircraft, raft, boat or other means of conveyance; the hazards of traveling in rough or mountainous terrain; high altitude; undeveloped areas; the forces of nature; civil unrest; terrorism; labor interruption; close proximity to fellow program participants; exposure to illness or virus; and accident or illness in remote areas without means of rapid evacuations or availability of medical supplies and facilities. The unique nature of adventure programs entails inherent risks that may be involved in unique program activities and travel away from home and, in fact, the specific nature of these activities is often a reason for participation. Even if a trip or program is rated "easy" these dangers and risks are present. Journeys International and its agents and operators will have no liability regarding emotional distress, equipment, access to, or adequacy of medical care, evacuation plans, or emergency supplies that may be provided. When you sign the Explorer Information Form, you agree to participate in these activities with full knowledge of the dangers and risks involved and agree to assume all risks, including trauma, sickness, injury, and death.
While Journeys International intends that your experience be safe and comfortable, Journeys does not have legal or operational control or ownership of facilities, staff, services, or transportation providers and acts only as agent for the owners of such facilities, staff, services, and transportation. Journeys International is not responsible for any negligent or willful act or failure to act by any such person or entity, nor for any act or inaction of any third party not under its control.
In consideration of the right to participate in Journeys International programs and the service arranged for you by Journeys International and its agents and representatives, you unconditionally and fully assume all risks of bodily injury, death, emotional trauma, property damage, and/or theft, however caused, including those mentioned above, as a result of participation, and release Journeys International, its agents, and its representatives from any and all liability, actions, causes of actions, suits, debts, demands that you may have, including for bodily injury, death, or property damage, loss of income, and other claims.
Fitness to Join
Good physical and mental health are essential for the enjoyment of Journeys International's programs. It is your responsibility to select/design a trip appropriate to your own abilities and interests. You are responsible for being in sufficiently good health to undertake your trip, and for consulting with your physician for medical advice regarding travel. On some Journeys International programs, participants travel in rugged areas remote from modern medical facilities. Good physical conditioning is recommended as preparation for all programs, especially those involving hiking or trekking. Most programs require some walking. By signing the Explorer Information Form, participants certify that they are fit for rigorous activity and do not have any physical, mental, or other condition that would create a hazard for him/herself or other participants. It is essential that any participant with a medical condition requiring regular treatment or which may be affected by vigorous activity, prolonged travel, high altitude, heat, cold, natural phenomena, or particular foods, notify Journeys International in writing prior to booking. We assume no responsibility for medical care, and we cannot guarantee meeting special dietary requirements or vegetarian needs. Participants may be required to furnish a physician's statement of good health for some programs.
Journeys International's or the individual group leader's or guide's judgment shall provide the ultimate determination of an individual's fitness to embark upon, or to continue, a program. Journeys International reserves the right to refuse reservations or deny participation to anyone whom it deems unsuitable for a program or certain activities. Once a reservation has been confirmed, medical circumstances will not be considered as exceptions to our cancellation policy. All participants must be covered by a current major medical insurance policy for the duration of their participation. Proof of such coverage may be required.
Personal Conduct
You are responsible for acting in a manner considerate and respectful of fellow group members and local culture in areas visited.
You are responsible for reading all health-related information provided in advance of the program, adhering to all guidance given by guides and site staff, and conforming to the established standards of personal hygiene to minimize risk of disease. This may include a requirement to wear a face mask when in proximity to other people, whether indoors or outdoors, or other measures intended to limit the spread of disease; failure to do so when requested may result in your dismissal from the program.
Certain activities included in your program may require specific safety precautions. You are responsible for listening to instructions, adhering to guidance, and following the protocols provided for safety throughout the program. If you are unsure about safety precautions, you are responsible for seeking advice. If guides or staff perceive your behavior as risky, uncooperative, or otherwise unsafe, they may remove you from an activity for the safety of yourself and others.
Smoking or vaping are not permitted in buses, cars, below decks on boats, in tented camps, in designated non-smoking areas, or during guided tours and activities. Participants agree not to consume cannabis for the duration of the program and understand that possession or use of cannabis may be illegal and subject to severe punishment in some destinations. Participants agree to follow all local laws in the jurisdiction(s) where the program takes place and acknowledge that Journeys International cannot be responsible for ensuring participants' compliance nor for any costs or consequences of non-compliance.
Sexual harassment or misconduct of any sort by Journeys program participants is not tolerated. You may not make jokes or sexually suggestive comments or gestures regarding the bodies or bodily activities of fellow participants, program staff, site staff, or any people you encounter during your program. You may not touch fellow participants, program staff, site staff, or any people you encounter during your program unless invited. You may not solicit sexual services during the dates of your participation in a Journeys program.
Environmental Stewardship
Journeys International believes that we have a responsibility to protect the earth for future generations. Tourism may be responsible for up to eight percent of annual worldwide emissions of greenhouse gasses. Journeys International advocates that adventure travelers who make environmentally conscious choices when selecting their destinations and activities should also make the environmentally conscious choice to offset the carbon footprint of their travel to compensate for their personal contributions to global climate change. Every Journeys International invoice includes an optional donation to the Earth Preservation Fund's carbon offset program to be used to purchase and permanently retire certified carbon credits to offset the carbon footprints of Journeys' program participants. The Earth Preservation Fund purchases carbon credits that have been certified under a reliable third-party standard. Participants who choose to make this donation may also be eligible to claim a tax deduction. There is no penalty for opting out of this donation.
Recording
Journeys International may take photographic, audiographic, and videographic recordings during your program, and may use your image and voice for promotional and commercial use without compensation.
Planning & Preparation Services
We look forward to working with you! After we receive your deposit, we will send you a planning packet containing things like medical and immunization information, visa and other permit forms, a recommendation for travel insurance, packing checklist, reading list, cross-cultural information, and an initial invoice for the balance due. About 3 weeks before your program begins, we will send you a final notes packet including last-minute reminders and contact information for your program. You are responsible for reading all information provided, and for bringing all clothing and equipment noted on the packing list. If you are leaving home before the scheduled trip departure date, please let us know how we can best reach you in case any details change in the days immediately prior to your program's start.
Please call our office at any time if you have questions about your trip or for additional information.
Duration
20 Days
The number of days, or duration, in a destination corresponds with the itinerary as published. This is the time period covered by the land cost.
Group Size
2 - 12
The stated range indicates minimum required for guaranteed departure and maximum accepted on the scheduled dates. Exceptions can often be made for private departures.
Comfort Level
Simple
Comfortable and especially personal. Small to mid-sized guesthouses, typically with private bath. Note that two nights will be spent in a basic yurt with separate toilet facilities.
Activity Level
Match the trip's intensity to your ability and motivation.
Gentle
Easy walking, with opportunities for low-key physical activity.
Active
Energetic exploration with optional day hikes, leisurely cycling, or light canoeing.
Vigorous
Day-long active excursions and options for demanding activity in varied environments.
Challenging
Strenuous hiking or other intense activity that may be at high altitude or over rough terrain.
Demanding
Multi-day trekking and other activities requiring endurance or strength. Steep trails. No technical expertise necessary.
Comfort Level
Choose accommodations and amenities that fit your personal style
Simple
Our most natural accommodations. Bath facilities often shared, sometimes rustic.
Delightful
Comfortable and especially personal. Small to mid-sized lodges, typically with private bath.
Superior
Lodges and hotels with additional amenities, refined artistry, or extra-special settings.
Deluxe
Exclusive or luxury lodges, hotels, or safari camps with fine dining options.
Uncommon
The most indulgent accommodations arranged specially for private trips.
Single Supplement
The single supplement is applicable if a roommate is not available or if single accommodation is specifically requested. While single accommodation is not available on all trips, we will try and honor this request whenever possible.