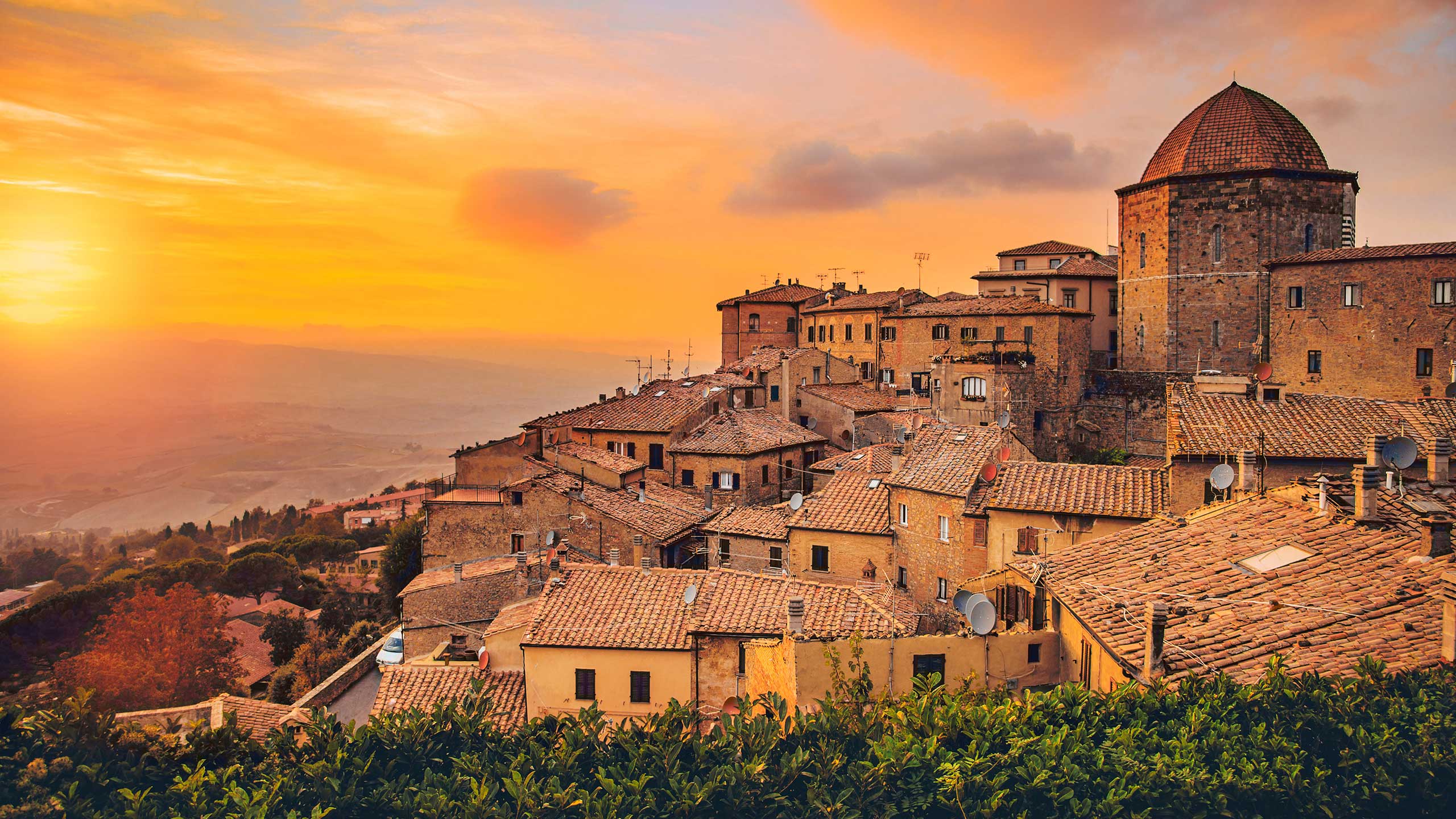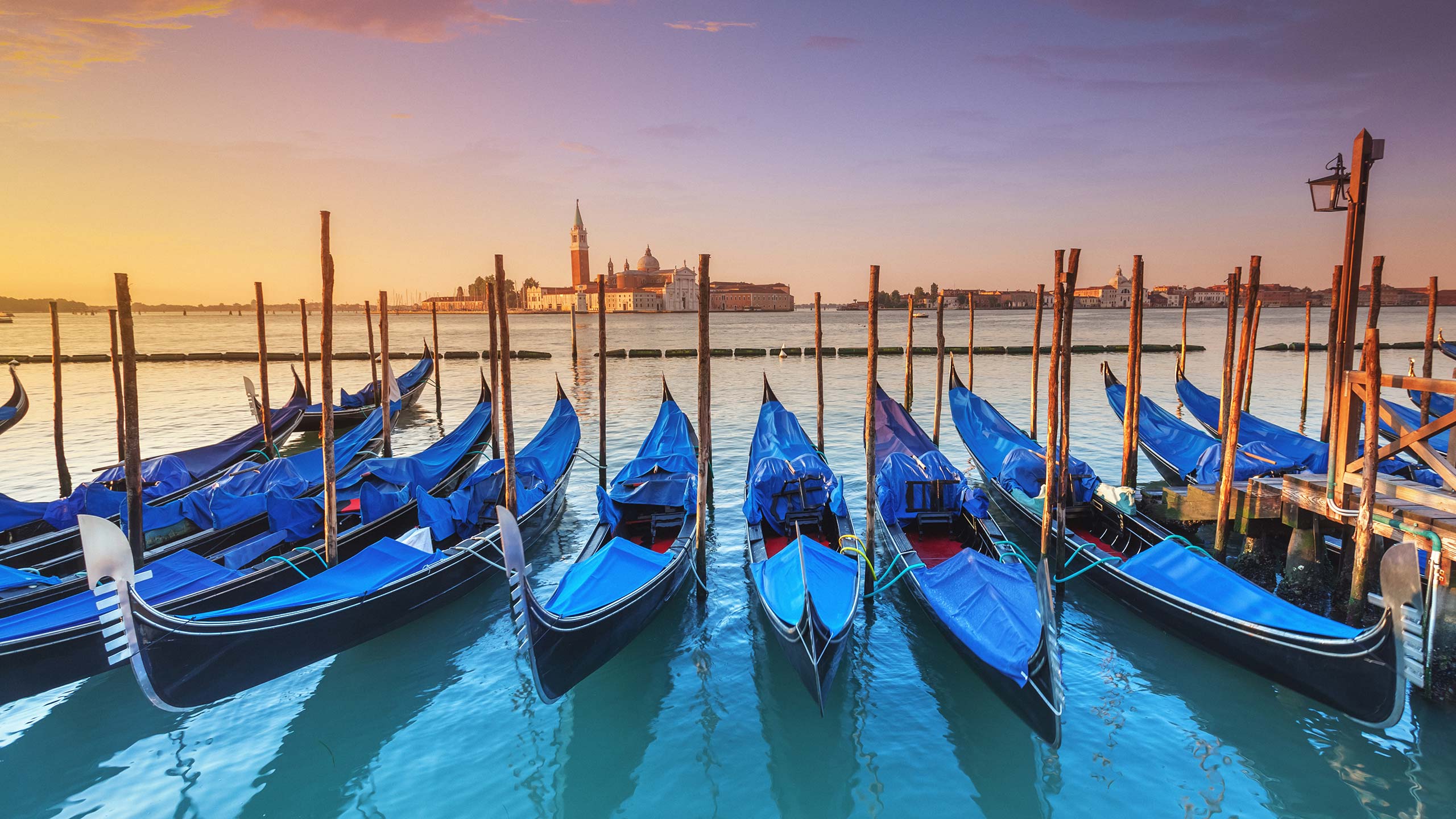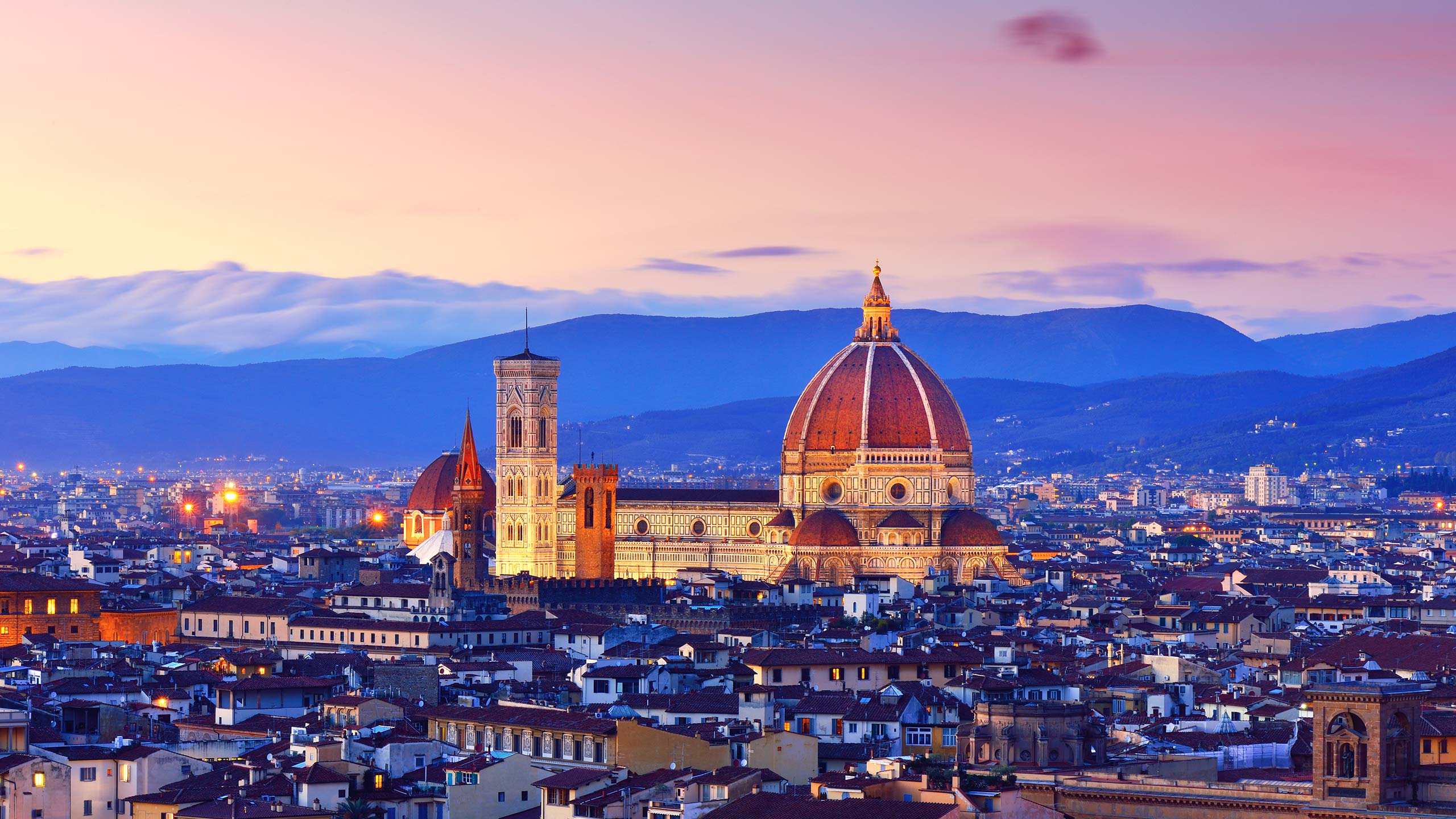 Italy Inspiration Sampler
Your adventure awaits you in Rome, Tuscany, Florence & Venice... or other Italian cities of your choice!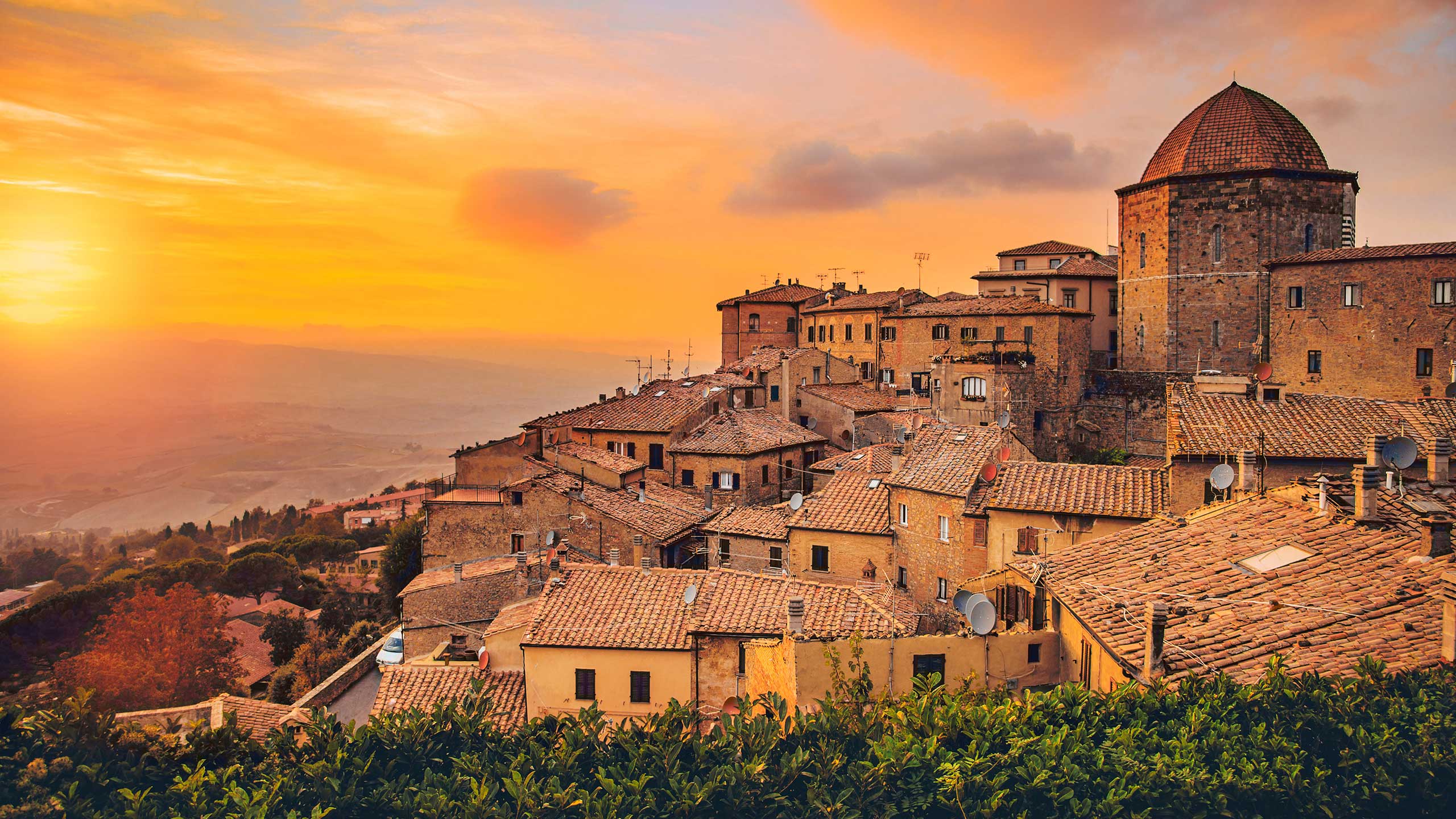 Enjoy Italy at your own pace, according to your own travel style. This sampler is just one example of how we can customize your adventure. We can provide private guides, you can join small group tours, or you can enroll in hands-on workshops or cooking classes. Take trains, self-drive, or hire a private driver. Italy is yours to explore as you wish. We've highlighted a couple of our favorite places but pay close attention to our extensions to add to your trip to make it exactly what you want. Don't see what you prefer? Just ask! There are too many possibilities to capture them all here.
Great For
Flexibility
Rich culture
Connections with locals
"Our personal guides and drivers were fantastic.... They were each very knowledgeable and accommodating." Sue B.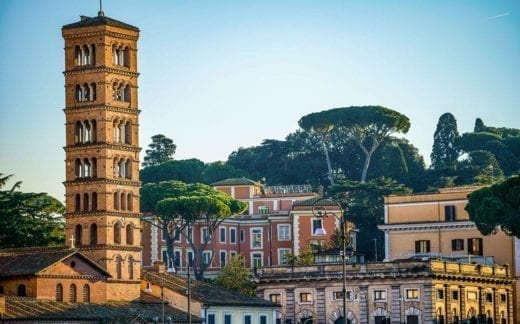 Fly into Rome and transfer to your hotel. Travelers will receive detailed, personalized information for planning their arrival. We will provide guidance to transfer to the hotel independently by taxi or public transportation. Alternatively, we can book a private transfer with driver (approx. €90 to central Rome.) Stay tonight in the heart of Rome, on the green Aventine Hill, at a villa-style hotel offering great service, elegant and comfortable rooms, and quiet gardens while still within walking distance of many of the great sights and landmarks of the city.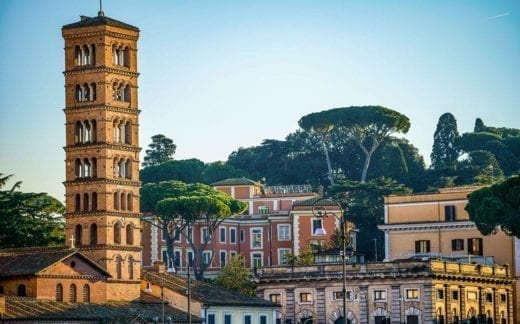 Lodging
Hotel Villa San Pio or similar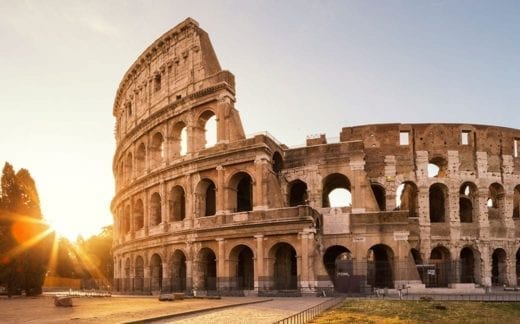 Spend a full day exploring the sites of Rome with a private guide today. Leave by private car from your hotel for guided visits to the Vatican Museum and Sistine Chapel, Saint Peter's and Castel Sant'Angelo, the Colosseum, and more. Although some stops require advance tickets, the overall program is flexible depending on your interests and your guide will recommend stops as you get to know each other.
The evening is yours to explore the Trastevere neighborhood, and we are happy to make dinner recommendations or reservations if you wish.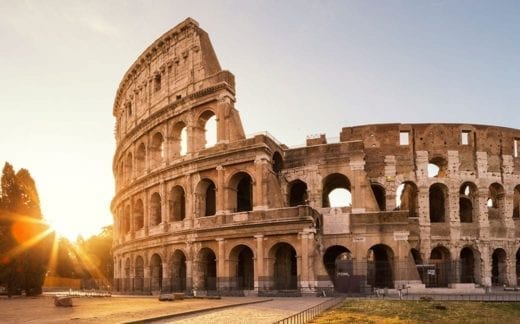 Lodging
Hotel Villa San Pio or similar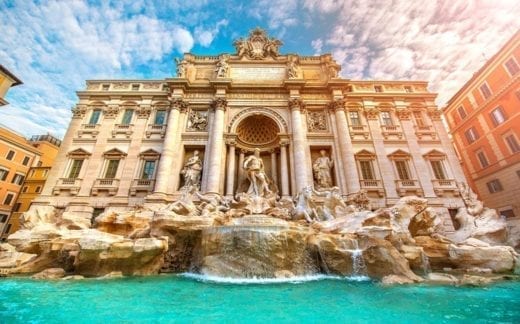 Rome is huge, and merits another day of exploration. There are a plethora of specific sites we can recommend for history-, architecture- and art-lovers; others may want to stroll the city and people-watch. You could also choose a guided bike tour of the city, including some of the city highlights as well as lesser-known areas only the locals know, like the Appian Way. Our local guides know how to get around safely. In the evening, consider an optional wine and food pairing class with dinner in a local trattoria. You'll be hosted by local enologists who will take you through a 6-course meal, each perfectly paired with local wine, in an intimate, small-group experience.
*if Amalfi is on your must-see list, this is where it would fit into the itinerary. Take a look at the extensions tab for a detailed itinerary.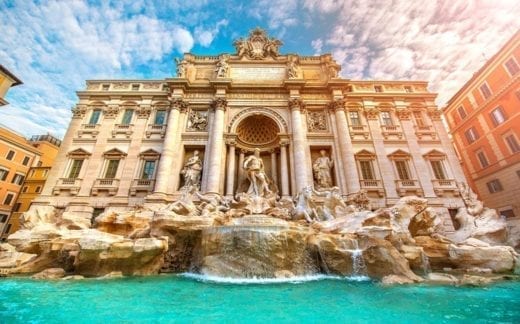 Lodging
Hotel Villa San Pio or similar
D
Day 4
Pienza in the Val d'Orcia, Tuscany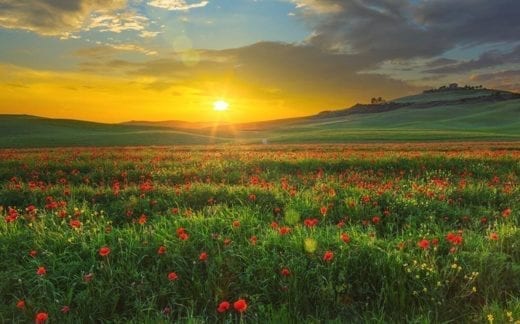 Head today from Rome to Tuscany, to picturesque Pienza in the Orcia Valley. Located between the towns of Montepulciano and Montalcino, Pienza is a UNESCO world heritage city and a splendid example of 15th century Renaissance architecture. One of its main products is Pecorino cheese, which gets its aromatic flavor from sheep who graze in the scenic Val d'Orcia. On the way there, stop by the medieval walled town of San Quirico d'Orcia. Upon arriving in Pienza, see the great renaissance architecture of the central square, the Piazza Pio II (Pope Pius II's plaza – he was born here).
We can recommend accommodations either right in town, or in the countryside.  Hotel Corsignano is a comfortable 4-star with great service, comfortable rooms and a good location near the main gates at the entrance of the historical center of Pienza. The hotel has a lovely rooftop terrace in which to enjoy breakfast while gazing at the Tuscan hills, as well as open-air jacuzzies in which to relax after a day of exploring. Or, choose to stay at lovely Podere Salicotto, a charming bed & breakfast farm near Buonconvento, in the heart of Val d'Orcia. You will be hosted by owners Silvia and Paolo who will do their best to make you feel at home. The estate is set on a panoramic promontory, commanding truly amazing views and offering an ideal base for experiencing the scenic beauty of Tuscan life. Your package at Podere Salicotto can include guided or self-guided walks through farmland, olive groves, vineyards, and forests; cooking classes; cheese, wine, and olive oil tastings; yoga; massage; and more. In the summer, you'll be able to relax at the swimming pool after your days of exploring and activities.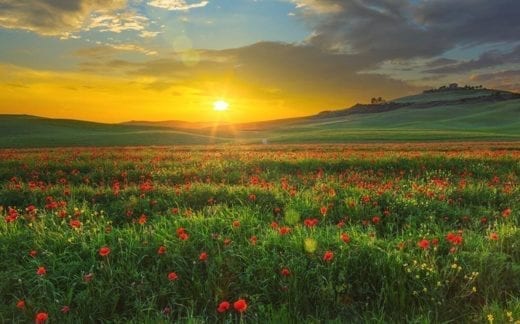 Lodging
Hotel Corsignano or Podere Salicotto or similar
E
Day 5
Siena and Chianti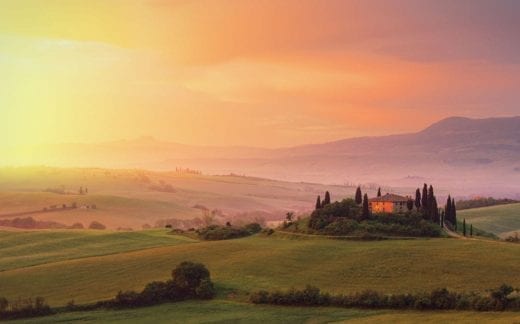 Set out for a day in the Tuscan countryside with an excursion to Siena, and an optional stop at a Chianti winery on the way. At either Bindi Sergardi's Tenuta Mocenni Estate or at Fattoria Petroio you can be guided through the estate, cellars, winery, and olive oil mill. Lunch is included at either winery. Also, you may consider an optional visit to the Benedictine Abbey of Monte Oliveto Maggiore before continuing to Siena.
The great city of Siena had humble beginnings as an Etruscan hill town, not unlike many of the small villages and towns of Tuscany. Only after the fall of the Roman Empire, when trade routes changed to pass through Siena, did the city prosper to become one of the richest, and largest, cities on the Italian peninsula. It had its golden age through the Renaissance period. Then, after a devastating war with Spain, and subsequent sale to Florence, the city came under the rule of Tuscan power in 1559 (and was unified with the rest of Italy in the 19th century).
Siena is still one of the great cities of Italy, with wondrous foods, sights, and sounds – and, of course, piazzas, churches, art, and architecture. Especially of note is the Piazza del Campo, the shell-shaped central "square," the Piccolomini Library, with amazing ceiling frescoes, and the unique Santa Maria della Scala Museum.
Return to Pienza for the night.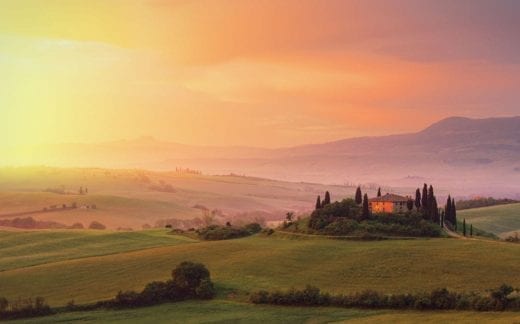 Lodging
Hotel Corsignano or Podere Salicotto or similar
F
Day 6
Medieval Colle Val d'Elsa and Etruscan Volterra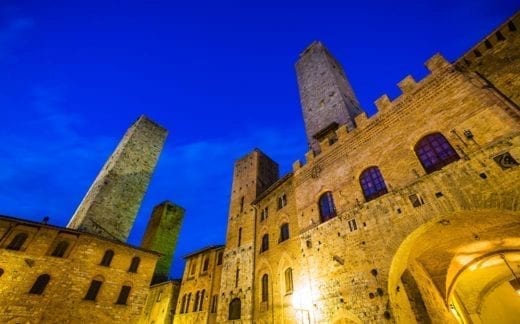 Check out from your hotel after breakfast for today's trip north. Tonight's destination is San Gimignano, and you'll continue exploring Tuscany on the way there.
First stop: Colle Val d'Elsa, a less known but beautiful and interesting town, developed and still existing on two separate levels. The lower part of the city is primarily home to local Italians living life, away from the tourist masses, and from the upper level you can enjoy breathtaking views of the lower part of the city as well as the surrounding countryside and the Tuscan hills in the distance. Walk around the historical center of the upper town, visit the Duomo (cathedral), and enjoy the medieval atmosphere. Yet, what makes this town world-renowned is its crystal production: Colle di Val d'Elsa accounts for 95% of Italian crystal glass production and 14% of production worldwide. You will find several workshops in the town center (as well as the tourist office, which provides a lot of material and info).
For your next stop, the lovely, walled, hilltop town of Volterra is a 40-minute drive away, with stunning views of the surrounding valleys and vineyards. Its history dates back to the 7th century BCE and you'll find many interesting ruins and structures from the Etruscan, Roman, and Medieval periods. It's easy to explore by walking and well worth a visit.
We recommend exploring San Gimignano in the evening when the day-trip tourists have headed back to their base in Florence. You'll enjoy remaining in this very unique hilltop medieval town when the streets have emptied. Your hotel is in the center of town, overlooking the ancient Piazza della Cisterna, once an important pilgrimage stop on the way to Rome.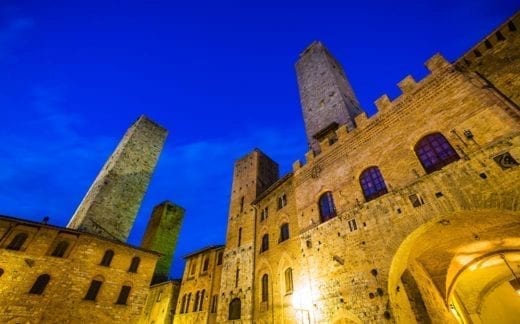 Lodging
Hotel la Cisterna or similar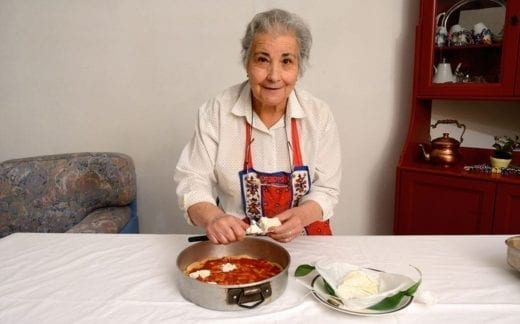 After breakfast explore San Gimignano before departing for Florence. This morning visit the centrally located Piazza Della Cisterna, the city's main church called "la Collegiata," and the civic palace. You can climb the Torre Grossa (finished in 1311) for a stunning view of the city and surrounding countryside, and go on to the Rocca di Montestaffoli, the ruins of the fortress that protected the town in the 1350s. We also recommend the 13th-century Church of Sant'Agostino, located on the northern end of town. Its 15th-century frescoes, by Gozzoli, show floor-to-ceiling scenes from the Life of St. Augustine. You may also wish to escape the crowds with a visit to the 14th-century Romanesque and Gothic Fonti, built over the original 9th-century town wells.
Next set out for Vinci, the birthplace and home of the legendary Leonardo de Vinci. Visit The Museum of Leonardo de Vinci as well as the da Vinci's ancestral home – la Casa Natale di Leonardo. Then continue on to Florence and settle into your hotel.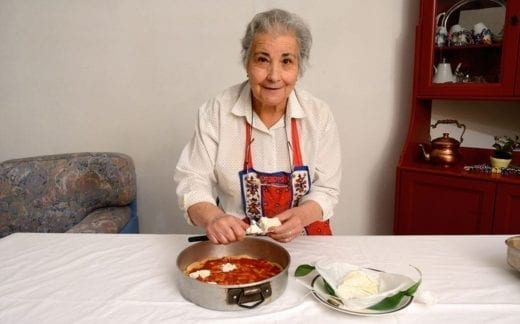 Lodging
Hotel Silla or similar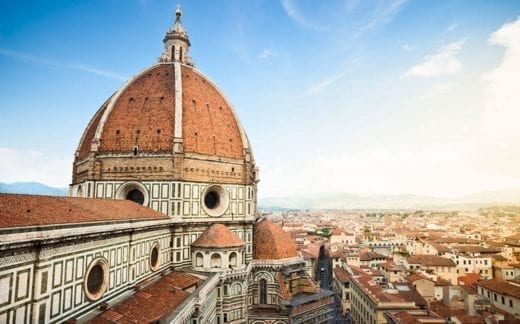 Explore Florence this morning on a 3-hour guided walk with Francesca, our favorite Florentine guide. She will take you to the main sites of Piazza Duomo, Piazza della Signoria, Mercato del Porcellino, San Lorenzo, Ponte Vecchio, plus to visit a local artisan. She will also offer tips and suggestions for further sightseeing, shopping, and restaurants for your time on your own this afternoon. You may choose to visit the Accademia (home to Michelangelo's David) or Uffizi museums – we can book front-of-line tickets, and our local guide will point the way to the museums before leaving; you can even visit one museum this afternoon and the other the next morning.
Additional options (extra cost):
Guide accompaniment at the Accademia and/or Uffizi museums with your city guide
Lunch-time guided street food tour
Cooking class and dinner at a local's home in Florence this evening (or dinner without the class!) – a fun and engaging experience, which previous customers have reviewed very positively
*See the Extension tab for visits to Lucca, Pisa, and Cinque Terre. These locations could fit here in the itinerary.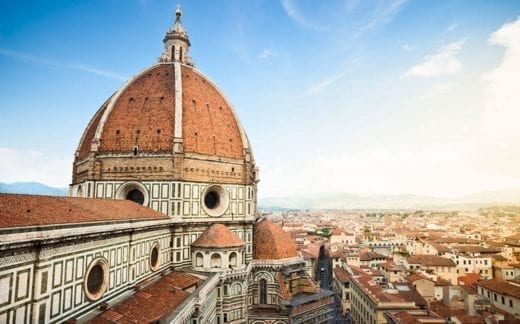 Lodging
Hotel Silla or similar
I
Day 9
Florence / Venice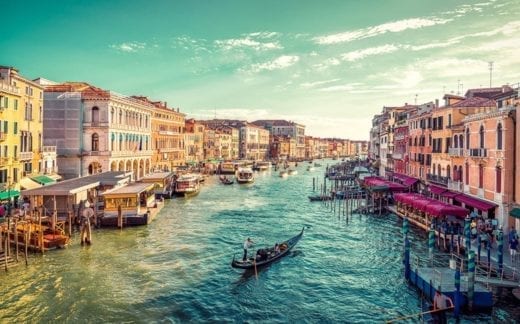 The morning is yours in Florence free to wander and explore (with plenty of suggestions we will provide).
After lunch, transfer to Venice by train, private car, or self-drive. We can arrange for a water taxi to meet travelers outside the train station or at the car rental drop-off and take you to your hotel in the heart of Venice, a great location from which to explore the city, canals, and lagoon.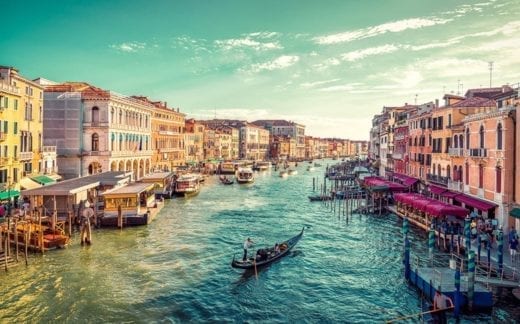 Lodging
Hotel Al Piave or similar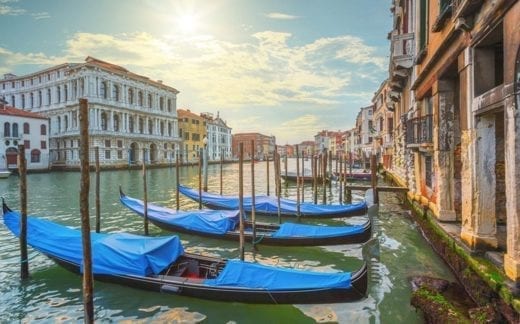 Get your bearings in Venice this morning on a half-day guided tour. Your fantastic local guide will offer a local's interpretation of this grand city, as well as plenty of tips and suggestions specific to your interests. Your guide may choose to take you to see St Mark's Basilica, Doge's Palace or Teatro La Fenice, the local opera house as the highlights of a visit to Venice. What you decide to see is based on what might be of most interest to you. Then this afternoon set out on your own to use the advice you've received. Follow instructions for a fun "off the beaten path" self-guided walk, venture to nearby islands like Murano and Burano, The Sestiere of Cannaregio and the oldest Jewish ghetto in the world with its synagogues, artists' shops and delicacy kosher bakeries, or watch people and gondolas while wondering at the neverending delights of this city.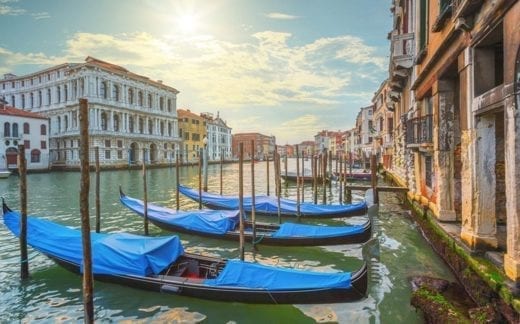 Lodging
Hotel Al Piave or similar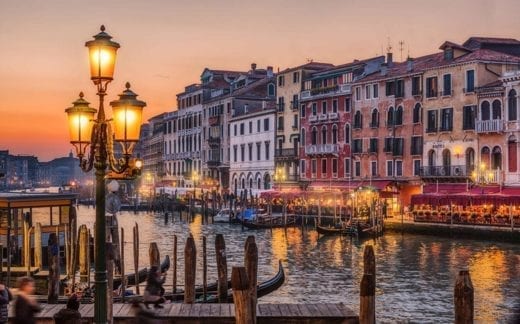 If you've looked forward to visiting Venice for years, then you may want another day here. A gondola ride is likely on your wish list, and best done by hiring locally through your hotel, depending on the weather. See the Grand Canale and the Ponte di Rialto, both from the water and then the view from the bridge. Visit any other main sites you're aiming for that weren't included on yesterday's tour. Get additional personalized suggestions for activities and attractions. Also, ask lots of questions of your guide and other locals to understand the tourism-based economy as well as issues of over-tourism facing the city, so you can make a considered decision before returning to Venice in the future.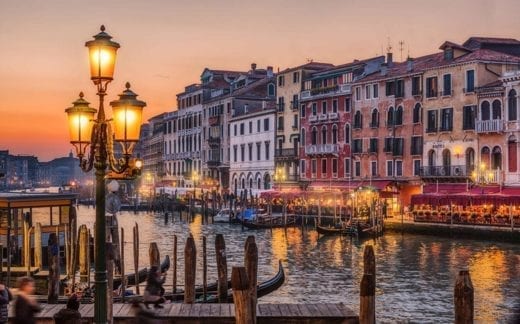 Lodging
Hotel Al Piave or Similar
L
Day 12
Depart or extend to other areas of Italy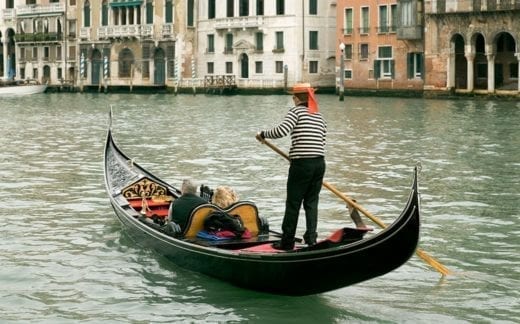 After breakfast, we can help you organize a private water taxi to the train station, car rental agency, or car with driver to the airport. If you'd like to spend more time enjoying Italy, please see the extensions or tell us what piques your interest. At this point in the itinerary, Lake Como or Milan would fit perfectly. Italy is a smorgasbord of wonders, and you can keep exploring forever.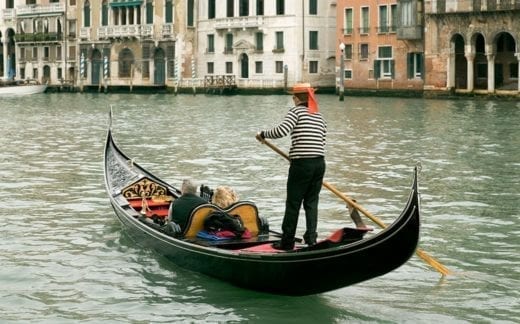 Dates & Price
Best Time of Year to Visit
Enjoy Italy at your own pace, according to your own travel style. This sampler is just one example of how we can customize your adventure. We can provide private guides, you can join small group tours, or you can enroll in hands-on workshops or cooking classes. Take trains, self-drive, or hire a private driver. Italy is yours to explore as you wish. We've highlighted a couple of our favorite places but pay close attention to our extensions to add to your trip to make it exactly what you want. Don't see what you prefer? Just ask! There are too many possibilities to capture them all here.
Price listed is the minimal amount you can expect to pay. This is a sample trip for which some transportation, sightseeing and other services requested will add an additional cost based on your personal travel style.
Need to Know
Pricing and inclusions will vary based on the actual trip booked and modes of transportation chosen. This basic sample includes your 11 nights lodging in 3 and 4-star hotels and inns with breakfast included. Sightseeing including the Vatican and Rome full-day guided tour, with the hotel, pick up and entrance included, Florence and Venice 3-hour guided walk. Detailed pre-travel documentation, including hotel and activities, itinerary and detailed information on transportation between places will be provided to help you prepare for your travels.
Transportation between locations is not included in the listed itinerary in order to leave this option open to your own personal travel style. This could be by plane, bus, train or even car rental. We will suggest a recommendation based on your personal preferences.
We are happy to have you participate in a Journeys International program!
Please read these terms and conditions thoroughly. They contain information that will be important to your planning and guide how we will handle any circumstances that may change in the midst of planning or while a program is underway. If after reading our materials and talking with our staff you decide to participate in a Journeys International program, please send us your deposit along with your completed Reservation Form and Explorer Information Forms. Important: Your booking is only complete once we receive your deposit, completed Reservation Form, and completed Explorer Information Form, and once we have confirmed that space is available.
Pricing and Payment
We will confirm your reservations once we receive a non-refundable booking deposit, a Reservation Form signed by each person responsible for payment, and an Explorer Information Form signed by each participating adult or the guardian for each participating child, and if space is available. Custom programs during holiday seasons may require a deposit prior to confirmation. The deposit contributes to non-recoverable costs of holding space and servicing your booking through the stages of preparation, execution, and follow-up and cannot be refunded if you choose to cancel.
We charge an additional planning fee of $250 per program for preparing customized proposals. This fee may be credited to your total cost upon booking, but it is non-refundable if you choose not to finalize your reservation.
Prices are stated in U.S. Dollars, based on double room occupancy, unless otherwise noted. We will send an invoice for your total estimated cost when we send your reservation confirmation. The balance as shown on your invoice is due 60 days prior to your program start date regardless of whether any arrangements are still pending. Although we do our best to avoid increasing prices after we receive your deposit, in some cases it may be necessary to adjust pricing after we receive payment to allow for changes in group size, rooming status, currency exchange rate fluctuations, fuel surcharges and/or other circumstances attendant to the challenges of adventure.
Late payments may jeopardize confirmation of your program participation and in some cases may result in additional fees. If we have not received final payment 30 days prior to departure, then your reservation may be canceled subject to our Cancellation & Refund Policy stated below.
Payment for airfare is required at the time of ticketing. Discounts that may be available are not available toward bookings made through third-party travel agencies, advisors, or planners.
We accept payments by Visa, MasterCard, American Express, or check drawn on a U.S. bank account. Paying by credit card offers you certain consumer protections, including the ability to initiate a chargeback if you believe we have committed consumer fraud. You may not use credit card chargeback as an alternative to compliance with your agreement with these terms and conditions.
Late Signups
Early reservations are encouraged! Some programs and flights fill several months in advance. We can confirm your space once we receive your deposit and signed Reservation and Explorer Information Forms. We try, but cannot guarantee, to accept late signups. In the event that we are able to accept reservations fewer than 60 days before a program's start date, additional fees may apply to cover administrative costs necessary to expedite your reservation confirmation and transmit your program materials. For reservations made fewer than 60 days in advance of your program's start, full payment is due at the time of booking.
Program Changes
We understand that circumstances arise that lead you to inquire about changes to your custom program, and we aim to satisfy your requests. Once activities and accommodations have been confirmed, we charge a $50 change fee, in addition to the difference in costs for the services booked. When changes are requested less than one week before your program's start, the change fee is $100. For changes requested after a program has begun, the change fee is $200.
Journeys International reserves the right to change or reprice any program due to acts of insurrection, strikes, weather, road conditions, acts of God or government, or any other force majeure or cause beyond the company's control. Journeys International cannot guarantee conformity with the provided program plan at any point in time. Among other things, if necessary Journeys International may change the scheduled dates of a program; omit or alter sections of the plan; substitute lodgings, leaders, or conveyances; or change meals, activities, or waypoints; all without notice and without allowance for refunds and with participants bearing the responsibility for increased costs, if any. Should this become necessary, Journeys International will not be liable for extra costs that participants may incur as a result of changes, including but not limited to flight change fees, additional meal costs, or additional accommodations. We strongly recommend that participants purchase Travel Protection Plans, or travel insurance, adequate to cover such costs.
Cancellations & Refunds
If you must cancel before your program begins, please notify Journeys International in writing by emailing info@journeysinternational.com or writing to your adventure specialist directly. You may request a refund according to the following schedule. Some programs require additional non-refundable payments beyond this schedule, as noted in the program description. In the case of cancellation, such amounts are withheld in addition to the amounts listed here.
| Days Prior to Departure | Cancellation Penalty |
| --- | --- |
| 61 or more | Non-refundable booking deposit and planning fee, if applicable |
| 31-60 | Non-refundable booking deposit and planning fee, if applicable, plus 50% of total land costs above amount of initial deposit |
| 0-30 | 100% of total land costs |
Please note: cancellation of airfare, other transit, lodging, and ticketed tours and activities is subject to the policies of the individual carriers or providers and is not included in the schedule above. Additional cancellation fees are the responsibility of the traveler. We strongly recommend that all participants purchase Travel Protection Plans, or travel insurance, that includes coverage for trip cancellation or interruption and that may reimburse you for cancellation penalties and extra expenses should a circumstance force you to cancel or interrupt your participation.
Departure is defined as the date on which travelers will leave their home state, province or city, or the program start date as indicated on the program description, whichever comes first. Cancellation date will be considered the date that we receive written notification of your intent to cancel according to the local time observed in Ann Arbor, Michigan, USA.
Payments due at the time of cancellation remain the responsibility of the participant. No partial refunds are possible for unused hotel rooms, air or land travel, program days, or other sight-seeing arrangements included in the land cost.
If Journeys International cancels or postpones a program before the program starts for reasons completely within its discretion, such as but not limited to insufficient group size, all money for services described in the program description will be refunded in the form of credit towards a future program with Journeys in the same location originally planned, less unrecoverable fees and penalties already paid to airlines, accommodations, or other service providers, or the client may submit a written request for a refund to the original form of payment. If a program's cancellation is necessary due to acts of insurrection, strikes, weather, road conditions, acts of God or government, or any other force majeure or cause beyond the company's control, credits and refunds will be issued according to the standard cancellation schedule, less unrecoverable fees and penalties already paid to airlines, accommodations, or other service providers, without regard to whether client or company initiates cancellation or postponement. Once a program begins, there are no refunds for unused goods or services.
Air Fares
We can help you to secure air travel arrangements for Journeys International programs. We work with an airfare consolidator to assist in booking the flights that suit your needs. Journeys International and/or the airfare consolidator may charge a ticketing fee for this service. For group programs, if you prefer to fly on dates other than those listed as program dates, or if you arrive at your destination other than at the group arrival time, then you may incur additional fees to cover the separate transfer, contingency, and coordination costs which frequently arise from arrival and departure on flights different from our regular bookings. We will let you know about these fees ahead of time, if they apply. If you must change your air routing after ticketing, there is a charge of $50 per change, in addition to change or cancellation charges levied by the airline.
If you decide to make your own flight arrangements, you must provide Journeys International with a complete copy of your itinerary showing departure and arrival flights and times. You should plan to arrange your own air travel if you are using mileage credit or originating outside North America, but please be in touch with our office before you finalize ticketing so that we may help you to coordinate the correct arrival and departure dates and times. If you arrange your own flights, we can book ground transfers to meet you on arrival in your destination if you wish, and you agree to pay additional costs, as applicable.
Transfers Between Programs
You may transfer between some programs upon written request. More than 60 days before your program start date, the deposit transfer fee is $100 per person plus any cancellation fees charged by airlines, hotels, or ground service providers. 60 days or fewer before the program start date, full cancellation penalties from the original program apply. In the event that Journeys International cancels a program, you may transfer the full amount of your payments to another program without penalty, subject to availability.
Expenses Covered
Normally, our stated total costs include the costs of all guides, leaders, facilities, permits obtained after arrival, lodging accommodations, costs of described activities, food as specified, and all surface transportation associated with the activities described in the itinerary. We do our best to avoid increasing prices after receipt of your deposit, but factors beyond our control might require us to change our prices without prior notice, even after you have signed up.
Expenses Not Covered
Costs not included in the price may include: meals not indicated as included in program descriptions; meals prior to arrival in starting cities; transfers, if not arriving or departing on the scheduled group flights; soft drinks, bottled water, and alcoholic beverages; medical expenses, costs of hospitalization, or evacuation from remote areas; laundry; airport departure taxes not included on your airline ticket; accommodations en route to starting cities; visas; airfares; gratuities; and insurance.
If a program must be modified due to medical emergency, acts of insurrection, strikes, weather, road conditions, acts of God or government, or any other force majeure or cause beyond the company's control, then the participant may incur additional costs that are not included in the program price. We strongly recommend that all participants purchase Travel Protection Plans, or travel insurance, to cover these risks.
Travel Insurance
Journeys International strongly recommends that you purchase a Travel Protection Plan, or travel insurance, sufficient to protect your investment in travel, personal assets and health during your program. Doing so will mitigate a significant amount of financial risk and decrease your need to worry about things beyond your control. We do not require you to purchase such travel insurance; however, we know many travelers who have benefited from purchasing travel insurance because the insurance carrier assumed risks that would otherwise have been the risk of the traveler. Travel Protection Plans often cover things like theft, baggage loss, trip interruption or cancellation, emergency evacuation, emergency medical treatment, flight delay or cancellation, airline or service provider bankruptcy, jury duty, personal or family sickness leading to cancellation, U.S. Department of State Travel Warnings about terrorism issued for the destination, and other risks as described in the insurance policy. In particular, consider the availability of higher-cost "Cancel for Any Reason" and/or "Interrupt for Any Reason" policies that may allow policy-holders to recoup a significant portion of trip costs under a much wider range of circumstances than standard policies may allow; we have seen travelers benefit from this selection when public health crises, personal turmoil, and civil unrest arose in their destinations. Please note that while we at Journeys will do our best to help you to have a pleasant and successful experience, Journeys International assumes no liability for many of the types of losses described above. If you choose not to purchase travel insurance and you suffer a loss, then you will be responsible for the associated costs.
For your convenience, we will provide a recommendation for an insurance carrier that offers competitive rates and has proven reliable, fair, and prompt in responding to claims, but we can offer no guarantee that our recommended carrier will meet your needs and you are welcome to contact any insurance carrier that you prefer. It is important to obtain insurance immediately upon signing up for your program in order for problems arising from pre-existing conditions to be covered.
All participants must be covered by a current major medical insurance policy that covers you while in your travel destination for the duration of your trip. For some individuals or for some destinations, it may be advisable to purchase a supplemental policy. Contact your provider for coverage details.
Group-Sized Pricing & Group Minimums
Many programs are guaranteed to depart at prices published on our website with as few as two participants. In some cases, it may become necessary to increase prices depending on the size of the group. We do everything we can to make a program operate as planned even with a single participant. Additional costs for small groups vary from program to program. When pricing for a group program is based on the number of participants, staff and guests of Journeys International (such as topic experts, journalists, photographers, leaders-in-training, or others) are not included in the numbers counted to determine the price. Final decision to cancel a program due to insufficient signups is made at least 60 days prior to departure.
Lodging Accommodations
Lodging accommodations are usually double occupancy in hotel rooms, tents, or other facilities as described in trip itineraries. Please contact our office to discuss pricing and availability of alternative accommodations, if desired. We try to honor specific requests for lodging, but in some cases, we may have to book and confirm equivalent-standard accommodations. In rare cases it may become necessary to make same-day or out-of-class substitutions.
If you are joining alone for a group program but would prefer a roommate, then let us know! We are often able to match solo participants. If a roommate is not available or if you prefer single accommodation, then you must pay the Single Supplement, if one applies. For some programs it is not possible to guarantee single accommodations.
Assumption of Risk
Throughout any program of Journeys International, certain risks and dangers may arise. These include, but are not limited to, travel by train, foot, automobile, aircraft, raft, boat or other means of conveyance; the hazards of traveling in rough or mountainous terrain; high altitude; undeveloped areas; the forces of nature; civil unrest; terrorism; labor interruption; close proximity to fellow program participants; exposure to illness or virus; and accident or illness in remote areas without means of rapid evacuations or availability of medical supplies and facilities. The unique nature of adventure programs entails inherent risks that may be involved in unique program activities and travel away from home and, in fact, the specific nature of these activities is often a reason for participation. Even if a trip or program is rated "easy" these dangers and risks are present. Journeys International and its agents and operators will have no liability regarding emotional distress, equipment, access to, or adequacy of medical care, evacuation plans, or emergency supplies that may be provided. When you sign the Explorer Information Form, you agree to participate in these activities with full knowledge of the dangers and risks involved and agree to assume all risks, including trauma, sickness, injury, and death.
While Journeys International intends that your experience be safe and comfortable, Journeys does not have legal or operational control or ownership of facilities, staff, services, or transportation providers and acts only as agent for the owners of such facilities, staff, services, and transportation. Journeys International is not responsible for any negligent or willful act or failure to act by any such person or entity, nor for any act or inaction of any third party not under its control.
In consideration of the right to participate in Journeys International programs and the service arranged for you by Journeys International and its agents and representatives, you unconditionally and fully assume all risks of bodily injury, death, emotional trauma, property damage, and/or theft, however caused, including those mentioned above, as a result of participation, and release Journeys International, its agents, and its representatives from any and all liability, actions, causes of actions, suits, debts, demands that you may have, including for bodily injury, death, or property damage, loss of income, and other claims.
Fitness to Join
Good physical and mental health are essential for the enjoyment of Journeys International's programs. It is your responsibility to select/design a trip appropriate to your own abilities and interests. You are responsible for being in sufficiently good health to undertake your trip, and for consulting with your physician for medical advice regarding travel. On some Journeys International programs, participants travel in rugged areas remote from modern medical facilities. Good physical conditioning is recommended as preparation for all programs, especially those involving hiking or trekking. Most programs require some walking. By signing the Explorer Information Form, participants certify that they are fit for rigorous activity and do not have any physical, mental, or other condition that would create a hazard for him/herself or other participants. It is essential that any participant with a medical condition requiring regular treatment or which may be affected by vigorous activity, prolonged travel, high altitude, heat, cold, natural phenomena, or particular foods, notify Journeys International in writing prior to booking. We assume no responsibility for medical care, and we cannot guarantee meeting special dietary requirements or vegetarian needs. Participants may be required to furnish a physician's statement of good health for some programs.
Journeys International's or the individual group leader's or guide's judgment shall provide the ultimate determination of an individual's fitness to embark upon, or to continue, a program. Journeys International reserves the right to refuse reservations or deny participation to anyone whom it deems unsuitable for a program or certain activities. Once a reservation has been confirmed, medical circumstances will not be considered as exceptions to our cancellation policy. All participants must be covered by a current major medical insurance policy for the duration of their participation. Proof of such coverage may be required.
Personal Conduct
You are responsible for acting in a manner considerate and respectful of fellow group members and local culture in areas visited.
You are responsible for reading all health-related information provided in advance of the program, adhering to all guidance given by guides and site staff, and conforming to the established standards of personal hygiene to minimize risk of disease. This may include a requirement to wear a face mask when in proximity to other people, whether indoors or outdoors, or other measures intended to limit the spread of disease; failure to do so when requested may result in your dismissal from the program.
Certain activities included in your program may require specific safety precautions. You are responsible for listening to instructions, adhering to guidance, and following the protocols provided for safety throughout the program. If you are unsure about safety precautions, you are responsible for seeking advice. If guides or staff perceive your behavior as risky, uncooperative, or otherwise unsafe, they may remove you from an activity for the safety of yourself and others.
Smoking or vaping are not permitted in buses, cars, below decks on boats, in tented camps, in designated non-smoking areas, or during guided tours and activities. Participants agree not to consume cannabis for the duration of the program and understand that possession or use of cannabis may be illegal and subject to severe punishment in some destinations. Participants agree to follow all local laws in the jurisdiction(s) where the program takes place and acknowledge that Journeys International cannot be responsible for ensuring participants' compliance nor for any costs or consequences of non-compliance.
Sexual harassment or misconduct of any sort by Journeys program participants is not tolerated. You may not make jokes or sexually suggestive comments or gestures regarding the bodies or bodily activities of fellow participants, program staff, site staff, or any people you encounter during your program. You may not touch fellow participants, program staff, site staff, or any people you encounter during your program unless invited. You may not solicit sexual services during the dates of your participation in a Journeys program.
Environmental Stewardship
Journeys International believes that we have a responsibility to protect the earth for future generations. Tourism may be responsible for up to eight percent of annual worldwide emissions of greenhouse gasses. Journeys International advocates that adventure travelers who make environmentally conscious choices when selecting their destinations and activities should also make the environmentally conscious choice to offset the carbon footprint of their travel to compensate for their personal contributions to global climate change. Every Journeys International invoice includes an optional donation to the Earth Preservation Fund's carbon offset program to be used to purchase and permanently retire certified carbon credits to offset the carbon footprints of Journeys' program participants. The Earth Preservation Fund purchases carbon credits that have been certified under a reliable third-party standard. Participants who choose to make this donation may also be eligible to claim a tax deduction. There is no penalty for opting out of this donation.
Recording
Journeys International may take photographic, audiographic, and videographic recordings during your program, and may use your image and voice for promotional and commercial use without compensation.
Planning & Preparation Services
We look forward to working with you! After we receive your deposit, we will send you a planning packet containing things like medical and immunization information, visa and other permit forms, a recommendation for travel insurance, packing checklist, reading list, cross-cultural information, and an initial invoice for the balance due. About 3 weeks before your program begins, we will send you a final notes packet including last-minute reminders and contact information for your program. You are responsible for reading all information provided, and for bringing all clothing and equipment noted on the packing list. If you are leaving home before the scheduled trip departure date, please let us know how we can best reach you in case any details change in the days immediately prior to your program's start.
Please call our office at any time if you have questions about your trip or for additional information.
Duration
12 Days
The number of days, or duration, in a destination corresponds with the itinerary as published. This is the time period covered by the land cost.
Activity Level
Match the trip's intensity to your ability and motivation.
Gentle
Easy walking, with opportunities for low-key physical activity.
Active
Energetic exploration with optional day hikes, leisurely cycling, or light canoeing.
Vigorous
Day-long active excursions and options for demanding activity in varied environments.
Challenging
Strenuous hiking or other intense activity that may be at high altitude or over rough terrain.
Demanding
Multi-day trekking and other activities requiring endurance or strength. Steep trails. No technical expertise necessary.
Comfort Level
Choose accommodations and amenities that fit your personal style
Simple
Our most natural accommodations. Bath facilities often shared, sometimes rustic.
Delightful
Comfortable and especially personal. Small to mid-sized lodges, typically with private bath.
Superior
Lodges and hotels with additional amenities, refined artistry, or extra-special settings.
Deluxe
Exclusive or luxury lodges, hotels, or safari camps with fine dining options.
Uncommon
The most indulgent accommodations arranged specially for private trips.